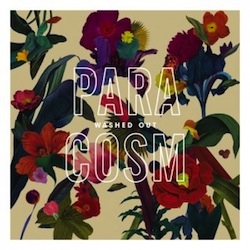 Buy at iTunes | Buy at Insound (vinyl)
It may seem quaint to talk about chillwave or glo-fi in 2013, and yet it's still a little difficult to separate Washed Out from its not so distant origins. After all, most of the music on Paracosm retains the same casual, blissful vibe of Ernest Greene's breakthrough EP Life of Leisure. But if Greene's initial vision is still intact, his approach has certainly matured. With Washed Out's last album Within and Without, Greene spruced up the production, tightened up his airy pop songs and seemed to find a way to move forward. Paracosm seems to split the difference, retaining the latter's finesse while returning to the brackish, beach ready appeal of the former. In that respect it's a work very much akin to Panda Bear's Person Pitch in feel, albeit with more concise and approachable songs. But much like that album you can practically hear the waves splashing in the background.
If the record on the whole maintains Washed Out's lush, reverb soaked calm, Greene does make an effort to take the project in a few relatively new directions here and there.  Typically, these tracks tend to be the most satisfying, adding new dimensions to the band's sound. With its manipulated synths, acoustic strums and watery vocals, "It All Feels Right" could almost pass for Yoshimi-era Flaming Lips gone tropical. As if to really put the listener in the right state of mind, "Feels" even comes complete with the sounds of party people relaxing. The title track's rhythm section's groove also has unexpectedly Yoshimi feel. The uplifting "All I Know" takes an interesting look at what Coldplay might sound like if they wholly succumbed to the dreamier aspects of their music (complete with a "Clocks"-like piano arpeggio). And if that doesn't sound like a ringing endorsement, it's actually pretty successful and one of the better songs on Paracosm.
Although there isn't a dud on Paracosm, it is lacking a truly stand out track like "Amor Fati" or "Feel It All Around." Taken as a whole, much of the record tends to blend together in one long, hazy celebration of summer. That's not to say a track like the cinematically lifting "Falling Back" isn't a cut above most of the tracks here, it's just that without careful attention the album has a tendency to turn into pleasant wallpaper. Oddly enough, several tracks actually sound better on their own where they don't get lost in the mist of the album.
If Within and Without gave the impression that Greene had a way forward from the dubious sub-genre that Washed Out was originally associated with, Paracosm seems to suggest that maybe progress might be a little more difficult than that album seemed to propose. In that respect, the album feels like a bit of a disappointment. Washed Out has always had a gift for melody and that hasn't gone away, but the record has a tendency to suffer from diminishing returns. Even the title of highlight "It All Feels Right" is awfully reminiscent of "Feel It All Around." If you're in need of a Washed Out fix, there's plenty to enjoy here but it certainly isn't a record that's likely to win over any new converts.
Similar Albums:


Washed Out – Within and Without


Panda Bear – Person Pitch


Toro y Moi – Anything in Return