Lower Dens : Escape from Evil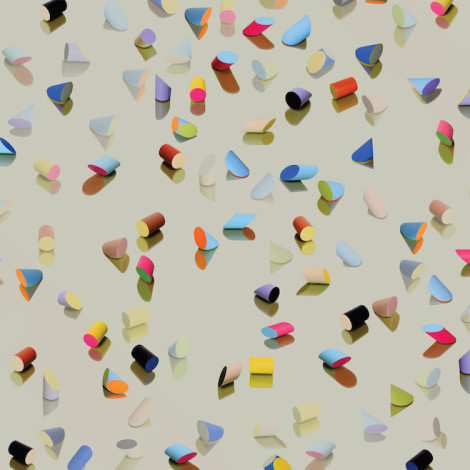 Baltimore is a good place to find cavernous music. To name a few bands from the 26th most populous city in the United States: Lower Dens, Beach House, Future Islands, Matmos, and Dan Deacon. Beach House and Lower Dens have shared stages before — like most of the artists mentioned — and it's no major surprise. Lower Dens sound like they're influenced by Beach House's dreamy vibes, and the singers in each band — Jana Hunter and Victoria Legrand — share the ability to reach remarkable vocal heights. Yet while Beach House still keeps us waiting for a follow up to 2012's Bloom, Lower Dens' new album, Escape From Evil, does plenty to shift the focus back to their own dreamy psychedelia.
Escape From Evil is Lower Dens' third album, and Hunter's voice has become more prominent with each release. With her head now buzzed, and her eyes caked in dark hue, she looks intimidating, but her voice is gorgeous on Escape From Evil. And while I'm not all that concerned with what she's singing about — her lyrics aren't terribly complicated — I'm content with feeling her pristine pitch. Hunter's vocals can dominate at times, but that just makes Lower Dens' balance more impressive. Hunter may sketch each song, but the band's instrumentation is democratic; the four players rarely outdo each other. Drummer Nate Nelson and bassist Geoff Graham compromise as a nice rhythm section. They have a race at the beginning of "Your Heart Still Beating," and Graham's lovable bass line is the last thing we hear before Escape From Evil closes. Nelson has his share of creative snare hits ("Sucker's Shangri-La"), and the clasping of the hi-hat on "Quo Vadis" is impeccable. Hunter and Walker Teret play guitars that sometimes seem out of this world, especially on "Your Heart Still Beating" — the line gets higher and higher until disappearing completely into a hushed drone. Lower Dens' mysterious music may recall Cliff Martinez's Drive soundtrack, but that reference is way too easy.
If Savages were more uplifting, they might sound something like this incarnation of Lower Dens. Escape From Evil has continuous chug ("Company"), motorik rhythms ("Non Grata"), and teeters on the psychedelic ("I Am the Earth"). And on an album full of richness, "I Am the Earth" is a highlight — sporadic, edgy, and the recording of the ride cymbal would be perfect if there ever was anything that's perfect. But Escape From Evil is the closest Lower Dens has come to flawlessness, and there's no reason to think that the band won't keep getting better, similarities to their local contemporaries aside.
Similar Albums:


Beach House – Bloom


Lotus Plaza – Spooky Action at a Distance


Viet Cong – Viet Cong