Impulse! Records: 25 Essential Albums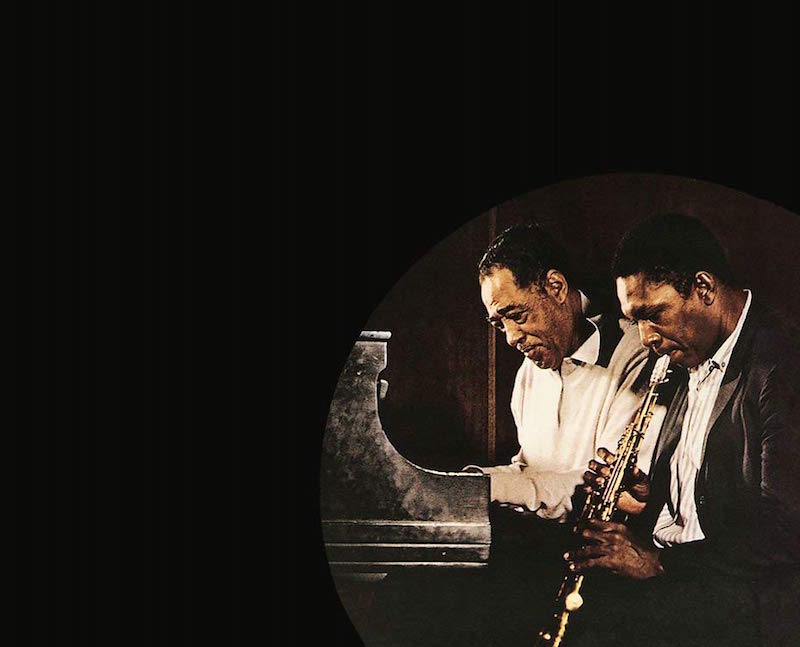 When we think of jazz, there are a few notable labels that stand out as icons of the genre: Verve, Atlantic, Columbia and Blue Note, to name a few. But we also think of Impulse!, the iconic label established by legendary record producer Creed Taylor in 1960. Set up under the umbrella of ABC-Paramount Records (the same ABC that's now part of Disney), Impulse! began life with a short list of legendary artists, including Ray Charles and swing veteran Benny Carter, as well as John Coltrane, who released more albums than any other performer on the label. As a result, the label became known as "The House That Trane Built."
Impulse! had a run of two decades in the 1960s and '70s that were unlike just about anything else, constantly at the forefront of innovations in jazz, and sometimes outside of jazz: Prog-rock outfit Genesis were the rare rock band to actually issue an album through the label. Impulse!'s branding extended beyond its amazing sounds; the orange, black and white design scheme of the albums made them stand out on any shelf, and each record's cover was adorned with stunning photography. The list you see below isn't just an introductory guide to the music but likewise a gallery of incredible design. And with Impulse! in headlines again for the release of a lost John Coltrane album, the outstanding new work by Mercury Prize-nominated Sons of Kemet (and a newly unearthed recording by alum Charles Mingus), we saw fit to compile a list of 25 of our favorite releases to be stamped with the iconic logo.
It should be noted that, like many of our other surveys of significant labels, we stuck to one release per artist (with one sort-of exception). With Impulse! that was a particularly tough decision, since some of these artists released so much amazing material. But that being said, albums such as Coltrane, Ascension, Africa Brass, Journey in Satchidananda, Ptah the El Daoud, The Black Saint and the Sinner Lady, Tauhid, Deaf Dumb Blind, Thembi, Karma, The Magic of Ju-Ju, Fire Music and various other albums are, without question, essential. We simply made the decision to focus on certain albums for the sake of personal preferences or to highlight something unique that wasn't represented in other albums. (We also didn't include Impulse! reissues of Sun Ra's catalog, since it wasn't the original label of release—sorry!) Regardless, these essential Impulse! Records albums all merit repeat spins. We hope you enjoy the journey.
***
Note: Treble receives a commission from sales made through affiliate links on this page
---
Gil Evans Orchestra – Out of the Cool
(1960)
Recorded during a period in which he was collaborating on a number of all-time great albums with Miles Davis, Gil Evans' debut album for Impulse! tends to be overshadowed by his other early '60s recordings. But this stellar piece of progressive big band jazz set an entirely different tone, one that drifted from Davis' conceptual, stylistic forays into an orchestral exercise in setting a mood. Part of a pair of thematic releases of sorts along with Into the Hot, Out of the Cool feels at times cinematic, its arrangements swinging widely between haunting, hushed ballads and boisterously lush standouts like opening track "La Nevada." As an arranger, Evans more than held his own, but as a bandleader in his own right, he created an inimitable style. – JT
Listen/Buy: Spotify | Merchbar (vinyl)
---
Ray Charles – Genius + Soul = Jazz
(1961)
The formula in the title doesn't lie. While Impulse! broke jazz format on a number of occasions (a small number, but still) this wasn't necessarily one of them. Though this lone Ray Charles release does feature a handful of tracks with his unmistakable vocals (unless you're Jamie Foxx, I suppose), by and large Genius + Soul is Ray Charles fully immersed in a soulful jazz session. It's bluesy and rich with Hammond organ licks, and Count Basie's orchestra gives its arrangements a big, brassy swing. So while the pairing of Ray Charles and Impulse! might not necessarily seem like an obvious one on first glance, for how short lived it was, it indeed sounds like a natural one. – JT
Listen/Buy: Spotify | Merchbar (vinyl)
---
Oliver Nelson – Blues and the Abstract Truth
(1961)
If Oliver Nelson released nothing else, he'd still have "Stolen Moments," one of the greatest jazz tracks ever captured on tape. The album on which it's featured on, Blues and the Abstract Truth, just happens to add quite a bit to his column of achievements, recorded in a session that featured the likes of Freddie Hubbard, Bill Evans and Eric Dolphy—a super-team of players if hard-bop ever saw one. It's a fun and animated set of jazz, as strong on melodies as it is on improvisations, with more than its share of swing in tracks like "Hoe Down." Still, "Stolen Moments," eh, steals the show, its central hook and ultra-cool mood making it an instant classic. – JT
Listen/Buy: Spotify | Merchbar (vinyl)
---
Benny Carter and His Orchestra – Further Definitions
(1962)
By the 1960s, swing was mostly out of fashion, though bandleaders such as Duke Ellington and Count Basie had adapted to the changing face of jazz. Benny Carter, likewise transitioned into the '60s and '70s, but not without delivering one unusually anachronistic and phenomenal sounding swing record for Impulse!: Further Definitions. The upbeat pace of "Honeysuckle Rose" and "Crazy Rhythm" are charmingly fun, while a ballad like "That Midnight Sun Will Never Set" is romantic and gorgeous. Further Definitions is an old-fashioned sort of record, almost atypically so for a label known for housing some of the most innovative players in jazz. But that doesn't make it any less of a joyous listening experience. – JT
Listen/Buy: Spotify | Merchbar (vinyl)
---
Max Roach – It's Time
(1962)
Max Roach had an eventful 1963, having collaborated with two fellow giants, Duke Ellington and Charles Mingus, on the tense yet vibrant sessions for Money Jungle. And in 1961, Roach crafted an impassioned work of protest jazz with We Insist! So it's easy to see why It's Time sometimes gets overlooked, sandwiched between these two titanic releases. It's no less significant, however, and arguably pushed more boundaries than the all-star act that followed. The album found the bandleader and drummer recording with a choir, and the layers of voices add an otherworldliness to the sound that sets the album apart from the hard bop standard of the early '60s. It's a wild ride, balancing some of the most explosive drumming in jazz with a complex rhythmic sensibility, intricate arrangements and what sounds like the voices of gods guiding the way. – JT
Listen/Buy: Spotify | Merchbar (vinyl)
---
Duke Ellington and John Coltrane – Duke Ellington and John Coltrane
(1963)
The general idea behind this list was that we weren't going to repeat artists (if we did, it'd be hard to know where to stop with Sanders or the two Coltranes, for instance). But this is an exception for one notable reason: Duke. Throughout Duke Ellington's career he worked with countless other musicians who became legends in their own right, and 1963 in particular saw him team up with various other heavyweights. Though his sole marquee collaboration with John Coltrane is a special one. From the delicate opening melody of "In A Sentimental Mood," the feel of the record is enchanting, as that track in particular stands as one of the most beautiful jazz pieces ever recorded. But the duo cover a wide spread of moods and approaches, from the playful "Take the Coltrane" and "Big Nick" to the swing of "Stevie" and romantic balladry of "My Little Brown Book." While the idea of supergroups often produces disappointing results, hearing these two team up resulted in an expression of pure joy. – JT
Listen/Buy: Spotify | Merchbar (vinyl)
---
Charles Mingus – Mingus Mingus Mingus Mingus Mingus
(1964)
The LA bandleader's time on the Impulse label was brief—just three albums all recorded in 1963—but memorable. We'd be justified in filling this slot with his magnum opus ballet The Saint and the Sinner Lady, but that's some 300-level calculus material right there. Instead we go a little more populist, with the last ensemble studio album he would release until the 1970s. It's mostly a revisitation of prior works, but one shot through with power, passion, pain, and some of the players (Eric Dolphy, pianist Jaki Byard) who would soon join him on the road. – AB
Listen/Buy: Spotify | Turntable Lab (vinyl)
---
John Coltrane – A Love Supreme
(1965)
Few artists in the '60s were as productive as John Coltrane; he shows up on this list twice (though it could have been 10, easily) and the recent release of lost album Both Directions At Once proved that even the music that never made it to listeners' ears at the time was still pretty outstanding. Still, one release towers above the rest and for good reason. A Love Supreme is mythical—it's immortal. An album of passion and spiritual fervor that speaks to something well beyond musicianship, rhythm or composition. It's jazz that reaches a higher plane, that speaks to the soul. Of course, it's an utter delight to listen to, but it's also intense and powerful. It began a brief but highly concentrated period of increasingly more experimental and explosive material from Coltrane (his free-jazz masterpiece Ascension arrived just one year later), the sheer volume of it so large that Impulse! wasn't able to release it all during his short lifetime. Yet A Love Supreme still stands as his highest peak, a work that finds Coltrane the master composer and Coltrane the conjuror becoming one. – JT
Listen/Buy: Spotify | Turntable Lab (vinyl)
---
John Lee Hooker – It Serves You Right to Suffer
(1966)
For a brief period, Impulse! had a folk music division, declaring "the new wave of folk music is on Impulse!" That included this sole recording for the label by blues legend John Lee Hooker, though jazz is still in its DNA. The album was recorded with session musicians, all of whom had a background in jazz. So while Hooker guides this set of originals, covers and traditional numbers, there's at once a looseness and a deep pocket that makes these blues classics groove just a little bit harder. John Lee Hooker would never end up back on Impulse!, and given that just a few years later he'd release a song as powerful as "The Motor City Is Burning," that wasn't necessarily to his detriment. But this rare moment of synergy is an inspired one. – JT
Listen: Spotify
---
Sonny Rollins – Alfie
(1966)
Sonny Rollins, the saxophone colossus, released only three albums on Impulse! (much like Charles Mingus), though they're pretty much all worthy of inclusion here, particularly the more avant garde East Broadway Run Down. Yet Alfie's an interesting one. The soundtrack of a romantic comedy starring Michael Caine, it's an album written specifically for the screen, though it still largely feels like a jazz album rather than a proper film score. The compositions are animated, the performances lively, and "Alife's Theme" itself is the rare jazz recording with a hook seemingly bigger than the whole. Though it's not the only album of its kind (Herbie Hancock and Miles Davis have their share of stunning scores), it's the odd Impulse! essential that doubles as a soundtrack. – JT
Listen: Spotify
---
Shirley Scott & Clark Terry – Soul Duo
(1966)
An instant way to make a jazz recording sound more soulful is to add some Hammond organ. Naturally, just about everything Shirley Scott touched was dripping with soul. Married to fellow jazz icon Stanley Turrentine and a prolific artist who released dozens of records in just the '60s alone, Shirley Scott was an underrated star of Impulse! in its first half-decade, one of her greatest moments arriving with this collaboration with trumpeter/flugelhorn player Clark Terry. It's a laid-back and highly enjoyable set of soul-jazz that's overflowing with groove, always refreshing and never overwhelming. – JT
---
Albert Ayler – In Greenwich Village
(1967)
Before making the move to Impulse!, saxophonist Albert Ayler made a series of intense, fiery free jazz records for the ESP-Disk label. Yet making the move to a more prominent jazz imprint didn't change that—at least not right away (at the time, his accessible "pop" record New Grass did not go over well). In Greenwich Village, however, is a masterful session of passionate avant garde music that's as much modern classical as it is free jazz. "For John Coltrane" is a haunting piece that finds Ayler's horn navigating through ghostly strings, while "Truth Is Marching In" is vibrant and triumphant, as joyous as free jazz has ever sounded. – JT
Listen/Buy: Spotify | Merchbar (vinyl)
---
Chico Hamilton – The Dealer
(1967)
The Dealer oozes cool. I mean, the front cover even looks cool—Hamilton taking a drag from a cigarette while squinting into the distance. But the music is something else entirely, a peculiar mix of soul-jazz, post-bop and even a touch of avant garde courtesy of guitarist Larry Coryell, in his debut performance. Coryell's sort of the secret weapon on this album, his strange mix of traditional licks, rock 'n' roll riffs and artier phrasings combining for something odd and invigorating here. Yet driving the pieces is Hamilton's own percussion, giving the title track a soulful strut, "Jim-Jeannie" a more frantic polyrhythmic interplay and "A Trip" more of a samba feel. It's a strange and fascinating blend of sounds, all of which manage to combine together brilliantly into something both eclectic and electric. – JT
Listen: Spotify
---
Gábor Szabó – The Sorcerer
(1967)
Hungarian-born guitarist Gábor Szabó developed a name for himself as a sideman for bandleaders such as Charles Lloyd and Chico Hamilton (who also appears on this album guide), but throughout the '60s he recorded a number of excellent albums as the marquee performer. None are quite as enchanting as The Sorcerer, a live set recorded at The Jazz Workshop in Massachusetts. There's a mystical air about the performances, accessible throughout but with a sense of psychedelic atmosphere. Szabó's playing is stunning throughout, and the immediacy of it makes the session endlessly fun. But on a more ambient, melancholy exploration like "Space," it becomes something else entirely. You can practically smell the incense. – JT
Listen/Buy: Spotify | Merchbar (vinyl)
---
Genesis – Trespass
(1970)
I can hear the brakes on your eyeballs bringing things to a screeching halt all the way over here. When it was owned by ABC Records—yeah, the TV network, the Seventies were weird, man—Impulse! took a chance on releasing the then-young prog-rockers' second album in the U.S. Peter Gabriel was still finding his voice; Phil Collins wasn't even in the band yet. But the organ-fueled pop of "Visions of Angels" and early concert favorite "The Knife" held the DNA of the band's fever-dream sonic fictions to come, not any appreciably weirder than their labelmates Alice Coltrane or Sun Ra. – AB
Listen/Buy: Spotify | Merchbar (vinyl)
---
Charlie Haden – Liberation Music Orchestra
(1970)
In the 1970s, it seemed as if everyone was making bigger musical statements. It was the age of both prog and fusion, for instance. And though Liberation Music Orchestra is neither of these, it is, in fact, a conceptual work of folk-inspired jazz that takes inspiration from the Spanish Civil War (and less obviously, Vietnam). As such, it's a curiously political work, but one that's brilliantly executed and comprises a wide range of sounds. Where the 20-minute centerpiece "El Quinto Regimiento/Los Cuatro Generales/Viva la Quince Brigada" finds the ensemble, which also features pianist Carla Bley and guitarist Sam Brown, going the distance in a suite of contrasting moods and arrangements, something like "Song of the United Front" is more concise, even quirky in its fairly straightforward march. There's also an intensity and genuine fury to "Song for Che," bringing the subtleties of the work to the surface. Liberation Music Orchestra is a massive work containing a lot of short sketches, but some truly huge ideas. – JT
Listen: Spotify
---
Ahmad Jamal – The Awakening
(1970)
The colorful patterns beneath Ahmad Jamal's face on the cover of The Awakening suggest a jazz record of a new era—an exploratory age that looked nothing like the landscape of jazz in the 1950s when Jamal made his debut. And yet, The Awakening itself is far from a work of radical fusion. It's highly accessible, but by no means rote or ordinary. Jamal's piano playing is lush and dynamic, and has been the source material for more than a few famous hip-hop breaks (see if you can spot the sample from Nas' "The World Is Yours" in "I Love Music"). There are some lovely takes on Oliver Nelson's "Stolen Moments" (another Impulse! hit) and Antonio Carlos Jobim's "Wave," but it's less the source material than the actual performances that are truly important here. This is Jamal's world. – JT
Listen/Buy: Spotify | Turntable Lab (vinyl)
---
Alice Coltrane – World Galaxy
(1972)
Nobody can do what Alice Coltrane does. On her 1972 jazz-fusion, psychedelic rock, radical symphonic document World Galaxy, we get a master class in composition and execution. Sure the floating bells, strings, and bass found on "Galaxy in Turyia" made Carlos Santana proclaim It as the song he would like played at his funeral. But let us not mince words. Her renditions of "My Favorite Things" and "A Love Supreme," both cultural signposts by her late husband John Coltrane, are otherworldly. With "Things" she writes the strings charts, which fluctuate from cheerful major to uncluttered minor, to act as an avatar of light. While on the mighty Wurlitzer she rips aggressive energy about like a wet towel, smacking up dense vibrations. On "A Love Supreme," after her Guru Swami Satchidananda dispels the virtues of love in an engaging tone, she flips the construct. Alice Coltrane takes hold of that 1971 Wurlitzer 805 Centura Organ, with the pitch-bending ability, and moves the composition from funk to hip-hop through fusion by way of volcanic psychedelic punk. At one point her left and right hand are speaking in tongues with one another while drummer Ben Riley holds on for dear life. Once out of the shamanic trance, Coltrane gives the lead over to Frank Lowe on sax who quickly renders it to Leroy Jenkins on violin for some abstract blues meanderings. Call it a wrestling of emotions, a conjuring of spirits or just an intentional deconstruction of the version made famous by Mr. Coltrane. The fact remains. Nobody can do what Alice Coltrane does. – JPS
Listen: Spotify
---
Pharaoh Sanders – Black Unity
(1972)
Little Rock-born Farrell Sanders earned his nickname "Pharoah" from Sun Ra and some early clocked hours performing with John Coltrane, so it's no coincidence that he quickly became a powerhouse on a comparable level to these two avant garde jazz titans. Within a half-dozen years, Sanders would release one groundbreaking work after another for the Impulse! label, starting with Tauhid and closing his tenure there with 1974's Love In Us All. Black Unity, however, is a singular recording—an album-length piece of music (split in two halves to fit on vinyl) that pairs the far-out spiritualism embodied in his passionate playing along with a space-age groove pulsing through its hypnotic rhythms, koto strums and beams of synthesizer light. It's 46 years old, but it feels like the future. – JT
Listen/Buy: Spotify | Turntable Lab (vinyl)
---
Archie Shepp – Attica Blues
(1972)
Archie Shepp's debut for Impulse!, Four for Trane, paid tribute to one of its flagship artists, where its follow-up, Fire Music, coined a nickname for the free-jazz growing in prominence at the time. But Shepp never stopped evolving throughout his decade on the label. His penultimate release on Impulse!, Attica Blues almost bears no resemblance to the smaller ensemble records of earlier in his career. As the title of the LP indicates, it's a protest record that's both a celebration of all forms of Black music and an impassioned cry for human rights. It's a diverse work, more vocally-oriented than much of Shepp's previous albums, and yet it remains true to his continued creative progression, balancing the two-part ballad "Steam" with more direct big-band grooves on "Blues for Brother George Jackson." Yet nothing here is quite as powerful as the title opener, a blazing gospel funk whose message resonates decades later: "If I had the chance to make a decision/Everyone would walk this earth in equal condition." – JT
Listen: Spotify
---
Gato Barbieri – Chapter One: Latin America
(1973)
Argentine saxophonist Gato Barbieri had a signature look as much as he did a sound—his fashion sense, with trademark tinted glasses and hat, actually inspired the sax-playing Muppet Zoot. Yet Barbieri brought a rich series of Latin jazz sounds to Impulse!, his four "Chapter" albums essentials that bridged popular Latin music like salsa with jazz both fiery and funky. "India" leans heavier on the latter, its bassline deep and frankly badass, while "La China Leoncia…" is closer to the former, underscoring an explosive free jazz stretch with Latin jazz rhythms and some gorgeous folk movements. Latin America was just the first chapter of Gato's Impulse! tenure, but no doubt the most significant. – JT
Listen: Spotify
---
Keith Jarrett – Treasure Island
(1974)
Pianist Keith Jarrett is regarded as a legend primarily for his masterpieces released through the ECM label such as The Köln Concert or The Survivors' Suite, atmospheric, epic works that reveal him as both a visionary and a master musician. That only tells part of the story, however, and during the same period, he released a long list of albums through Impulse!, including this dynamic fusion recording that stands among his most accessible and soulful works. Treasure Island puts a heavy emphasis on melody, and the players in the session (including Paul Motian and Charlie Haden), have no difficulty cooking up some outstanding grooves. While Jarrett could create lengthy works of great beauty and pin-drop tension, Treasure Island shows just how much fun he seemed to be having as well. – JT
Listen: Spotify
---
Sam Rivers – Crystals
(1974)
Eight years after John Coltrane created a massive, spiritual free-jazz epiphany with Ascension, saxophonist Sam Rivers took on a similarly ambitious work of his own with Crystals. Less chaotic and recorded as various pieces rather than as one continuous flow of music, Crystals is a work notable as much for its density as the freedom of its performances. As a big band recording, it's pretty wild, with more than 14 musicians in a single track creating psychedelic spirals of sound akin to the kaleidoscopic cover art. Yet there's funk within the fire, as on standout track "Tranquility," and cinematic intensity, as on "Orb." This is free jazz, and it's also a progressive big band album, but perhaps it's something else entirely. – JT
Listen: Spotify
---
Diana Krall – Love Scenes
(1997)
The 1990s saw their fair share of jazz revivalism, with the rise of new young lions including Terence Blanchard, Brad Mehldau, Christian McBride, and Joshua Redman. Diana Krall's ice-smooth piano and contralto vocals made enough beautiful noise on niche labels that Impulse brought her into the fold in 1996. The magic of this fourth album is encapsulated early on, as her drumless trio (McBride on bass, Russell Malone on guitar) mesh together playfulness and tension in their take on Dave Frishberg's humorously detached "Peel Me a Grape." A platinum album's worth of fans can't be wrong. – AB
Listen/Buy: Spotify | Merchbar (vinyl)
---
Sons of Kemet – Your Queen Is A Reptile
(2018)
Impulse! underwent a period of dormancy in the 1980s and early '90s, having been purchased by MCA and eventually relaunched, with a re-introductory box set in 1991 (which was my own personal introduction to a lot of the artists on the label). But in recent years Impulse! has been more active than ever, exemplified by the signing of British outfit Sons of Kemet, featuring saxophonist Shabaka Hutchings, who has grown into one of the most prominent and innovative musicians in contemporary jazz. Your Queen Is A Reptile is true to Impulse!'s legacy in that it pairs a focus on socio-political concepts while backing them in innovative, progressive sounds. Hutchings and company craft a fiery sound influenced by African and Caribbean music and the end result is simultaneously haunting, fun and intense. – JT
Listen/Buy: Spotify | Merchbar (vinyl)
---
Treble is supported by its patrons. Become a member of our Patreon, get access to subscriber benefits, and help an independent media outlet continue delivering articles like these.