Neon Indian : VEGA INTL. Night School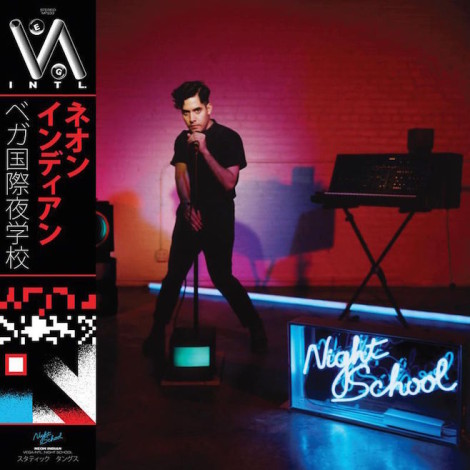 From mid 2009 to early 2011, chillwave had cachet. Initially conceived from the satirical (and recently sold) blog, Hipster Runoff, chillwave evolved into a genre that was taken seriously and covered extensively by major publications. Dave Schilling penned a brilliant criticism of it, noting that bands that grew out of its success mocked a genre that had already mocked them. However, the phenomenon of chillwave was really led by three artists: Toro Y Moi, Washed Out and Neon Indian. Their combined output received great reviews from music critics (despite the jokes), though it became apparent as their careers progressed, they couldn't ride the chillwaves much longer. Most recently, Toro Y Moi moved toward R&B and with his latest release, What For?, embraced rock. Washed Out's Paracosm was just another continuation of his first two releases, with no shift from style or aesthetic. Neon Indian, however, seemed to run with chillwave for a moment only to become a little more invested in creating new sounds.
Even during its heyday, Alan Palomo never seemed to take the chillwave phenomenon too seriously; the hilarious and absurd lyrics of "Deadbeat Summer" displayed his mockery of something Pitchfork and the Wall Street Journal bought into. Similarly, the ridiculous titled "Terminally Chill" is another sly joke on his part. With Era Extrana, Palomo paid homage to '70s style riffs and glam rock, all the while maintaining the common tropes of a genre he was partially responsible for. Since then, Palomo has managed to keep busy and his career diverse: He led an auteur theory discussion on Stanley Kubrick and produced a song for one of the biggest video game franchises. If anything, "Change Of Coast" sort of hinted at what was next for Palomo, maintaining the chillwave aesthetic but with a little more fluidity and bounce than his previous work. In March, "Annie" arrived unexpectedly and established a new direction for Neon Indian. A few months later, he employed a 24-hour hotline that fans could call, which introduced a new single, "Slumlord" and details of the new record, VEGA INTL. Night School.
While the two early singles established a more refined sound, VEGA INTL. Night School is a record that finds Palomo striving to be independent from any kind of career-pigeonholing genres and makes for an exciting listen. The songs here are more carefully thought out, and Palomo opts for a live band rather than continuing the trend of creating records singlehandedly. The chillwave elements certainly still remain, but they're no longer a dominating force in the music. There are wild samples and crazy synth arrangements, but they mostly function as background, whereas now the music within these tracks has a little more groove and melody. "The Glitzy Hive," one of Palomo's strongest tracks, carries the elements of a funky guitar and bass with a ridiculously catchy chorus (Either built from a sample or backing vocals disguised as one) begging for an instant replay. Similarly, "News From The Sun" is Palomo's attempt at emulating a 1999/Purple Rain–era Prince and, surprisingly, he's able to pull it off. Even the instrumental interludes like "Hit Parade," "Bozo" and "Slumlord Re-Release" hold the album together to create a stronger cohesive piece. Palomo cshowcases different musical skills, taking a foray into a house-oriented direction on "Techno Clique" and "Smut!" (which Toro Y Moi has tried with his Les Sins project, with decent results).
What makes VEGA INTL. Night School a strong record is the diverse assortment of tracks within it. Yes, some of the lingering threads of chillwave remain, but they are not as predominant. What makes Palomo's latest music more exciting than his contemporaries is that on this record, he strived to avoid redundancy or rely on the same gimmicks. In fact, Palomo has already called out detractors who are looking for his classic sound. Chillwave is effectively over, but Neon Indian has made the choice to stay and with good intentions on creating more electrifying music. It's a notable case of an artist outgrowing a brief (and silly) trend to actually create better music.
Similar Albums:


Toro y Moi – Anything In Return


Wild Nothing – Nocturne


Prince – 1999