Counter-Culture: The Top 100 Songs of the '60s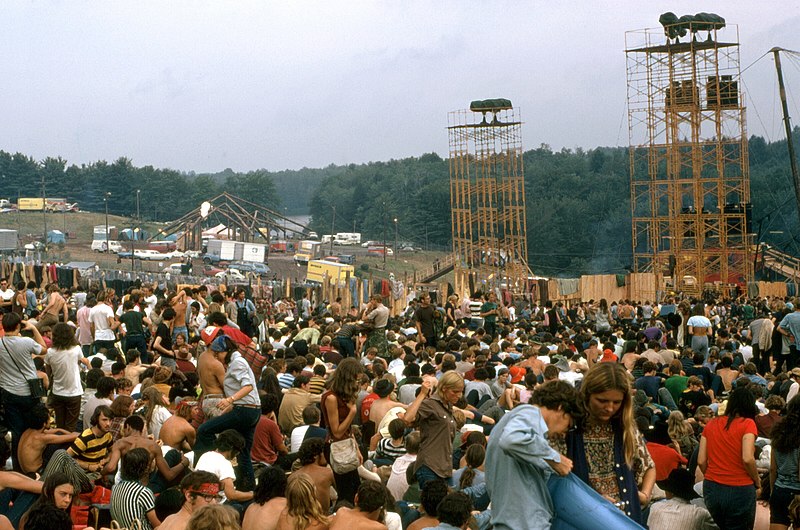 10. Isaac Hayes – "Walk On By"
from Hot Buttered Soul (1969; Stax)
A musical prodigy in his youth, Isaac Hayes started his career as a session musician and, later, an in-house songwriter for Memphis label Stax Records in the early '60s, penning staples such as "Soul Man" and "Hold On, I'm Comin" for Sam & Dave, among others. Later in his career, Hayes would go on to release many albums of his own, including several soundtrack pieces, and even voice the character of "Chef" for Comedy Central's South Park, but it wasn't until 1968 that he released his debut on Stax, Presenting Isaac Hayes. Although Presenting went under the radar, his next record—and, arguably, magnum opus—Hot Buttered Soul stands today as a landmark of soul. The album's centerpiece is an extended cover of Burt Bacharach's "Walk On By," made famous by Dionne Warwick and, later, by Hayes himself. While Warwick's version is mournful, Hayes' is lavish, decadent; it's clear from the opening notes. (And, if nothing else, the 12-minute running time—a whole nine extra minutes—should give it away.) It's a glorious funk jam complete with organ, strings, and a rockin' guitar solo. What's not to dig? – BB
9. Sam Cooke – "A Change is Gonna Come"
(1964; RCA Victor)
Few songs are as inextricably woven into the American epoch as Sam Cooke's frustrated gospel, released as the B-side to his posthumous single "Shake" five months after the Civil Rights Act of 1964. "A Change Is Gonna Come" stemmed from sources both tangible and inspirational. The former was a 1963 incident in Shreveport, Louisiana, when Cooke and memers of his his band were denied rooms at a local Holiday Inn despite having made reservations. The latter was Dylan's "Blowin' in the Wind," another discomforted question song that especially impressed Cooke as an eloquent statement on racial relations coming from a white man. Cooke locks his story down with bracing economy ("I was born by the river in a little tent/Ohh and just like the river I've been running ever since"), while René Hall's sustained, almost Copland-esque arrangement plays up the heightened drama. The song's survival over more than 50 years is as emotionally torn as the narrator himself: While its simple, graceful power would make a highlight for any such artist, the fact that "A Change Is Gonna Come" still needs to be heard reflects how long the change continues to take. – PP
8. Nina Simone – "Sinnerman"
from Pastel Blues (1965; Philips)
There is a pure and undeniable elemental force behind the best music of Nina Simone. "Sinnerman" may be its purest distillation. Her version of this spiritual reflected the whirlwind of fear and anxiety that most if not all black Americans in the mid-1960s (when "Sinnerman" appeared on Simone's 1965 album Pastel Blues) lived through on a daily basis. Every last one of its 10 minutes is breathtaking, from the opening piano riff/hi-hat combo to Simone's exultant vocal coda, abandoning words almost entirely as the emotions become too potent for language to easily support them. As recent events make clear, "Sinnerman" is as wounding and relevant now as it was decades ago. – LG
7. Bob Dylan – "It's Alright Ma (I'm Only Bleeding)"
from Bringing It All Back Home (1965; Columbia)
I think it's difficult to appreciate, in 2016, how utterly bizarre "It's Alright Ma (I'm Only Bleeding)" must have seemed to those who heard it expecting the protest-heavy Bob Dylan, or at least the whimsically weird Dylan. It was so far beyond the realm of the clear language with clear targets that made up his purely political songs, instead using elliptical references and allusions, dense layers of metaphor and a sizable helping of absurdity to frame a widescreen image of 1960s America in turmoil. Many of its phrases are lodged forever in my memory—I'm partial to "flesh-colored Christs that glow in the dark" and "if my thought-dreams could be seen, they'd probably put my head in a guillotine"–and others, like "He not busy being born is busy dying," entered the pop-cultural lexicon. "It's Alright Ma" positions Dylan as heir apparent not principally to Woody Guthrie and Leadbelly but also Rimbaud, Baudelaire, Coleridge, Eliot, Dickinson—poets so bemused by the world's hellish nature that they could no longer use straightforward words to describe it. – LG
6. The Stooges – "I Wanna Be Your Dog"
from The Stooges (1969; Elektra)
Not once since the conception of The Stooges' most popular recording has there been a more terrifyingly powerful single note piano riff to grace the length of an entire song. Producer and Velvet Underground member John Cale was responsible for laying down the piano track, an idea that, in its utmost simplicity, kicks ass. Iggy Stooge (as he was known at the time) sexually submits himself to his partner of carnal desire and pleasure. His plea is urgent, his appeals are candid, and his cause is unashamedly ignoble. What musically remains is simplicity intertwined with fierce animal instinct—a gritty, distortion-heavy guitar and bass, and tight, forward snares as direct as the track's lyrical message. – PPi
5. Velvet Underground – "Heroin"
from The Velvet Underground & Nico (1967; Verve)
Love songs dedicated to the sins of smoking and alcohol had long occupied the darkest corners of pop charts, so it was only a matter of time before more illicit substances became the topic of musical conversation. Marijuana and LSD seemed to influence your good-timing flower children, while harder drugs entered the orbit of outlaw country (cf. Johnny Cash) as well as the hipster speakeasies and backchannels of big cities. Creating one of the loudest attempts at addressing rides on the white horse, The Velvet Underground didn't just expose the dark underbelly of life in the 1960s, they were part of the skin of it.
Lou Reed has long maintained that this track was a matter-of-fact presentation of the complicated realities of heroin use, neither glorifying nor demonizing the act—"Heroin, be the death of me/Heroin, it's my wife and it's my life." Still, there's palpable aural excitement in the up-and-down nature of Maureen Tucker's rhythms and the volume of the guitars and John Cale's viola, suggesting the wavelength of addiction from pulse-pounding high to subdued crash. It's hard to find any other song from the 1960s that serves as counterpoint to both the pop conventions of the first half of the decade and the crackpot joy of the second half. – AB
4. The Jimi Hendrix Experience – "Manic Depression"
from Are You Experienced? (1967; Reprise)
If "Manic Depression" were little more than a vehicle for Mitch Mitchell's jazz-influenced resetting-typewriter drum beat, it still would have earned its place in the canon. No waltz I know of rocks with this much power and this much urgency. Digging a little bit deeper, however, a song with this much passion and intensity doesn't happen without a bandleader imbued with that very same feeling of spirituality and euphoria to drive. Once described by Jimi Hendrix as a "song about a cat wishin' he could make love to music," it's pretty clear that "Manic Depression" isn't, in fact, about bipolar disorder, but rather a desperate need that other people sometimes just can't fill. Unless those other people are Mitchell and bassist Noel Redding, and you happen to have a Fender Stratocaster at the ready, with an explosively loud fuzzbox to set it all off. "Purple Haze" showcased blues as filtered through a dose of acid, and "All Along the Watchtower" transformed the social commentary of Dylan into the fiery rock anthem it was destined to be. "Manic Depression" was more like the old cliche about linebackers taking ballet to be light on their feet—it's one of the heaviest songs of the '60s with a deceptively nimble rhythm section to guide it. – JT
3. Beach Boys – "I Just Wasn't Made For These Times"
from Pet Sounds (1966; Capitol)
During the headlong rush of the Beach Boys' parade of cars, surfboards and girls next door, right in the middle of their 1963 album Surfer Girl, Brian Wilson snuck in a gentle stroll of a song called "In My Room." It stands out on every Beach Boys compilation that's come since as a small sliver of introspection, almost lost in the wanton escapism of their earliest hits. Cut to 1966, not long after Wilson's ambition almost imperceptibly multiplied. Holing up to record Pet Sounds with members of the L.A. studio legends The Wrecking Crew, Wilson started chasing his muse in studio exercises nobody else had the exuberance to try. From those environs comes the Pet Sounds deep track that, as of late, embodies the Brian Wilson legacy as much as anything else he recorded. "I Just Wasn't Made for These Times" follows the kid of "In My Room" into the real world, where his potential is almost immediately betrayed by a barrage of questions, dead ends and "fair-weather friends." What's most chilling is the idea that a 23-year-old man has already made conclusions about his own iconoclasm and being out of step with his contemporaries. But the song's neatest trick is leaving it open whether the singer thinks he was born too late or too soon. Knowing Wilson's unprecendented artistic scope at the time, it's probably the latter—but without knowing that, it could be the lament of an old soul. Sung in front of a complex arrangement of harpsichords, woodwinds, a faux theremin and orchestral drums, "I Just Wasn't Made For These Times" is both a mild rebuke to the temporal world Wilson endured and an intense wish to belong to it. And in an example of delayed poetic justice, it's one of the Beach Boys' most timeless songs. – PP
2. David Bowie – "Space Oddity"
from David Bowie (Space Oddity) (1969; Mercury)
On July 16, 1969, the Apollo space mission launches from Kennedy Space Center in Cape Canaveral, Florida, and in five days would result in the first time man would set foot on the surface of the moon. From that point, the space race between the United States and its Cold War rivals the U.S.S.R. would effectively be over, and the late John F. Kennedy's goal of having astronauts make it to the moon and safely make their way back to the earth was fully realized.
On July 11, 1969, David Bowie—formerly a mod-rocker that performed under his real name, David Jones—releases "Space Oddity," a dramatic five-minute space opera that both depicts the emotion and beauty in the pursuit of space travel, while simultaneously offering some winking humor about it. That the song coincided with actual feats of engineering and world-record exploration proved unexpectedly controversial: the BBC wouldn't play the track until Neil Armstrong and Buzz Aldrin returned to earth, and later longtime collaborator Tony Visconti passed on the track after hearing it. Yet Bowie's depiction of the fictional Major Tom, in spite of its subtle critiques of Britain's inferior space program, is ultimately a song about human connections. "Here am I floating in a tin can," he sings, plainly laying out the loneliness of his anti-gravity protagonist. "Planet Earth is blue, and there's nothing I can do." Major Tom would later reappear in a new wave hit, strung out in heaven's high, but here he's both go-getter and everyman, launched into a realm few humans will ever see firsthand while experiencing those very same emotional pangs and wounds that even the least of us feel. – JT
1. The Beatles – "Tomorrow Never Knows"
from Revolver (1966; Apple)
One of popular music's most treasured thrills is when an artist with an established fanbase smuggles through a moment of genuine innovative danger. "Tomorrow Never Knows" is the ne plus ultra of the phenomenon, a song that gave a forecast of how the next half century might develop. As we arrive at the end of that half-century, one has to conclude that we haven't progressed at the speed that John Lennon had hoped.
Whether you're talking about writing lyrics inspired by the philosophy of The Tibetan Book of the Dead, or dabbling with tape looping in honor of Karlheinz Stockhausen and music concrète, or developing a chord progression that comes close to abandoning chord changes altogether, 'Tomorrow Never Knows' was an avant-garde thunderbolt at the end of the biggest album yet by the biggest band in the world. If it this was fiction, you'd struggle to accept it. Decades later, artists like DJ Shadow and The Chemical Brothers were being lavished with praise for creating records that appeared literally to attempt to recreate it. Imagine, for a second, Adele or Beyoncé ending an album with a track so wildly, aggressively, confidently outside of pop music's conventions. This really happened. – MP