Counter-Culture: The Top 100 Songs of the '60s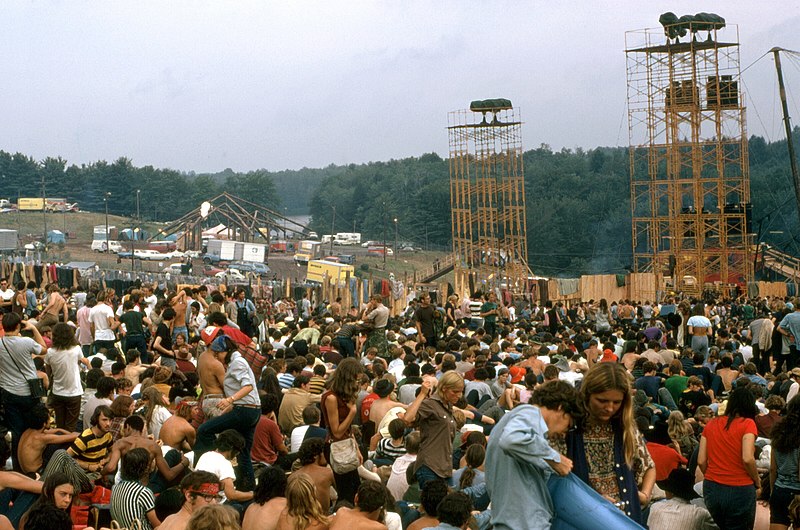 20. Harry Nilsson – "One"
(1968; RCA Victor)
In the 60s, hopeless romantics had to take to their landline phones to reach their crushes. Instead of texting, they had to anxiously wait for a response, listening to either four agonizing rings, or, sometimes, a busy tone. That's what singer-songwriter Harry Nilsson's hopeful call was met with, which inspired him to write the heartbreaking "One," later made into a hit by Three Dog Night. The opening notes of the track are the beeps of a busy signal, and Nilsson begins immediately opens with a line that would soon become legendary: "One is the loneliest number that you'll ever do." – VC
19. Sly and the Family Stone – "I Want to Take You Higher"
from Stand! (1969; Epic)
I first heard this song in David Fincher's Zodiac, a film that uses music more effectively than most, soundtracking a montage of increasingly unhinged letters sent by the Zodiac killer to the San Francisco police. Within that context, the underlying mania and paranoia that fuels what seems, on the surface, like a jubilant rave-up by Sly Stone & Co., bubbles to the surface. Southern-fried bluesharp and horn stabs have rarely sounded as menacing as they do here, and the ringing guitar hook is like a clarion call for the chaos of late '60s/early '70s America. – LG
18. Nick Drake – "Way to Blue"
from Five Leaves Left (1969; Island)
The full impact of Nick Drake's quiet, spectral power wasn't felt until long after the '60s ended, yet it's difficult to imagine his debut album Five Leaves Left being made at any other point in rock history. In the age of directly confessional singer-songwriters, Drake was an open-ended impressionist whose lyrics could be elusive as he was. Amongst the expert acoustic guitar tracks on Five Leaves Left lies "Way to Blue," a modern hymnal arranged with a string quartet by Richard Kirby, constructed with key shifts that draw more from baroque classical than folk. Drake's interrogation of a potential, poetic leader—into clarity, reality, the blue sky or even heaven itself—strikes a wistful note, as for many Drake could have filled that role himself. – PP
17. Nancy Sinatra and Lee Hazlewood – "Some Velvet Morning"
from Nancy & Lee (1968; Reprise)
Lee Hazlewood had his share of share of trivia-factoid claims to fame in the 1960s, one being his work on Duane Eddy's rockabilly instrumental "Rebel Rouser," and another being his production behind Nancy Sinatra's campy 1966 hit "These Boots Are Made For Walkin'." It's the latter relationship that resulted in his most enduring and unconventional pop music masterpiece: "Some Velvet Morning." A blueprint for how to turn a pop duet into a work of avant garde art, the juxtaposition of male and female vocals, minor and major keys, and 4/4 and 3/4 time signatures ultimately makes it two songs in a psychedelic ballroom dance, neither fully commanding the whole of it nor ceding ground to the other. Though if it's a battle of the sexes, it's the mythical goddess Phaedra who wins, giving life and making it end in the stroke of a single line of verse. – JT
16. The Byrds – "Eight Miles High"
from Fifth Dimension (1966; Columbia)
From 1965 to 1966, The Byrds were American icons. Said to be the American answer to the Beatles, The Byrds created two classic albums of British Invasion-influenced folk rock, Mr. Tambourine Man and Turn! Turn! Turn! But it was on their third album Fifth Dimension that The Byrds truly embraced their psychedelic side. Some music historians even say that "Eight Miles High," the first single from that record, is the first psychedelic rock song, similar to what The Yardbirds and Donovan were doing at the time. Not surprisingly, it only charted at no. 14 in the U.S. and was the last to even make the Top 20, as The Byrds were finally leaving their docile folk-rock behind. "Eight Miles High" is particularly jazz-influenced, especially in Roger McGuinn's improvisational 12-string guitar solos, which he made to sound like a sax (mainly inspired by John Coltrane's "India," as well as the works of Ravi Shankar). Other elements which marked this new sound as such a departure included the droning vocal melodies and especially hypnotic bass line. Indeed, it's inspired dozens of covers (Hüsker Dü, anyone?) and is now widely considered to be one of the band's best songs. (FYI: There are two versions of the track recorded at two different studios—both are on the reissue of Fifth Dimension.) – BB
15. Can – "Yoo Doo Right"
from Monster Movie (1969; United Artists)
Edited down from a six-hour long improvised recording session, Can's "Yoo Doo Right" is a sprawling example of the band's cutting-edge genius and unarguable influence. After enlisting multifaceted artist Malcolm Mooney, who would also be responsible for coming up with Can's democratically voted name, the band would release their debut album, Monster Movie in 1969. Clocking in at just over 20 minutes, "Yoo Doo Right" is a spellbinding escapade of tromping drum and bass, never ceasing to shift in and out of patterns and variations for measures on end. Mooney's shredded croons and scatty, speak-sung vocals are made up of excerpts taken from a love note, repeated in episodes of fleeting chants in ad-lib techniques. Recorded in a separate decade than Can's other releases (besides the label-declined Delay 1968), and Can's only Malcolm Mooney-featuring studio release, "Yoo Doo Right" and the remainder of Monster Movie are glimpses of the krautrock group's primitive eccentricities and unparalleled experimentation. – PPi
14. James Brown – "Say It Loud (I'm Black and I'm Proud)"
(1968; King)
We built the White House and they built Central Park over our corpses. We demanded equality and they sprayed us with fire hoses, sicced police Dobermans on us, and blew us up in our goddamn churches. The LAPD take liberties on a black man and blocks go up in flames as a response. Try to separate yourself out after receiving enlightenment, and Elijah Muhammed has you shot. Try to help the faux genteel city of Memphis realize that their garbage workers are men and some racist prison escapee blows your head off.
When James Brown sings "ooh wee/you're killing me" it's not in service of a catchy hook, it's stating a centuries-old fact. And despite a bunch of advancement, this song sadly started off relevant in 1968 just weeks after another Kennedy assassination (like this country would ever accept a black man as the PRESIDENT of all things) and has stayed this way for five decades since. Scapegoated, demonized, slighted, murdered by the state, made to suffer indignities from the financial to the emotional every waking moment depending on how many of those the police let us have at times. And we're still proud. – BR
13. Love – "A House is Not A Motel"
from Forever Changes (1967; Elektra)
It's ironic that a band called Love was having none of the Summer of it. The band's frontman, Arthur Lee, had a cynical outlook on the flower-power mentality of the late '60s (and some pent-up resentment about the success of the Doors—understandably so), and on the back cover of 1967's Forever Changes, he's depicted holding a broken flower pot full of dead stems. It ain't subtle. Neither is "A House is Not a Motel," an increasingly escalating series of apocalyptic visions sandwiched between folk-rock plucks and a fiery electric freakout. Lee is as dark a soothsayer as he's ever sounded, reflecting on the conflation between entertainment and if-it-bleeds-it-leads news coverage, while predicting plagues of near-Biblical proportions: "The water's turned to blood/ And if you don't think so, turn on your tub." Couple this with the band's habit of getting high in Bela Lugosi's mansion, dubbed "The Castle," and Love might very well be the first goth band. – JT
12. Toots and the Maytals – "Pressure Drop"
from Sweet and Dandy (1969; Beverly's)
Before Chris Blackwell, there was Leslie Kong. A Jamaican restarauteur of Chinese descent, he discovered and entered the recording business with Jimmy Cliff in 1961. The rest, as they say, is history. He helped Frederick "Toots" Hibbert and his vocal foils in The Maytals pretty much invent reggae—or at least made them the first to namecheck it in song—then used it to mainstream a rather dark warning for the godless in a call-and-response party track. The trio took the meteorological phenomenon of atmospheric pressure dropping just before a storm to symbolize impending spiritual judgment, wrapping their message in subversively uplifting harmonies that would make Motown proud. The song would reach critical mass on the soundtrack for The Harder They Come in 1972, and inspired cover versions for decades inside and outside the genre. – AB
11. King Crimson – "21st Century Schizoid Man"
from In the Court of the Crimson King (1969; Atlantic)
Dedicated to Nixon's Vice-President: Spiro "I prefer Ted" Agnew. A proto-Trump who used sassy ghost-written slogans to Gooble Gobble knee-jerk conservatives into a single mind of meretricious phraseology. Though he himself was as ineloquent as his constituency sporting "I like Spiro" stickers: when announcing unmediated opinions he claimed dunce with, oh, how 'bout, "you seen one slum you seen em all." In a William Safire penned speech about peacenik troublemakers he relayed they were "[seeking] an emotional purgative… to cleanse themselves of their lack of ability to offer a constructive solution," which is so close to being self-reflexive. Swapping "emotional" for "rhetorical" you'd have Spiro.
His most infamous incident of adage blasting was calling the media "nattering nabobs of negativism" in defense against their representations of him; and was thus intrinsically a move towards furthering the cloak-and-daggering of Vietnam's degression. No surprise Greg Lake's vocals are so distorted in "Schizoid Man," then; it's an expressionistic emulation of the static strictures being enforced on disputants. The distortion makes the anger more urgent and so you lean your ear into the voice trying to help it break the lyrics through, yet when they do they're mired in the rubble of clauses broken by Vietnam.
It's the death-knell of the '60s song. The crazy saxophone skronks and eventual free time measured by Robert Fripp's counterintuitive picking techniques evoke '60s psychedelia as the untenable product it always was. The jam-session-as-sit-in's droning sounds being droned out by a perpetual war. – BJ