Shadow of the Horns: Judgment Night 2016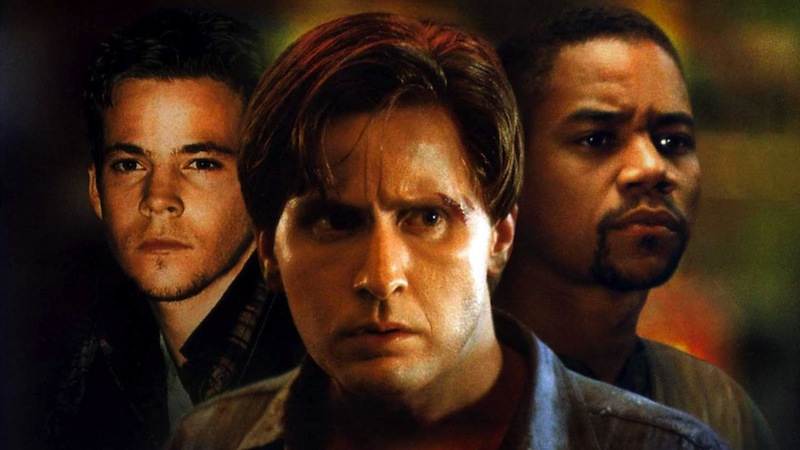 Yesterday, we posted a top 10 list of our favorite rap-rock hybrid tracks, and it included a track from the 1993 Judgment Night film soundtrack. The film itself was nothing to write home about, featuring Emilio Estevez and Cuba Gooding Jr. as friends trying to get away from drug dealers after witnessing a murder. It has a 31 percent rating on Rotten Tomatoes, so it's night like you need to go out and see it right away, or ever, but the film earned a lot of attention for its soundtrack, which found metal bands collaborating with hard rock and metal bands (and Teenage Fanclub, for some reason). Sometimes it worked and sometimes it didn't, but the concept was interesting enough that even people who never saw the film still remember Cypress Hill's track with Sonic Youth, or the collaboration between Helmet and House of Pain.
That idea, in collaborative spirit if not the literal mix of hard rock and rap, is still being used in soundtracks today, like the similarly panned Suicide Squad, which features Imagine Dragons with Lil Wayne and Skrillex with Rick Ross. But as a fan of heavy music, I got to thinking about what kind of mix of collaborations would be as innovative right now. Here's the funny thing: It's existed right in front of me the whole time. Electronic producers and heavy bands have been collaborating for the better part of a decade on innovative blends of ambiance, density and darkness. Once I heard that Andy Stott had remixed a Batillus track, I knew that eventually I'd be putting this playlist together.
Now, the concept here is probably closer to the Spawn soundtrack than Judgment Night, but the idea isn't to necessarily recreate the concept of the original soundtrack but to translate the idea into something that actually sounds innovative in 2016. And while heavy rock and rap pairing together still sounded fairly innovative in 1993, now it's all too familiar. If I were designing my own version of this by playing god with the collaborators, I'd have some real fun with it: The Field with Deafheaven, Prurient with Godflesh, Caribou with Baroness, Blanck Mass with Tribulation. I could keep going! But I don't actually have to, since some interesting collaborations between those in various fields of rock, metal, electronic and in between already exist.
So here's what I came up with. (Note: I'm realizing now that this is basically a Remake/Remodel, so you can look at it that way if you want.) It's not all metal. It's not all electronic. It blurs lines and it breaks rules, but it'd make a good movie soundtrack. Producers: Hit me up.
The Body and The Haxan Cloak – "The Night Knows No Dawn"
The idea behind The Body and The Haxan Cloak's collaborative album I Shall Die Here was pretty genius from the get-go. In fact, it more or less gave me the idea for the whole Judgment Night 2016 mix. Bobby Krlic's harrowing dark ambient soundscapes—essentially The Shining soundtrack for a modern electronic audience—pairs brilliantly with The Body's terrifying sludge. This is a track where it all comes together: ambiance, fearsome distortion and all.
Grinderman and U.N.K.L.E. – "Hyper Worm Tamer"
Any metal band worth a damn should be indoctrinated in the church of Nick Cave (see SubRosa below, who once wrote a song based on a work of fiction by Cave), so a weirdly groovy big-beat collaboration between U.N.K.L.E. and his Grinderman side project feels like a natural addition to this mixture of heavyweights of heavy and menacing mixmasters. The weird thing is how fun this is—it loses none of the appeal of Grinderman's original studio version of the song, but lends some appealing surf-party-USA rhythms and grooves.
The Bug with Justin Broadrick and Flowdan – "Fat Mac"
Godflesh's Justin Broadrick and The Bug's Kevin Martin have collaborated in past projects before, so they're seasoned vets at combining intense electronic sounds with colossal heaviness. This highlight from The Bug's Angels & Devils features grime artist Flowdan, who adds some suitably intense verses over Broadrick's thunderous distortion and Martin's sparse bass beats. There aren't many grime tracks that sound like this—maybe Broadrick should lend his services more often…
Trentemøller and Jehnny Beth (of Savages) – "River in Me"
Savages is one of the few bands with the ferocity and presence to really compete with metal bands right now, so I didn't think twice about reaching for this track, a synth-laden goth-pop track from Trentemøller's upcoming album. In this context, it's one of the most pop-friendly songs of the batch, but sometimes it's necessary to break up the pattern of harrowing dark ambient and white-knuckle metal with something a bit more immediate. Either way, it's plenty dark. Sounds like a winner to me.
MSTRKFT and Jacob Bannon (of Converge) – "Go On Without Me"
Just released on MSTRKRFT's new album Operator, "Go On Without Me" features Converge vocalist Jacob Bannon doing what he does best: screaming like a motherfucker. It shouldn't work in the context of a dance track, but MSTRKRFT pair his vocals with pulsing beats and torturous electronic terror. It's a thing of menacing beauty.
Melvins and Lustmord – "Safety Third"
At first glance the ominous dark ambient of UK producer Lustmord seems like a really odd fit for the riff driven chug of the Melvins. But their collaborative effort Pigs of the Roman Empire works incredibly well. This is a particular standout, on its own a solid Melvins song made all the better with eerie ear candy.
Batillus – "Concrete" (Andy Stott remix)
Cheating a little here by including a remix, but the very concept of Andy Stott reworking a metal track is too good to leave out. Stott is, himself, an artist whose sample- and beat-driven tracks are frequently heavy enough to do battle with metal, and this takes it a step further by lending distorted beats to sludge/doom riffs and twisted vocal re-edits.
Boris and Merzbow – "Walrus"
Why not include this fun and super weird one? Boris covered The Beatles' "I Am the Walrus" back in 2007 with the backing of Merzbow's twisted noise creations, and it ends up being a disorienting, abrasive good time. I can easily see this fitting in with a ridiculous action movie. Someone call up a Hollywood producer, I got their soundtrack right here.
Sunn O))) and Scott Walker – "Lullaby"
The entirety of Soused kind of sounds like a kind of fucked up horror soundtrack, and it is, indeed, the result of an unconventional collaboration, so I couldn't pass up this track. Granted, it's not necessarily in the same vein as the other metal/electronic/industrial collaborations on here, but it's still two avant garde icons of heavy music coming together for something terrifying and stunning. Plus if this were an actual soundtrack, it'd be a pretty damn tense moment in a film.
Tribulation – "Melancholia" (Author and Punisher remix)
I was mostly trying to avoid remixes for this playlist, since those tend to be less about collaboration than one artist sharing a different vision of the same song. But the combination of Tribulation with Author & Punisher was just too good to pass up. In fact, it's not even a metal song anymore—not really. Tristan Shone turns the standout track from The Children of the Night into a gothic industrial stomp that's just downright mesmerizing. It's dark and creepy and kind of beautiful.
HEALTH and The Haxan Cloak – "Victim"
This is the second Haxan Cloak appearance on this tracklist, which means that Bobby Krlic is basically the Cypress Hill in the scenario. Krlic has made a bigger presence in other artists' work of late, doing some production and collaboration work, and this opening track from HEALTH's 2015 album Death Magic infuses their electro-noise with his dark ambient brooding. It's a brief but perfect pairing.
The best metal tracks of August 2016
Blood Incantation – "Hidden Species (Vitrification of Blood 2)"
When Blood Incantation debuted the full stream of new album Starspawn on Decibel Magazine's website, vocalist Paul Riedl did a Q&A that involved some pretty high-minded (and I mean high…) about the concepts of time and various other things that were sort of hard to follow. And that's fine. Metal bands can get ridiculous with their own conceptual approach because being pretentious and absurd is part of metal's charm. More importantly, his band's new album is a death metal monster to put others to shame in 2016. The standout track is centerpiece "Hidden Species," sort of a sequel to the 13-minute leadoff track, though that's not important in terms of being able to enjoy it. After all, there are plenty of riffs, hooks, atmospheric segues and even a melodic outro that's oddly reminiscent of Failure. It's everything I look for in a great death metal track, and then some.
[from
Starspawn
, out Aug. 19;
Dark Descent
]
Eerie – "Yeti"
I've heard a few comments about Eerie's name being lousy, which seems absurd to me. This is metal, where bands have names like Nunfuckritual. Eerie will do just fine. As will their searing sludge/stoner metal riffs. This track slipped just under my radar (and deadline) for the August installment of Shadow of the Horns, but I'm making up the oversight by featuring this monstrously powerful track right now, right here, in all of its thunderous glory. Something like a fusion of Kyuss and Pagan Altar, "Yeti" is a beast with many faces and guitars that can seemingly fell entire landscapes. It's a big-sounding track, as all the best stoner-rock jams should be, with more than its share of psychedelic diversions.
[from
Eerie
, out now;
Tee Pee
]
SubRosa – "Wound of the Warden"
Last month, I highlighted a track by SubRosa that was featured on a Decibel flexi disc, since no tracks had yet been released from the Salt Lake City doom metal band's new album, For This We Fought the Battle of Ages. That is no longer the case. "Wound of the Warden," all 13 minutes of it (!), has been introduced to Soundcloud and Bandcamp, and it's a gorgeous behemoth of a track. It has to be when it spans the length of three average metal tracks, but SubRosa aren't generally the type to be epic simply for the bragging rights. There's a method to their marathons, and this one goes from a more delicate and tense touch in its early minutes on up to a sparse and gentle middle section and eventually an intense, gothic and psychedelic finish. It's one of the finest pieces of music they've put to tape.
[from
For This We Fought the Battle of Ages
, out Aug. 26;
Profound Lore
]
Alcest – "Oiseaux de Proie"
The last time that French shoegaze/metal act Alcest released an album, there was almost no element of metal left in their sound (that they collaborated with Slowdive's Neil Halstead drove the point home that they were content simply drifting into the ether. Shelter was a good album, but I'll confess that I missed the heavier Alcest, so it's thrilling to hear that intensity return with the dense, emotionally draining "Oiseaux de Proie." Still gorgeous in its elaborately layered way, the track leans back toward black metal elements, including some of the first screaming from vocalist Neige we've heard in some time. This is the Alcest that captured my interest in graceful aggression, and this is the Alcest I'm beyond thrilled to hear more of this fall.
[from
Kodama
, out Sept. 30;
Prophecy
]
True Widow – "Entheogen"
It always feels like a bit of a misnomer to include True Widow in a roundup of metal bands, considering their music is generally not crushingly heavy, piercingly loud or moving at a gallop. It's slow, patient, yet ominous stuff. But I can't help but think back to last year when they performed at Psycho California, one of the few bands with no screaming or moments of shrieking feedback or human-swallowing doom drones, and they fit in comfortably. It's more about a feeling than anything, and True Widow's music is maybe more doom rock than doom metal, but it's great, whatever it is. "Entheogen" is more of what the band does best, employing simple but hypnotic riffs that evoke metal tropes without actually employing them. It's a tricky thing to do, but True Widow pull it off nicely.
[from
Avvolgere
, out Sept. 22;
Relapse
]
Piece by piece
The best metal releases of the month.
Boris' Pink (Deluxe Edition): Yeah, it's a reissue. But after seeing Boris play all of these songs live, I was reminded of just how powerful Pink was the first time around (and still is!). I've also been listening to it a lot, along with the outtakes and bonus tracks, which are about as strong as the originals. (Sargent House)
Hammers of Misfortune's Dead Revolution: Now this one's a scorcher. San Francisco's Hammers of Misfortune have always been operating on a more advanced level, but this time around they find the perfect ratio of progressive tendencies to simply great melodies. I could say a lot about this (and if you want to know more, click on that link to the review) but basically if you like metal of any kind, you need to hear this. (Metal Blade)
Inter Arma's The Paradise Gallows: This album, for me, is doing battle only with Oranssi Pazuzu and Baroness' late 2015 entry for album of the year. It's that good. They're a band that thinks big, and that means compositions that encompass more than mere riffs or breakneck rhythms. As much as I enjoy a grindcore album, I'm always going to be all the more impressed by a band that can do something on this scale and make every minute count. Just stunning. (Relapse)
Psalm Zero's Stranger to Violence: This New York City industrial prog-metal outfit has grown a bit since their last album, and have some more interesting dynamics to share this time around. It's dark and gothic, and actually sort of catchy. There's still plenty of growth to hear in where they can take their sound, but they're also not the type to halt their growth or expansion. I'm just happy to be along for the ride. (Profound Lore)
***
If you haven't yet, I recommend you read my new feature on Inter Arma, who have not only release what might be the metal album of the year, but have interesting things to say about metal and the state of the country.
***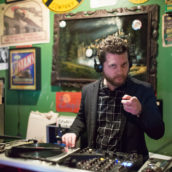 Jeff Terich
Jeff Terich is the founder and editor of Treble. He's been writing about music for 20 years and has been published at American Songwriter, Bandcamp Daily, Reverb, Spin, Stereogum, uDiscoverMusic, VinylMePlease and some others that he's forgetting right now. He's still not tired of it.