Shadow of the Horns: On Psycho, FOMO and a hell of a Baroness show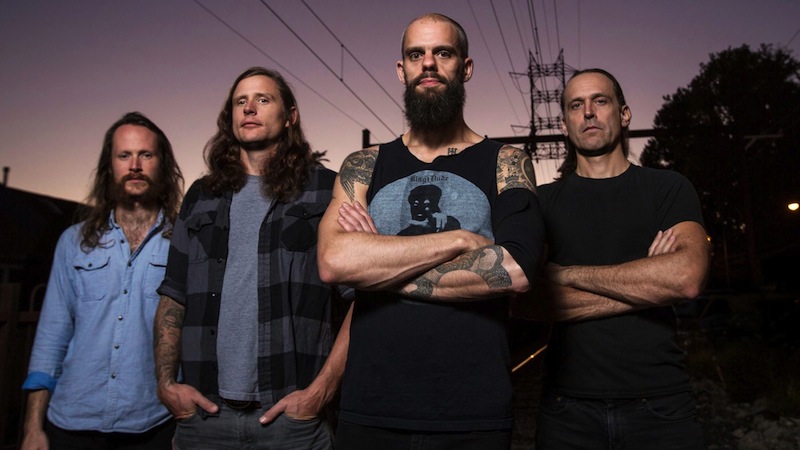 I have a confession to make: I just recently got over a pretty serious case of FOMO. Over the weekend of August 26 and 27, the Psycho Las Vegas festival brought doom, sludge and darkness to the Vegas strip, and I wasn't there. Last year, I was fortunate enough to catch Psycho when it was strictly a California affair, and in the process saw a long list of amazing bands with more riffs than you'd think Orange County would know what to do with. It was fun, it was reasonably intimate, and it was loud. And I'd be lying if I said I wasn't a little upset about it not being in my backyard anymore.
But that's how it goes sometimes. I'm not one for festivals in general, and though I had previously gone to FYF Fest that same weekend every year for the last four years, I opted out this time in favor of a more low-key weekend. Outside of Grace Jones and Kendrick Lamar, however, I don't really feel like I missed all that much at FYF—good bands, no doubt, but ones I'd have plenty of opportunity to see again. With Psycho, it's a little different. Alice Cooper, The Crazy World of Arthur Brown, Tribulation, Drive Like Jehu, Elder, YOB and Blue Oyster Cult all in one festival is the kind of lineup that really makes you reconsider how much you hate Las Vegas, risk sunburns and all manner of insufferable pool party debauchery just so you can be there and take it all in. But I didn't go, and a lot of that has to do with my lack of investment in interacting with the clusterfuck on the strip. But it also has a lot to do with other travels I've taken this year, and sometimes you just have to turn down a metal fest, no matter how fun it sounds.
There is a silver lining. Fresh off of their appearance at Psycho, Baroness made a tour stop in San Diego—my fourth time seeing them—and it kind of reinvigorated me after an overwhelming, exhausting couple of months. Performing a phenomenal set of songs that leaned heavy on Purple (I'm pretty sure they played every song from the album) and incorporated tracks from throughout their other three albums, Baroness not just filled the sound and the space of the 1,200-capacity Observatory North Park, they made up for whatever lingering FOMO hangover that still afflicted me. As a band, they only continue to get better after more than a decade, and as they ripped through highlight after highlight in front of one of the most enthusiastic crowds I've ever seen—San Diego's notorious for being a little too chill sometimes—they reminded me why they're one of my two favorite bands playing today. (The other one is Savages.)
Of course, this was no surprise to me. They absolutely killed when they played a blistering set at The Casbah in 2013. They tore up the stage when they played the next afternoon in Los Angeles at that year's FYF Fest, and they also made one hell of a ruckus the first time I saw them, at The Casbah in 2009. I also saw Baizley perform a solo set in 2013 at SXSW, one of his first live appearances after recovering from a horrific bus crash the summer before. He played a mixture of stripped-down versions of Baroness songs and covers, including tracks by Bruce Springsteen and Townes Van Zandt, and though sandwiched between Mutilation Rites and Pallbearer, his set was the one that left the biggest impact, this quiet yet powerful set leaving the crowd in hushed awe. Baizley was actually on my plane to Austin that year, and while the last thing anyone wants is to be bothered at the airport, I kind of wish I had said hello and shared a kind word. Though three years later, I managed to get the handwritten lyric "never to return" from "March to the Sea" from him, as a souvenir to be put to use at a later date and different context. (No, I'm not selling it—I'll explain when it happens.)
My enthusiasm isn't in question. But San Diego, as I was saying, went above and beyond in showing their appreciation for the band, which is fairly remarkable given that Baroness' last show in town was at a venue one-fifth the size. Guitarist Pete Adams even expressed his own shock at just how awesome we were. I'm not used to that; legend has it that Ty Segall skipped us for years because we didn't have the energy (even if we presumably had the ticket sales). But I've also seen a stoked-as-hell crowd watching Ghost (or Ghost B.C. as they were called at the time), a group of committed heshers braving one of the sweatiest rooms I've been in for a packed Boris show, about four Deafheaven shows full of intense fans (and yes, some of them are new to metal, that's a good thing), and at least heard second hand about a legendary Slayer show.
So it occurs to me: If you can get metal fans to go to Vegas festival, and you can get them to go to Orange fucking County for a metal festival, you sure as hell can get them to go to San Diego. Yeah, this is self-serving and perhaps lazy on my part to say to Psycho, "bring the festival to me!" but I also think this is actually a pretty good idea. All I'm saying is that Thief, the promoter behind the festival, should consider the option (even though Psycho Las Vegas 2017 is apparently already in the works). At the very least, I can guarantee that I'd be there.
The best metal tracks of September 2016
Darkthrone – "Tundra Leech"
In the past month, a pair of veteran metal bands released new tracks that warranted some hyperbolic reactions, or at least some proper metalhead comfort food. One was Metallica, whose new song "Hardwired" certainly sounded like classic Metallica, if with polished production and some characteristically bad James Hetfield lyrics and vocal leads. But it was at least a step in the right direction. But then again we have Darkthrone, whose creativity hasn't waned since the '90s. Certainly not all of their albums can be Transilvanian Hunger, but they've also never released Load (or Re-Load, or St. Anger…). "Tundra Leech," from upcoming 17th album "Arctic Thunder" is exactly the kick of Celtic Frost-inspired metal that I need to hear to beckon the chill of autumn. It's slower and less menacing than the band's hissy black metal classics, but they've moved away from that style for some time now. Instead Tundra Leech is the sound of a metal band with more than 25 years of history carrying that unholy flame into a new generation.
[from
Arctic Thunder
, out Oct. 14;
Peaceville
]
Cult of Fire – "Death"
Czech band Cult of Fire is an unconventional bunch, having blended black metal with Hindustani classical music on their 2013 album मृत्यु का तापसी अनुध्यान, which translated to Ascetic Meditation of Death. When black metal bands step outside the typical lo-fi blast beat comfort zone, some truly inspired things can happen, and such was no exception there. With new track "Death," however, there's less of that album's ambitious instrumental arrangement and more of a commitment to making black metal into a moving melodic experience. It's at times chaotic, sometimes progressive and weird, and frequently quite beautiful. They don't offer harshness without an accessible counterpoint as well, so the experience ends up being one of an epic journey, covering a wide range of sound and feeling.
[from
Life, Sex and Death
, out Sept. 15; Beyond Eyes]
Crowhurst – "The End"
Crowhurst is, essentially, a one-man project. Described as "Jay Gambit and friends" on Facebook, it's a revolving-door lineup of collaborators with Gambit at the center of it all, driving some churning, industrial-tinged noise-rock and metal hybrids that fall somewhere between Unsane and Neurosis, with a healthy helping of Swans' apocalyptic ambition. Gambit's new album II features members of Caina and Aevangelist, which is good company to have if you want to add a dose of melodic nuance and ambient terror to what you're doing—as Gambit so chooses on "The End," an eerie noise-rock ballad turned black metal warhorse, with just a trace of death rock creeps. With noise experiments and electronic antagonism in Gambit's repertoire, it's to his credit that he creates something with such a strong melodic core here, reminding listeners that being heavy doesn't mean leaving nothing graceful or even beautiful to hold on to.
[from
II
, out now;
Broken Limbs
]
Trap Them – "Hellionaires"
Trap Them generally operate at a few different speeds, few of which dip below a sprint or a gallop. They're not really about taking their time to get where they need to go—which doesn't mean that they don't favor space or progression, they just do so while moving at a relentless pace. And that's just fine. When I crave Trap Them, I need it to carry that surge of crusty menace that you don't get with careful and cautious movement. "Hellionaires" has just the kind of foaming-at-the-mouth ferocity that their best tracks tend to carry, crunchy and screeching and barrelling into oblivion.
[from
Crown Feral
, out Sept. 23;
Prosthetic
]
40 Watt Sun – "Beyond You"
UK doom metal outfit 40 Watt Sun made a big statement with their 2011 debut, The Inside Room. Yet with "Beyond You," their first new track in five years, the band doesn't seem to be playing metal. It's a slower, less forceful and abrasive sound instead, something much closer to the slowcore balladry of Codeine or Karate, and as such it's pretty damn amazing. That, I suppose, is an argument for why it shouldn't be here, but after one truly stunning doom album, 40 Watt Sun is already grandfathered in. Having not yet heard the rest of the album, I'm not immediately rushing to judgment. The album might very well turn out to be much heavier than we're expecting, but it certainly doesn't have to be. This is moving, haunting music with a sense of melody that's often all too absent in metal. As long as they're playing music this good, 40 Watt Sun can be whatever they want to be.
[from
Wider Than the Sky
, out October 14; Radiance/
Svart
]
Piece by piece
The best metal albums of the month.
Anicon's Exegeses: This black metal outfit features members of Krallice, which should go a long way toward explaining the relentless drive and fury in their dense and powerful compositions. But unlike that progressive black metal outfit, Anicon is bigger on hooks and ends up creating an amazing, unexpectedly accessible record that's worthy of spin after spin. With Krallice records, I usually need a little breathing room after taking in all of the connecting threads on one of their intricate albums. But Anicon's the kind of black metal I can spin over and over again. (Gilead)
Blood Incantation's Starspawn: I'll readily admit that I haven't been keeping up with death metal this year to the degree I'd like—doom's been kind of killing it this year, as well as the more avant garde black metal offerings. Blood Incantation kind of changed all that with this monster of a record, which blends a classic death metal aesthetic with some truly progressive songwriting. It's essentially an album comprising four songs with one instrumental to break them up, so each of those tracks (especially the 13-minute opener) makes a pretty big impact. It's tuneful, sophisticated and chock full of amazing riffs. (Dark Descent)
Eerie's Eerie: Now here's a fun one. With a fairly straightforward name and a gross-looking beast monster on the cover, Eerie is a bit of a throwback to the days of big-riff metal escapism. Everything they do is beefy and burly and worthy of all the invisible orange crushes you got. Imagine High on Fire leaning heavier on their Deep Purple and Sabbath influences and you come pretty close to the kind of fun that Eerie conjures up. No need for hyphens and subgenres, Eerie's just playing some kickass metal. Full stop. (Tee Pee)
SubRosa's For This We Fought the Battle of Ages: SubRosa never releases underwhelming albums. It's just not in their DNA. The Salt Lake City doom metal band has an already unusual makeup to begin with, employing two violinists in their personnel, and that string-laden approach gives their colossal and crushing doom an elegant, gothic aesthetic. It makes for an impressive combination of sounds on this, a concept album based on dystopian Russian literature that's dense but well worth the crash course. (Profound Lore)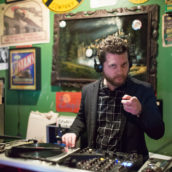 Jeff Terich
Jeff Terich is the founder and editor of Treble. He's been writing about music for 20 years and has been published at American Songwriter, Bandcamp Daily, Reverb, Spin, Stereogum, uDiscoverMusic, VinylMePlease and some others that he's forgetting right now. He's still not tired of it.