Shadow of the Horns: The live music bucket list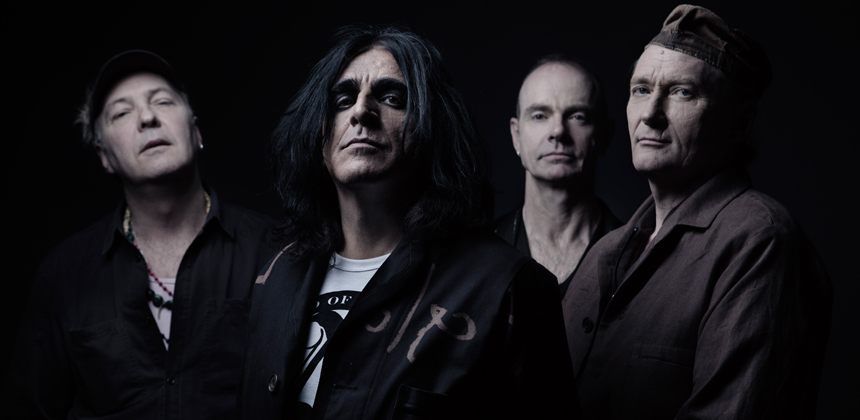 This weekend, Metallica performed at San Diego's Petco Park, and I didn't go. I didn't care, honestly. Their 2016 album Hardwired…To Self Destruct wasn't bad, and the setlist actually looks pretty solid, all things considered (read: no Load-era stuff). I've never actually seen them before, and while they seem to have at least partially gotten over the pervasive awfulness of their late '90s and early '00s material, it's hard to muster up any enthusiasm at this point. Seeing Metallica in 2017 just isn't a priority for me.
On the other hand, a friend of mine was recently sharing some pics on social media from Iron Maiden's recent performance in San Bernardino, and I was hit with a serious case of FOMO. Iron Maiden is a band that's been on my live-music bucket list for some time, along with Bruce Springsteen, Tom Waits and Kate Bush, and I have yet to cross them off the list. My hope is that the opportunity comes up sooner rather than later, and I don't regret missing this one show relatively close to home (I was in Palm Springs with my wife—sometimes you need to just chill), but I still have my fingers crossed that I'll be able to see Maiden at least once.
Like any music fan, I have my own bucket list for live music. In other words, a list of artists I need to see within my lifetime before it's too late. I've already been working at crossing names off that list; earlier this year I saw PJ Harvey for the first time, and her live performance was everything I hoped it would be—more, actually. And I also saw Nick Cave and the Bad Seeds for the second time, which means it wasn't actually a bucket-list show per se, just a reminder that most other bands have a lot to live up to. It's not fair, really. But those are the breaks.
In metal, however, I find my list of must-see bands is always getting longer, probably because I'm always discovering amazing new bands. Near the top of my list is Oranssi Pazuzu, the Finnish psychedelic metal band that released my favorite metal album of 2016. They played a handful of dates on the East Coast earlier this year but have yet to make it to this side of the country. But they're still a band I'm keeping my eye on, and keeping my fingers crossed they'll make it over this way. I've also been eager to see Killing Joke for a long time, who have sort of evolved into a metal band though those aren't their roots. But they've canceled several tours in recent years, including a date in early 2016 in San Diego. That was a bummer. But the point is that there are artists who would be cool to see (like Metallica, if someone gave me free tickets or something) and artists that I'm making it my mission to see, and while the latter seems like it'd be a much shorter list, there's always a new name to add.
I am, however, crossing off a lot of names this month. YOB, fresh from Mike Scheidt's period of recovery following some emergency surgery this year, will be playing in San Diego this month, which I am hell-bent on seeing. And not long after that, I'll be headed to Psycho Las Vegas to catch Neurosis, Carcass and, one of my non-metal bucket list faves, Mulatu Astatke. It's going to be a rich month for live music, and when the list of must-see bands continues to grow, that's a hell of a blessing.
There are, of course, bands I'll never get to see that I would have loved to, like Agalloch, who broke up fairly recently. Or Botch, who broke up 15 years ago and have absolutely no interest in getting back together. Or Weakling, who barely existed in the first place. And I'm still kicking myself for not seeing Castevet at SXSW six years ago when I had the chance. The list goes on: Harvey Milk, In Solitude, etc. But those are the breaks.
Here's the thing: I've seen a lot of shows. In just the past five years or so I've seen Converge and Mastodon once each (though I'd certainly be very interested to see them a lot more), the on-hiatus Kylesa many times, Wolves in the Throne Room, Tribulation, Power Trip, Tombs, The Body, Eyehategod, not to mention the MVPs I've seen at least four times: Pallbearer, Baroness, Boris and Deafheaven. So it's not like I'm getting lazy or depriving myself of live music in any way. Any music writer worth their salt should ensure they get out there as much as they can. But when you love live music, the more you see, the more you want to see. I'm not getting any younger, which is exactly why I'm as determined as ever to cross off more of those names.
The best metal tracks of August 2017
Acephalix – "Suffer (Life in Fragments)"
I try not to go more than a month or two in this space without some gnarly new death metal, and truth be told there's been no shortage of amazing death metal being released in 2017. Perhaps something about the vile state of humanity is bringing out some ugly catharsis via guttural growls and filth-encrusted chugs, and I'm here for it. Bay Area bruisers Acephalix have connections to other bands that have been highlighted on this page, including Vastum and Necrot, and they've been making noise for a decade now, which makes Decreation one of the more highly anticipated releases of the fall. "Suffer (Life in Fragments)" is exactly the kind of death metal that hits the spot—it's concise but crushing, with riffs simultaneously catchy and cacophonous. It's a descent into darkness and muck, and it's absolutely fantastic.
[from
Decreation
, out September 22;
20 Buck Spin
]
Big|Brave – "Sound"
Big|Brave's space in metal is one that keeps the door wide open for influences from well outside more traditional heavy music sounds, their artful gothic doom something more akin to the epic dirges of Swans, Chelsea Wolfe mashed up with SUMAC, or perhaps a more crushing version of Emma Ruth Rundle's excellent album from last year. This 11-minute track from their upcoming Southern Lord release Ardor is a slow-moving, hypnotic track that has almost a meditative approach to repetition, albeit with the end result of principled sonic destruction. Still, within this space they create something beautiful and mysterious, with what sounds like a cello cutting through the menacing noise and revealing something more delicate, more traditionally beautiful. It's called "Sound," and this colossal track is really everything that encompasses: Noise, space, melody, speech and distortion somehow all existing in one intense, yet gradually paced track.
[from
Ardor
, out September 15;
Southern Lord
]
Hell – "Machitikos"
So many of metal's gnarliest names have been claimed for some time, so it's kind of remarkable that a band called Hell didn't take off earlier. And if that's the name you choose, you better damn well live up to that kind of invocation of evil. Salem, Oregon's Hell does so nicely, with the handful of tracks released from their upcoming full-length album effectively sounding like transmissions from the abyss. Their sound is dense, evil, psychedelic and roaring, a pretty menacing fusion of black metal, doom, sludge and crust punk. "Machitikos" is a sublime showcase for this genre-purity-averse sound, rife with some of the nastiest, most wretched guitar sounds I've heard in metal this year—which is saying a lot! This is wonderfully vile-sounding stuff, swirling and intoxicating in its sublime filth. This is exactly what my vision of a mythical Hell would sound like. (The real thing is obviously much more banal.)
[From
Hell
, out August 11;
Sentient Ruin
]
Cloakroom – "Seedless Star"
It says a lot about Indiana's Cloakroom that they're the kind of band that would cover a Songs: Ohia song. Earlier this year, they released their own beautifully understated take on "Steve Albini's Blues" as a tribute to the late Jason Molina, though their own compositions tend to run a bit heavier. With a melodic, albeit crushing sound that blends doom metal, shoegaze and post-punk, they recall the likes of SubRosa, Nothing and True Widow in new track "Seedless Star," a 7-and-a-half-minute standout that feels like a cosmic journey. It's quite beautiful, and arguably more metal-influenced than metal proper on some levels. Still, it's splendidly written heavy music that's brilliantly moving and highly memorable. It's one of the better songs I've heard this summer in any genre, let alone metal.
[from
Time Well
, out August 18;
Relapse
]
Converge – "I Can Tell You About Pain"
Part of what makes this column so fulfilling is the ability to discover new, underground metal every month. But part of it is just getting the opportunity to wax poetic about artists I already love. Like Converge, for instance, who will be releasing a new album later this year and just released a new 7-inch single with their first new tracks since 2012's All We Love We Leave Behind. The A-side is this two-minute monster of angst and anger, seething and snarling with jerky rhythms and a sense of unpredictable menace. And it utterly rips. Honestly, I didn't realize how much I needed a new Converge rager like this in my life in 2017 until this was released, and it's quite satisfying for the soul. You know what? I'm just going to leave it at that. New Converge is always something to celebrate.
[from
I Can Tell You Something About Pain
, out now;
Epitaph
]
Piece by piece
The best new metal albums of the month:
False – Hunger: This isn't an album, it's a 7-inch single, under 10 minutes in length. But damnit, this is as essential as anything else that's been released in the last month. False have proven themselves one of the most essential metal bands of the past seven years, largely on the strength of 2015's Untitled, and this new double-sider has two of the best tracks they've released to date. They're short, they're punchy and they're immediate, but they still sound like black metal epics, no matter their length. (Gilead)
Integrity – Howling, For the Nightmare Shall Consume: Integrity was a groundbreaking band in the '90s for their fusion of hardcore and metal, which manifested in dramatically different ways than the typical metalcore act. Their songwriting's evolved over the past 20 years, however, and they're much more of a metal band than a hardcore one these days, with plenty of intense, blackened elements in their new album Howling. But what's most intriguing is not so much how they fit in, genre-wise, but how they continue to evolve and grow as artists. (Relapse)
Less Art – Strangled Light: This isn't a metal release. I just want to state that up front. However, I'm still including it in this roundup because of the band's personnel, which includes current members of Kowloon Walled City and Curl Up and Die's former vocalist. Less Art are heavy, but they're heavy for post-hardcore, their abrasion and intensity built from a place of melody and intricacy rather than power or aggression. Those elements are all there, however, and with an added emotional punch. It's one of the best albums I've heard this year, and one of the most draining. (Gilead)
Poison Blood – Poison Blood: Neill Jameson and Jenks Miller have each put in their share of work in making some notable metal records in the past decade or two, so it's not much of a surprise that their collaborative project, Poison Blood, is highly enjoyable. In fact, it's kind of a back-to-basics thing, stripping back the atmospheric elements in favor of some visceral, crusty black metal. It's old school, raw and rowdy. It's a blast. (Relapse)
***
Psycho Las Vegas baby! Later this month I'll be sharing my dispatches from the three-day Sin City metal fest. No fear, no loathing, just riffs.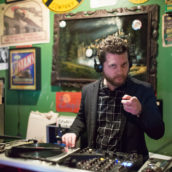 Jeff Terich
Jeff Terich is the founder and editor of Treble. He's been writing about music for 20 years and has been published at American Songwriter, Bandcamp Daily, Reverb, Spin, Stereogum, uDiscoverMusic, VinylMePlease and some others that he's forgetting right now. He's still not tired of it.