Shadow of the Horns: 10 Bands to see at Psycho Las Vegas 2017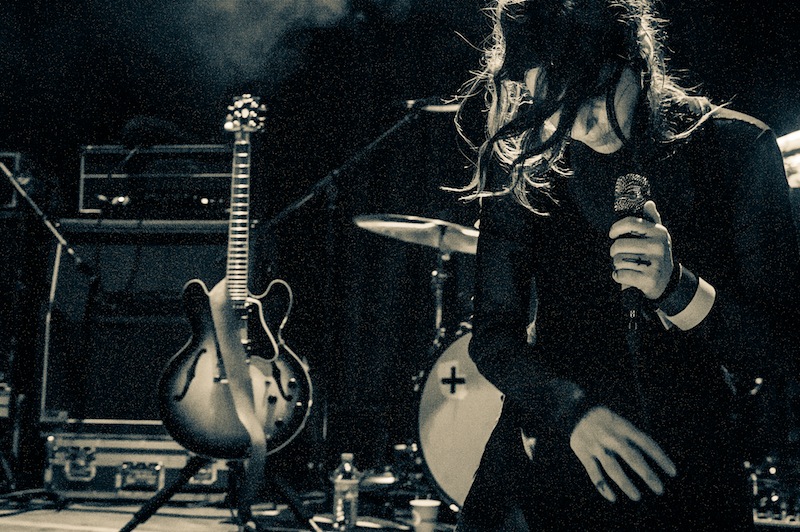 Summer's almost here, which means that festival season has taken over. Generally speaking, that means the same several dozen bands will be performing in different locales across America, but increasingly festivals are popping up with unique lineups and experiences. Psycho Las Vegas, taking place at the Hard Rock Hotel in Las Vegas on the weekend of Aug. 17-20, is one such festival, bringing together a long list of metal, hardcore, stoner rock, psychedelic and other bands for a spectacular session of heshin' on the Strip. I'll be headed there, myself, and you can look out for coverage shortly after the festival. But since Psycho just announced the daily lineups, now seems like a good time to offer my picks for 10 bands not to miss at the festival.
Khemmis (Friday): I'm pretty up-front about how much I love Khemmis. Their album Hunted was one of my Top 10 Metal albums of 2016, not to mention Decibel's album of the year, and I even left an Oathbreaker show early after catching Khemmis' set. (I regret that slightly, now, since Oathbreaker dropped out of the Psycho lineup because of a personal conflict.) Still, Khemmis' mix of old-school metal gallop and doom-metal churn is one that sounds amazingly fresh, despite having influences that are 30-plus years old.
Mulatu Astatke (Friday): Here's a surprising one! One of the main reasons that the Psycho lineup caught my attention back in January was the announcement that Mulatu Astatke would be performing. The father of Ethio-jazz, Astatke is one of the most important figures in African music in the 20th century, having pioneered a style of jazz that blended traditional Ethiopian styles with American jazz groove. It can be heard on the recent reissue of Mulatu of Ethiopia, and his stunning technique has become the stuff of legend. For eclectic and open-minded metalheads, I highly recommend you check out his hypnotic, psychedelic sounds.
Chelsea Wolfe (Friday): Another technically not-metal artist, Chelsea Wolfe is a performer who nonetheless has experience playing heavy and sharing the stage with metal bands. (Listen to "Iron Moon" to see how she blurs the lines.) Her 2015 album Abyss is her best yet, and shows how much bigger and more intense her music has become since her more explicitly goth beginnings. Plus she puts on a great show—get into a gloomy trance.
Neurosis (Saturday): It's pretty simple—if Neurosis is on the lineup, you go see Neurosis. The band's catalog from their first proper entry into epic sludge metal, 1992's Souls at Zero, on up to last year's Fires Within Fires, is pretty much unimpeachable. They're a band that never stops evolving, yet each of their full-length albums maintains their artful, apocalyptic atmosphere. Prepare yourself for something massive.
Celeste (Saturday): French band Celeste might still be far from a household name, but they're one worth keeping an eye on. They've released a handful of intense, emotional albums over the past eight years that blend black metal with post-hardcore and screamo, which positions them as something like a darker, French Deafheaven. That's not quite the case, but it's not too far off. It's soul-baring, gut-wrenching music that'll hit you where it hurts.
Carcass (Saturday): Carcass is one of the greatest death metal bands of all time. In fact, they're simply one of the best metal albums of all time. There's arguably no bad albums in their catalog (some listeners are split on Swansong), and there is most definitely a handful of stone-cold classics, including 1991's Necroticism and 1993's Heartwork. Yet as innovative as their take on death metal is, it's also highly melodic and accessible, which is an ideal formula for a great live show.
Inter Arma (Saturday): Inter Arma is quickly building up to being one of the best heavy bands of the decade. Their 2016 album Paradise Gallows is a breathtaking mixture of haunting atmosphere and furious doom and sludge metal riffs. And, having seen them live at least three times, I can confirm that they utterly destroy onstage. Their sets generally comprise about four or five lengthy songs, so get comfortable, get in a trance, and prepare to be moved by their sheer power.
Zeal and Ardor (Sunday): Zeal and Ardor caught the metal world by surprise last year with the release of Devil is Fine, a powerful and unusual hybrid of black metal and gospel, with elements of pre-Civil-War-era slave music. It's not like anything else out there, really, save for similarly eclectic hybrids (like Algiers' mix of post-punk and soul, which doesn't exactly sound similar, necessarily). While Devil is Fine is a relatively short album, the impact is undeniable. In a short time, Zeal and Ardor has become a band that's left a big impact, challenging how we think about black metal.
Warning (Sunday): British doom metal group Warning broke up back in 2009, with Patrick Walker later forming the more atmospheric 40 Watt Sun thereafter (which is also an amazing band). This year they've reunited to play their classic 2006 album Watching from a Distance on tour (though they had to postpone their U.S. dates due to immigration issues—thanks a lot, Trump). They'll be performing the album at Psycho Las Vegas as well, and it's bound to be majestic and devastating.
Mastodon (Sunday): I'm not sure this one really needs to be explained. If Mastodon is playing a headlining set at a festival, particularly a metal festival, of course you make sure to put them on your itinerary. The band's new album Emperor of Sand is the best of their heavy-rock-n-roll bunch (which started with 2011's The Hunter) and they continue to fill their setlists with classics from Leviathan, Blood Mountain and Remission. Count me in.
Best new metal tracks of June
Less Art – "Pessimism As Denial"
Less Art is, arguably (or perhaps objectively—that's fair), more of a post-hardcore band than a metal band. Yet there's no denying the heaviness that the group harbors. Comprising members of Thrice, Kowloon Walled City and Curl Up and Die, Less Art has a pretty impressive pedigree on both sides of that curved, blurry line, and the line to each member's other projects can be very easily drawn, whether its to the emotionally charged hardcore of Thrice or the abrasive post-sludge of Kowloon. It all swirls together nicely on the dizzying, jagged "Pessimism As Denial," which pummels as much as it challenges via melody, with guitars interlocked rhythmically complex harmonies and an overall sense of urgency that feels exciting. The closest band to Less Art's sensibility that comes to mind, however, is KEN Mode, whose own sound never adhered strictly to noise rock or metal (though Success was definitely more of the former than the latter). Similarly Less Art has the kind of intricate instrumentation to appeal to the cerebral punks, but more than enough impact to go toe-to-toe with any contemporary metal band.
[from
Strangled Light
, out July 28;
Gilead
]
Necrot – "Empty Hands"
It's pretty easy to understand nostalgia for vintage death metal. As the genre's essential history, Albert Mudrian's Choosing Death, shows, it's a little like the early days of the punk underground, but more dissonant and brutal. Still, there's an excitement about hearing a group of people just push music to its most ferocious limits, and with some pretty excellent melodies somehow making their way through the muck. Necrot is just such a band to tap into death metal's old school sensibility, particularly the alternately doom-immersed and rollicking style as pioneered by Autopsy in the early '90s. "Empty Hands" is all tremolo picking, growls and Gothenburg gallop, but it's a pretty badass, barn-burning tune, but it's hard not to notice that on their bandcamp page, they also include the tag "punk." This isn't punk per se, but there's a similar level of aggressive accessibility. Death metal and punk fans don't always see eye to eye, but Necrot's brand of viciousness is one area where I think we can all get gnarly together.
[from
Blood Offerings,
out June 9;
Tankcrimes
]
Tau Cross – "Deep State"
I was a little bit disappointed that Tau Cross' 2015 debut didn't catch on that widely in heavy metal circles. Any band featuring members of Amebix and Voivod sounds like a winning combination to me, especially when their crusty sound nods heavily to the dark post-punk of Killing Joke. Well, they're back—don't fuck it up this time, folks. "Deep State" is a tense, urgent track that carries on the sound as established in their debut, with some lyrical portents both apocalyptic and topical. These are the times we're living in! In any case, it rocks, and it's exactly everything a listener could ask for from Tau Cross.
[from
Pillar of Fire
, out July 21;
Relapse
]
Witch Vomit – "Accursed Temple of the Great Deceiver"
So, first of all, Witch Vomit—what a fabulously disgusting name for a death metal band. Generally, bands with names that unpleasant are fun to listen to but rarely amazing. Not the case with Witch Vomit! They are, indeed, amazing. They have a new EP due at the end of the month from 20 Buck Spin, and this highlight is a rollicking, raw and rowdy bit of old-school death metal that's produced nicely, revealing the filth of the track in all its glory. "Accursed Temple" isn't a reinventing-the-wheel kind of situation, which is admittedly rare in contemporary death metal (though Venenum is certainly taking it somewhere weird). Rather, Witch Vomit is taking an established sound and finding new ways to make it exciting and immediate. "Catchy" might not be the best word for "Accursed Temple," but once it starts playing, simply watch the band go and be thrilled for every moment of the brief, blistering journey.
[from
Poisoned Blood
, out June 30;
20 Buck Spin
]
Wode – "Temple Interment"
One of last year's most exciting debuts was the self-titled album by Wode, a blistering and maniacal take on black metal that blended a bit of sludgy heft and death metal abrasion. A year later and they're back at it with Servants of the Countercosmos (released digitally for the generous price of whatever you want to pay) and "Temple Interment," an explosive burst of go-for-the-throat visceral black metal that's less grim and frostbitten, more hellfire-enabled. The thing that always strikes me about this band, however, is that even their most confrontational and outright twisted sounds somehow end up coming across kind of catchy. It's a strange talent they have, but "Temple Interment" is no exception to that rule, as fire-breathing and evil-sounding as anything they've released. But, yeah, kind of catchy.
[from
Servants of the Countercosmos
, out now; Avantgarde]
Piece by piece
The best metal albums of the month:
Elder's Reflections of a Floating World: In the past 10 years, Elder gradually and mightily rose up from being a hard-working D.I.Y. stoner rock/psych trio to being a hard-working D.I.Y. stoner rock/psych trio that also happened to release some of the best heavy music of the decade. Their 2015 album Lore was a groundbreaking moment for the group, and its follow-up, Reflections of a Floating World, is equally as epic while adding some atmospheric elements that seem to gently nudge it into post-metal territory. Whatever it is, it's colossal and breathtaking. (Armageddon/Stickman)
Mutoid Man's War Moans: Mutoid Man is a trio of musicians who have collectively played in some of heavy music's most incredible bands, so naturally they're amazing when they perform together. War Moans is at its heart simply an outstanding rock 'n' roll album that's pushed to a ridiculous extreme in terms of rhythmic and instrumental complexity. But it's so catchy! These are anthems, extremely fun anthems, that are wrapped in a dazzling and dynamic package. Amazing stuff. (Sargent House)
Loss' Horizonless: Funeral doom is kind of a funny genre. Not funny "haha"—though I can certainly see some literal gallows humor in a twisted way—but funny in that it's a style of music that you have to really want to listen to. It's not for the casual fan. I don't know if Loss can change that, but what I can say is that Horizonless is a highly approachable and beautiful style of funeral doom, it's extended dirges unfolding in intricate and elegant ways. It's masterful stuff, still abrasive and devastating, but Loss allows the beauty to show through the brutality. (Profound Lore)
Oxbow's Thin Black Duke: So, Oxbow's place in heavy music has always been a kind of complicated one. Their sound is essentially a particularly noisy brand of noise rock, or a particularly confrontational style of post-hardcore, which means that they've never quite been a metal band in the most traditional sense, despite being a lot heavier than some explicitly metal bands. Thin Black Duke, their first album in 10 years, is actually more melodic and approachable than a lot of their work, even kind of beautiful! But it's still intense and challenging, as all the best heavy music is meant to be. (Hydra Head)
***
Baroness have announced the departure of guitarist Pete Adams and addition of Gina Gleason. The band's gone through a lot of lineup changes over the years, and it's the end of an era when a long-timer like Adams steps out, but I look forward to seeing where the band goes next and what Gleason can bring to a potential new album in the coming year.
***
R.I.P. Chris Cornell. Soundgarden was a massively important band in the evolution of heavy music in the '90s, and Cornell's voice was one of the mightiest in rock 'n' roll. He will be missed.