Substance: A guide to Factory Records' Manchester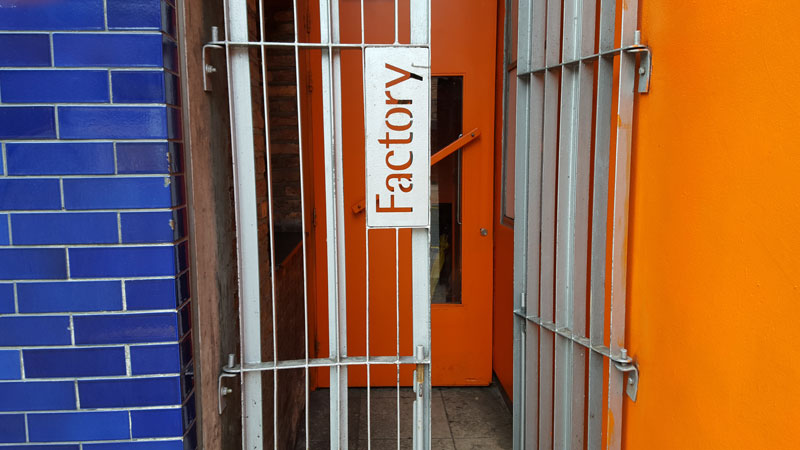 Earlier this week we posted our list of the Top 100 Post-Punk Albums, which comprises most of our soundtrack during October. But now that we've highlighted the music itself, it seemed like an opportune time to take a tour of one of the most important cities in post-punk: Manchester, England. In fact, it's long been a music city, having spawned the likes of The Stone Roses, Oasis, The Smiths and The Fall. But one institution, however short lived, will forever be connected to MCR: Factory Records.
Founded in the late '70s, Factory quickly rose to prominence on the strength of its innovative bands, such as The Durutti Column, A Certain Ratio, The Happy Mondays, Section 25 and—most notably—Joy Division and New Order. That wave of popularity led to the opening of the iconic nightclub The Hacienda, a festival in the mid-'80s and eventually greater financial risks that took the label down. But during its time, Factory Records was a symbol of musical innovation and style, from the productions of Martin Hannett to the designs of Peter Saville. Everything Factory did was conceptual; it had a catalog number for everything, including a notepad (FAC 7), an unfinished egg timer design (FAC 8), its anvil logo (FAC 47), and even a lawsuit (FAC 61). There will never be another be another label like Factory—for good reason, arguably, as it went bankrupt. But it left a massive mark on popular culture.
We took a trip to Manchester earlier this year, and here's our guide to the city's landmarks as they connect to Factory Records.
Factory Records/FAC251
Factory Records' original headquarters was set up on 86 Palatine Road in West Didsbury, on the first floor of co-founder Alan Erasmus' home. But eventually the label opened up its new offices on Charles Street in the early 1990s, and that office—much like many of the other pieces of Factory Records' culture and history—had its own Factory catalog number: FAC 251. The irony is that, despite this being a more high-profile office—in close conjunction to a Manchester BBC bureau, no less—it ended up closing within just a few years, the label having endured some serious financial hardships primarily as a result of two of their biggest bands—New Order and The Happy Mondays—going far overbudget on recordings, the latter technically not on the recordings themselves, but you get the idea. By November 1992 Factory declared bankruptcy. The building still stands, however, with much of its design elements intact, as well as new designs by the original architect of Factory Records' offices. Its current purpose? A nightclub titled FAC 251, as it turns out, complete with involvement from none other than Peter Hook. (118 Princess St.)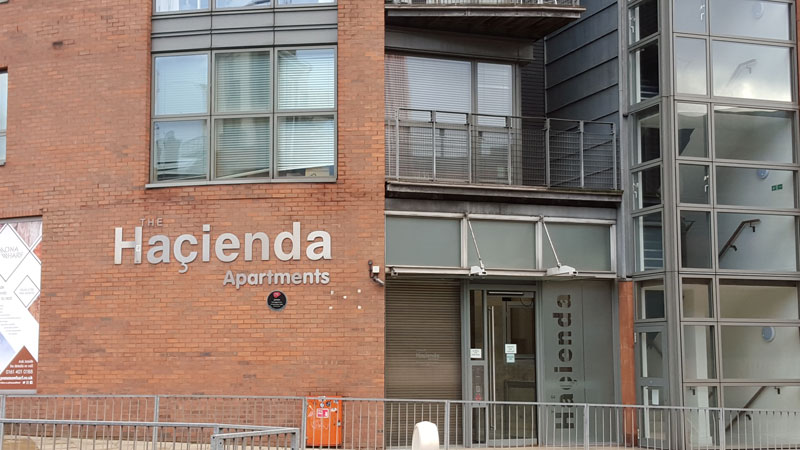 The Hacienda
The Hacienda is both famous and infamous, ground zero for a major musical movement and a business that was seemingly always on the brink of collapse despite surviving for 15 years. One of Factory Records' ambitious pursuits, the Hacienda nightclub opened in 1982 after formerly being a warehouse that housed the building of yachts. Its name taken from the radical political group Situationist International, the Hacienda had little to do with Leftist politics in the long run, given that it became a symbol of excess. Nonetheless, it became an iconic live venue and club that saw the rise of the "Madchester" movement and the growing influence of electronic music, such as acid house. Much like Factory Records itself, it was given a catalog number: FAC 51. It closed in 1997 after Factory's eventual financial collapse (though surviving for a few years), and though the actual building was demolished and a new building put in its place, the site is now an apartment building called, naturally, The Hacienda. (Whitworth St. West)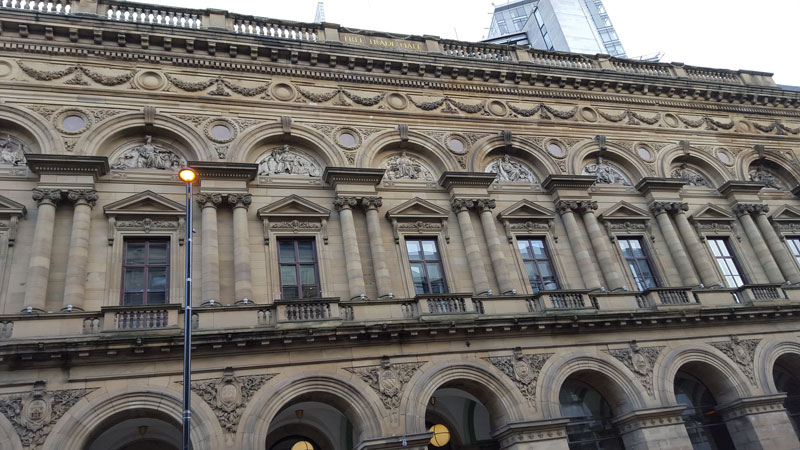 Free Trade Hall
Originally constructed in the 1850s, this formerly public hall has since been converted into a Radisson Hotel, which is in itself not terribly exciting. But the history of it is a different matter. In 1976, the Sex Pistols played the Free Trade Hall, in a show now referred to as the "gig that changed the world." It's here, after seeing the show, that the members of Joy Division were inspired to start a band. Also in attendance were members of The Buzzcocks (who organized the show), Factory founders Tony Wilson and Martin Hannett, The Fall's Mark E. Smith, and Morrissey. Joy Division, The Buzzcocks and The Smiths would all later play gigs here as well. And though you're not going to see live music there now, it's still cool to walk into a piece of punk rock history. (Peter St.)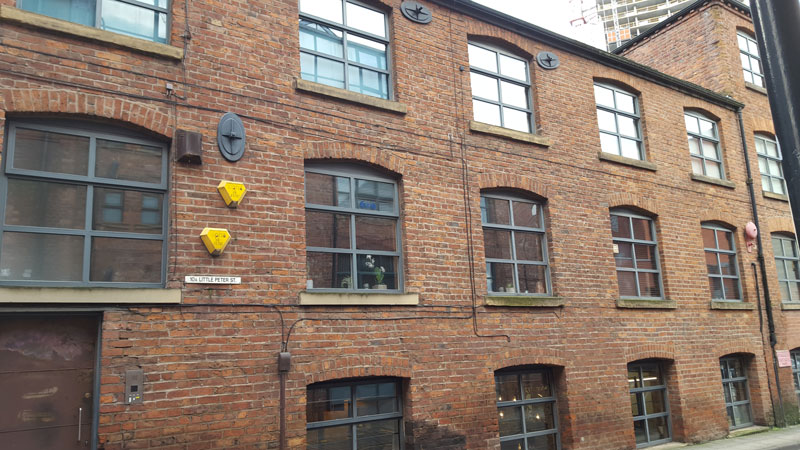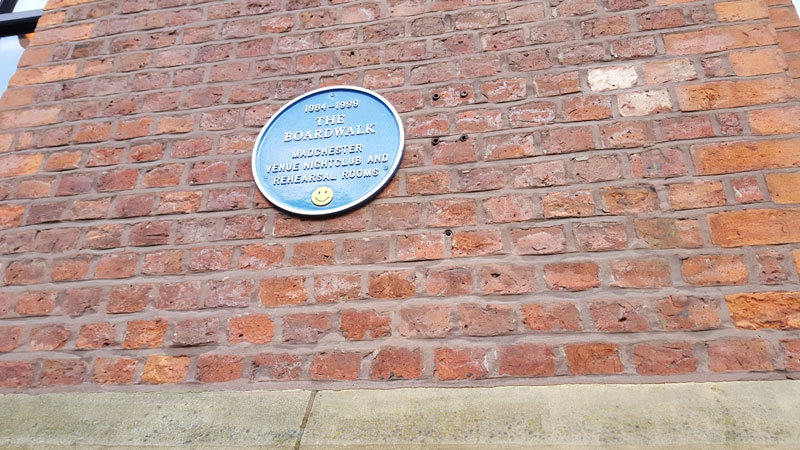 The Boardwalk/Little Peter Street
A narrow street that's a short walk from both The Hacienda and the former Factory Records headquarters, Little Peter Street carries a lot of punk and post-punk history despite looking like a fairly ordinary city street today. It once held the rehearsal studios where Joy Division practiced, for instance. And it also was the site of The Boardwalk, an iconic Manchester club that not only frequently held shows from the likes of The Stone Roses, The Happy Mondays, James and Oasis, but touring bands like Sonic Youth and Rage Against the Machine. (Little Peter Street)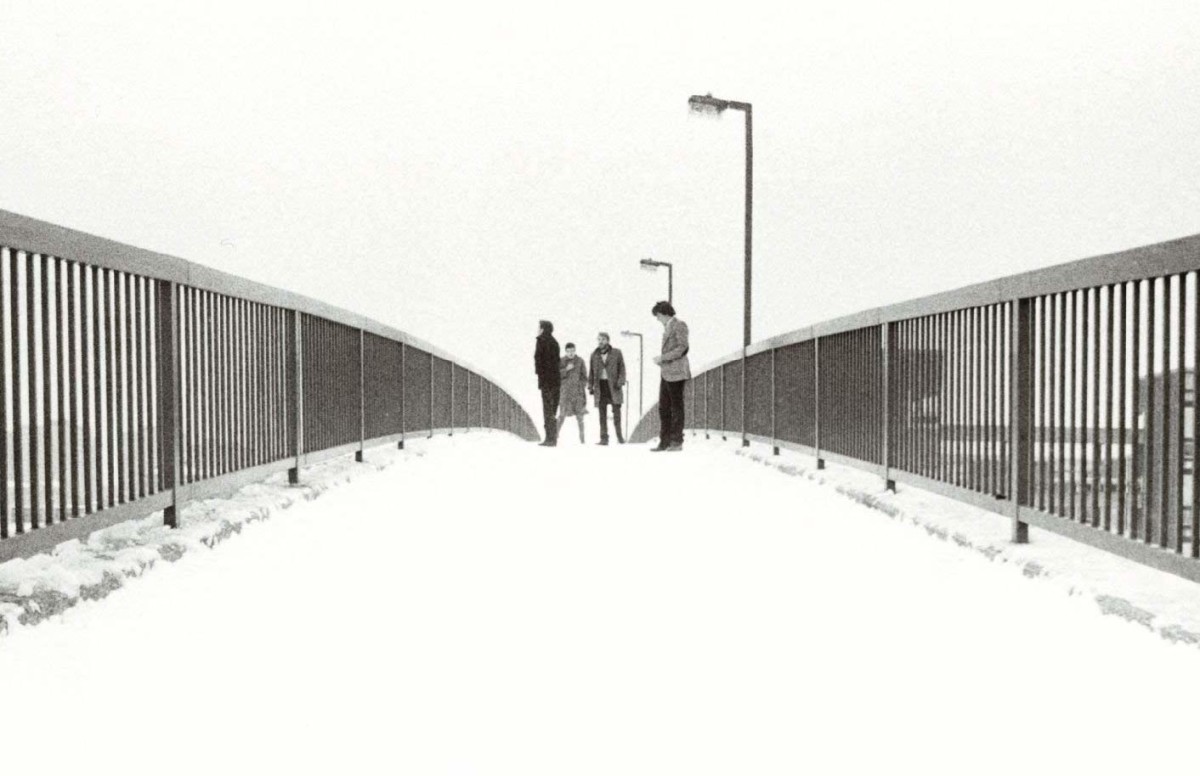 Epping Walk Bridge
Quite a few post-punk fans will likely recognize this site upon seeing it—it's the locale of a famous photo shoot that Joy Division did with photographer Kevin Cummins (which can be seen on the front cover of The Best of Joy Division). In fact that's pretty much one of the first things that comes up in a Google search of the bridge. Naturally, the temptation to recreate the photos is high, just keep in mind that as with the snowy pics from the original shoot, Manchester can get a bit frosty during the winter. (Over Princess Street, Hulme)
Manchester Central Convention Complex
An exhibition and conference center, this event venue was converted from a former railway station and later became a frequent site for live music during the 1980s. As the G-Mex Centre in the mid-'80s, it was one of the most prominent concert venues in Manchester, and was the site of Festival of the Tenth Summer in 1986. The Festival was hosted by Factory Records and featured performances from The Smiths, New Order, John Cale, Cabaret Voltaire, OMD and The Buzzcocks, among others, which must have certainly been a hell of a fest. For a time it ceased holding concerts though it picked up again in the '00s. It also is the site of Ninja Warrior UK, so there's that. (Windmill St., City Centre)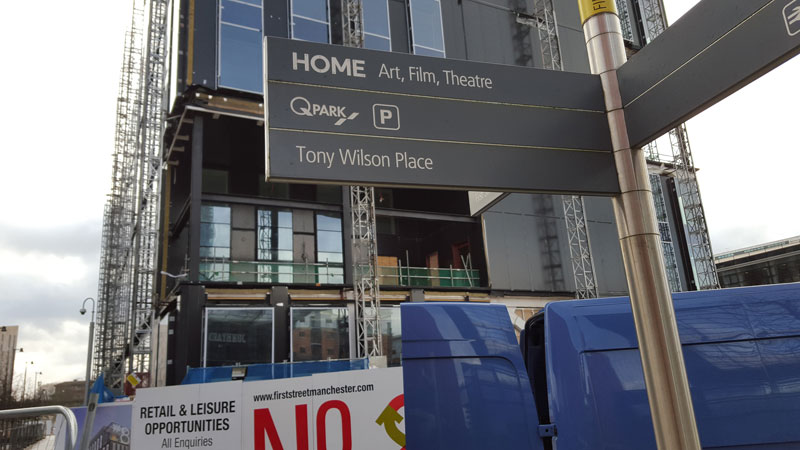 Tony Wilson Place
Though not a proper street but a plaza that also contains HOME, a contemporary art museum, Tony Wilson place honors the late founder of Factory Records by keeping his name alive amid cultural landmarks. While Manchester's changed a lot since he left his mark on the city, his name still lives on. (First St., off Whitworth)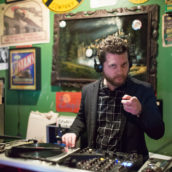 Jeff Terich
Jeff Terich is the founder and editor of Treble. He's been writing about music for 20 years and has been published at American Songwriter, Bandcamp Daily, Reverb, Spin, Stereogum, uDiscoverMusic, VinylMePlease and some others that he's forgetting right now. He's still not tired of it.