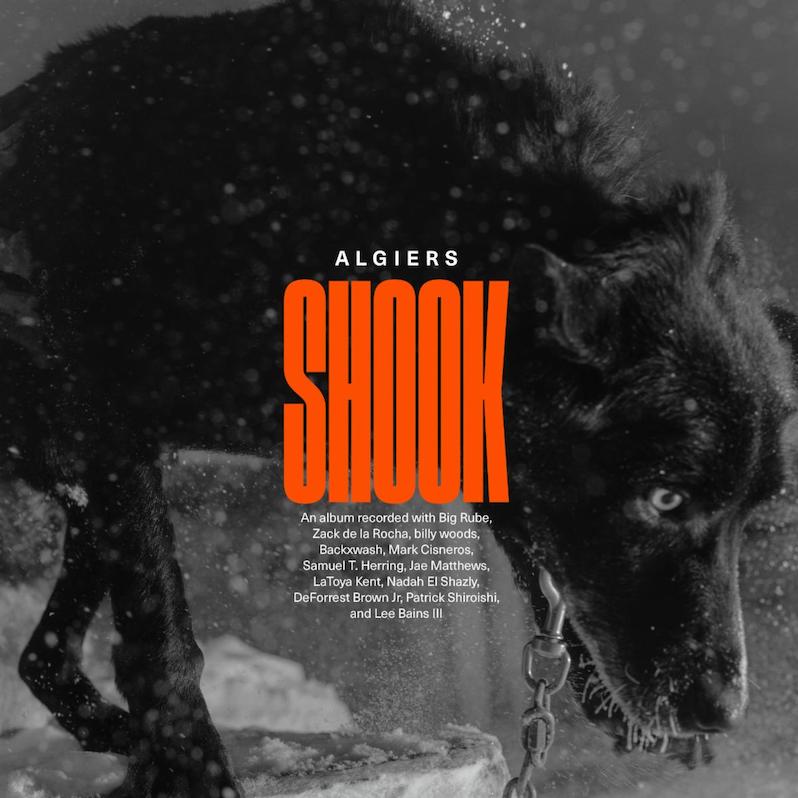 You would never guess based on this record that Algiers were apparently on the verge of breaking up sometime during the gap between this and their last. It's not just because of the length of it either, 17 mighty tracks that give it something closer to the feel of an overstuffed 2000s rap record than a tightly-composed post-punk/blues/industrial hybrid you might have expected. There was always a terrifying clamor to their earlier records, compelling and frightening at the same time, the same bluster and fury of great punk groups where it feels like every player imagines they are a totally different genre, destined to self-combust but making exhilarating and utterly vital music before that fatal collapse. Algiers swung the other way; they cohere on SHOOK tighter than they ever have, lean harder on hip-hop than they ever have. It helps, of course, that what on albums like their 2015 debut was an exciting gamble of genre juxtapositions has, thank god, been adopted by cultural figures much bigger than them—in part due to them!—which must act as a mighty cosign of the overall project if ever there was one.
The fundamental force of this group thankfully was never just that sense that the whole engine might blow before the song reached its conclusion, but instead the deeply compelling performances from them, those riveting soulful vocals over gothic synth music and industrialized beats. That the likes of clipping. and Injury Reserve and more seem to have finally impressed themselves upon the world of mainstream rap records, figures as big as Kendrick Lamar and Jay-Z dabbling in the avant-garde on major records, lessens what before had been a terrible sting, the blade running synths married to distorted hip-hop beats. But what Algiers may have lost in pure shock they've gained back and more with a sense of, well, swagger—the same head-bobbing and church-sermon sway and power that Kanye used to possess, before, well… That their cited influences here go back to that nihilistic bomb burst era of the late '70s, when punk groups and rap groups shared the very same stages in grimy bars and their blood intermingled in each other, makes immediate sonic sense. That they point this toward a substantially jazzier vibe is, given the shape of underground hip-hop in the 2020s, itself not a shock either. It's more than simply keeping up with the times; jazz has always been the spirit that underpinned both the best of rap and the best of punk, the best of soul and R&B too, the improvisational spirit set free.
The lyrical and conceptual focus of Algiers expands here or at least makes plain its attempts to capture joy, the vibrancy of life instead of just blood and misery. Those are present here too, of course, but SHOOK is as conceptually encyclopedic as it is sonically, wrapping up as many of the threads of the life of Blackness in America, or at least their window of it, as humanly possible. It bursts with vital energy, a new kind, one that doesn't derive its power from its proximity to death via the ramshackle and near self-destructing performances but instead the violence of just, well, living. It suddenly makes sense about halfway through why the record has so many tracks, so many stylistic turns. It makes sense why the band didn't break up. At some point while putting this together, they must have looked at each other and known, the way anyone who's ever made art knows, that it's all coming together.
That the liner notes cite Atlanta—the city where the band came together in the first place—seems fitting: Brooklyn hipster avant-gardeism, if ever there was any, is replaced with the real blood of life in the south, ironically all the same parts but just in a different order. (I'm southern, too; let us have this one.) The number of collaborations on this record, a full phonebook of names—Backxwash, billy woods, Zack de la Rocha, Future Islands' Sam Herring, Dungeon Family alum Big Rube, to name a few—feels utterly organic, as naturalistic as the best rap record, where each new voice that pops up feels like a deliberate brush stroke or a wise improviser piping up for a solo at exactly the right moment.
Where any given Algiers record prior to this might have been the best of their work at exploring a particular angle, SHOOK feels like the true thesis statement of the group, the ultimate synthesis of their ideas both on a sonic and conceptual level. What's left to do after you bring it all together as beautifully as this? Well, for our sake, hopefully lots more.
---
Label: Matador
Year: 2023
---
Similar Albums:
Langdon Hickman
Langdon Hickman is listening to progressive rock and death metal. He currently resides in Virginia with his partner and their two pets.