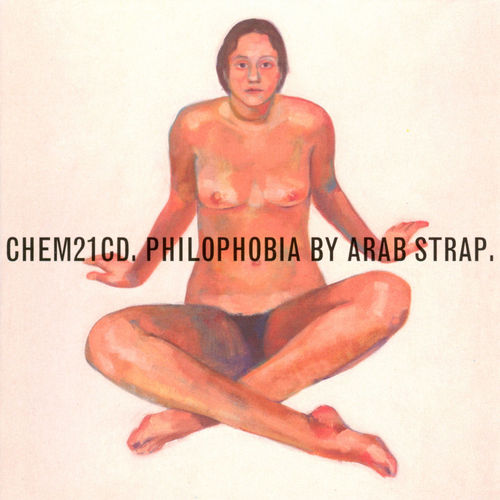 Arab Strap's debut The Week Never Starts Round Here hinted at Aidan Moffat and Malcolm Middleton's potential, but that album was held back by their haphazard approach. It's not too much of stretch to say that the duo's follow-up, Philophobia, trumps its predecessor on nearly all accounts. Their second full-length maintains all of The Week's selling points, improves upon them and shows remarkable songwriting growth.
Moffat takes his blunt honesty to new levels on Philophobia. Offering up frank accounts in matters of love and sex, he depicts trials we can all relate to—probably a little too well—and he's even more direct than he was on The Week. "The First Time You're Unfaithful" explicitly explores the effects infidelity will eventually have on a relationship that continues in spite of said infidelities. "I Would've Liked Me A Lot Last Night" is basically the day after a drinking binge. And just try finding a review of this record that doesn't mention the album's ear catching opening line. We're not exactly dealing with Hollywood love stories here. This all may hit a little too close to home if you've ever been in these situations before or witnessed them firsthand. Even if you haven't, Moffat's attention to detail—nailing the feelings that come along with these experiences—will have you feel as awkward and dejected as he does. Arab Strap feeds the listener little shards of reality you can feel tearing up your stomach. Later Glaswegian soul-baring acts like Frightened Rabbit and the Twilight Sad owe a debt to Arab Strap, even if their ruminations are more often shrouded in metaphors.
In terms of arrangements, Arab Strap grew leaps and bounds and the elaborate strokes suit them well. The opening track "Packs of Three," features touches of strings and Rhodes while the following track, "Soaps," includes a crying organ. Then there's the jazz trumpet on "The Night Before the Funeral," which feels oddly at home. That's not to suggest that anything here even resembles hi-fi, that would have been quite an incongruous jump to make after their debut. Nothing feels overworked so much as worked through. The peaks and valleys achieve dynamics that they didn't even seem capable of on their first record. With these embellishments, Arab Strap break free of the shadow of their influences. Indeed, just when the breakdown on "New Birds" starts to feel like it could have been plucked straight out of Slanted and Enchanted, an eerie synth chimes in and sends the song ever upward. Moments of real beauty even manage to creep in; the sighing e-bowed guitar and lilting piano on "I Would've Liked Me A Lot Last Night," the hypnotic "Here We Go." It all gives greater depths to Moffat's wounded narratives.
Much like the reissue of The Week, the expanded edition of Philophobia comes with an additional disc featuring their second set of Peel Session recordings and a live performance at T in the Park. If the bonus material here, albeit welcome, is not quite as revelatory as the additions included on their debut, it's simply because Philophobia arrived fully formed from upon its release. It's been four years since Arab Strap claimed it had run its course and called it quits. The duo had a pretty consistent run of decent to great albums, but they arguably never topped this one.
---
Label: Chemikal Underground
Year: 1998/2010 (reissue)
---
Similar Albums: