Big Black : Songs About Fucking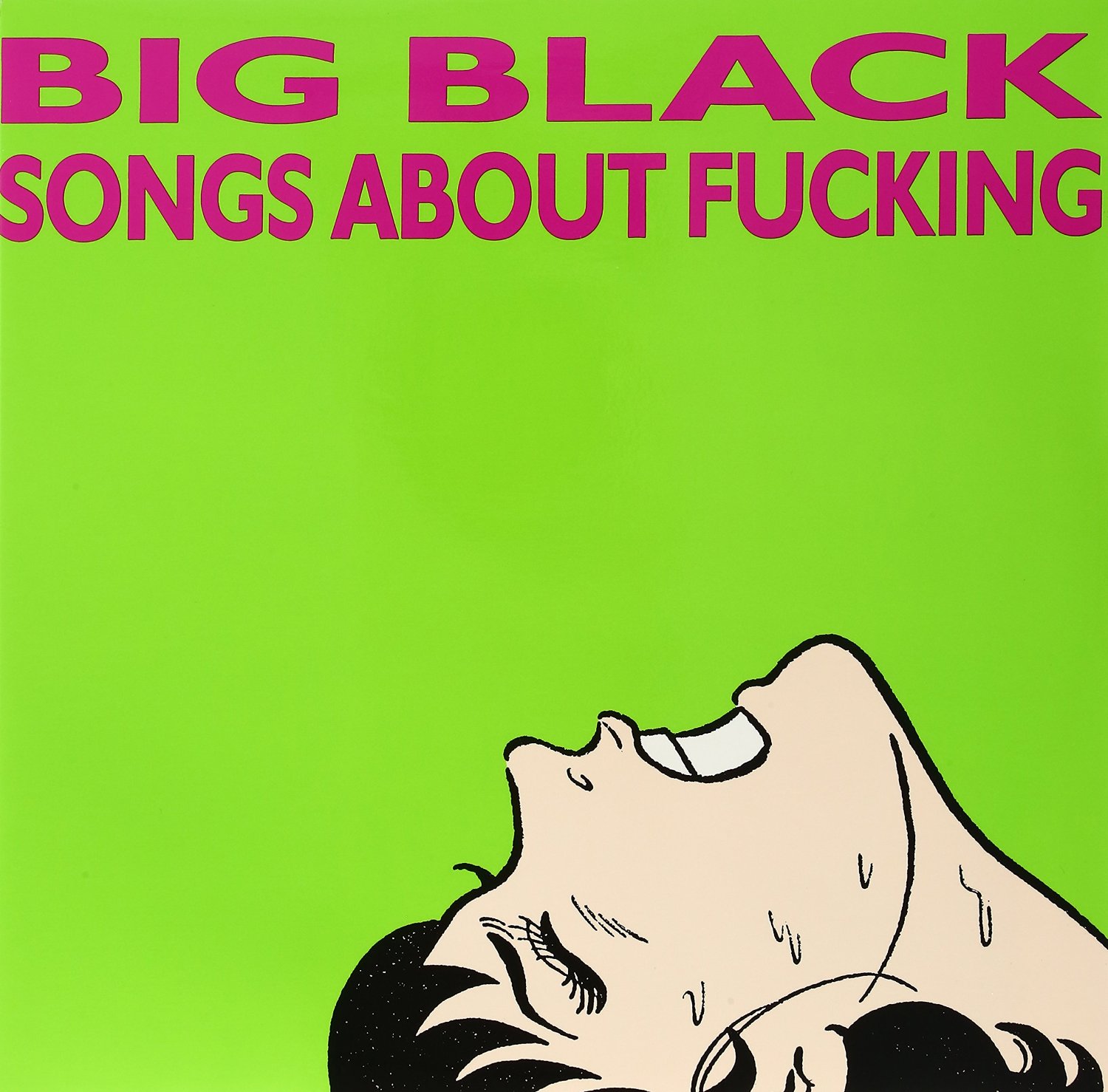 Songs About Fucking from the vintner Steve Albini. Released following the announcement of Big Black's demise. Made using only the finest, most disconcerting and most screeching noises that a two-pronged metal guitar pick, vocals yelled through a megaphone and a drum machine named Roland can manage. You'll note it's quite possibly one of the best album titles ever. Repeat the title, swish it around in your mouth, give it a good taste.
Now, if you will, savor the album's selection of sordid, dark characters and its pair of covers; a sultry as much as it is scary version of Kraftwerk's "The Model" and a jagged, pick scrape-laden cover of Cheap Trick's "He's a Whore," which didn't appear in the original pressing of the album. The en masse vocals on the latter sound less like a good time and more like the mangled pleas from the subjects of a Bosch painting. If you enjoy this subtle blend of flavors and freaks, you'd enjoy the original album closer, the languid, hate-soaked "Tiny, King of the Jews." Mayhaps in Albini's distant vocals there is the not-so-subtle autobiographical parting shot as he bid a screeching adieu to Big Black.
You'll recognize the rather tinny, metallic skinng and vroom of the guitars that sound like the wails of banshee robots. Some of our seasoned tasters with more refined palates say such sounds hark the coming of industrial music in full bloom. Albini's voice almost captures the same ear-splitting, vroom-skinng quality in the closing, freak out moments of "L Dopa," a song like one of The Pixies' less restrained forays into noisiness. The similarities are fitting enough given Albini's later work as a producer with Black Francis, Mrs. John Murphy and the rest of the band. Amidst this robust and yet remarkably claustrophobic and uncomfortable bouquet that Songs About Fucking offers, you may also detect some delicate notes of fig and star anise with perhaps a mild suggestion of cheese, sweat and rust.
All kidding aside, Songs About Fucking stands as Albini's crowning achievement under the guise of Big Black, which is rather unfortunate given it was the band's last (though best-selling) album. The break-up had little to do with raw deals from record labels, internal struggles, fevered egos or the other cliches that often lead to music group dissolution and more with Big Black member/Naked Raygun co-founder Santiago Durango's decision to attend law school in the fall of 1987. Rather than quit immediately or replace Durango and possibly overstay their welcome, the band continued on as a lame duck until the end, approaching their final year with a bridge-burning, devil-may-care swagger.
Much of Songs About Fucking sounds like taking power tools to concrete, such as "Fish Fry" or the screeching "Ergot," its calm moments of feedback and natural harmonics giving way to a relentless assault of noise and megaphone vocals. Fittingly enough there's even a song on the album titled "Pavement Saw." This uncompromising abrasiveness is where much of Songs About Fucking's appeal and acclaim came from. According to Our Band Could Be Your Life, even Robert Plant (who along with Jimmy Page would later work with Albini) liked the album. It's as dark and frightening as the band name suggests and also, all kidding aside, it's one of the best album titles ever. Dripping with sarcasm and other bodily fluids, the title rolls off the tongue so easily and is guaranteed at least a few juvenile giggles each time it's uttered.
Yet contrary to its amorous name, on Songs About Fucking, Big Black create something as sexy as its album art is off-putting. The sweaty, sloppy rendering on the album's green cover leaves a lot to the imagination, too much in fact. You can't tell if the mid-coitus facial expression is one of agony or ecstasy, though you figure it's more the latter than the former. The cover could be a rendering of the not-so-seductive "Precious Thing," which opens with lines about wrapping legs and hair into naughty knots over what can only be described as an industrial homage to the famous notes of "Also Spruch Zarathustra." The song then skips into oblivion over angry, heavily distorted guitars as Albini screams about what he'll do to his precious thing. Truly, the sarcastic unsexiness would be carried on in Albini's future work under the Japanese comic-inspired moniker Rapeman.
Big Black's Songs About Fucking is loud, it's abrasive, it's unattractive in the extreme. It's a collection of sordid tales and odder oddities, a parade of grotesques born from the minds of Chicago-area natives with ugly, wrinkly brains sloshing around in their misshapen noggins in a broth that is equal parts brilliance and bile. So really, it's everything that made Big Black so great in the first place.
---
Label: Touch and Go
Year: 1987
---
Similar Albums: