Big Boi : Sir Lucious Left Foot: The Son of Chico Dusty
The great irony behind Outkast's honor of frequently being called the artist that best defined the '00s is that, as a unit, they were also one of the least prolific. After 2000's Stankonia, Andre 3000 and Antwan "Big Boi" Patton made the decision to release its follow up as two complementary solo albums in the form of Speakerboxx/The Love Below. Beyond that, the duo's "Idlewild" film and accompanying soundtrack were the last projects that Outkast released together. Well, that and stealing the show on UGK's "International Player's Anthem." However, Big Boi kept busy enough for both of them, launching the Purple Ribbon label and issuing a pair of Got Purp? compilations, releasing a pro-Obama anthem, and dropping a new digital single about every six months or so since 2008.
In spite of Big Boi's unstoppable creative streak, his first official solo album, Sir Lucious Left Foot: The Son of Chico Dusty, was met with some unfortunate label politics. While Patton, the more consistent and firmly hip-hop minded counterpart to Andre's flamboyant experimentation, announced his plans to release the album way back in 2007, he was met with some resistance from Jive Records, who declared the album a "piece of art," too much so for commercial release. And after Big Boi announced he was leaving the label for Def Jam, Jive denied Patton legal clearance to release a pair of songs recorded with partner Andre 3000, which were originally part of the album's tracklist. Yet while the album remained in limbo, Big Boi kept a high profile, first dropping the excellent "Royal Flush" single, which was followed by the even better "Shine Blockas" and "Shutterbugg," revealing an emcee at the top of his game, label issues be damned.
With Jive all but a memory and obstacles cleared (for the most part), Sir Lucious Left Foot finally arrives, and it's good. Really good. Hip-hop album of the year good (unless Kanye goes nuclear). Based on the early singles, as well as Big Boi's dynamite performance on Speakerboxx, this should come as little surprise. Backed by a dream team of producers, and paired with a small army of guest vocalists, Big Boi issues an hour-long odyssey that's very much the "art" Jive balked at, but by no means non-commercial. As half of one of the most successful hip-hop duos of all time, Big Boi knows his way around a hook, and while the freewheeling and funky Sir Lucious Left Foot is no less eccentric than his prior output, it's also one that's lined with singles, and amazing ones at that.
"Shine Blockas," which was initially released in 2009, is a certified hands-in-the-air anthem, recalling "International Player's Anthem" with its soaring, soulful sound and infectious optimism. The Scott Storch-produced "Shutterbugg," however, is a considerably weirder but nonetheless magnificent burst of digital funk. Patton spits machine-gun verses like "I'm shittin' on niggas and peeing on the seat" over a buzzing talkbox hook and a recurring crash of shattered glass. One might understand why Jive may have had a problem with a song like "General Patton" as a single, boasting a sample of an operatic choir beneath its militant horn hook. But what it might sidestep in terms of commercialism, it makes up for in sheer artistry. Big Boi takes on a commanding role, taking other emcees to task with a barrage of exclamation-worthy one-liners such as "all the shit you rappers lack/ we got plenty, here's a snack/ don't ruin their appetite because your shit is really wack."
Though Big Boi rarely allows any of his collaborators to steal the spotlight, he's generous with letting others borrow it, and with solid results all around. T.I. shines on the excellent "Tangerine," an ode to some sexy ladies who can "shake it like a tambourine," while Janelle Monáe, who in turn featured Big Boi on her dynamite single "Tightrope," lends her ethereal coo to the synth heavy "Be Still." George Clinton's appearance on hater-hating jam "Fo Yo Sorrows" is short enough that you might miss him, but regardless, he opens the curtain ably on what turns out to be one of Big Boi's most fiery performances on the album. And while emo-rockers Vonnegutt seem like an odd pairing with Patton, their hook on newest single "Follow Us" didn't take long to win me over, although that might have more to do with Salaam Remi's mesmerizing production.
It's exhausting just to list off the highlights on Sir Lucious Left Foot, considering how damn many there are. From the short and sharp funk of "Daddy Fat Sax," with its "take dat, motherfucker" challenge, to "Turns Me On," in which he rhymes "goose down" with "ooze down," Big Boi sets track after track on fire. More than just a work of sheer visionary artistry, Sir Lucious Left Foot is the sound of a seasoned pro letting loose and having fun, both in wordplay and flashy productions (just about all of which list Big Boi as co-producer). With anticipation and drama running high leading up to the album's release, Big Boi delivers well beyond inflated expectations.
Similar Albums:
Cee-Lo – Cee-Lo Green Is the Soul Machine
Outkast – Speakerboxx/The Love Below
Janelle Monáe – The ArchAndroid
Video: "Shutterbugg"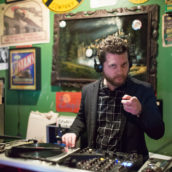 Jeff Terich
Jeff Terich is the founder and editor of Treble. He's been writing about music for 20 years and has been published at American Songwriter, Bandcamp Daily, Reverb, Spin, Stereogum, uDiscoverMusic, VinylMePlease and some others that he's forgetting right now. He's still not tired of it.