Camera Obscura : Desire Lines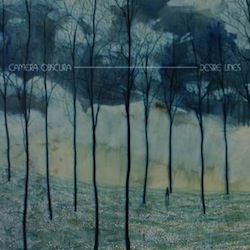 All right — you might as well go ahead and do what you probably do when you listen to albums, and skip straight to the catchiest song and sleeper candidate for 2013's song of the summer. On Desire Lines, the frustratingly uneven fifth album by Glasgow's Camera Obscura, we'll be going, as left of the dial radio and coffeehouses around America have surely been doing, straight to "Do It Again."
It's azure, cocksure and contains three minutes of some of the best blue-eyed soul since the Box Tops were in the charts. It starts some polite, fuzzy guitar, and some hip-shaking bass, and some subtle bongos in the background before singer Tracyanne Campbell comes in with her bookishly sexy vocals. It's bright and effortlessly danceable. You'll want to put the speakers in your apartment window.
But there's another reason you'll click straight to "Do It Again," because it takes until then for Desire Lines to find its footing. The album opens with an annoying 30-second  intro, which welcomes four meandering songs, the best of which is "William's Heart," with some momentarily lovely harmony vocals over a shimmering post-punk synth and guitar bed. But like the owners of some new machine, the band finally figured out what the green button is for, and the second half of the record becomes a confident, moving collection.
This second act starts with the plaintive "Cri Du Coeur" and the indie-bossa nova "Every Weekday," which clear the way for the trio of excellent songs that close Desire Lines. "I Missed Your Party," is Dusty in Memphis-worthy, with a lovely arrangement of horns and strings and is gorgeously sung by Campbell. Camera Obscura returns to the post-punk territory they could lord over for hundred years on slyly breezy get-lost song, "Break It To You Gently" ("Darling I tried/ At least look on the bright side").
The album closing title track is a stunner of song, with the best melodies on the album and sumptuous wordplay ("Shades of jacaranda/ the heart is a lonely hunter") with sunset country pedal steel and piano flourishes. It suggests that maybe Camera Obscura have a great country record in them.
Similar Albums:


The Clientele – Bonfires on the Heath


Saturday Looks Good to Me – One Kiss Ends It All


El Perro Del Mar – Pale Fire