Carcass, Daughters, Converge to play Oblivion Access festival in Austin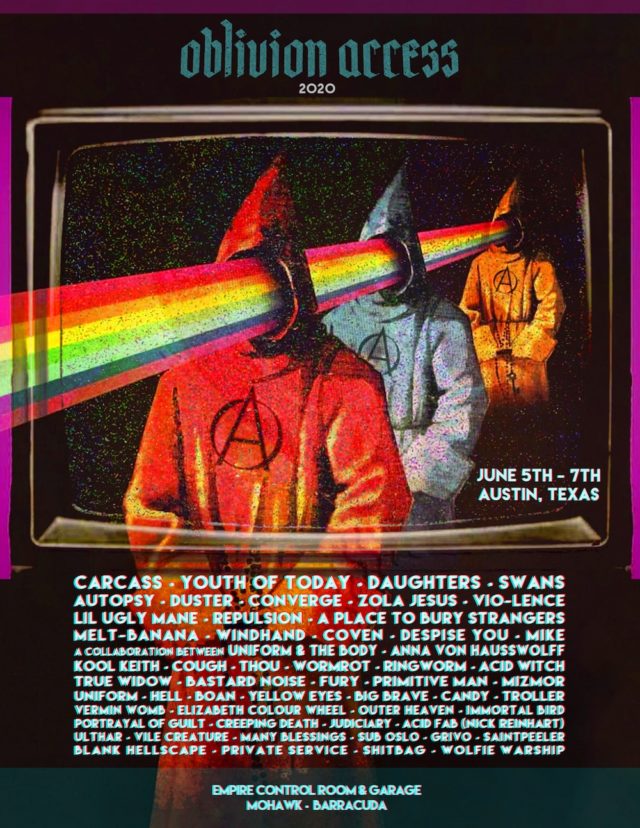 The Oblivion Access Festival takes place in Austin, Texas on June 5-7, and its lineup is loaded with dark, heavy and weird bands. Among the artists scheduled to perform are Carcass, Youth of Today, Daughters, Swans, Zola Jesus, Vio-Lence, Converge, Autopsy, Duster, Lil Ugly Mane, Repulsion, A Place to Bury Strangers, Melt-Banana, Windhand, MIKE, Uniform & The Body, Anna Von Hausswolff, Kool Keith, Cough, Thou, True Widow, Fury, Primitive Man, Ringworm, Mizmor, Yellow Eyes, Big Brave, Candy, Elizabeth Colour Wheel, Immortal Bird, Portrayal of Guilt, and more. South by South What?! Take a look at the full lineup on the flyer above. Tickets are available here.
Converge, Thou and Daughters are all featured on our list of the Top 150 Albums of the 2010s.