Celebrate the Catalog: The Beach Boys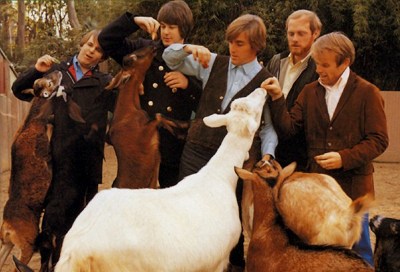 To commemorate their 50th anniversary, Treblezine presents a celebration of The Beach Boys' music, with each album evaluated individually. This list consists entirely of releases that included Brian Wilson, whether in performing, producing, or writing duties.
Note: Due to its status as both unofficial album and eventual reissue, The Smile Sessions was not included. However, for what it's worth, it's 10 out of 10.
Pendletone Sounds

Surfin' Safari
(1962; Capitol)
Chances are, if you are not a Beach Boys fan in even the shallowest sense of the term, you have a particularly strong first sense impression of the band upon hearing their name. This impression, through the Hawthorne, Calif. quintet's first six albums, would likely be accurate. Influenced by doo-wop harmonies and vocal groups of the `50s, the Beach Boys would start writing and recording novelty hits about cars, girls, and yes, beach activities, despite the fact that Dennis was the only member who was known to surf. Chalk it up to not having holistic appeal given their subject matter or just that everyone has to start somewhere, but Surfin' Safari is the lowest charting Beach Boys album of the `60s, which is really something given their prolific output during the decade. Their first ever hit, first recorded under the name The Pendletones, is a good Rosetta Stone for their early style, mixing youthful exuberance with the doo-wop template they had grown to love. "Surfin' Safari," one of the group's most recognizable hits, is a standout on the record, usually appearing on every subsequent hits compilation. "409" is another keeper, representing another of the three requisite topics for the band: a fairly hip and popular car of the time. Eventually, the "beach" trend would catch on, spurring more musical acts, along with films and television shows. While the trend was still in its infancy, so too were the Beach Boys, with Carl only 15 at the time this album was released, and the wholesomeness shows. Whether the inclusion of "Root Beer" as the drink in "Chug-a-Lug" was influenced by domineering father Murry, true youthful tastes, or higher sensibilities, I'm not sure. What is sure is that this album is slightly more than a mere trifle, a framework surrounding a couple of promising singles. Main songwriter and later producer Brian Wilson, however, would eventually learn what a completely full album could be. – ES
Rating: 5.5 out of 10

Surfin' USA
(1963; Capitol)
This is the album where Brian became co-lead singer of the group and where the boys solidified their sound. Beginning strongly with the title track and surf anthem, the set moves onto what would be become more familiar Brian Wilson territory: the falsetto-lead ballad. "Farmer's Daughter" is where Wilson began experimenting with song riffs, leaving the listener unsure of where the song was going, such as on "Wendy" or "California Girls," and "Lonely Sea" paved the way for the more psychological studies of "In My Room" and "Don't Worry Baby." What makes this a curious addition to their catalog is that nearly half of the songs are instrumentals, with the "Tequila"-esque "Stoked" and their cover of Dick Dale's "Misirlou" showing off Carl Wilson's rapidly growing guitar prowess. The other notable song was B-side "Shut Down," co-written with future DJ Roger Christian. Overall, the vocal arrangements on the album showed a significant evolution over Surfin' Safari, yet were only the beginning. – NU
Rating: 8 out of 10

Surfer Girl
(1963; Capitol)
Within a mere span of nine months, the Beach Boys had released three long-playing albums. Surfer Girl is the band's third, coming off of the quite well regarded Surfin' USA. Like their debut, this album has a few really strong tracks, but is mostly the end result of Capitol pressure (an apt name if I ever heard one) to produce more material. Covers were expected, and that is certainly not one of my beefs with this record, and even "beef" is probably too strong a word for my feelings. I feel ambivalent and that is about as charged as I get about it. Sure, the title track is great, modeled after "When You Wish Upon a Star," but the template method then fails the band as they use Stephen Foster's "Old Folks at Home" as a guide for "South Bay Surfer." The decision is questionable at best. "Catch a Wave," "Little Deuce Coupe," and "In My Room" provide a triptych (though not connected) of Beach Boys fare at its best, featuring surfing, hot rods, and what would become Brian Wilson's ever increasing inward journey. Most everything else on the album is either embarrassing or forgettable, with the milquetoast "Surfer's Rule" as one example, being an obvious attempt at cashing in on a formula. Despite that, four songs is quite often a fairly good number that, while maybe not constituting greatness, at least represents a decent amount of quality control given the circumstances. – ES
Rating: 6.5 out of 10

Little Deuce Coupe
(1963; Capitol)
Best remember as an early concept album, albeit a slight one, Little Deuce Coupe was rush recorded by the group in response to an Capitol Records compilation release that used "409" and "Shut Down" without the band's permission. To combat this exploitation, Brian Wilson quickly wrote and the boys recorded a short set of songs, and added the two aforementioned tracks, along with the title track. The album carries the common theme of cars, with the exception of "Be True to Your School," rerecorded later that year and released as a single (with a high school marching band and cheerleaders in the mix, no less). The haste with which the album was written and recorded (one month!) resulted in some less than stellar material, though Brian continued his vocal arrangement evolution, most evident on songs like "No-Go Showboat" and both versions of "Be True to Your School." This was also the last album guitarist David Marks made an appearance on until 2012's That's Why God Made the Radio. – NU
Rating: 6 out of 10

Shut Down, Vol.2
(1964; Capitol)
I'm surprised by myself at this point that I haven't yet mentioned the Beatles. And now that moment is over. The comparisons are nearly unavoidable, mostly because of their parallel career trajectories, if not for their later bouts of one-upsmanship. By 1964, anyone in America could have guessed that the Beach Boys would have been the biggest act in the country. Then, the Beatles invaded, on their own label no less. This watershed event had two resulting effects, the first being an immediate reassessment of future goals and the second being an impetus to do better thanks to this unexpected shock to the system. There are some odd things about this particular album other than its suddenly anachronistic nature. For one, "Volume 2?" This odd title came from Capitol's wanting to cash in on an earlier compilation album featuring the Beach Boys song of the same name, among other car-related tracks including ones by Bert Convy and Robert Mitchum. The other odd thing is that this is the first of four albums released by the Beach Boys in 1964. This continued output is what ultimately led to Brian Wilson's first major anxiety attack, spurring his decision to stay at home, write, and record, foregoing touring altogether. It would be an arrangement that would lead to both the heights of artistic achievement and overall success while also forging a path toward substance abuse and group disharmony. Like previous efforts, there are some winning and lasting tracks here including "Fun, Fun, Fun," "The Warmth of the Sun," and "Don't Worry Baby," the latter further showcasing Wilson's increased love for Phil Spector's Wall of Sound production. But, tracks like "'Cassius' Love vs. `Sonny' Wilson" and the really subpar version of "Louie, Louie," in which the track loses nearly every trace of its garage punk fire, prove that the Beach Boys were still suffering from expectation overload. – ES
Rating: 6 out of 10
Endless Summer

All Summer Long
(1964; Capitol)
All Summer Long is a curiosity in the group's catalog in that it contains probably the best filler on any of their albums. Beginning with the classic No. 1 hit "I Get Around," the A-side continues with a series of terrific songs, with the xylophone-driven title track, a wonderful cover of The Mystics' "Hushabye," and that rocking valentine to Japanese motorbikes "Little Honda." The B-side also has its share of classics, with the unpredictable "Wendy" and the glorious "Girls on the Beach." The lesser songs are even engaging, turning tracks that should be embarrassing, like the studio throwaway "Our Favorite Recording Sessions" and the hammy Rock `n' Roll valentine "Do You Remember?" into fun songs that give some insight into the group. This is a notable selection indicating the beginning of Brian's turning point towards more introspective fare, with more intricate instrumental and vocal arrangements, aided by his retirement from touring the following year and the break from their abusive father and manager Murry Wilson. This is also the last album until 1969 that includes a song about the very topic that initially made the group novel: surfing. – NU
Rating: 8.5 out of 10

Christmas Album
(1964; Capitol)
This might be unfair of me to comment on this album. I'm not a fan of Christmas albums in the first place. Nearly two decades of retail has forever seared Christmas music in my brain in the most negative Pavlovian fashion. I hear Christmas music, and I immediately want to curl up in the fetal position and weep. I guess I am far enough removed from that time to do this mini-review some justice, but I might anger those of you who love this album unabashedly. Of course, "Little Saint Nick" is a classic, based around the framework of "Little Deuce Coupe." It's hard to go wrong with that track, even given its piggybacking. "The Man with All the Toys" is equally heartwarming and combines a sense of sweetness with goofiness, showcasing two of Brian Wilson's best songwriting qualities. Their signature harmonies, such as in "I'll Be Home for Christmas," are quite welcome in this genre and work to great effect. However, some of the instrumentation and production choices (Wilson handed the reins (pun intended) over to Dick Reynolds, an arranger for the Four Freshmen) are questionable. I know I'll get in hot water for this, but their rendition of "Santa Claus is Comin' to Town" is possibly the worst example of this style. The song already suffers from being somewhat treacly and asinine, but the band pushes that ridiculousness a bit too far, if that is even possible. Other orchestrated tracks just make this sound like castoffs from an old Disney film soundtrack, while "Santa's Beard," (not to be confused with the TMBG track) reminds me of the Xmas songs on SNL as performed by Jimmy Fallon, Chris Kattan, Tracy Morgan and Horatio Sanz. It's tough to blame a bunch of twentysomethings for cashing in on an obvious marketing gimmick, (even the Beatles had recorded two Christmas 7-inch singles to this point) but I would say that it would only appeal to a small sliver of fans in the Venn Diagram of Beach Boys and Christmas music. – ES
Rating: 5.6 out of 10

Today!
(1965; Capitol)
While 1962 to 1964 might be called the first incarnation of the Beach Boys, or Beach Boys Prime, 1965 marked a new direction for the group. Specifically, the second side of Today! was the divergent path Brian Wilson forged at a time when the group desperately needed it. Not only does Wilson fulfill his emotional destiny, in part, but even the covers seem to soar like they hadn't before. Dennis' take on "Do You Wanna Dance?" is phenomenal. "Dance, Dance, Dance" is a great party track in the solid BB tradition. The group found a great balance all over this record, between the more uptempo tracks and the yearning emotion of the second side, as well as the balance between Wilson and Mike Love on vocals on six tracks, Dennis on two, and even Al Jardine on "Help Me, Ronda" (later rerecorded for Summer Days). There are no actual surfing songs on Today! or even any hot rod songs. Instead, the album is packed with songs of young love, dancing, and even protecting a younger sister. This was the era of Brian writing songs at home while the rest of the band was on the road and studio musicians brought in to actually play on the record. Based on who was actually playing in the studio, I have to assume the incredible guitar licks on "Please Let Me Wonder" are Glen Campbell, but I'm not entirely sure. If there is any one blueprint for the great music from Grizzly Bear, listen to the guitars in this song. Many consider this album a true precursor to the well-produced, yet earnest style of songs that would become the inimitable Pet Sounds, purposefully forgetting Summer Days. Of course, Pet Sounds will get more props later, but it should be noted that at #270, Today! is the next highest entry from the Beach Boys on Rolling Stone's 500 Best Albums of All Time list. This disparity shows not only that Today! is a great BB album that deserves recognition, but further highlights just how unparalleled Pet Sounds is. – ES
Rating: 9.2 out of 10

Summer Days (and Summer Nights!!)
(1965; Capitol)
It may not have been released with the same blistering pace of Beach Boys albums in their first years, but five months after Today! there was a little album called Summer Days (and Summer Nights!!). (I suppose since Today! had one exclamation mark, the next album needed two.) This particular collection was somewhat a step backwards save for one track. Most of the album was quickly assembled (seemingly), at least as compares with its bookend neighbors. When songs start being about amusement parks and Salt Lake City (nothing against the SLC), then one might be grasping for straws. In other words, these songs will likely not appear on many Beach Boys compilations. If these two songs were not proof enough of the effects of marijuana use and a deadline, then one need only listen to "I'm Bugged at My Old Man." Brian Wilson has said that after some of his experimentations with drugs, his deep-seated feelings were more on the surface, hence his repressed feelings about his father. It's a terrible song and provides justification for Bob Odenkirk's later teasing of Wilson's songwriting, though that was mostly based on writing songs about seemingly ordinary things such as "Cool Water" and "Vegetables." "Help Me, Rhonda" makes another appearance, rerecorded and with an added "h," but that is not enough to make the album a keeper. If there is one saving grace for the album it is for "California Girls," the now ubiquitous track that has been said to be Wilson's favorite. Interestingly, this song, that inspired the Beatles' "Back in the U.S.S.R.," only reached #3 on the Billboard charts. When David Lee Roth covered it in 1985, it again peaked at #3. – ES
Rating: 6.1 out of 10

Party!
(1965; Capitol)
By the end of 1965, Capitol Records was itching for a holiday release from the group, eschewing with the Christmas theme, deeming it a retread, and not interested in yet exploring the `greatest hits' route, the group opted for a live album, or in this case the appearance of one. Recorded over three weeks in the studio, with laughter, talking, and other spontaneous noise added in the mixing phase of the album, the album became a modest hit, driven by the strength of the single "Barbara Ann." This release is notable for the songs the group chose to record, notably covering the Beatles (Dennis Wilson's cover of "You've Got To Hide Your Love Away" is a standout), Bob Dylan, and favorites influences from the 1950s (their version of the Everly Brothers' "Devoted to You" is gorgeous). Most remembered is the aforementioned hit, hastily released as a single due to the grumbling from DJs over the 12 seconds of silence on the official 7-inch "The Little Girl I Once Knew," which went on to overshadow it. Interestingly, "Barbara Ann" has a lead vocal from friend of the group Dean Torrence (of Jan & Dean) rather than one of the Beach Boys. While not exactly a classic in their catalog, Party! maintains its importance in showing what the group was listening to, and being influenced by, at the peak of their career. – NU
Rating: 7.5 out of 10