Codeine : When I See the Sun
For reasons that don't require much explanation, slowcore never really went mainstream. Nobody ever got rich or sold millions of records by cranking the bpms as far down the dial as they'll go. And outside of college radio, there aren't many stations with the patience or open-mindedness to play a band whose music moves at the pace of a trickle of condensation down the surface of an iceberg. In the '90s, however, at the dawn of grunge's renaissance, slowing down was one of the most radical things an indie rock band could have done. Not that it hadn't been done, necessarily — in 1989, Galaxie 500 had introduced themselves to American audiences with On Fire, an album that rarely extended beyond three chords, rose to a climax or shifted tempos. And two decades prior, the Velvet Underground dropped their art rock noise in favor of a slower, more hushed and contemplative self-titled album.
If the sound of Chicago's Codeine had precedent, however, upon the release of their debut album Frigid Stars, they had few peers. In 1990, a solid year before Slint's Spiderland, Nirvana's Nevermind or My Bloody Valentine's Loveless saw release, John Engle, Stephen Immerwahr and Chris Brokaw put together a collection of dense, spacious songs that all moved without much rush or hurried momentum, almost floating in the moment rather than moving toward any climactic endpoint. The songs do progress, and even bear the burden of some particularly vicious noise, but in their slow, steady pursuit of sustaining a kind of ragged beauty, left a much stronger impression of grace than of aggression or chaos.
The frontrunners of a style of music now known as "slowcore," Codeine made the proverbial zag against punk and indie's zig, drawing out songs as we know them to tempos that require full breaths between beats, and a healthy amount of patience in order to fully soak in. By comparison, later bands like Bedhead and Low would actually play not only slow, but super quiet as well, removing some of the intensity and heaviness that Codeine masterfully captured on Frigid Stars. Interesting thing about Codeine, however, is that for how slow their songs moved, as a band they didn't actually stay together that long, issuing two albums and an EP before each member split off into different camps. The whole of their discography — Frigid Stars, The White Birch and Barely Real EP — is collected on The Numero Group's new box set When I See the Sun, along with demos, peel sessions, outtakes and other rare tracks, adding up to a fascinating portrait of a band who made something wonderful of a contrarian approach.
Frigid Stars, which has graced numerous `90s lists and earned `most influential' accolades in the 22 years since its release, is without a doubt one of the underrated masterpieces of the 1990s. In its gracefully powerful dynamic, and its gorgeously abrasive songwriting, it's actually something of a sonic cousin to Slint's Spiderland, albeit with some of the mathematical complexity removed. The band find a delicate austerity in standout "Gravel Bed," take a turn for the surprisingly catchy in slide-driven "Pick Up Song," descend into a squealing drone piece on "Second Chance," and, most triumphantly, show that sluggish tempos can still rock hard on the totally badass "Cigarette Machine." The "SOS Demos" that accompany the album reveal a surprising side of the band, one that sounds more like a typical punk act on "Skeletons" and loops some unusually playful guitar riffs on "Castle." By and large, however, they mostly serve to show how well the group's glacial rock translates on rougher quality recordings.
Barely Real arrived two years after Frigid Stars, an EP that nonetheless seems fully formed. Its six tracks don't stray far from those of Frigid Stars, though its arrangements begin to show even more diversity. "Jr." shows off a playful skip of a beat, while "W," the EP's true standout, gains an added level of nuance and complexity thanks to David Grubbs' guest performance on piano, which is less of a full-band performance and more of a solo track in the style of the headlining artists. With 1994's The White Birch, however, the band rein in some of their more explicit forays into feedback, and add new drummer Douglas Scharin in the wake of Brokaw's split to focus on his other band, Come. In its first two tracks, "Sea" and "Loss Leader," The White Birch seems like a much more tempered and gentle collection, though it has its moments of explosion and tension release. "Kitchen Light" escalates to a harsh chug, and "Tom" layers on some distortion in as pretty a manner as possible. It's a more refined set on the whole when held against Frigid Stars, if not a better one, though its outtakes warrant mention, particularly the group's stunning cover of Joy Division's "Atmosphere."
After The White Birch, that was it. The band moved on and Doug Scharin rotated through a heavy number of projects, including June of 44 and HiM, while Immerwahr and Engle kept a lower profile. There was no fallout or big climax, the group merely ended with the same principle from which they began, with grace and simplicity. And the entirety of Codeine's glacial rise and unceremonious dissolution is all on When I See the Sun, to be absorbed, consumed and washed over the listener, a story without many chaotic or surprise twists and turns, but one worth telling all the same.
Similar Albums:
Slint – Spiderland
The Velvet Underground – The Velvet Underground
Low – The Great Destroyer
Stream: Codeine – "Cigarette Machine"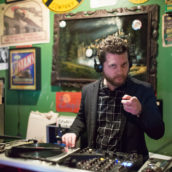 Jeff Terich
Jeff Terich is the founder and editor of Treble. He's been writing about music for 20 years and has been published at American Songwriter, Bandcamp Daily, Reverb, Spin, Stereogum, uDiscoverMusic, VinylMePlease and some others that he's forgetting right now. He's still not tired of it.