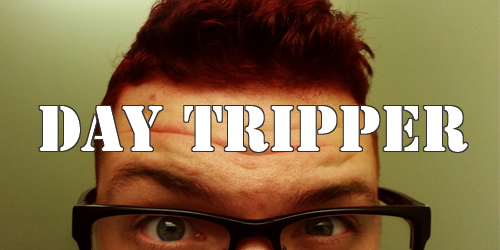 "Day Tripper" is a column of reflections on music and their connection to important times, places, dates and memories by A.T. Bossenger.  Each entry will use a relevant date on the calendar as a reference point for these discussions. Mark your calendars and queue up your soundtracks.
Date: July 4, 2014  Occasion: Independence Day; the 4th of July; National Day for Drunken Barbecues
We've reached the one day of the year that I completely alienate our Canadian readership to celebrate the 238th anniversary of the United States' Declaration of Independence. It's a day to relax with loved ones, cook out on the grill, and watch some fireworks. It's a well-deserved break for mail-delivery folks, bankers, and most hard working people around the nation. But it's also a day that started a rather bloody war resulting in the independence of a country that would be no stranger to bloody wars.
So how, I thought, do I celebrate one aspect of The Fourth without distracting from the other? After much deliberation, I landed on a Fourth of July party playlist focused entirely around jams about war. I've added some Twitter friendly comments (lazy, haphazard and short) on each track. Grab the nearest corn on the cob, here goes nothing: BBQ Tongs & Songs of War.
"Fortunate Son" – Creedence Clearwater Revival
This is the obvious starter. Fogerty's an eternal party animal, but the message and discontent here still really hit home.
"Stray Bullets" – Tom Morello aka The Nightwatchman
Pretty much every song featuring Tom Morello is about war in some fashion, but "Stray Bullets" is definitely one of the most explicit. It's a painful-yet-fun ballad of modern warfare.
"What's Going On" – Marvin Gaye
Marvin's crooning, grooving soul is the perfect BBQ background, and his lyrics here touch the fear of war and doom in the most eloquent way possible.
"I'd Rather Be High" – David Bowie
In typical Bowie fashion, war is shrugged off with the wave of an elegant, talented hand. Fuck this war shit; he'd rather be high.
"New Year's Day" – U2
Bono has a habit of writing songs that are about, well, everything. This one is a love song and also about the Bible, but there's a lot of thoughts on war in here too. Thanks Bono.
"War on War" – Wilco
It would be criminal to not include a song called "War on War" on a list of war songs.  Plus it kicks ass in an admittedly mellow fashion. Wins all around.
"I Can't Write Left Handed" – John Legend & The Roots
Leave it to Legend and The Roots to deliver one of the most satisfyingly groovy and politically tense tracks of our time.  Twelve minutes long and worth every second.
"War Pigs" – Cake (Black Sabbath cover)
An essential song for this list, and Cake takes their namesake in terms of BBQ party functionality. Cynical funk-alt-rock-metal covers FTW.
"Immigrant Song" – Led Zeppelin
This song is so essential, I'm not gonna bother defending it.  "Ahhhhhhhhhaaaaaahaaaaaaaaaaaaaahh!!"
"War" – Edwin Starr
Everyone loves this song.  It's a great song, but there are other great Edwin Starr songs too. Enjoy this song, but please wiki Edwin Starr today; you're not busy, it's a holiday.
"The Green Fields of France (No Man's Land)" – Dropkick Murphys (traditional)
This one slows things down to a gentle sing-along. Sappy, I know, but your guests will probably be drunk at this point anyway, and they could use a solid group activity right about now.
"Born in the U.S.A." – Bruce Springsteen
I debated working in a different Springsteen war song, but this one is too iconic to pass up. Besides, it's hilarious/sad how often this protest piece is mistaken for "Star Spangled Banner Part 2."
"Cold War" – Janelle Monáe
Janelle Monáe is one of the most invigorating vocalists alive today, straddling politics, art and pop music in a way few before her have (cough, Prince, cough.) This track is simply stunning.
"(What's So Funny 'Bout) Peace, Love, And Understanding" – Elvis Costello
Mod-rock at it's finest. Angst, sincerity, and a simple reminder that the simple things are the hardest to find, especially on a global scale. Depressing, but rockin' — truly rockin.
"Masters of War" – Anika (Bob Dylan cover)
In an effort to slip in a Dylan masterpiece that would be entirely inappropriate at a BBQ, I found this sweet little cover by Swedish dub-electronica artist Anika. An odd take on the track but it really works here.
"The Night They Drove Old Dixie Down" – The Band
An anthemic, empathetic ballad highlighting what it's like to live on the losing side of a war, as only The Band could deliver. Lead vocals by the great Levon Helm, R.I.P.
"Argument" – Fugazi
Another band that could've filled at least half this list. The deceivingly calm vibe of the track and the direct lyrics that paint war as a pointless feud really hit home.
"Hell Broke Luce" – Tom Waits
This rambling, tongue-in-cheek march is near perfect. Waits' first-person narrative of a soldier's experience paints both the sad ironies of war and the detrimental effects it can have on those on the front-line.
"Guerrilla Radio" – Rage Against The Machine
Did I mention that Tom Morello really hates war? Well, so did the rest of RATM. Any of their songs fit here but, somehow, "Guerrilla Radio" seems to gel with the BBQ setting best.
"B.Y.O.B." – System Of A Down
I couldn't leave this list with just one commonly-acronymed nu-metal band, now could I? SOAD's later work often fell flat, but this sardonic party-metal anthem is both pointed and hilarious.
"Orange Crush" – R.E.M.
As we round the corner to the finish line, we pass the torch to Stipe et al. It's a hell of a jam and does well to back up its images of war with some solid hooks. How refreshing.
"Old Soul Song (For The New World Order)" – Bright Eyes
At its heart, I'm Wide Awake It's Morning is an album about post-9/11 New York City. "Old Soul Song" doesn't directly reference the War on Terror, but its presence is thick like fog in this thoughtful alt-country ballad.
"Fortunate Son" – Cat Power (Creedence Clearwater Revival cover)
As the grill cools down and we all head inside to avoid those pesky mosquitos, here's one final toast. It's a mellow tribute by Chan Marshall, ending this list right where we began it.  What poetry is life.
Bottoms Up!: Enjoy the list? Know any groovy war songs that I missed? Did I spill Stubb's sauce on my shirt? Let me know in the comments section, and we'll have a little chat.
You might also like: