Devendra Banhart : What Will We Be
I'm calling it: freak-folk is officially dead. The micro-genre, whose spotlight stemmed primarily from descriptions thrown at San Francisco singer-songwriter Devendra Banhart, had a pretty fertile couple of years. Hell, 2004 alone can probably go down as the best year for eccentric characters plucking acoustic instruments since 1967. That year, we were lucky to have seen the release of Joanna Newsom's The Milk-Eyed Mender, Animal Collective's Sung Tongs, and two contributions from Banhart himself, the outstanding Rejoicing In the Hands and its companion, the only slightly less incredible Niño Rojo. But since then, Newsom went orchestral, Animal Collective went electronic and Banhart, well, he's steadily established himself as less of a folkie, and, to some degree, less of a freak, expanding his repertoire and delving into classic rock sounds. And, for the most part, it's been an exciting ascent.
When Banhart leapt from Michael Gira's Young God Records to XL in 2005, the resulting Cripple Crow turned out to be his most ambitious record to date, a sprawling, hour-long rock record that found Banhart revealing no shortage of ideas. And, for that matter, his delightfully bizarre sense of humor stayed well intact. But two years after that, on the equally lengthy but far less cohesive Smokey Rolls Down Thunder Canyon, Banhart seemed to be slipping, favoring genre experiments like the absurdly silly Bar Mitzvah doo wop of "Shabop Shalom," rather than the stunning compositions he had previously crafted. But just another two years after that, Banhart had made yet another label leap, ultimately aligning with major label Reprise, the home of much of Neil Young's expansive discography, a fact that likely wasn't lost on Banhart, who also hired Young's manager, Elliot Roberts, not long before that.
If ultimately this sounds like it's leading up to Banhart's Reprise debut, What Will We Be, being his Harvest, After the Gold Rush or Everybody Knows This Is Nowhere, well, it isn't. When the album's first single, "Baby," arrived a month or so prior to the album hitting shelves, it signaled a straightforward pop direction for the troubadour, showcasing a simple, '50s-inspired pop composition with a nice melody, but little to sink one's teeth into, so to speak. Likewise, its companions, the simple folk of "Goin' Back" and ragged rock `n' roll of "16th & Valencia Roxy Music," made for a pleasant listen, but seemed unusually polished. It certainly appeared that, based on this cross-section of an album preview, Banhart had set his sights on making his big screen debut, offering his most radio-friendly and accessible set of music, in addition to being the one with the largest budget.
Snappy, polished singles only tell part of the story, however. Much like its predecessor, What Will We Be suffers from having an abundance of interesting ideas, but far fewer good ones. "Walilamdzi" is a gorgeous song, but a bit baffling due to its lyrics, which are sung in Pit River Indian dialect. That's just a minor complaint for an otherwise beautiful song. "Foolin'" is Banhart's awkward ska song, while "Rats" channels Led Zeppelin in a lengthy rock jam that's mostly just messy and half-baked. "Last Song For B" meanders without ever reaching any sort of destination or resolution, and "Chin Chin & Muck Muck" starts out as innocuous Starbucks background fare before transitioning into a bouncy jaunt about RenFaire neighbors, vulpinous vultures and elegant armchairs. It becomes irritating far before it ever achieves the potential to be charming.
There are some genuinely lovely moments across What Will We Be, such as the bright and energetic opener "Can't Help But Smiling," the meditative "Meet Me At Lookout Point," and the subdued piano ballad "First Song For B." And, heck, that trio of songs that Banhart released prior to this wasn't half bad. Unfortunately, What Will We Be ultimately is an album without cohesion or direction. As he's shown us time and again, Devendra Banhart seems to enjoy lining up one style after another and even attempting to out-quirk himself. Yet he never seems to commit to any of these sounds long enough to refine them to levels anywhere near the sparse folk songs he mastered long before. Banhart's eclecticism and free-spiritedness is admirable, but it's also what makes him so damn frustrating. I don't doubt he's got more great albums in him, but this isn't one of them.
Similar Albums:
Paul McCartney – Ram
Dios (Malos) – Dios (Malos)
M. Ward – Hold Time
Download at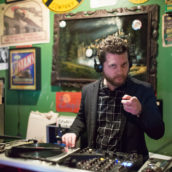 Jeff Terich
Jeff Terich is the founder and editor of Treble. He's been writing about music for 20 years and has been published at American Songwriter, Bandcamp Daily, Reverb, Spin, Stereogum, uDiscoverMusic, VinylMePlease and some others that he's forgetting right now. He's still not tired of it.