Down to Business: An Interview with Big Business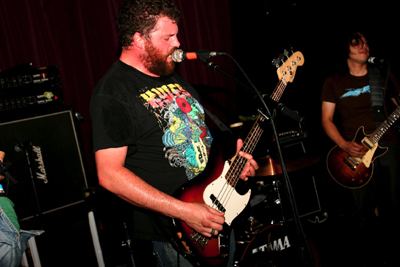 Since their first album Head for the Shallow was released back in 2005, metal mainstays Big Business have been wowing the music world with their innovative sludge-rock style, whether it be in their own outfit or playing with rock legends The Melvins. With a new guitarist added to the bill, a summer of electrifying shows under way, and their new album Mind the Drift already garnering rave reviews, Big Business is indeed taking care of business, and having fun while doing it. Drummer Coady Willis and bassist Jared Warren were kind enough to speak with us during their May 10th gig at Union Pool in Brooklyn.
Treble: So where were you guys before this?
Coady: We played at Bam Margera's club last night, in Westchester.
Treble: I've never been there; I've heard it's a cool place.
Coady: It is! It was really, really good. It sounded really, really good.
Treble: What does the rest of this tour look like for you?
Coady: I think our last show is the second of June, in San Diego. We have Costa Mesa, California, at the end of the month and then we have, like four days off, then we lay the Troubadour in LA, and then San Diego.
Treble: What is one of your favorite places to play?
Coady: The Triple Rock social club in Minneapolis is one of our favorite places to play. For real. It's run by bands…
Jared: For bands…
Coady: They acoustically engineered the room. It's loud as shit. It's one of the best clubs to play for sure. Minneapolis is great. It's awesome.
Jared: The average temperature in Minnesota is 20 degrees. 20 degrees! You've got to be a tough motherfucker to live there!
Treble: I'll take your word for it. So the album, Mind the Drift is out next week. What are your expectations for it?
Jared: We want to sell a million copies.
Coady: At least.
Treble: What would you say is different about this record compared to the last record, Here come the waterworks?
Coady; Well we have Toshi [Kasai], our guitar player.
Jared: He's Japanese.
Coady: He is.
Jared: He brings some Eastern flavor.
Coady: It's way more of a psychedelic record then what we've done before.
Treble: Is there anything on this album, sound wise or instrument wise, that you feel branches out from your past releases?
Jared: Well Toshi has a very angelic voice, so he can hit a lot of weird high harmonies, live especially, and on the record, that we wouldn't have been able to do otherwise.
Coady: It's really good. It's so fucking good. It's different from the last record for sure. We've been playing the songs for a long time, but like, it's like, we tried some stuff on this record that we've never tried before. Like adding Yoshi to the record has added a lot more room for Jared to do vocal stuff. It's a lot crazier, the interplay between guitar and vocals. It's way more layered. I think people who expect, like, we're a two piece sludge rock band that's like totally thrashy, they're probably gonna be like confused, because it's really a psychedelic and layered.
Jared: And perhaps disappointed…
Coady: Maybe, I don't know…
Jared: But we don't give a Fuck!
Coady: (laughs) Yeah, they can suck it! It's my favorite record we've made so far, it's pretty cool. It's frightfully new.
Treble: What do you guys have planned for the summer now that the new album is out?
Coady: We're doing like a week with the Melvins in June. We're going to play the Fuji rock fest in Japan. Then we're going on tour with the Melvins in July. I think we're going to try and record a new Melvins record.
Treble: If you could put your dream tour together, what bands would it be with?
Jared: Big Business, Big Business, and Big Business opening. We are the gravy on top of the mash potatoes that are the other bands of the world. We are the gravy.
Coady: (laughs)
Treble: If you had to tell someone has never listened to Big Business one thing about the band, what would it be?
Jared: I'd say you already fucking missed the boat, and you're gonna be embarrassed, because most of your friends have already heard Big Business. So you should get on the boat.