Drake : Nothing Was the Same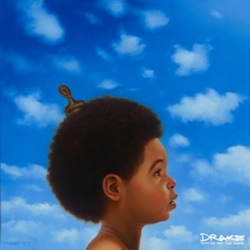 When Drake first began his rise as a rapper, releasing mixtapes and getting features with the likes of Lil Wayne, he had an interesting appeal. His affinity for a synth-based, R&B sound, as well as his tendency to wax philosophic about his own talents and shortcomings, painted him as a more casual, less bull-headed Kanye West. And, unlike Kanye, Drizzy could hold his own both singing (sans Auto-tune) and rapping. But by the time Take Care rolled out, his schtick had grown a little tiresome. Clearly a heavy amount of effort was put into the production — provided by the likes of Just Blaze, The Weeknd, Jamie xx and Drake, himself — but it also wasn't extraordinary. And the dueling themes of love and hate for his own fame were sincere but unfocused, with most tracks stinking too strongly of either self-pity or self-promotion.
This year's "Started From The Bottom" showcased some sick production, but didn't seem to venture too far past the HYFRYOLO vibe of the more braggadocious Take Care tracks. But a serious shift occurred when Drake released his neo-soul love song "Hold On, We're Going Home." For the first time, Drake dropped any attempts to fluff his emcee cred or vamp too much about his own life. Drake has genuine vocal chops and, shifting his muse from Young Money to Marvin Gaye, he was able to offer a song that feels both timely and timeless.
Ironically, despite its rap-free single, Nothing Was The Same features Drake's strongest rap verses to date. But like "Hold On," the album's production and writing pay attention to small details to pack in a level of soul and feeling that were missing on Thank Me Later and Take Care. Bursting to life with a slow-sizzle soul sample that could've worked on The College Dropout, opener "Tuscan Leather" takes no shortcuts in revealing that Drake's sound will be more ambitious this time around. Gliding through at least three major rhythm changes, Drake raps through the six-minute track, as that soul sample takes new form through each major transition.
And that's the major contrast through the entire record: Drake offering more crisp and pointed lyrics over more soulful and articulate production. That's not to say NWTS is all that different of a record than Thank Me Later and Take Care. Rather, Drake and his team have taken what they do best and perfected some of the details. Indeed, a lot of credit for this album goes to Noah "40" Shebib and the other producers he collaborates with. On the whole, the production is even gloomier than before, with standouts like "Wu-Tang Forever," "From Time" and "Too Much" reminding how this darker approach has resulted in breakout hits.
The album features quite a few musical experiments as well, particularly with the addition of James Blake-esque post-dubstep stylings, spread throughout the album, heard most heavily on the DJ Dahi-produced track "Worst Behavior." And, by holding off guest raps until the seventh track, only featuring a couple of rappers in total, Drake also allows himself to experiment vocally. "Worst Behavior" and "Tuskan Leather" both feature uncharacteristically aggressive rapping from Drizzy, while "Furthest Thing" and "The Language" let Drake push his typical 'sing-rapping' to a new level of variety, sound less casual and more intentional than on prior records.
While Drake deserves praise-a-plenty for this record, it's still far from perfect. It carries on a little longer than necessary, without switching up its themes that often. A few of Drake's verses are throwaways. And Jay-Z's feature on "Pound Cake/Paris Morton Music 2" almost destroys an otherwise beautiful rap ballad. (He has one verse whose rhyme scheme is made up almost entirely of the word 'cake.') Those faults aside, Drake has taken an impressive step forward, offering a strong indicator of things to come.
Similar Albums:


Kanye West – My Beautiful Dark Twisted Fantasy


Frank Ocean – Channel Orange


Drake – Take Care