Heatmiser : Mic City Sons
It's an odd fact, but a fact nonetheless, that I discovered Heatmiser a good six months or so before I even realized Elliott Smith had a solo career. In the winter of 2006, going into 2007, I had come across "Get Lucky" on a magazine's CD sampler, and though it was a subtle, yet groovy, little track, I was somehow mesmerized. Simple and with just a hint of distortion, it had me pressing play numerous times in a row, though when I had searched for Mic City Sons, the album from which it came, every record store trip came up empty. One fateful day, my brother came home after I had taken my driver's test and asked "did you win?" Frustratingly, I didn't, and had to wait a few weeks to try and minimize my moving violations. He replied by saying, "oh, well, I was going to give you this as a reward for passing, but here you go anyway," and handed me a copy of Mic City Sons. That more than made up for my teenage failure, and in the ensuing weeks, I swear it was just about the only thing I listened to, and ultimately what drove me to seek all things Elliott thereafter.
The funny thing about Mic City Sons, however, is how little in common it has with the rest of the band's discography. When first sprouting up in Portland, Ore., Heatmiser revealed themselves as a product of the Pacific Northwest grunge scene more than actually a part of it, relying heavily upon distorted guitars and aggressive power within their songwriting, which shone through most blatantly on debut Dead Air, though by the release of Cop and Speeder, they had gotten a bit more groove-oriented, a bit more abrasive, somehow sounding like a bluesy mix of Mudhoney and Jawbox, if that makes the slightest bit of sense. By the time of the group's final release Mic City Sons, Smith had become more withdrawn and dissatisfied with being part of the band, and ultimately this led to the band's split. It's a shame really—it's their least aggressive album, and more importantly, their best.
Doing away with the barrage of distortion (yet retaining just a little for good measure), Heatmiser created something much more akin to Elliott Smith's solo work, and that of co-frontman Neil Gust's post-Heatmiser outfit, No. 2. Yet in stripping off the extraneous layers of overdrive and angst, the emotion and ill ease within these songs becomes more palpable. And yet, they're impeccably written pop songs, short but satisfying, soulful and bare. If one were to play Mic City Sons back to back with Dead Air or Cop and Speeder, one might ultimately determine that they were the work of the same band, but just barely.
Split fairly evenly between songs fronted by Smith and those in which Gust takes the helm, ultimately Smith handles the bulk of them, with hidden track " Not Half Right" putting his contributions at seven vs. Gust's five. "Get Lucky" is the first track, a sexy, swaggering track that sounds a bit like Morphine, jazzy but just a bit dirty. Single "Plain Clothes Man" actually had a video that I once caught on those sample hours of MTV2 when it launched in the late '90s, though the song itself is haunting enough without the visuals. If it weren't for the full-band arrangement and crisp production, one might mistake it for an either/or outtake, with harsh statements like "I only really needed alcohol" and "someone's gonna get to you, and fuck up everything you do." "The Fix Is In" is even closer to Smith's solo material, with an arrangement of acoustic guitar, a spare drum loop and a combination of organ and synth lending a greater depth and grit. The two-minute "You Gotta Move" is among the album's most gorgeous, though it's a simple track with a touch of romantic soul, particularly when Smith sings "I watched the sun go down/ in the moonlight you looked like a spotlight."
"Pop in G" is a personal favorite, grittier and harder rocking than any of Smith's other tracks here. About a bad relationship, the song isn't so much a sad one as a cathartic one, with lines like "you went and called me up/ do you bother me on purpose?" and one of the best guitar solos in indie rock. Though Gust may be the lesser known of the two songwriters here, his tracks are equal in quality, ranging from the bassy grooves of "Low Flying Jets" to the aggressive burst of "Eagle Eye" and the slide-driven "Rest My Head Against the Wall." The best of his bunch is "Blue Highway," a sexy and tensely wound number building from Sam Coomes' spindly bassline toward an explosive chorus that's equal to "Pop In G" in terms of the catchiest on the album. This song, too, has one of the best solos in indie rock; let it be known that while Heatmiser were never considered guitar heroes, the fretwork here is exquisite.
After Mic City Sons was released and Heatmiser's members parted ways, Smith released either/or and went on to have the most successful solo career of the bunch, while Neil Gust formed No. 2, Sam Coomes started Quasi and Tony Lash recorded and produced his share of records in his Jackpot! Studios in Portland. Though the band's implosion was certainly disappointing, they exited in as impressive a way as possible. Not so much a bang as a brilliant glow, Mic City Sons is the elegant and understated final hurrah from one of the most vastly underrated bands of the past 20 years.
Similar Albums/ Albums Influenced:
Elliott Smith – either/or
Spoon – Girls Can Tell
Spinanes – Arches and Aisles
Download at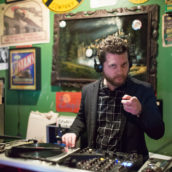 Jeff Terich
Jeff Terich is the founder and editor of Treble. He's been writing about music for 20 years and has been published at American Songwriter, Bandcamp Daily, Reverb, Spin, Stereogum, uDiscoverMusic, VinylMePlease and some others that he's forgetting right now. He's still not tired of it.