The Hold Steady : Teeth Dreams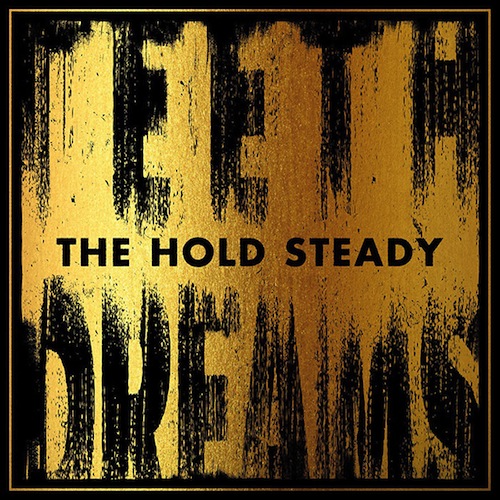 Brooklyn's The Hold Steady have spent the past 10 years pumping out an infectious indie rock take on earnest Heartland rock. In that relatively short span, the band has put out five noteworthy albums. Their 2004 debut Almost Killed Me and 2005 follow-up Separation Sunday introduced the creatively dynamic act — combining the raw energy of The Replacements' best work with a narrative approach so strong that it can't help but reference the Boss himself, Bruce Springsteen himself. In 2006, Boys and Girls in America saw The Hold Steady expand their scope, leading to a creative climax of sorts on 2008's Stay Positive. Between the more ambitious compositions and vocalist Craig Finn's departure from gruff spoken word to a still-verbose croon, the band had made jumps forward without departing too far from the core sound that made them so appealing.
While no Hold Steady album could be considered lazy, 2010's Heaven is Whenever certainly felt rushed. Following the departure of keyboardist Franz Nicolay, the band rounded out their sound with a studio player on keys and a bigger-budget sheen. Overall, the band's approach to storytelling was still spot on, and the record sounded great on the surface. Still, that infectious element that glued together the rest of the band's catalog was M.I.A. for that fifth effort.
A lot has happened since then. The last four years have been the longest gap between Hold Steady album releases by far. The band took a break for a while, and health complications caused Tad Kubler to throw in the towel on the alcohol-soaked lifestyle that was always a key element to the band's culture and live shows. The group never replaced Franz Nicolay with a full time keyboardist, but guitarist Steve Selvidge (ex-Lucero) joined in on tours before becoming a full-fledged member.
But change can be a very good thing. On their sixth album, Teeth Dreams, The Hold Steady are still as earnest as ever, but that appeal is further boosted by confidence, maturity, and a beefed up double guitar attack. While Craig Finn's attitude to storytelling still comes through the same Minneapolis-punk-turned-New-Yorker lens, you'll find fewer stories about sex, drugs, and Catholicism this time around. Sure, there are tracks like "Back to the Business" and "Big Cig" that embody a similar sound and character to the band's earlier work but, for the most part, the 'teeth dreams' here are stories from a more mature and (if you can believe it) less optimistic worldview than Finn's previous lyricism. From the get-go, opener "I Hope This Whole Thing Didn't Frighten You" throws the listener into a visit home with a loved one that soon gets crashed by a run-in with local skinheads from  the narrator's past. "The Only Thing" focuses on darker thoughts of a narrator whose less-than-stable ex-lover is now dating his good friend. The uncharacteristic acoustic ballad "Almost Everything" focuses on salvaging a damaged friendship, most likely Finn and Kubler's.
This profound lyricism on Finn's part is supported in full by flawless instrumentals. Between the arrangements, breakdowns and solos on these tracks, the little details are what make every song kick complete ass on every listen. Between Kubler and Selvidge, the band wields more fist-pumping guitar power than most indie-acts could handle, yet not a moment on Teeth Dreams feels forced or overdone. And, while keys and strings visit various songs in supporting roles, those sweet guitar riffs are the true stars this time around, adding an adrenaline-dripping edge to Finn's delivery.
The Hold Steady have yet to release a bad album, but Heaven is Whenever definitely seemed to foreshadow the end of an era, with its rushed writing and less satisfying compositions. Teeth Dreams not only shows The Hold Steady back at full power, it features a fresh take on their sound and serves as a bright indicator of the band's future.
Similar Albums:


Bruce Springsteen – Born to Run


The Replacements – Let It Be


Titus Andronicus – The Monitor