Jay-Z : Magna Carta Holy Grail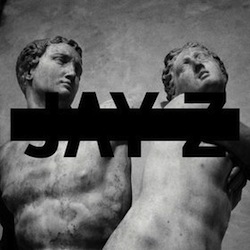 At this point in Jay-Z's career, it would be easy to dismiss any new music from him as nothing more than a vanity project. After all, he is arguably the most accomplished MC in hip-hop history, so what more does he really have to prove? In spite of a few missteps since his failed retirement bid in 2004, no other rapper has come close to the notoriety or hype that Jay's built with each successive release. Even Kanye West, Jay's onetime protégé couldn't hold the spotlight away from Jay for long. Yeezus was all the buzz until the announcement of Jay-Z's 12th album, the appropriately pompously titled Magna Carta Holy Grail. However, unlike Yeezus, Magna Carta Holy Grail is a tried and true hip-hop album that doesn't venture too far from familiarity, with guest rappers providing most of its shortcomings.
Magna Carta Holy Grail kicks off right where 2009's The Blueprint 3 left off, only this time Justin Timberlake is providing the vocal track instead of Mr. Hudson. The opening moments of "Holy Grail" are more pop than classic hip-hop, and may initially concern longtime fans, that is until the absolute monster of a beat drops and Jay begins his verse about coming back strong (and lack of privacy). Although his flow lacks the lyrical acrobatics of past works, for the first time in a long time, Jay comes out of the gates sounding hungry. His desire to consistently improve and show that he's still on top of the game is prevalent throughout the album, with tracks like "Jay Z Blue" and "F.U.T.W" providing enough wordplay to keep rhyme junkies satisfied. But even though Jay-Z is clearly putting effort into his lyrics on Magna Carta, the same cannot be said for Rick Ross' guest slot on "FuckWithMeYouKnowIGotIt" which sees the plus-size "boss" simply ramble about airplanes, shopping bags, being pure and other nonsensical bullshit. Honestly, it's embarrassing that his verse even made the cut, sadly proving that image still reigns supreme throughout hip-hop.
The focal point of the record revolves around Jay's storytelling technique, however, while the contributions of other MC's and producers also provide some highlights and regrettably, low points. Musically, Magna Carta Holy Grail is one of Jay's strongest of the last 10 years, largely thanks to Timbaland and his never-ending imagination. Glitch fest "Tom Ford" is easily one of the most hypnotic beats in recent memory, while the R.E.M.-biting "Heaven" takes heavy lyrical content and pairs it with a beat that sounds like it had a fifth of Grey Goose for breakfast, making for an understated yet pleasing contradiction.
Whereas most of the songs on Magna Carta Holy Grail are produced at least in part by Timbaland, there are a handful of others that step up to the plate, albeit with varying success. The breezy jazz influence of "Somewhere In America," produced by Hit Boy and Mike Dean, is such a welcome reprieve from the bass-heavy space jams of Timbaland that Jay-Z can be forgiven for his confounding Miley Cyrus shout out. That being said, the Pharrell-helmed track "BBC" is easily the most annoying song on the entire record. Thanks to Pharrell's one dimensional style, the track sounds like it could've been a leftover from Justified. Timeless it's not. In fact, it's downright distracting and the only thing saving the track from the scrap heap is the blazing guest verse from Nas.
For the first time in a very long time, Jay-Z has released an album that isn't likely to change the landscape of hip-hop. There aren't any massive radio hits present, nor are there any stylistic concoctions that will alter how other emcees approach the game. Instead of focusing on changing the scene (which he has done numerous times over) Jay-Z has delivered a solid record that at times sounds like his most personal and concerted effort in years. Magna Carta Holy Grail may not be a full on vanity project, but it's not too far off and frankly, that's not a bad thing.
Similar Albums:


Jay-Z – The Blueprint 3


Kanye West – My Beautiful Dark Twisted Fantasy


Lupe Fiasco – Lasers