King Woman – Celestial Blues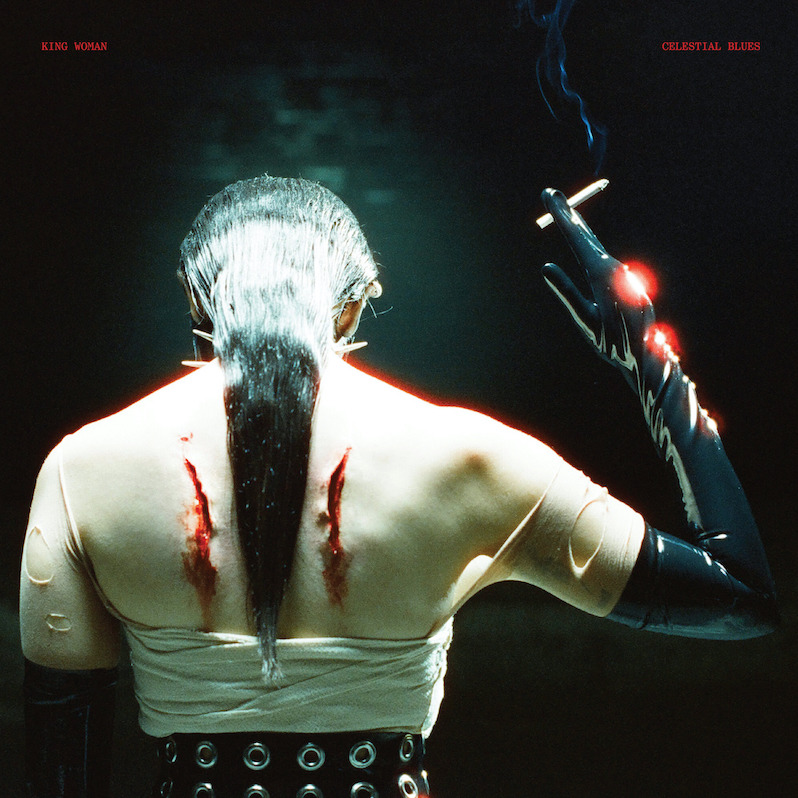 It wasn't terribly long ago that it felt like performers like King Woman and the similarly aligned Chelsea Wolfe were dominating the critical and public landscape of heavy music. Their musical space blends elements of doom metal, post-punk, folk, goth, grunge and the more despondent wings of country and even flecks of prog into a whirling, witchy and intensely morose soundscape, one that thrilled and captivated listeners for what felt like a steady 10-year span. And then, one day, it seemingly stopped. Not the music, mind you; the performers of this style still write, still tour (intermittently now, pandemic pending, of course), still record. But that cloud seems to have dissipated for all the same strange cultural reasons that these clouds form or disperse in the first place.
This winds up being of sidereal benefit, however. Bereft of hype and that at-times corrosive sense of voices in our heads obscuring whether we are liking or disliking something in a sincere and human way or if its solely in reaction to the climate around us, we can reevaluate those things we once loved or despised more truthfully. It is in this condition that King Woman's newest record Celestial Blues reaches me, a record of a certain style emerging from after the debris of the micro-genres temporary dominance in the arthouse heavy music circles. And, validatingly, I am still in love with it.
It took three listens before I could gainfully write notes on the record beyond the purely perfunctory largely because I was weepy and despondent the first two listens. I am admittedly a rather emotional music listener and prone to fits of tears when something is moving me, but the fact remains that many, many records don't elicit such reactions from me at all. The intensity of the record primarily comes not from the instrumental palette but instead the depth and sincerity of its gothic affectations. There is no wincing around topics here; Satan is invoked as early as the second track, the euphoria and madness of intoxication by the third, the depth of the grave by the fourth. The album plays like a procession, walking like a psychopomp deeper into growing darkness. The sense of witchcraft and spellwork pervades the flesh of the album, one without the pageantry and theatricalism that demeans a lot of goth rock but instead feels bare and sincere.
Celestial Blues comes after a spate of projects from frontwoman and founder Kristina Esfandiari in differing styles, ranging from rap to shoegaze to singer/songwriter material to industrial across four different projects. This plurality of musical approaches seems to have clarified the intent of King Woman as a discreet project rather than bloating it with fragments of ideas that may or may not have fit. Certainly singer-songwriter, shoegaze and industrial music feel related to Celestial Blues, but there is a clarity of intent here compared to her other groups like Miserable and NGHTCRWLR, one driven more explicitly by groove and rock group dynamics but also a certain grunge-aligned post-Alice in Chains sense of despondency that is missing from her otherwise dissociative or acid-burned approaches in those other groups. The result is a record that feels like a followup to their acclaimed debut Created in the Image of Suffering rather than merely being one as a matter of fact of being their second record; this is no divergence but instead a clear development, an aesthetic child of its predecessor. There's no clear answer on which may be better than the other, a fact that speaks to the consistently superlative quality and execution of this group and its constituent members. Esfandiari is one of the best songwriters and composers going right now in underground music and Celestial Blues is yet another jewel in her ever-crowded crown.
---
Label: Relapse
Year: 2021
---
Similar Albums:
Langdon Hickman
Langdon Hickman is listening to progressive rock and death metal. He currently resides in Virginia with his partner and their two pets.