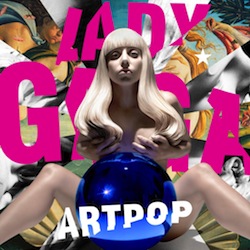 It's been a pretty rough year for Pop music — capitalization intended. Divorced from mainstream Top 40, pop has actually had a fairly prolific year, and I'll be more than surprised if AlunaGeorge, Charli XCX, and Chvrches don't all make at least one of our upcoming top 50 lists. Those acts, while all following the traditional make up of a 'pop album' — accessible, danceable, timely and geared for mass appeal — make great strides in terms of originality and production. Big-budget, major label Pop, on the other hand, has mostly consisted of artists claiming they were about to change the genre in one way or another and — for the most part — releasing some of their worst material to date.
Lady Gaga's ARTPOP is, largely, no exception. Per usual, her production is highly derivative, equal parts modern-pop and Madonna sound-alikes. And the lyrical content is expected for Gaga, casual and straightforward, even when pushing against substantial social boundaries. There are, of course, highs and lows but ARTPOP mostly fits in fine with other Pop headliners this year like Miley Cyrus' Bangerz and Katy Perry's Prism — all failed attempts to reclaim modern dance in the form of a Pop album.
To be fair — and this is where it gets a bit tricky — ARTPOP is not without its saving graces. Ever since Lady Gaga, originally a performance act formulated by a New York art student, awkwardly catapulted into to world of Top 40 Pop, she has served as a bizarre, distorted mirror of current popular norms. Along these lines, ARTPOP stays true to form, offering thinly veiled social critique, particularly in the latter half of the album, via tracks like "Do What U Want," "Artpop," "Donatella" and "Swine." Given her namesake, it's not surprising that the performer mostly offers self-aware radio fodder.
Regarding production, Gaga also has a slight advantage against many of her Pop competitors, due to her actual keyboard abilities as well as a good taste in production. ARTPOP may be littered with derivative nonsense, but Gaga can actually pull off a dubstep-injected Madonna-esque song ("Aura," "Sexxx Dreams," about six others songs) only leaving the question of whether or not anyone ever wanted to hear such a thing.
All in all, ARTPOP is the most passable in a long series of disappointing Pop albums released in the last months of 2013. Is it as god-awful as Miley's stab at a modern R&B record? Hell no. Still, ARTPOP is full of similar missteps, including the world's worst trap song and two more attempts to sound something like Bruce Springsteen ("Dope," "Gypsy"). Despite Gaga's quirky nature and obvious self-awareness, you're probably better off looking elsewhere for your artpop.
Similar Albums:


CSS – Planta


Miley Cyrus – Bangerz


Major Lazer – Free The Universe