Mudhoney : Vanishing Point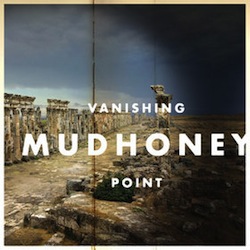 If the question is, "How is the new Mudhoney album?" the expected answer is: "About the same as every one of their albums since 1995." It is true that the original Godfathers of Grunge, these Paterfamilias of Plaid Flannel, hit their apex in the early '90s. Mudhoney toyed with country-rock for a little, and came back to their Stooges-inspired roots on My Brother the Cow in 1995. By then, it was too late. Kurt Cobain was dead, and the grunge movement died with him. Mudhoney had become an anachronism through no fault of their own. Still, the band somnambulated along, releasing four more studio albums in the next 13 years. While none of these matched the youth and energy of Mudhoney's first EPs in the late '80s, Mark Arm & Co. unapologetically refused to grow or experiment. What was once a joke became a source of comfort. The latest release, Vanishing Point, is more of the same, and at this point fans would be disappointed if it wasn't. In fact, it's more of more of the same.
Opening number, "Slipping Away" starts off with Dan Peters' big, loud drums and familiar hollow snare – more of it than fans have heard in a while. Guy Maddison (who replaced original bassist Matt Lukin in 2000) joins in, and the sound continues to build. Once Steve Turner's signature fuzz joins the fold, there is no doubt that Vanishing Point is a Mudhoney album. Adding the finishing touch is Mark Arm's nasally growl, as angry and anti-melodic as ever.
That isn't to say that the songs don't have hooks or distinctions. "I Like It Small" starts out with a memorable refrain, and the rest of the lyrics, if you dare to listen, are amusing and wise: "I'll take GG Allin over Long Dong Silver any time / And when I orgy, I cap it at twelve / Any more than that and I get overwhelmed." "Chardonnay" is by far the punk-rockingest tune Mudhoney has recorded in years, and its authenticity is refreshing – at 51, Arm still has it, or at least he can deliver it when called upon. "In This Rubber Tomb" features some impressive use of wah-wah pedal and references the God Particle. Turner's minor chord riff on "Sing This Song of Joy" is one of his most infectious in years.
Unfortunately, none of these songs are going to appease the requests for "Touch Me I'm Sick" and "You Got It" that the band is going to hear show after show. No one is going to scream when "Douchebags on Parade" starts, even though it's full of the same wild psychedelia that helped make fan favorites like "In 'N Out of Grace" so popular. Vanishing Point is a step above 2008's The Lucky Ones, which was a step above 2006's Under a Billion Suns. Mudhoney is as popular as they are ever going to be, and that is probably just fine with these Seattle dudes and their dedicated fans.
Similar Albums:


Dinosaur Jr. – Beyond


The Melvins – Nude With Boots


Pissed Jeans – Honeys