Owen Pallett : In Conflict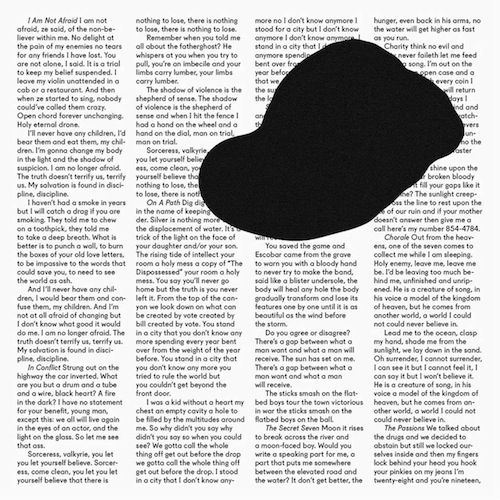 When Canadian composer and songwriter Owen Pallett decided to rid himself of his Final Fantasy moniker, it wasn't necessarily an indication that his sound would also change along with his identity. His 2010 album Heartland saw him carry over the same ambitious concepts and ideas, albeit with much more focus and maturation. In Conflict, his second full-length to bear his given name, takes what was heard on Heartland and refines it even more so, cementing Pallett among his peers as an accomplished artist.
Throughout its duration, In Conflict proves to be an impressive and inspired synthesis of the mournful sound of classical music, the joyful and triumphant nature of indie pop, and the driving, catchy pulse of electronic synthesizers. Pallett weaves his way through genres with ease and confidence, as demonstrated in the title track — a post-punk fueled, motorik-tinged offering that carries with it as much indie flair as it does pop hooks. In Conflict, a title that suggests determent and even an internal struggle, is a theme that Pallett unsurprisingly touches upon from time to time. During the final climatic chorus of "On a Path," Pallett's baroque, Beach-Boys-style vocal harmonies clash blissfully against a vigorous string arrangement as he cries, "I stand in a city that I don't know anymore, spending every year bent over by the weight of the year before." It's not a plea to the listener, or to his fans, but to himself — not the sound of a man in the middle of an identity crisis as much as it is an artist finally shedding their old skin and moving on.
However aware Pallett may be of his own evolution as a serious artist, "Infernal Fantasy" finds him having more fun than ever. The title alone may indicate a tongue-in-cheek stab at the gimmicky name he once used, and the retro, 8-bit sounding sequencer he usses only does more to reinforce this notion. It is no secret that Pallett took his name from a video game franchise, but never has he been so bold as to create a track that wouldn't sound out of place on one of its soundtracks. Synth sounds are a constant on this record, and are used incredibly well, in no small part due to the contributions of exalted producer Brian Eno. When they aren't being used to create warm, dreamlike soundscapes or monstrously infectious highlights, such as the end of "Song for Five & Six," they're seemingly finding themselves in the backdrop, adding ambiance and zest over the potpourri of other instruments.
Pallett masterfully uses all of his resources, never afraid to experiment or take risks. The end result is a record that is as accessible as it is daring, as beautiful as it is personal. In Conflict is a remarkable achievement and the next logical step for a young composer who has already had the privilege to be nominated for an Oscar alongside his Canadian brethren, Arcade Fire. The name Owen Pallett may not be as much of a head turner as say, Andrew Bird or Sufjan Stevens, but now is as good as any a time for that to change.
Similar Albums:


Andrew Bird – The Mysterious Production of Eggs


Rufus Wainright – Want One


Wild Beasts – Present Tense