The Death and Rebirth of the Rock Saxophone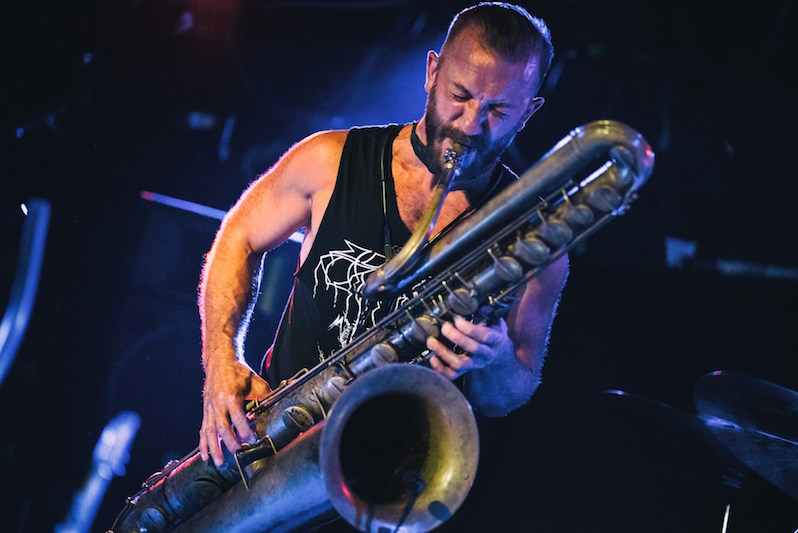 Craig Zirpolo / Creative Commons
The saxophone deserves better. It's been slandered, degraded, downgraded to a nuisance. Its stature has fallen from the seemingly supernatural musicality of jazz legends like John Coltrane and living a life as a standard part of a rock band lineup to becoming at best a gimmick, at worst an unwanted novelty, and most often a meme. We associate the saxophone with guilty pleasures ("Rump Shaker"), corny smooth jazz albums like John Tesh's Sax On the Beach/By the Fire/All Night trifecta, or the lowest depths of '80s pop's cocaine indulgences. It's hard to defend a record like that.
I get it—you can't hear Gerry Rafferty's "Baker Street" for the hundredth time without thinking that saxophones are a liability for rock music rather than an asset. And it often is; there are seemingly thousands of saxophone solos in songs from the 1980s, many of them bad, some of them unforgivable. But that's no reason to erase the countless interesting, innovative and punk-as-fuck moments provided by saxophone in the last 50 years.
In the '50s and '60s, saxophones came standard with rock music—the sound, still in its youth, had evolved out of blues and gospel music, had not yet been dominated by firebrand guitarists like Jimi Hendrix and Pete Townsend. The Champs' "Tequila," released in 1959, has more saxophone than vocals—a fact that makes it extra hilarious in the context of karaoke nights. Even into the mid-'60s, with the rise of garage rock, the saxophone managed to stick around, adding some greasy texture to raw, rock 'n' roll wailers like The Sonics' "The Witch." And by 1970, when the early traces of rock's R&B influence had mostly faded away with the rise of progressive and psychedelic rock and the earliest roars of heavy metal and punk, the sax still had a place among punishingly loud guitars. Few saxophones in history have sounded quite so hostile as Steven Mackay's piercing honks on The Stooges' Fun House. An instrument of that kind of abrasion and antagonism simply can't be written off as smooth or lightweight, no matter how often it's been used for empty-calorie indulgences.
Part of the reason behind the rock saxophone's complicated reputation is that there's very little subtlety about it. During the mid-'70s, saxophonists like Clarence Clemons of Bruce Springsteen's E Street Band and Andy Mackay of Roxy Music had as much prominence as those band's guitarists, making the strong case that a blazing, passionate saxophone solo actually belonged in rock 'n' roll. But at its most intense, the sax can be an instrument of chaos and disruption—in the '70s, performers like Lora Logic of X-Ray Spex and Essential Logic used the piercing woodwind tones as an added piece of textural power when punk was at its peak. And New York saxophonist James Chance of no wave group The Contortions furthered the use of atonal noise sax in the context of rock and punk music, juxtaposing a free-jazz approach inspired by Ornette Coleman against the band's Beefheart disco. And that's even before we get into the inspired noise-sax experiments of John Zorn. If you've ever wanted to know what it feels like to be absolutely fucked up by the sound of a saxophone, then put Naked City on right now, and brace yourself.
Part of the problem is that it seems even saxophone put to good use has been soured by the taste of producers' worst impulses in the '80s. Back in 2010, the AV Club published a list of songs nearly ruined by saxophone that points to the saxophone as being the thing that prevents songs such as David Bowie's "Young Americans" (whose hook is the sax), The Cure's "A Night Like This" (which features only a fairly short solo), and Broken Social Scene's "Almost Crimes" (wait, there's a saxophone in that song?) from greatness. Maybe we can chalk this one up to a difference of opinion, but it feels more like a knee-jerk response brought upon by years of anti-sax propaganda. A year beforehand, Maxim published a similar list of songs that were definitely ruined by saxophone, which features many of the usual suspects—George Michael's "Careless Whisper," Eddie Money's "Take Me Home Tonight," and so on. On these I can't argue (well, maybe I can argue "Careless Whisper"), but the crimes of a time long past need not be applied to a present that's found new life in the saxophone.
Still, I can't necessarily blame anyone who, when M83 released the soaring anthem "Midnight City" in 2011, found some kind of ironic pleasure in the unapologetic, over-the-top saxophone solo from Fitz and the Tantrums' James King placed so prominently in the song. Anthony Gonzalez certainly leaned into the idea of a saxophone as an instrument of pop commercialism. In his case it worked brilliantly—the boldly earnest song became M83's biggest hit to date, if not signaling that our perception of the saxophone should be reconsidered, at least that there's still ground to be covered before saxophones should be declared persona non grata in rock music.
Those paying close enough attention already know this. In the '00s, during an era that we'll probably look back upon as rock saxophone's nadir, accomplished saxophonist Colin Stetson was using his lung power to spruce up the arrangements of songs by Tom Waits, Arcade Fire and TV on the Radio. Eventually he came to deliver his own set of stunning solo albums (and a killer prog metal album with Ex Eye) featuring his circular breathing techniques and minimalist compositions—which ultimately led to career peaks like the blood-curdling score to Hereditary. "It's a beautiful, strangely fragile instrument — and capable of much, much power," Stetson told NPR in 2011.
It's because of that power and that fragility that the right balance is often so difficult to find. As technology and recording techniques change, the textural application becomes more challenging to find. It's perhaps this very reason that saxophone sounds so often at home in the context of music that doesn't hold back. More often than not you'll hear saxophone in new metal songs, and more often than it did in the '80s, it sounds like it actually belongs there. It works for bands such as White Ward and Tchornobog because of the progressive nature of their music, calling to mind prog titans King Crimson in ambition if not in sound. It also works for the likes of Full of Hell, whose embrace of musical chaos only provides a perfect avenue for the most abrasive sax tones to truly flourish.
Yet while it's arguably easier to make a saxophone sound good when no noise is off limits, it's in the more nuanced and thoughtful arrangements where it can provide the greatest rewards. It's likely not coincidence that a rising interest in contemporary jazz has paralleled that of more compelling use of sax in rock and indie music, be it Kamasi Washington's contributions to records by St. Vincent and Florence and the Machine or Donny McCaslin's breathtaking work on David Bowie's final album Blackstar, a moment that not only signaled a shift toward a more prominent influence of jazz (even darkjazz) in popular music at large but a challenge to those who Bowie influenced—like Nine Inch Nails—finding similar ground to cover in the in-between spaces where jazz and rock bleed together in interesting ways.
Yet even before that, there were musicians like Joseph Shabason, who became the go-to secret weapon for artists like Destroyer and The War on Drugs to add that missing element to take their indie rock songs from good to unforgettable—something that even he didn't ever imagine happening.
"I spent so much time thinking nobody wants to hear a saxophone solo. It's the most indulgent, played-out possible thing in rock music," Shabason told FACT in 2017, discussing his contribution to Destroyer's Kaputt. "Why the fuck would anybody want to hear me do anything over a song? So to see the reception to that album and specifically the saxophone playing was like a wake-up call."
While it's difficult to pinpoint any one performer—Stetson, McCaslin, Washington or Shabason all deserving some shared credit—in helping to change perceptions and renew demand for this once-maligned instrument, it doesn't take much searching to find innovative and interesting uses of saxophone outside of jazz or symphonic music in recent years. It's in punk, it's in metal, it's even in the shape-shifting art-rock of bands like Young Jesus. I'm loath to call it a trend, and it seems inevitable that it'll once again be used in bad taste. But there's reason to be hopeful. When new saxophone recordings offer something new to the conversation even beyond the twisted blare of John Zorn, X-Ray Spex or The Contortions at their most contorted, then perhaps the saxophone has once again found a piercing enough note to once and for all cut directly through the treacle.
---
Support our Site: Become one of our monthly patrons on Patreon, or help fund our Indiegogo, and help support an independent media resource while gaining access to exclusive content, shirts, playlists, mixtapes and more.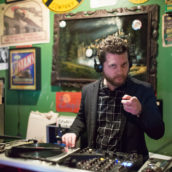 Jeff Terich
Jeff Terich is the founder and editor of Treble. He's been writing about music for 20 years and has been published at American Songwriter, Bandcamp Daily, Reverb, Spin, Stereogum, uDiscoverMusic, VinylMePlease and some others that he's forgetting right now. He's still not tired of it.