Roxy Music : For Your Pleasure
Of all the artists that emerged during the glam era in Britain, Roxy Music were by far the artiest of the bunch. Rather than focus all their energy simply on campy rock music, their pop dabbled in the avant garde, more so in their early days, thanks to the input of the legendary Brian Eno. On the group's debut album and follow-up, For Your Pleasure, Eno's input colored the band's music with a wildly experimental edge that they later shed for more romantic hooks. But to credit all of Roxy Music's greatness to Eno would be beside the point. Bryan Ferry, after all, was the chief songwriter and responsible for some of the band's best melodies.
For Your Pleasure was essentially an intra-band feud caught on tape. It's the result of compromise, of tension and of contrast. Where Ferry was taking the band on an arty, yet accessible route a la David Bowie, Eno was more interested in stretching the songs to their limits. Because of this, a nine-minute, funky and altogether bizarre track titled "The Bogus Man" made its way on to the second side, proving just how truly out there the band could be.
Opener "Do the Strand," however, showed how fun and silly, yet highbrow, the band could be. Over an almost Weill-ian piano-pounding hook, Ferry sings about a dance, as if he were a salesman pitching the movements to an impressionable youth, "had your fill of Quadrilles/the Madison and cheap thrills/bored with the Beguine/the samba isn't your scene." "Beauty Queen," however, is slower in pace, but still carries the trademark Roxy Music sound, thanks in large part to John Porter's slightly funky bass sound and Phil Manzanera's wild guitar blazes at the end. The eerie "Strictly Confidential" follows, opening with ambient waves of keyboard and saxophone before morphing into a chorus of rumbling drums and whimsical melody. Yet, it soon fades back to the haunting verse, focusing on Bryan Ferry's fictional death-bed confessional.
When Roxy Music played a good old-fashioned rock `n' roll song, it was still pretty out there. "Editions of You," arguably the most awesome rock song of the set, still contained many unusual traits for a rock single at the time. A baroque keyboard sound opens the track, which quickly erupts into a torrent of pounding drums and power chords. Yet after Andrew Mackay's wailing sax solo, Eno shows his stuff with a squealing, melody-defying synth solo that was anything but conventional. Nonetheless, it's one of coolest parts of the song. And for a song that contains four solos (three of which are in a row), it's relatively wank-free.
It's mostly on the second side on which the band submerges into their more experimental side, starting with the creepy blow-up doll ode "In Every Dream Home a Heartache." A synth drones beneath Ferry's tensely paranoid delivery, as he sings to his "plain wrapper baby," his "disposable darling." For a few minutes, the song remains slow and unsettling, but ultimately explodes into a coda of psychedelic sounds and solos. Ultimately, the song that wins the award for "weirdest track" is "The Bogus Man," stretching on for over nine minutes as delay-treated guitars weep over creepy saxophone sounds, grooved-out basslines and Ferry's ever-bizarre vocal style. I, for one, tend to hate songs that stretch on aimlessly as long as this one does, yet somehow, I love it. Maybe it's the funkiness. Maybe it's just because it's so damn eerie. Either way, it's a triumph, and I have yet to hear anything like it.
The final, title track easily gets lost amongst the remainder of the material, but it's particularly easy to hear Brian Eno's influence, with its effects-laden piano sounds, mounds of reverb, absolutely sparse arrangement, stops in rhythm and oddly minimal overall sound. It's a standout in its odd simplicity, and wraps up the album without any of the overblown dramatics of man of the other songs.
Brian Eno left the band after this release, yet both Roxy Music and Eno continued to release outstanding albums. Though with Eno's ambient music and Avalon it became obvious how polarized they were each becoming. Still, this album is hard to beat, and was called one of the coolest albums of all time by Spin. It's still pretty hip today. And if there's any doubt, just roll down your car's windows, skip to track 4 and turn it up.
Similar albums/Albums Influenced:
David Bowie – Aladdin Sane
Duran Duran – Rio
Pulp – Different Class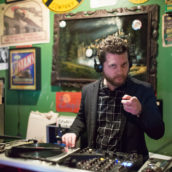 Jeff Terich
Jeff Terich is the founder and editor of Treble. He's been writing about music for 20 years and has been published at American Songwriter, Bandcamp Daily, Reverb, Spin, Stereogum, uDiscoverMusic, VinylMePlease and some others that he's forgetting right now. He's still not tired of it.