Shadow of the Horns: Hybrid moments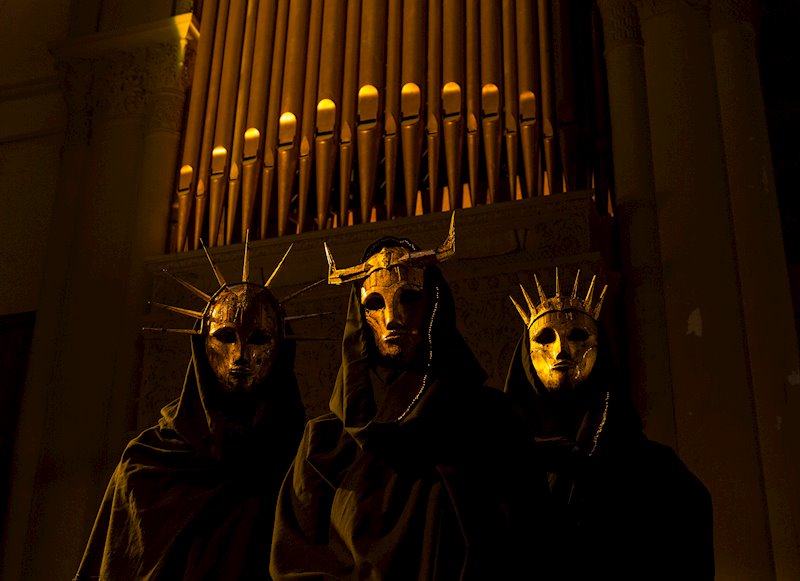 Metal isn't meant to be safe. From every step of its evolution, metal has been about pushing beyond what's already been established and creating something that truly challenges the listener—and the musicians playing it. Playing faster. Playing louder. Playing uglier. Embracing Satan, singing about serial killers, yelling, screaming, growling, belching, creating a cacophony of hyperspeed mayhem that lasts only 30 seconds. Or maybe just one. But eventually the extremes of metal begin to get harder to expand. People can only play so fast, or deliver such guttural screams. Eventually, extreme becomes the norm.
But metal's a bit long in the tooth if we're being honest. After about five decades, taking a linear path will only get you so far. And while many of the innovators did just that, be it Napalm Death or Sleep each in the opposite end of that same spectrum, metal's not a two-lane highway. It's much bigger than that, and it's not isolated either, as it has so frequently come in contact with other styles of music in the past, sometimes for better and sometimes for worse. But when metal finds a dancing partner in a wholly unexpected, outside style of music and it works, it proves just how much potential there can be beyond faster, louder and harsher.
Look no further than Deafheaven for a prime example of this. With albums like Sunbather, their hybridization of black metal with other genres, such as shoegaze or screamo (particularly that of Japan's Envy), made them both a band worthy of effusive praise and message-board ire alike. Personally, however, I've been a fan of Deafheaven's since their debut, and with new album Ordinary Corrupt Human Love, they continue to challenge the idea of how we hear metal. For Deafheaven, metal is a vulnerable thing. It's beautiful and it's tender, and it's capable of grandeur and insularity alike. This album in particular showcases an "extreme" version of Deafheaven, in that the band doesn't hold back when it comes to their most non-traditional instincts. There are few filters here, and there are even songs that sound like they'd have no business being on a metal record. It's the prettiest thing they've ever done, and for that it sounds more confident and assured.
Oh, but it can get much weirder than that. Much weirder. Deafheaven's one of the more commercially friendly examples (relatively speaking—they're not Lamb of God, or even Ghost), but this month has also seen the release of one of the most revelatory and strange metal releases of the year: Imperial Triumphant's Vile Luxury. A conceptual black metal record that incorporates heavy elements of jazz while creating an atmosphere of terror closely aligned with the identity of New York City, Vile Luxury is an art piece that just so happens to sound a bit like a metal record. Blast beats clash with blasts of horns. Grinding guitars collide with free-jazz piano sections. It's beautiful. It's horrifying. It's the kind of album that reminds me why I got into metal in the first place, and it's not because I want my biases or confirmed or to hear something I've already heard.
And while we're speaking of biases, there's another metal album of late that's a hybridization of two styles of music that I wouldn't expect to go well together. And here's the punchline: They're both existing mutations of metal. Vein's Errorzone is ostensibly a metalcore record, which isn't something I'd ordinarily be excited about unless it's Converge or Botch. And to this Boston band's credit, Botch and Converge are both strong reference points for their manic, eclectic sound. So are nu-metal bands like Deftones and Slipknot, and that's where the real surprise comes in. Certainly this isn't the first album of its kind—Killswitch Engage comes to mind. But weirdly, the radio-friendly grooves and hooks, when combined with the complex rhythms and unchecked aggression comes out sounding a lot cooler than I imagined.
If I'm being honest with myself, though, few of my favorite metal albums in recent years have been pure genre exercises. Oranssi Pazuzu's psychedelic black metal hybrid, Yob's ethereal doom metal, Tribulation's blackened gothic rock, Elder's stoner prog, Panopticon's bluegrass-metal and pretty much anything Converge is doing have blown my mind and landed more headphones mileage than anything straightforward or "traditional," whatever that means. And beyond that, there have been a long list of bands who have worked the aesthetics of metal into music that exists just outside of it, from Uniform's industrial thrash-core to Chelsea Wolfe's doomy last album, which featured members of Queens of the Stone Age and Sumac, as well as production from Converge's Kurt Ballou. It's not that I don't still love metal in its purest form (have you heard that new Judas Priest album, folks? It smokes!), but there are new frontiers beyond our expectations. Metal's innovation comes from trying new things and expanding the definition of what metal can be. Remember that the next time some joker complains about metal becoming stale.
The best metal tracks of July 2018
Horrendous – "Soothsayer"
There are honestly few things I look forward to in writing this column than hearing the first notes of a new album by some of the best death metal bands running right now. And for my money, there may be no better death metal bands in the game right now than Philadelphia's Horrendous, whose 2015 release Anareta essentially heralded a kind of new Renaissance of death metal. Not to count out the more experimental works of Sweden's Morbus Chron and Tribulation (who broke up and went more trad/goth metal, respectively), but Horrendous captured everything that made the late '80s/early '90s death metal awakening and gave it a new sense of dynamics, an impeccable sense of melody and some unexpectedly razor-sharp hooks. "Soothsayer" is the first track to be released from their upcoming album Idol, and it's glorious. Opening in dramatic fashion with a juxtaposition of gothic voices and horror synth, it soon reveals itself as the badass guitar-slinging anthem that it is—and very much what I hoped it to be. Melodies are one of the band's strongest qualities, so to hear them so pronounced, along with moments of white-knuckle intensity, makes this an absolute thrill to hear. Horrendous is the kind of death metal band that hits all the highest marks within their chosen genre, and clipping the edges of a potential crossover in the process.
from Idol, out September 28; Season of Mist
---
Burial Invocation – "Revival"
And here we have even more death metal! Yes, my intent this week was to highlight how metal's best albums of late have often been those that skew far outside of what one single genre might dictate, but look, this is a fucking great month for death metal, and I'm not about to let that go unnoticed. Turkey's Burial Invocation are one such band that are helping to not only keep death metal as brutal as it should be in 2018, but in writing songs that give it a character beyond riffs alone. "Revival," the leadoff track of their newly released album Abiogenesis, is both long and made up of many parts, a nine-minute beast of a track that could have been split up into two or three if they wanted to. But "Revival" (a fitting, if not somewhat winking title coming from a band who sculpts old-school death metal into their own image) balances so many various, incredible parts, from its doom-metal darkness in the introduction to the constantly escalating riffs and pick squeals that remind the listener this is some ferocious shit. To say nothing of the blend of haunting arpeggios and fiery soloing around the six-minute mark. Being a death metal fan in the past few years has been an embarrassment of riches, and Burial Invocation are doing their part to ensure that doesn't change anytime soon. As Bandcamp user Insomnius_kb says, "Buy this shit. It will crush."
from Abiogenesis, out now; Dark Descent
---
Benoit – "Master"
Los Angeles hardcore outfit Benoit don't require a lot of real estate to build something incredible. On their upcoming album MASTER, the norm is about 75-90 seconds for their songs, and they're capable of making the most of that limited time by simply never letting a single piece of their impeccably constructed bruisers wear out its welcome. The title track is a meaty 95 seconds, and in that time they unveil an assortment of furious riffs (the likes of which sound like they could have fit in on Baroness' Red Album, fascinatingly) juxtaposed against the breakneck mathcore rhythms of a band like Botch. They move fast and they never let off the throttle, but there's so much going on in the brief span of their beastly, labyrinthine structures that it could take several listens to pick up on the subtleties. And yes, there are subtleties—when everything's this loud and this aggressive, the nuances themselves still end up being pretty loud.
from MASTER, out Aug. 10; self-released
---
Morne – "To the Night Unknown"
Boston's Morne, much like Agrimonia or Fall of Efrafa, who have ostensibly been classified as a "Crust-punk" band despite having embraced a sound that encompasses much more than that. Morne's sound isn't quite as anthemic or even as accessible as that of Agrimonia, particularly on their stunning new album Awaken, but on "To the Night Unknown," they prove themselves no less soaring. The title track of the band's new album is certainly rooted in hardcore, but a hardcore that's comfortable with a measured pace, with taking its time, with showcasing a greater degree of texture and patience. Probably most accurately, Morne could be called a sludge metal band, as the closest connection to the sound they've cultivated over the years is that of Neurosis. But "To the Night Unknown" feels uniquely their own, dark, direct, but subversively complex.
from To the Night Unknown, out September 7; Armageddon
---
Imperial Triumphant – "Swarming Opulence"
I already went on record earlier this year about 2018 being the year of the metal saxophone, and I'm not necessarily backing away from it. But how about the metal horn section? The metal free-jazz piano interlude? Those are fair game too, and as I've discussed in the essay portion of the month's column, Imperial Triumphant occupy a genre hybrid space that seems to be where much of the best metal is coming from right now. "Swarming Opulence," the leadoff track to their new album Vile Luxury, is a complex and strange intermingling of avant-garde jazz, avant-garde metal and outright artful abstraction that has made for one of the most head-spinning releases of the year. It opens not with guitars, but with horns, a brassy call from the beyond that's as majestic as it is disorienting. It's beautiful, commanding, but it's also interrupted by dizzying storms of Gorguts-style string-tweaking and an uncompromising percussive pummeling. It's not so much a blast-beat as the musical equivalent of being clobbered by a dozen fists at once, and maybe a bike chain or two. The whole thing is a surreal and psychedelic swirl of powerful, peculiar sounds. It's a brave, terrifying, awe-inspiring new sound for metal.
from Vile Luxury, out now; Gilead
Piece by piece
The best new metal albums of the past month.
Anicon's Entropy Mantra: Anicon is the kind of band whose absence of shtick can be both a blessing and a curse. The fact that they're simply some talented dudes playing some spectacular and nuanced black metal is what makes them perhaps hard to market, but a thrill to listen to. They're excellent songwriters, finding fascinating textures and stunning climaxes in all that they do. But it's also the sort of metal that might not hit its hardest on first listen. Spend some time with Entropy Mantra, soak it in, and see why they're among the Empire State's best bands right now. (Vendetta)
Deafheaven's Ordinary Corrupt Human Love: Everyone reading this column right now has probably already formed an opinion on this album. But what's interesting to me is that, in spite of how much Deafheaven seem to be taking the kind of risks that might be viewed as polarizing, the reception for the album has been overwhelmingly positive, even among the metal-as-fuck crowd. And maybe that's because Deafheaven's been around for a while now, long enough to prove they're not ghouls-come-lately and that they have the chops to pull off a dream pop ballad if they want to. And they do. It's marvelous. (Anti-)
Imperial Triumphant's Vile Luxury: Yeah, I included this band in my roundup of tracks this month, as well as in the essay portion of this month's look at metal. I can't really help it. While July is a little bit of a slow month for music overall, metal being no exception, Imperial Triumphant's latest album is a revelation no matter the release schedule. This is the kind of metal that challenges our expectations of what metal can and should be, with moments of Black Lodge noir, Unit Structures-style free jazz and lots of brassy fanfare. It's several flavors of avant garde that sneak in a subversive sort of accessibility in the name of an ornate art-metal statement. I don't feel like I've absorbed the whole thing just yet, but I know it's one of the best things I've heard all year. (Gilead)
***
Make sure to read my interview with Khemmis from the past month—and for our Patreon subscribers, we've posted some great outtakes.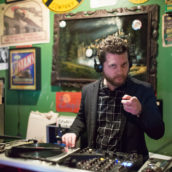 Jeff Terich
Jeff Terich is the founder and editor of Treble. He's been writing about music for 20 years and has been published at American Songwriter, Bandcamp Daily, Reverb, Spin, Stereogum, uDiscoverMusic, VinylMePlease and some others that he's forgetting right now. He's still not tired of it.