Shadow of the Horns: Surviving Self-Isolation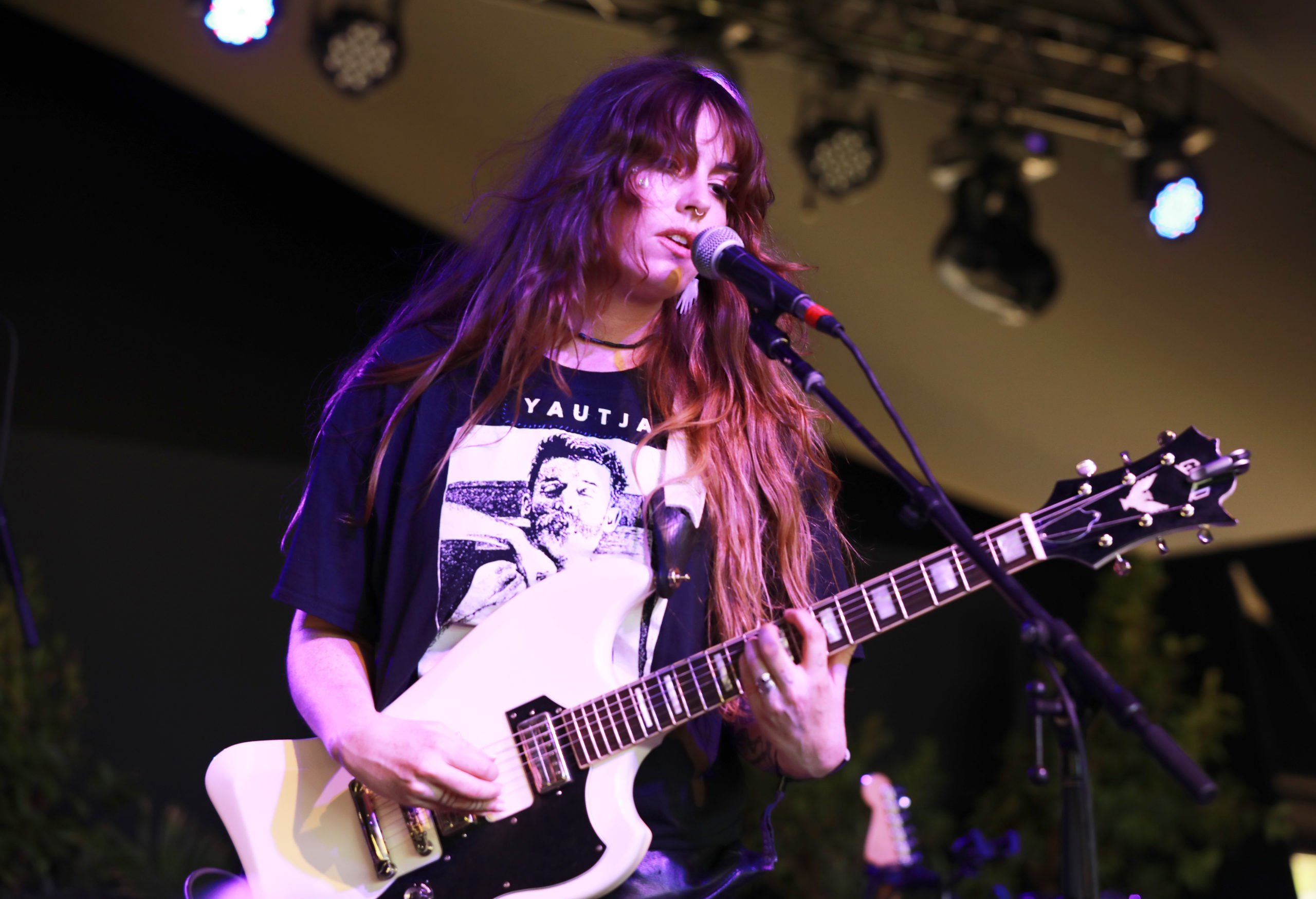 The last live show I saw before COVID-19 lockdown was a strangely appropriate, even prophetic one for the strange, scary moment in history in which we're living. Emma Ruth Rundle played a stark, solo set between two epic metal bands (Intronaut and Cult of Luna), and that solitary intimacy felt like preparation for what was coming next. There was something sort of magical about hearing her standout songs from On Dark Horses and Marked For Death performed without a backing band, the melodies left to stand on their own with little more than her echoing guitar delay and dynamic vocals. As my wife and I discussed as we left the venue, it's a sign of a great songwriter when you can strip everything away and it's still an incredible song.
I won't have another experience like that for a while. None of us will. Live music is on lockdown, just like the rest of the planet, because the risk of spreading COVID-19 too far too quickly would be devastating for the planet. It basically already is, and the faster we can get anything under control, if we can get anything under control, the better. And that means closing up music venues, stopping large-scale gatherings, canceling festivals and even closing up record stores (though some are doing delivery and a lot are doing mail-order. Support your local record stores!)
It's a weird existence for those of us whose weekly or monthly highlights include seeing our favorite bands perform. Just last week I was supposed to go see Yob, one of my all time favorite bands—and my friends' band was opening! But that'll have to wait until later this year. And honestly, it's not that big of a deal. It's better to be safe, to minimize people's risk of infection, and wait just a little longer to see some live music. Even if it is hurting musicians' livelihoods—something I highly recommend trying to at least slow down by buying merch, music or otherwise.
But I have taken up a different strategy while stuck at home: I'm listening to as much music as humanly possible. For one, I have more freedom to listen to vinyl all day, so that's what I'm doing. And I'm revisiting a lot of the classics. Among some of the favorites I've dropped onto the turntable in the past week are Black Sabbath's Sabbath Bloody Sabbath (which keeps inching closer to being my favorite Sab record), Judas Priest's British Steel (not my favorite Priest record, necessarily, but one that I've essentially memorized by now, and easily one of their most fun), and Converge's You Fail Me, a suitably apocalyptic piece of menacing hardcore.
I've also been listening more closely to some of the albums I love but maybe haven't given as much proper attention in recent days. Like, for instance, Venom's Black Metal. I think it's safe to say that if you don't have some affection for this record, you might want to check your metal bona fides at the door, but I still hadn't given it a good listen in a while. And there's a reason why it has the reputation that it does—its ratio of fun to evil is as perfectly balanced as heavy metal gets. But I'm not just sticking to metal; I've been diving into a lot of old dub and roots reggae, progressive electronic and ambient, spiritual jazz, and of course fusion (you might have seen this feature already, you might have even complained about it!).
We'll get through this. Metalheads are tough. (Well, some of them are—the ones who complain about "politics" surprisingly not.) But I firmly believe that music is one of the things that'll keep us sane, make us feel better, give us some semblance of normalcy and comfort while we wait out the pandemic. None of us have ever seen anything like this before, and it's weird and terrifying. But there's plenty of music to keep us company. And there's one thing I'm absolutely sure of: With everyone given no choice but to put their creativity to use at home, we're going to get some pretty incredible metal records once this is all over.
(PS: I can't freaking wait for the new THERR record.)
The Best Metal Tracks of March 2020
Cosmic Putrefaction – "The Glooming Murk of His Telluric Shrieks"
Cosmic Putrefaction already caught my attention with his outstanding, if concise debut album At the Threshold of the Greatest Chasm, an extreme sub-half-hour blast of classic death metal intensity. But one-man metal destroyer G.G. has seemingly progressed a lot in a short amount of time, making a nimble jump from shorter, simpler, more muscular OSDM to something more complex, more technical with "The Glooming Murk of His Telluric Shrieks," the first track released from his upcoming I, Voidhanger release. The riffs and intensity are still enginereed to bruise and burn like a motherfucker, but the rhythms have grown more complex, the arrangements more labyrinthine, the mood more unsettling. Beyond simple growls, there are reverb-laden spoken-word parts that feel like the stoic taunts of a tormentor, and it's even more terrifying and strange than one might have expected. If Gorguts was never evil enough for you, well, here you go.
From The Horizons Toward Which Splendour Withers, out May 22 via I, Voidhanger
---
Malokarpatan – "Ze semena viselcuov čarovný koren povstáva"
If all of the tracks I've selected this month seem a little longer than usual, maybe just consider it a gift—for the next few weeks (months? sigh…) we've got nothing but time, and more music to fill that empty space can only be a good thing, of course. So if you have another 10 minutes to spare (and you do), this vintage Satanic VHS heavy metal party ritual anthem from Slovakia's Malokarpatan should do just nicely. The band conjure their strengths from different realms; in basic terms, they're a black metal band. In more specific terms, they're a classic heavy metal band, but a little darker and more menacing, and their catchy-as-hell power chord chug has me just about ready to strap on some leather trou and go bare chested. (Note to self: add to Patreon benefits.) As much fun as all of that is, and mind you it's a lot of fun, a love of classic horror seeps through this rollicking anthem, from the suspenseful plucked-strings sample at the beginning to the Goblin-like folk-prog breakdown in the middle of this massive slice of metal heroism. Sometimes I feel like I was born a little late to get into early '80s metal at just the right time, but then a new band comes along like Malokarpatan, and I realize there's never been a better time than the present for metal bands doing cool stuff.
From Krupinské ohne, out now via Invictus
---
Twilight Fauna – "Tavern Hill"
Panopticon's Austin Lunn is perhaps the foremost name in Appalachian bluegrass-black metal fusion, and for good reason: He's made a career out of finding common ground between soul-shattering black metal and earthy, earnest music that's uniquely American. Yet Twilight Fauna's Paul Ravenwood has a similar kind of gift for blackgrass (I'm sorry I said that, please disregard) that borders on apocalyptic post-rock. Listening to the sprawling, 13-minute "Tavern Hill," one likely picks up on a Godspeed You! Black Emperor vibe in their most ominous, late-'90s mode. It's not quite "Dead Flag Blues" levels of scorched-earth narrative, but there's a chilling beauty to it all. Even once the song transitions from a mournful, acoustic intro into a dense and soaring, shoegaze-like black metal density, there's more beauty than menace, more intricate harmony than outright aggression. I'm not sure I've heard a more beautiful track in 2020 that I could call "metal."
From Foundations, out May 11
---
Sweven – "Mycelia"
Real heads still miss Morbus Chron. The Swedish progressive death metal band broke up after releasing their second album Sweven, a mesmerizing and rich listening experience that brought layers of progressive songwriting and psychedelic textures to a melodic death metal template. It almost felt like we were just being introduced to full potential of their intricate majesty, but six years later, that majesty returns in the form of Sweven—vocalist/guitarist Robert Andersson's new band. Their debut album The Eternal Resonance is already receiving some of the highest acclaim of any metal album in 2020 thus far, and with good reason. Just listen to "Mycelia" for an example of what makes their take on progressive death so stunning. Like a mix of Tribulation and Opeth, they blend gothic melodic textures with tempo changes, dramatic atmosphere, a flair for the grandiose, and plenty of menacing growls for good measure. Tracks like these make us thankful for metal in these dark times, make us feel the soothing balm of a killer riff and the cathartic release of a gnarly scream. Feels great.
From The Eternal Resonance, out now via Ván
---
Oranssi Pazuzu – "Uusi Teknokratia"
Well, things aren't going well right now. The terrifying COVID-19 is spreading worldwide, which is keeping us all indoors, which is giving us cabin fever—oh, and economies are ground to a halt because nobody can actually work because, well, that would mean further exposure to the virus. Dark days, but we do have at least one thing worth looking forward to—a new Oranssi Pazuzu album. And for those wondering, I'll give you a little spoiler: It's outstanding and it's one of their weirdest records to date. The first single they've released, if you can call it that, is a progressive metal hall of mirrors that grow increasingly more disorienting and misshapen through its progression. It's an epic adventure of alien horrors, setting an eerie tone with a subdued yet savage intro of flute and dark grooves. At four minutes it makes a transition into a Steve Reich-inspired series of minimalist pulses, and when it takes off, we get a surge of the Finnish psych-metal band that infected our brains like an extraterrestrial parasite earlier last decade. The final three minutes are, essentially, just dark ambience, but even if you consider this a seven minute song rather than a 10-minute one, it's an intense ride, and an early glimpse of the twisted wizardry coming our way. It's a dark future vision I, for one, am looking forward to.
From Mestarin Kynsi, out April 17 via Nuclear Blast
---
Piece by piece
The best metal albums of the last couple months. (I didn't get around to this on my last two columns, so here's a round-up of great metal records from a little longer than that, in case you missed 'em.)
Fluisteraars' Bloem: I already know that this is going to be an excellent year for black metal based on how early and often innovative black metal records have been capturing my attention and consuming my metal-listening time. Which is to say: a lot. Fluisteraars are responsible for one of the most richly produced, elegantly arranged black metal records this year, a hybrid of surging, intense new-school black metal with strangely pretty and intricate layers of acoustic instruments (piano, horns, acoustic guitar) that turn abrasion and malevolence into a dark beauty. A must hear. (Eisenwald)
Midnight's Rebirth by Blasphemy: Most of the time when I'm listening to new metal records, what I want to hear is something challenging, something unusual, something well written and seeking to shed light on an aspect of metal that hasn't been explored or perhaps branches out into new territory. But then you get a record like the latest from Midnight and that all goes out the window. Vintage heavy metal misanthropy, extremely catchy songs, power, energy, debauchery—yeah, I'll have plenty more where this came from. (Metal Blade)
Raspberry Bulbs' The Age of Mirrors: This is technically a punk record, but one with black metal growls, dark atmosphere and a sense of evil that you don't normally find in a garage-punk LP that sounds more like Hot Snakes than Darkthrone. Which is to say: A whole lot of fun! (Relapse)
Spectral Lore/Mare Cognitum's Wanderers: Astrology of the Nine: I used up a good chunk of words writing about this one earlier this month, and even that doesn't quite seem adequate to describe the sprawling spacescape of cosmic, psychedelic black metal. A work of both outsize vision and some of the best songwriting in black metal I've heard in pretty much the last year or so. (I, Voidhanger)
---
Support our Site—Subscribe to Our Patreon: Become one of our monthly patrons and help support an independent media resource while gaining access to exclusive content, shirts, playlists, mixtapes and more.