Sufjan Stevens – The Ascension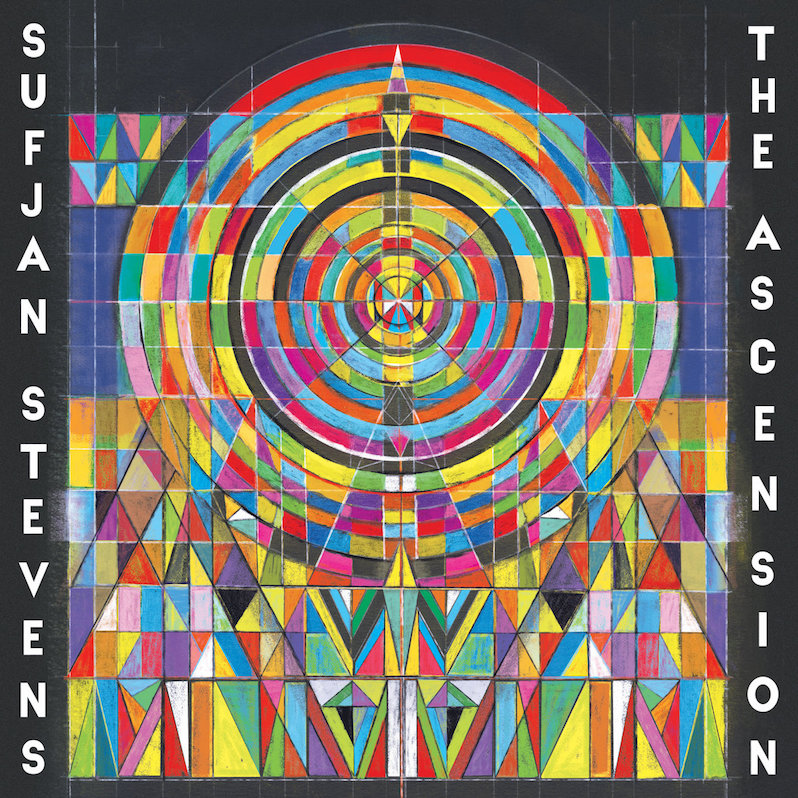 Sufjan Stevens left behind the sound of Illinois long ago. On 2015's acclaimed Carrie & Lowell, the closest sonic companion he'd created in the previous decade, Stevens seemed more interested in pushing the envelope of his considerable talent, the central concept of the album being one of personalized grief rather than a whimsical geography lesson.
Then again, most musicians don't leap from making twee-folk with banjo and choir vocals to creating the processed electro-noise of The BQE and Age of Adz. They certainly don't continue that trajectory by crafting all the synth-focused chamber-pop that populates collaborative projects like Aporia, The Planetarium, and The Decalogue. But by the sixth or seventh spins of The Ascension it started to become clear that Stevens' career has parallels with another folkie-turned-experimentalist, Bob Dylan, from the "Sufjan Goes Electric" moment (Adz) to Christianity (Stevens has talked openly about being Orthodox), with the only remaining thing left to conquer being overly long and sprawling passion project that charts a new course for his career.
The Ascension is a triumph of maximalist electro-pop. Synths, drum machines, processors, and other electronic noisemakers that feature pronounced energy and symphonic synchronicity. Glitchy beats flirt with airy keyboard swells, while syncopated bass thumps dance with icy chord stabs. Elements of '80s synth-pop with '90s industrial and '00s ambient electro fuse into a gorgeous whole.
It's also Sufjan at his most extroverted, as even his breathy tenor rejects its typical hushed mumble to speak the lyrics with confidence and clarity. Tender and reserved tracks like "Run Away with Me" are balanced by something pissed-off and disaffected such as "Landslide," but instead of coming across as distracted, it feels sincere and authentic. It's a mission statement or a grand gesture, but without the self-importance.
There's a clear-eyed melancholy to the album's lyrical content. Stevens discusses his frustrations with both the American Empire and American Christianity with passion, frustration, and vitriol. Mostly, he seems tired—tired of being spoken for, spoken against, misheard, and misinterpreted. For someone who has listened to his music since Michigan, the candor is refreshing.
The songs also feel like his personal stories—his and his alone to tell. In the past, songs like "Casimir Pulaski Day" and "John My Beloved" felt semi-autobiographical while allowing listeners to imprint their own stories and experiences on them—especially those with a background in evangelical Christianity. With tunes such as "Tell Me You Love Me," "Ativan," and "Sugar," Stevens allows himself to embrace big themes in more intensely personal ways.
It all comes to a head with "America," the 12-minute, 30-second finale that was released as the album's lead single. Stevens himself has called it a protest song about American political culture, though I hear it more of a "Fuck You" to American christendom. It's a musical microcosm of the greater album as glitches and synths pulse with angry energy atop a bed of sparse kicks and snares. Sampled guitar licks swoosh in and out of the mix like a predator bird examining its prey. And it's topped with Stevens' plaintive refrain: "Don't do to me like you did to America."
Combining electronic bangers and refreshing intimacy, The Ascension showcases the superior musicianship and masterful compositional skills of Sufjan Stevens. Armed with a good set of ears and a fruitful imagination, you can imagine how these songs would sound with the orchestra Stevens employed when he toured Illinois in those big dumb angel wings of his—and it probably would have been spectacular. But it's also for the best that he didn't do that with these 15 songs, because they would have sounded like he was going back in time or retreating into safety—America in 2020 didn't need another "Chicago." Instead, he's rushing headlong into the future, heart fully on his sleeve, unafraid to do just what he wants.
---
Label: Asthmatic Kitty
Year: 2020
---