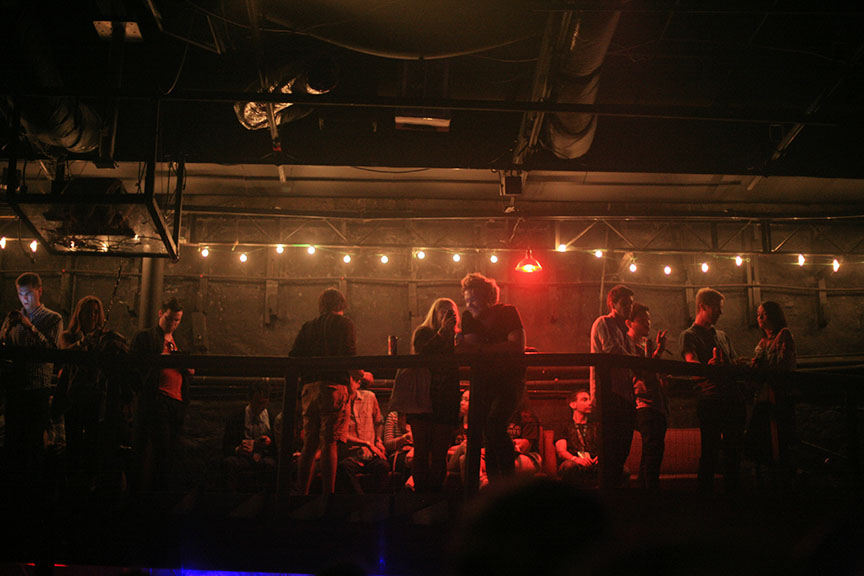 I feel the need to confess something: I don't particularly have much of an interest in SXSW as a showcase for big-time artists who, during the rest of the year, would be headlining stages at Coachella, Bonnaroo or Lollapalooza. Don't get me wrong — seeing the Yeah Yeah Yeahs, Nick Cave and the Bad Seeds, The Flaming Lips or The Stooges would be great. But it seems to go against the idea of a sprawling network of smaller acts that SXSW once represented. It's been this way for a few years now, and I'll admit, hearing "Y Control" through the walls of Stubb's made me want to slip my way down to the stage. But with thousands of bands playing, most of whom weren't likely to receive all that much media exposure, it seemed kind of lame to forgo an act you might not otherwise catch on the off chance you'd get in to see a much bigger act that's probably playing your home city in a few weeks anyway.
So, long story short, Treble's strategy was to stick mainly to those smaller shows. One notable exception that arose, on the longshot possibility that we might ever get in (which seemed highly unlikely, if not totally impossible): Depeche Mode. After a Q&A in which Dave Gahan, Martin Gore and Andrew Fletcher were thanked for providing some attendees with the soundtrack to a robust sex life, the UK synth-pop legends scheduled one sole show at Brazos Hall, whose 850-person capacity made for one of the smallest venues anyone might ever hope to see the group who once sold out the Rose Bowl. Well, as unlikely as it seemed at the time, fortuitous circumstances got us into the Yahoo! Music-hosted event. We'll get to that soon. But we saw a lot on Friday, so let's go down the list…
Frightened Rabbit – Waterloo Records, 12PM
Something that doesn't always register immediately when planning your SXSW schedule is just how far apart venues are from each other, or from the Convention Center, or from your hotel. In the case of our stay, everything was far from the hotel — having to take a shuttle downtown is an inevitability for most of us. But getting to Waterloo Records, a pretty lengthy walk west of the Sixth Street/Red River corridor, adds even more to your travel time. So getting to Waterloo Records in time to catch Frightened Rabbit at noon looked increasingly impossible the closer 12PM drew. It took an enterprising driver with a driving service of his own to get us to Austin's famed record store, but in the end it all worked out, just in time to catch the Scottish indie rockers hit the stage. Before the group powered through a six-song set exclusively from new album Pedestrian Verse, frontman Scott Hutchison announced that they had been up since 6:30 AM. "I didn't sign up for this!" he lamented. Still, lack of sleep notwithstanding, the group was full of life, their new songs translating to even more powerful anthems on a big stage. What's more, their fanbase has clearly expanded since their last album, The Winter of Mixed Drinks. Getting close to the front just wasn't going to happen; that's fine, though — the songs sounded big enough to carry far beyond the photo pit.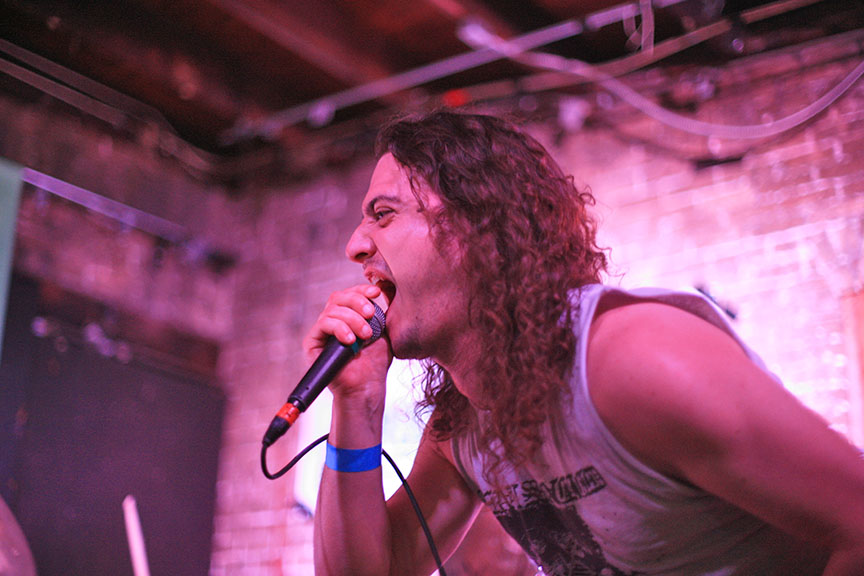 Inter Arma – The Jr., 1:50 PM
Lost in a lot of the buzz-band hype at SXSW is that, each year, there are any number of great metal showcases and day parties. And they're invariably stacked with awesome acts, whether at the MetalSucks showcase, the Relapse Records show, or the BrooklynVegan/Invisible Oranges day party, which juxtaposed a mainstage of indie rock acts at the Old Emo's location with a smaller stage that played host to a solid lineup of metal. Early in the afternoon, despite a lone ray of light beaming in through the door, Inter Arma swirled up a maelstrom of dizzying blackened doom that darkened any hint of Austin sunlight nearby. Unfortunately, the relatively short set times meant that the Richmond, Va. band was given only time enough for three songs — three epic, sprawling destroyers, that is. Previewing tracks from their upcoming album Sky Burial, Inter Arma pushed an already loud into an even more intense direction, and for as lengthy as their songs were, there's never a lull or dull spot in any of them. If you're going to go long in metal, this is the way to do it.
Royal Thunder – The Jr., 2:40 PM
BrooklynVegan mentioned on Twitter that Mlny Parsonz, bassist and frontwoman of Atlanta's Royal Thunder, was starting to lose her voice on Friday, which is a real shame — her pipes are a truly powerful instrument. So that likely explained why a fairly big chunk of their set comprised a long instrumental jam. Not that it took anything away from their kickass psychedelic doom metal performance. As a trio, Royal Thunder is extremely dynamic, and even their longest, most expansive tracks are built on hooks and big melodies rather than simply a mountain of riffs. It just so happened their lengthy tracks, like Inter Arma's, were the ones they played, including the 9-minute highlight from last year's CVI, "Blue." Having already played several shows in Austin this week, it's no wonder that the festival was beginning to wear on Parsonz, not that it was all that noticeable. She, as well as her bandmates, sounded incredible.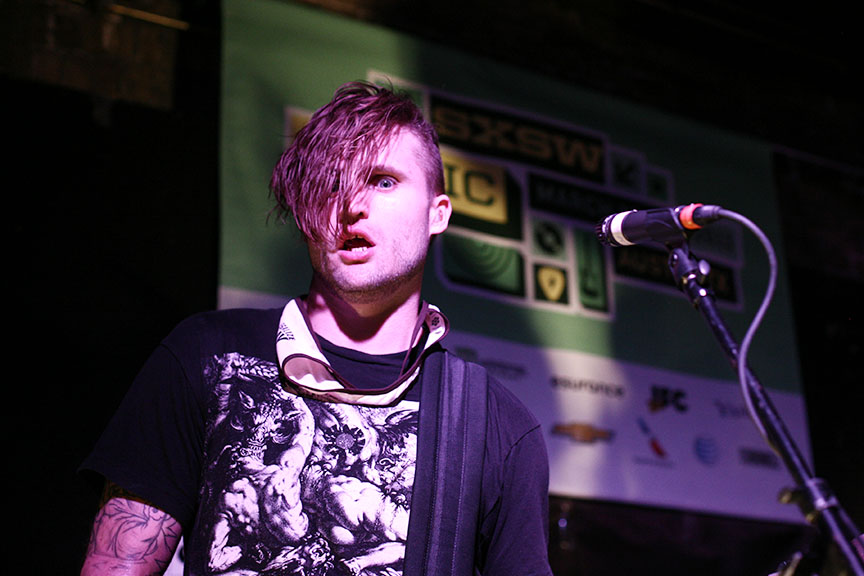 KEN Mode – The Jr., 3:30 PM
Attention everyone in Austin who isn't seeing KEN Mode this week: You're doing it wrong. Don't get me wrong, there's a lot happening, and a lot of the music is worth your time, but Winnipeg noise-rock/metal trio KEN Mode delivers an intense, adrenaline-pounding experience that overwhelms as it thrills. Their sense of humor comes through during key moments, like when frontman Jesse Matthewson donned a thong on his face like a surgical mask. But even these antics turn into a fairly ominous sight pretty quickly. With minimal banter or chit-chat, KEN Mode's performance brought a righteous dose of abrasion and terror to an already heavy lineup, their set stacked primarily with songs from new album Entrench, including their jaw-dropping set closer, "The Terror Pulse." Their set came loaded with lots of foot stomping, intimidating gazes, swinging headstocks and sweat, but all of that fury amounted to one important thing: a whole lot of fun.
Feathers – Brazos Hall, 7:45 PM
Before getting into the surreal experience of seeing Depeche Mode up close, in a room with a capacity of less than 1,000, it's probably worth noting the pair of openers at Brazos Hall, which matched the headliner on an aesthetic level if not any other criteria that made sense. Immediately before Depeche Mode, a group called The Neighbourhood brought an odd mixture of slightly darkened alt-rock with extreme stylization to the show — male-model good looks, neck tattoos, giant gold cross earrings all played a part in their confusing, seemingly manufactured Post-Punk Party Posse aesthetic. Feathers, however, were considerably more interesting, with pulsing synth-pop tunes that, at any given moment, seemed to reference the band for whom they were opening, and at one point I was almost certain they were going to cover "Policy of Truth." They didn't, which is probably good form on their part. This young band, who hasn't even yet released an album, is off to a promising start. It'll be interesting to see where they go from here.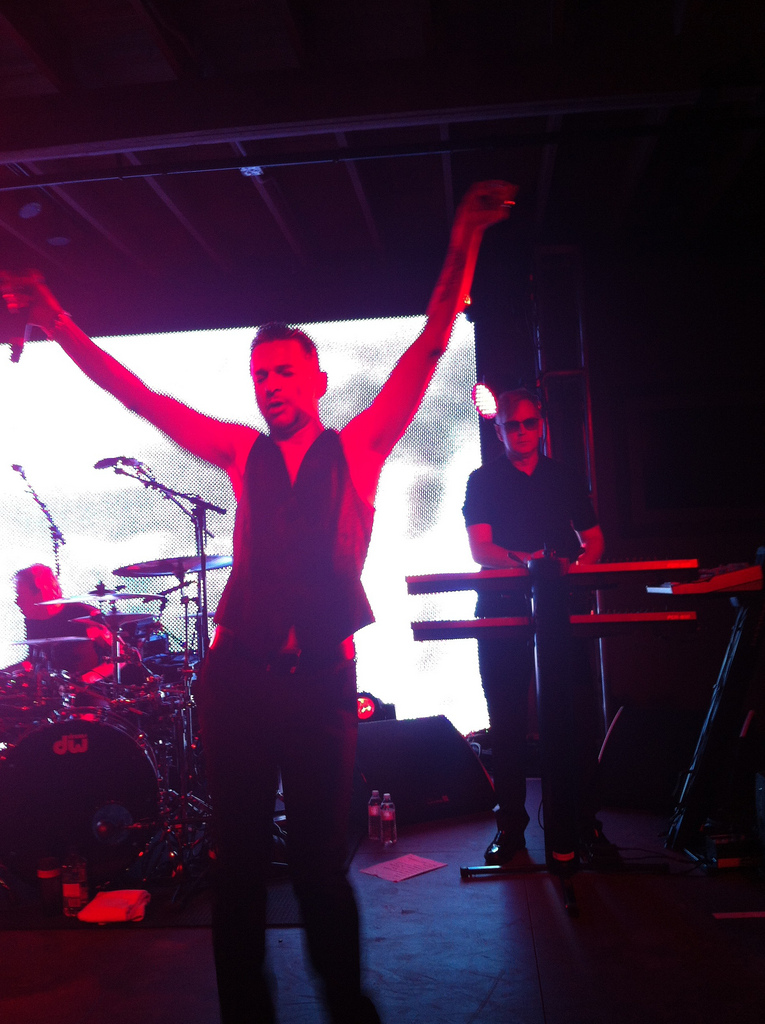 Depeche Mode – Brazos Hall, 10 PM
From time to time, established, even huge bands will play a one-off secret show or exclusive event on a scale far smaller than demand would ever suggest or warrant. And a lot of those shows happen at SXSW. Foo Fighters at Stubb's, for instance (though that is a big-ish venue, if not one as massive as Foo Fighters would generally play). And Justin Timberlake is scheduled to perform a small club show on Saturday, just to show what kind of once-in-a-lifetime thing we're talking about for most people attending (except maybe some perma-VIPs). This year, Depeche Mode happened to be one of those bands in a small, up-close-and-personal setting at a Yahoo! Music-sponsored showcase at the relatively new Brazos Hall. And aside from the unlikely circumstances of it all, damn that was a hell of a show.
Taking the stage at 10PM after a pair of openers that were decent and lousy, in that order, Depeche Mode essentially wiped any memory of what came before, with 800 extremely giddy fans — many of them industry folks letting their guards down and seeing their hearts grow three times as big — bursting with enthusiasm. And out they came: Fletcher in dark glasses, Gore with his instantly recognizable curly blonde hair, and Gahan, shirtless in a silk vest, as youthful and commanding as ever. With a new album, Delta Machine, being released soon, the set, expectedly, was made up half of tracks from the new album. And those tracks fell very much in line with what listeners would certainly want to hear from the band — heavy synth grooves, touched up with a little American roots music influence. But playing the hits made an already stoked room into an uproarious one. "Walking In My Shoes" got the sing-alongs started, "Personal Jesus" found the whole room lending their voices to the choir, and sublime set closer "Enjoy the Silence" had the animated, charismatic Gahan temporarily handing over the duty of singing the chorus to the crowd, who obliged whole-heartedly. For a band whose fans have frequently been pretty intense over the years, Depeche Mode's audience was probably comparatively mellow, but not out of cynicism or being jaded. We were all just loosening up, and letting a band — one with so much history and whose music has been such an important part of people's lives — show us a good time.
Cloud Nothings – The North Door, 12AM
There's a pretty strong probability that Cloud Nothings frontman Dylan Baldi hasn't gotten a haircut in the year that passed since they played at the Soda Bar in San Diego. His scruffier look certainly fit the raw, fiery sound the Ohio-based band stirred up at the Carpark Records showcase, which included one new grungy punk rock tune very much in line with the sonic thunder of 2012's Attack on Memory. The remainder of their set, pulled from that very record, displayed the benefits of having even more time to polish, tighten up and add a few twists and turns. "Wasted Days" became a longer, head-rattling epic with a Sonic Youth-like mid-section breakdown. And "Fall In," still brimming with earworm catchiness, turned louder and faster in the hands of Cloud Nothings circa 2013. Last year they were good. This year, they sound even better.
Toro y Moi – The North Door, 1AM
After a full day of heavy metal thunder, noise-rock shrapnel, focus-group rock bands and the truly bizarre feeling of seeing a legendary band in an unlikely intimate setting (not to mention a going rate of about one beer per hour), the only proper way to end the evening was with a funky, synth-heavy dance party courtesy of Toro y Moi. The days of Chaz Bundick's reputation as being a chillwave dude have clearly passed. The wall-to-wall jams pulled from new album Anything In Between and 2011's Underneath the Pine, particularly banging singles "New Beat" and "Say That," got pretty much every body inside The North Door swaying, bobbing, shimmying and shaking. And the party people pretty much kept that energy up until closing time, at which point making it back to the hotel would become a baffling ordeal for all involved, but that's another story altogether. We came for the jams. Toro y Moi delivered.
Photo Gallery: SXSW 2013 – Friday, March 15