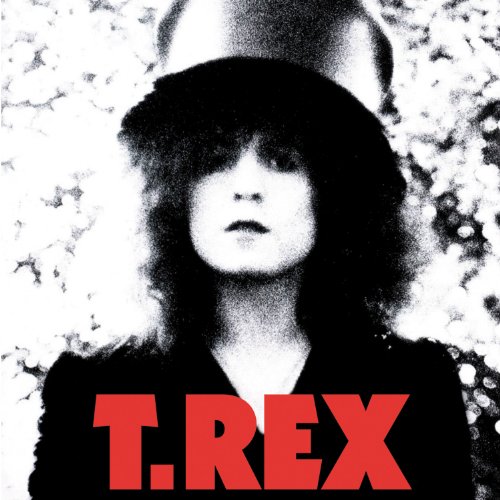 There is something entirely extraterrestrial about T. Rex leader Marc Bolan. He's simply not normal. From his angelic face to the cascading mountain of curls (as he sings in "Telegram Sam," he's "no square with his corkscrew hair"), Bolan even looks otherworldly. While David Bowie took on Ziggy Stardust almost as a gimmick, Bolan didn't need a character because he truly was the alien. Bowie and Bolan had a lot in common, probably because Bowie blatantly stole a lot of his earlier persona straight from Bolan and multiplied it, making the alien, strangely enough, more palpable. Like most good things, Bolan was huge in Britain, catapulting the country into the throes of T. Rextasy which came to a head with 1972's The Slider, but he was not as appreciated in America. And, in retrospect, this makes complete sense. It's decidedly easier to swallow a man who pretends to be an alien from Mars, rather than one who might actually be from outer space.
I desperately wanted to quote the Bowie penned "All the Young Dudes," in this review solely because it mentions T. Rex. I heard it on the radio this morning on my way to work and decided that it was sign from the rock gods that it must be quoted. Unfortunately, I incorrectly heard said lyric as, "Who needs to TV when I've got T. Rex?" The erroneous lyric would have been a great lead into Bolan's inherent theatricality and the all-around sense of entertainment that is present in all of T. Rex's songs. Bolan wrote complete pop songs that leave you wanting nothing more, let alone something as mind numbing as television. But, alas, the lyric sheet never lies and instead of my perfect lead-in lyric, I was left with "Man, I need TV when I've got T. Rex." At first, I was quite distraught, mainly because I don't really know what that's supposed to mean, but as I listened to The Slider in preparation for this review, it hit me. Bolan, himself, writes completely incoherent lyrics, in the best possible sense, because he inhabits a world that can only be arrived at through listening to T. Rex—a world of mystic ladies, metal gurus, and baby boomerangs. The Slider is a complete escape into that world. 
All of the songs on The Slider are epic. From the backing vocals, courtesy of Flo and Eddie to the tight string arrangements, sparse is not an adjective that can accurately describe The Slider. Despite the opulence of the instrumentation, Bolan's voice is anything but. Range is not one of Bolan's strong suits but it gives his voice a degree of sexiness that just can't be learned. In the title track, Bolan sings in the chorus, "When I'm sad / I slide," holding the 'i' in 'slide,' literally allowing it to slide off his tongue, resulting in sultry whisper. Even though Bolan may not have had the ability to hit the notes of a diva, he was able to transform his voice from a sweet falsetto to a booming yawp. It's a startling change, especially from the nearly childlike crooning of "Rabbit Fighter" to the beginning of "Baby Strange," which starts with Bolan opening the manly bellow. Bolan knows when to keep his voice in check, though, and only brings it out for special occasions, taking what could be a ridiculous sound and saving his songs from utter camp.
Bolan has a real talent in that, even with grand orchestration, he still has the ability to give T. Rex a very intimate feel. He worshipped at the altars of Bob Dylan and John Lennon, and goes so far as to mention them in songs like "Mystic Lady" and "Ballroom of Mars." While Bolan does tend to tread into the land of nonsensical lyrics ("I have never ever kissed a car before / It's like a door," he sings on "The Slider"), but, like his heroes Dylan and Lennon, he has the ability to be incredibly personal. The Slider is full of glam rock anthems that celebrate the decadence of the era, such as "Rock On," but also include songs that gave a glimpse into a part of Bolan that he didn't show off to the world. The Slider ends with the song "Main Man," which leaves the listener with the lyrics, "As a child I laughed a lot / O yes I did, O yes I did / Now it seems I cry a lot / O tell me true don't you." These lyrics, and lyrics like these that pop up on the album almost when you least expect them to, paint a portrait of a man who is not all glam rock grandeur but something more.
On The Slider, T. Rex touches upon a vast array of musical genres, never content to remain stagnant in not only one style, but one time period as well. Even though T. Rex was groundbreaking in that they essentially invented glam rock, there is a throwback sense to The Slider, but in it's own alien way. "Metal Guru" is a doo-wop anthem for the boys who kiss boys and wear glitter. "Chariot Choogle," with it's chugging guitars, could have been a Led Zeppelin song if they weren't so stuck on the blues. But songs like "Telegram Sam," a tribute to T. Rex manager Tony Visconti and the album's biggest hit, is complete and total glam.
Many people have many different opinions about the importance of T. Rex and The Slider but when it's all over, there is one thing everyone can agree on and it comes straight from "Main Man":
"Bolan like to rock now / Yes he does, yes he does."
Similar Albums/ Albums Influenced:


David Bowie – The Rise and Fall of Ziggy Stardust and the Spiders from Mars


Roxy Music – Roxy Music


Thin Lizzy – Jailbreak