The Best Hip-Hop Albums of 1988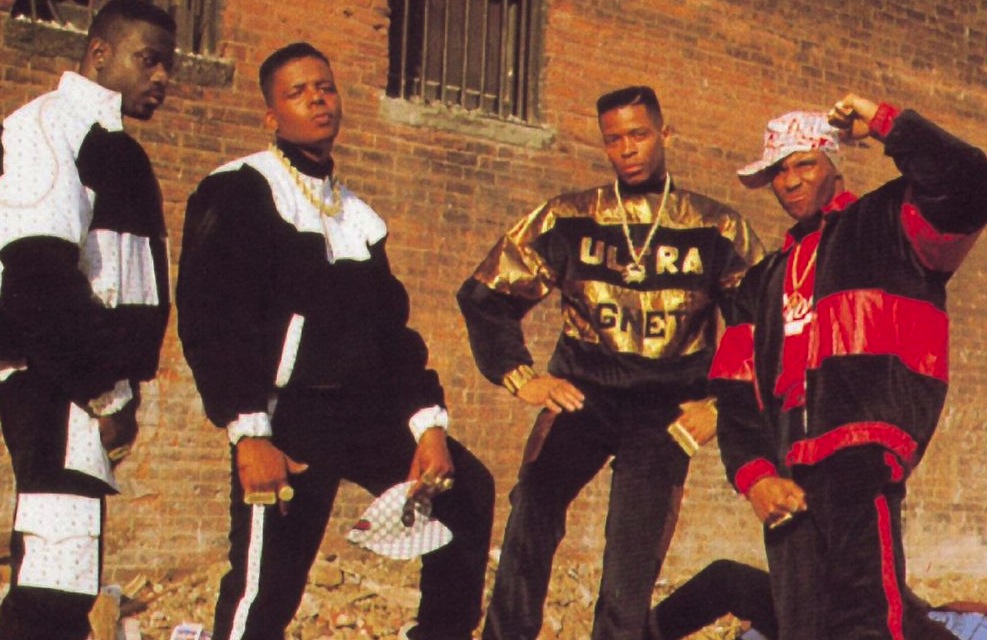 What's the best year in hip-hop history? A lot of fans would probably point to the early '90s, when the debut albums by Notorious B.I.G., Wu-Tang Clan, Nas, Mobb Deep or Dr. Dre helped to usher in a renaissance of hardcore hip-hop. Others might be inclined to lean toward a recent year like 2012 or 2015, when artists like Vince Staples or Kendrick Lamar took an ostensibly familiar hip-hop approach and turned it upside down, reinventing the genre once again. But there are few years that have been as influential on the shape of hip-hop as 1988. From the gritty gangsta rap narratives of N.W.A. to the political maximalism of Public Enemy and the clever storytelling of Slick Rick, 1988 was a game-changer for rap. As we recently celebrated the 30th anniversary of It Takes A Nation of Millions to Hold Us Back, we saw fit to honor the other greats that shaped the landscape of rap that year. A lot has changed since then, but our list of the best hip-hop albums of 1988 proves that some albums still slap decades down the line.
---
Big Daddy Kane – Long Live the Kane
(Cold Chillin')
"It's 1988, time to set it straight." Big Daddy Kane's debut album Long Live the Kane would merit consideration even if no other track on the album hit quite as hard as its landmark single, "Ain't No Half Steppin'." But with production from Marley Marl—a hip-hop MVP whose skills were just this side of the Bomb Squad, making great use of Meters and ESG samples—the Brooklyn emcee born Antonio Hardy is given a badass, funk-heavy backdrop over which to showcase his lyrical prowess. And at 20 years old at the time of this release—just a year older than Nas when he released Illmatic—that prowess is something to behold. Look no further than his high-speed attack on "Set It Off" to understand why Kane instantly became heralded as one of hip-hop's great wordsmiths. – JT
Listen: Spotify
---
Boogie Down Productions – By All Means Necessary
(Jive/RCA)
There's something particularly eerie about Boogie Down's By All Means Necessary. The album cover depicts KRS-One holding a gun while looking out a curtain, in homage to a similar picture depicting Malcolm X holding a rifle from the 1960s. But here's where it gets a little more grim: While Boogie Down Productions was making the album, DJ Scott La Rock was killed by a gunshot in a dispute with two people who had assaulted friend and associate D-Nice. But the experience dramatically affected how KRS-One approached his own lyrics, changing his outlook from the more violent imagery of debut Criminal Minded toward a heavier emphasis on social consciousness, even addressing violence directly in "Stop the Violence." By and large, however, this is every bit as hard hitting as their debut, with highlights such as "My Philosophy" and "Ya Slippin'," and with barbs still sharpened for corrupt actors in the U.S. government and the police department and racially biased hypocrites. – JT
Listen/Buy: Spotify | Amazon (vinyl)
---
EPMD – Strictly Business
(Fresh/Priority)
The first of their eight albums—all of which feature "Business" in the title—EPMD's debut album put an even bigger Boom in boom-bap. Erick Sermon and Parish Smith have some bars, to be sure, but most of what makes this album so astonishing is its ferocious production. The beats on Strictly Business sound remarkably ahead of their time, from the "I Shot the Sheriff" guitar scratch of the title track to the combination of "Jungle Boogie" and "More Bounce to the Ounce" that drives the extra-funky "You Gots To Chill." It's a proto g-funk masterpiece that still bumps hard and merits a tape-deck revisitation as summer draws near. – JT
Listen: Spotify
---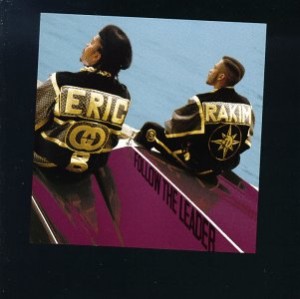 Eric B and Rakim – Follow the Leader
(Uni)
Eric B and Rakim had already delivered one landmark album before Follow the Leader, but while their sophomore release arrived pretty quickly after their debut, it represents a staggering leap forward. From the leadoff title track, immediately there's a sense that the New York DJ-emcee duo have challenged themselves to take it to a new level. The production's more intricate and layered, with synth-driven funk juxtaposed against a more cinematic sound. To say nothing of Rakim's breathless flows, which are an astonishing feat on the level of athletes at the top of their game. The duo's currently on tour for its 30th anniversary, and it's easy to see the demand for it. The landscape of rap has changed, but Follow the Leader remains a front-to-back classic. – JT
Listen/Buy: Spotify | Amazon (vinyl)
---
Jungle Brothers – Straight Out the Jungle
(Idlers/Warlock)
The genesis of the Native Tongues movement in hip-hop was De La Soul's "Buddy," a track that brought together that legendary group along with The Jungle Brothers and A Tribe Called Quest's Q-Tip. But one of the earliest full-lengths from the associated acts was Jungle Brothers' debut album, a funky, fun and feel-good album's worth of socially conscious rhymes and groove-heavy samples (many of which were provided by pioneering house DJ Todd Terry). The title track that opens the album is as strong an introduction to the group's positive flows and beats that snap as you'll find, though one jam flows seamlessly into another here, bridging Melle Mel with Marvin Gaye and creating an infectious atmosphere. Even on a track on "Black Is Black" when Q-Tip and the Jungle Brothers go a little crazy with the microphone placement, the vibe they create is irresistible. – JT
Listen/Buy: Spotify | Turntable Lab (vinyl)
---
Marley Marl – In Control Volume 1
(Cold Chillin')
It's not that uncommon for a producer these days to compile a set of beats for an all-star cast of emcees to rap over, but back in the '80s, it was a fairly novel occurrence. Juice Crew DJ Marley Marl did just that with In Control Volume 1, his classic set of old-school hip-hop jams featuring pretty much anybody who was anybody in hip-hop in the '80s: Biz Markie, Heavy D, Masta Ace, Tragedy Khadafi, Roxanne Shante and Kool G. Rap. By the standards of the changing landscape (see: N.W.A., Public Enemy) it might not have been the most forward-thinking in shaping the sound of hip-hop, but it definitely helped to shape what we think of as a cohesive album, providing a high-profile platform to showcase their work in much the way a jazz bandleader might. – JT
Listen: Spotify
---
N.W.A. – Straight Outta Compton
(Priority)
N.W.A. burst onto the West Coast rap scene in 1988 with their debut album, Straight Outta Compton, putting a much funkier spin on early rap compared to their counterparts in Public Enemy and kickstarting the careers of Ice Cube, Eazy-E and Dr. Dre. Yet, digging beneath the sounds and early fame that Straight Outta Compton created, the album told a story of life as Black men in Compton and Los Angeles. Many mistook the lyrics for promoting crime, but in fact, it truly centered on the struggles and fears that came with living in Southern California at that time. While the album was lauded by fans of hip-hop and gave inspiration for emerging MCs, songs like "Fuck tha Police" drew the ire of the FBI and congress. N.W.A. was soon dubbed the "World's Most Dangerous Group." Still, for all the controversy it caused with officials, Straight Outta Compton remains as one of the most pivotal narratives of life in Compton and one of the greatest hip-hop albums of all time. – CD
Listen/Buy: Spotify | Amazon (vinyl)
---
Public Enemy – It Takes A Nation of Millions to Hold Us Back
(Def Jam)
Rap had offered unvarnished takes on social issues and politics since being disguised as jazz poetry by The Last Poets and Gil Scott-Heron in the early 1970s. But when Chuck D and Flavor Flav decided to elevate their smart street boasting from Yo! Bum Rush the Show into the flagship broadcast of "black America's TV station," it meant the revolution would finally be "televised," as it were. Nation of Millions prominently name-checked African American radicals, academics, and historical figures, a de facto demand for their recognition and respect. It laid bare troubling thoughts on incarceration ("Black Steel in the Hour of Chaos"), drug use ("Night of the Living Baseheads"), and our obsession with and compartmentalization by the media ("She Watch Channel Zero," "Don't Believe the Hype"), thoughts we still haven't fully addressed in the interceding three decades. And from PE's posse setup to their Bomb Squad production, few albums seemed so all-encompassing, graduating from a mere slab o' wax to something much bigger. A statement, a start of a movement, a countdown to Armageddon. – AB
Listen/Buy: Spotify | Amazon (vinyl)
---
Slick Rick – The Great Adventures of Slick Rick
(Def Jam)
Let's get this out of the way: "Treat Her Like a Prostitute," the first track on Slick Rick's otherwise stellar debut, is pretty gross and sexist. But then again, it's kind of hard to point to any popular album released in the '80s and not hear something problematic—30 years ago might not seem that long ago, but people are still giving Chris Brown eleventeenth chances, so maybe we haven't made it that far. Still, it's a minor bruise on an otherwise unstoppable set of classic hip-hop, anchored by dynamite singles such as "The Ruler's Back" and his all-time classic, "Children's Story," a cautionary tale that mixes a true-crime narrative with a memorable moral. The London-born, eyepatch-wearing emcee is on point throughout, and it's hard to pinpoint a hip-hop record that's been referenced as frequently as this one through the last three decades of rap music. – JT
Listen: Spotify
---
Ultramagnetic MCs – Critical Beatdown
(Next Plateau)
Bronx troupe Ultramagnetic MCs are probably best known for launching the career of Kool Keith, later of Dr. Octagon fame, as well as providing the title sample for The Prodigy's Big Beat smash "Smack My Bitch Up." But over time the group's landmark debut has taken on a second life as a critical favorite and underground classic. Lyrically, the MCs are on a level all their own here, with a stream-of-consciousness abstraction that would predict Keith's more experimental forays into sci-fi rap later on. But that verbal prowess also included some slams against some of the era's more basic rappers: "They use the simple back and forth, the same old rhythm / That a baby can pick up and join right with them / But their rhymes are pathetic, they think they copasetic / Using nursery terms, at least not poetic." It's an album where every element works, and furthermore, was even more ahead of its time than it might have seemed on first glance. Though the album was released in 1988, its singles "Ego Trippin'," "Travelling at the Speed of Thought" and "Funky" were all released at least a year ahead of it. – JT
Listen/Buy: Spotify | Amazon (vinyl)
---
Support our Site—Subscribe to Our Patreon: Become one of our monthly patrons and help support an independent media resource while gaining access to exclusive content, shirts, playlists, mixtapes and more.