The Most Anticipated Albums of Fall 2020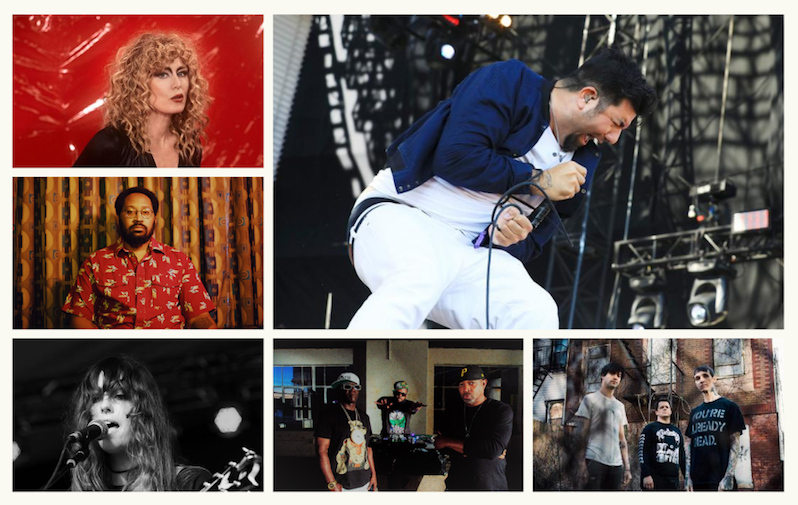 There haven't been too many bright spots this year, if we're being honest. The fact that there's been no live music in the world outside of live streams and the occasional busker have made 2020 pretty rough—and, oh yeah, there's that whole pandemic situation. But if there is reason to be optimistic, it's because new music—really good music!—is still being released. In fact, the next couple months look pretty stacked, so we've assembled a hand-picked selection of 25 albums that have us feeling enthusiastic, if it's a somewhat more tempered enthusiasm this year. Music will help get us through this, and here are the albums on the horizon that we can't wait to drop the needle on.
---
Uniform – Shame
(Sept. 11; Sacred Bones)
New York City industrial punks Uniform have issued at least one full-length per year since their 2017 debut Wake In Fright—on up to last year's collaboration with The Body, Everything That Dies Someday Comes Back. Just a little over one year past that album's release, the group delivers their third proper album, Shame, their first with full-time drummer Mike Sharp. And the first couple of singles, "Delco" and "Dispatches from the Gutter," are absolute rippers—exactly the kind of angst-ridden aggression and mayhem to provide a suitably cathartic release valve for 2020.
---
Kairon; IRSE! – Polysomn
(Sept. 11; Svart)
Finland's cosmic psychedelic rock group delivered an impressive effort three years ago with 2017's Ruination, and are further delving into dense, shoegazing guitar textures on their follow-up. Still rooted in progressive rock, Kairon; IRSE! (the second word must be shouted, obviously) present seemingly endless opportunities for the listener to get lost in glorious layers of guitars. Early singles such as "Welcome Blue Valkyrie" and "an Bat None" are oceans of effects and hypnotic instrumentation. Expect an immersive headphone experience.
---
Napalm Death – Throes of Joy in the Jaws of Defeat
(Sept. 18; Century Media)
Now seems like a great time for a new Napalm Death album, if we're being honest here. One of the most reliably brutal grindcore/death metal bands in metal history, back with new music, right at peak anxiety time during one of the most stressful years on record. But Napalm Death's releases have grown pretty interesting in recent years, if the intervals between them grow wider—inviting John Zorn to blare his free-jazz noise sax on 2012's Utilitarian was an inspired moment to be sure. Whatever shape the band's latest takes, it'll be the kind of fuel we need to stay motivated for the rest of this cursed pandemic year.
---
Vatican Shadow – Persian Pillars of the Gasoline Age
(Sept. 18; 20 Buck Spin)
Dominick Fernow's industrial/noise output as Prurient is prolific to the point of being almost mythical, but his techno project Vatican Shadow is certainly catching up. His latest release under the VS pseudonym is also his first for metal label 20 Buck Spin, which is an interesting partnership if not an unprecedented one (Fernow's released music through other metal-heavy labels, such as Hydra Head and Profound Lore.) That said, his brand of techno, while trafficking in hypnotic beats, has an undeniable darkside, one for which it'd make perfect sense to have Godflesh's Justin Broadrick master the album, for instance. And the early tracks suggest that this is the kind of dance party where nightmares are made.
---
Deftones – Ohms
(Sept. 25; Reprise)
It's not like it was that long ago that Deftones released a new album—just four years ago, in fact, as they seem to be following the former strategy of The Cure in releasing one new album every U.S. presidential election year. Which means no matter which way things go (deep breath…), at least we'll have a new Deftones album! New single "Ohms" portends promising things—crunchy guitars, shoegazey atmosphere and an anthemic melody. In other words: It sounds like Deftones. Hell yeah.
---
Bob Mould – Blue Hearts
(Sept. 25; Merge)
Just a little over a year ago, Bob Mould gave us the outstanding Sunshine Rock, and yet before another calendar year has a chance to sneak between his albums, he's returning with another new set of blistering alt-rock. The punk rock icon delivered one of his most righteously pissed off anthems in some time on "American Crisis," a furious bit of topical anger that offers a reminder of how great it sounds when Mould is firing on all cylinders. "Forecast of Rain," the album's second single, offered a more darkly nuanced side of Mould's songwriting, all of which suggests that Mould isn't committed to any one particular sound, other than one that rocks.
---
Idles – Ultra Mono
(Sept. 25; Partisan)
For their third album, Bristol's positive post-punks Idles have taken a somewhat different approach. Teaming up with producer Nick Launay (Nick Cave, Killing Joke), the band has invited a long list of collaborators to join them, including The Bad Seeds' Warren Ellis, The Jesus Lizard's David Yow, jazz artist Jamie Cullum, hip-hop producer Kenny Beats and Savages' Jehnny Beth. That certainly seems like a recipe for unpredictable sounds, and the early singles from the album have suggested some stylistic departures. That being said, Joy As An Act of Resistance need not be replicated—bring on Idles Phase 3.
---
Public Enemy – What You Gonna Do When the Grid Goes Down
(Sept. 25; Def Jam)
OK, so the weird publicity stunt that Chuck D pulled earlier this year was a little frustrating. Obviously there's a statement to be made about how easy it is to spread disinformation, but the phony feud between Chuck and Flavor Flav seemed like a strange way to go about announcing new music. That said, this year being the 30th anniversary of Fear of a Black Planet, we were quickly reminded of just how powerful a musical institution Public Enemy is, so all is forgiven, and with a new album on the way through Def Jam—for the first time in decades—this feels like a significant moment for one of the greatest groups in hip-hop history.
---
Róisín Murphy – Róisín Machine
(Sept. 25; Skint)
Ireland's Róisín Murphy has spent the years since the end of her group Moloko crafting artful, rich and often catchy-as-hell disco. All of the singles from Róisín Machine—an album seemingly titled as a means of once and for all telling everyone they've been pronouncing her name wrong—so far are physical, bass-heavy dancefloor bangers, which groove and thump and slither and—yes—absolutely slap. There's always more to her songs than just the bassline or the hook, however, so expect some headphone revelations while your backside's moving.
---
Sufjan Stevens – The Ascension
(Sept. 25; Asthmatic Kitty)
Sufjan Stevens has had a prolific streak in just the past year, having released two collaboration albums before announcing The Ascension, his next proper solo album (which fulfills his streak of one new album every five years since 2005). It's a less personal album than Carrie and Lowell, however, its lead single "America" a gorgeously angry protest song reflective of a mood of fear and frustration that so many of us are feeling right now. He describes it as a "lush, editorial pop album" and it promises to be something special and gracefully pissed off.
---
Anna Von Hausswolff – All Thoughts Fly
(Sept. 25; Southern Lord)
Anna Von Hausswolff's epic 2018 album Dead Magic is the kind of darkwave album that leaves an impact, its lengthy dirges providing a bridge between the neoclassical goth of Dead Can Dance and the punishing majesty of Neurosis. Her follow-up to that album is something entirely different, however: It's an entire album's worth of pipe organ instrumentals. A bit unexpected perhaps, but pipe organ is all over her previous album, and here it's used for ominous dark ambient compositions somewhere between Tim Hecker and Sunn O))). It's the sound of doom in a medieval cathedral.
---
Sumac – May You Be Held
(Oct. 2; Thrill Jockey)
What makes Sumac one of the most peculiar bands in metal as well as one of the best bands in metal are essentially the same things, primarily an aversion to playing by any sort of specific rules about what a metal band's supposed to be. The band's collaborated a few times with avant garde Japanese artist Keiji Haino as well as increasingly folding a greater presence of improvisation into their own compositions, as well as embracing ideas of compassion and openness in their powerful, epic music. And it is, indeed, epic—new track "The Iron Chair" proves how intense and exploratory the trio still sounds following 2018's Love in Shadow.
---
Bartees Strange – Live Forever
(Oct. 2; Memory Music)
Singer/songwriter Bartees Strange proved he was onto something cool with the release of last year's single "In a Cab," which was then followed by an unexpected concept EP debut. Earlier this year, he delivered Say Goodbye to Pretty Boy, a set of unique reinterpretations of songs by The National that, while technically written by another band, showcased Strange's ability to transform the material in front of him. Live Forever is his full-length debut, however, and it's a chance to get to know Bartees as a songwriter of his own. "In a Cab" is, in fact, one of the songs on the album, though recent single "Mustang" shows just how soaring his powerful and personal indie rock approach can be.
---
Touché Amoré – Lament
(Oct. 9; Epitaph)
In 2016, Los Angeles post-hardcore group Touché Amoré delivered one hell of a devastating album with Stage Four, a mournful meditation on the death of vocalist Jeremy Bolm's mother. Their latest is a pivot away from that harrowing yet big-hearted expression of grief, pursuing a wider range of sounds while employing the services of metal producer extraordinaire Ross Robinson. The first two singles reveal the band that's been pummeling our eardrums all along, but with extra atmospheric traces like pedal steel and guest vocalists like Manchester Orchestra's Andy Hull. The band's transitioning into a more exploratory phase, but there's still plenty of punk rippers to go around.
---
Sun Ra Arkestra – Swirling
(Oct. 9; Strut)
I can honestly say none of us expected to get a new album from Sun Ra Arkestra in 2020. It's one of the few instances of unpredictability leading to something positive this year, and for the first time in over 20 years, the Arkestra, guided by bandleader Marshall Allen, will issue a set of new recordings comprising old and new music alike. There are some new original compositions on Swirling, as well as some reworked material from Sun Ra's vast catalog, which feels like an act of healing in some form. It's not here yet, but the fact that it's on its way instills some much-needed optimism.
---
Helena Deland – Someone New
(Oct. 16; Luminelle)
It's not often that we include many debut albums in these "most anticipated" round-ups, though early singles from singer/songwriter Helena Deland has proven herself an artist to keep your eyes and ears on in 2020. One of those tracks, "Someone New," is a dreamy, gorgeous early standout that carries the immersive sonic atmosphere of artists like Moses Sumney and Half Waif. It's sonically rich, hypnotic material, yet with the organic undercurrent of folk, which makes these otherworldly songs feel human and alive. Talk about making an entrance.
---
Open Mike Eagle – Anime, Trauma and Divorce
(Oct. 16; AutoReverse)
A versatile emcee responsible for one of the best hip-hop records of 2017 (Brick Body Kids Still Daydream), L.A.'s Open Mike Eagle makes music that can be earnest, political, hilarious and warm, sometimes all at once. The press release announcing his latest, Anime, Trauma and Divorce, described it as an album about "the worst year of his life," which suggests that his parallel career as comedy show host probably won't be crossing over here. First single "bucciarati" is still a jam in spite of the melancholy tone, however, a sad rap banger that once again proves how impressive a force Eagle is when transitioning into different moods and textures. While one would hope things have started to get better for him on a personal level, we look forward to hearing how his art-as-therapy session has turned out.
---
Actress – Karma & Desire
(Oct. 23; Ninja Tune)
Enigmatic British techno producer Actress has delivered some compelling releases of late, including the epic, continuous piece of music "88" and London Contemporary Orchestra collaboration LAGEOS. But it's been three years since AZD, his last proper full length set of nocturnal, lo-fi techno. "Walking Flames," the first single from upcoming album Karma & Desire, features vocals from Sampha in a warmly melancholy pop track, something considerably different than what listeners might be used to from Darren Cunningham. But if this is the moment when Actress finally goes pop, we're ready for it.
---
clipping. – Visions of Bodies Being Burned
(Oct. 23; Sub Pop)
Only a year after the release of There Existed An Addiction to Blood, Los Angeles noise-rap group clipping. have returned with another full-length album in a planned trilogy inspired by the gory rap subgenre of "horrorcore." A press release about the album connects the dots between horrors and the political issues of their eras, like Godzilla and the development of the atomic bomb, and this set of creepshow bangers is likewise a reflection on antiracist and anticolonial politics in a time when racism, police brutality and white nationalism still run rampant in the U.S. Get ready for some bloodthirsty catharsis.
---
The Mountain Goats – Getting Into Knives
(Oct. 23; Merge)
Well, first things first—Getting Into Knives is immediately near the top of my list of the best Mountain Goats album titles. But the album itself has a bit of soul and punk rock magic coursing through it. Recorded in Memphis in the same room where The Cramps recorded their debut, with microphones from "The Nashville Network" and even featuring organist Charles Hodges, who has played with Al Green, Getting Into Knives has more than a little music history in its DNA. But the lead single "As Many Candles As Possible" is still classic John Darnielle at its core, just turned up and rocking as hard as the band ever has.
---
Pallbearer – Forgotten Days
(Oct. 23; Nuclear Blast)
A year of crushing disappointment, a deadly pandemic and pre-election anxiety seems like a perfect time for a new album from one of our favorite doom metal bands. Pallbearer's first for Nuclear Blast finds them delivering a batch of shorter songs—and more of them—but with the same penchant for progressive song structures and ominous melodies they've long mastered. As dark and mournful as the band's psychedelic doom dirges often are, there's something comforting about hearing the Little Rock band lay down the riffs again.
---
Emma Ruth Rundle & Thou – May Our Chambers Be Full
(Oct. 30; Sacred Bones)
This is the only album on this list that was also on our spring anticipated albums list, and that's only because it arrives slightly later than expected. But look, you just can't rush music being made by two artists of this caliber. Recorded after a series of collaborative performances that brought Emma Ruth Rundle's darkly dreamy songwriting into the sludgy, grungy arrangements of Louisiana metal band Thou, May Our Chambers Be Full features seven new songs that were first road tested and then committed to tape. Early single "Ancestral Recall" is a stellar proof of concept, showing how well Rundle's melodic anthems work when backed by the thunderously loud sonics of Thou, and vice versa.
---
Tobacco – Hot, Wet and Sassy
(Oct. 30; Ghostly)
Electronic eccentric Tobacco is second to none at making some truly fucked-up sci-fi sounds. Whether solo, in Black Moth Super Rainbow or with Aesop Rock as Malibu Ken, he's an unrivaled architect of the unsettling, and on his latest, he does so while hewing closer to a proper pop album than before. This is relative, of course; new single "Babysitter," featuring the vocals of Nine Inch Nails' Trent Reznor, is as harsh and demented as he's ever sounded (that goes for both artists, really) but with some playful twinkle between the vocoder wheeze and sputtering synth basslines. And it's arriving just in time for Halloween.
---
William Basinski – Lamentations
(Nov. 13; Temporary Residence)
Composer William Basinski split himself into two disparate halves this year. This summer he released his first album with Sparkle Division, a project inspired by disco, lounge and jazz music that's generally a more upbeat and celebratory sound. He's following that up with a darker and more mournful set of music that's more aligned with his Disintegration Loops releases from earlier in the millennium. Lamentations features source material that stretches back 40 years, to the end of the '70s, reconfigured into newly produced compositions, which from the sound of "O, My Daughter, O, My Sorrow," feature more of a gothic, spiritual sound.
---
Cabaret Voltaire – Shadow of Fear
(Nov. 20; Mute)
OK, well, in addition to a new album from Sun Ra Arkestra, a new album from Cabaret Voltaire—which is now the solo project of founding member Richard H. Kirk—is not something most of us would have expected from 2020. In fact, the group's last studio album was released in 1994, so it would be natural to expect something entirely different than where Kirk and company left off. "Vasto," the first single, is not a continuation of The Conversation's ambient downtempo, but in fact a pretty intense slice of industrial techno, bringing to mind the UK group at their early '80s best.
---
Support our Site—Subscribe to Our Patreon: Become one of our monthly patrons and help support an independent media resource while gaining access to exclusive content, shirts, playlists, mixtapes and more.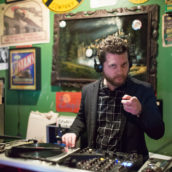 Jeff Terich
Jeff Terich is the founder and editor of Treble. He's been writing about music for 20 years and has been published at American Songwriter, Bandcamp Daily, Reverb, Spin, Stereogum, uDiscoverMusic, VinylMePlease and some others that he's forgetting right now. He's still not tired of it.