The Best Songs Ever of the '70s!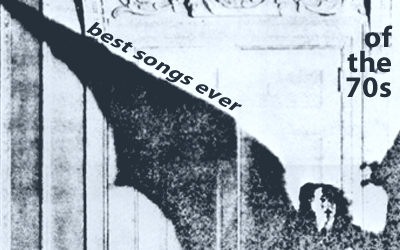 It's been a few weeks since we last posted Best Songs Ever, but we had a good reason. We've been working on our Best of the '70s series, the first installment of which is (ta-daa!) The Best Songs Ever of the '70s. There were hundreds, nay, thousands of songs that could have been chosen, but as per usual with BSE, we've gone with those that stood out to us, personally, for whatever reason we may have given. Some are timeless classics, some are obscure and forgotten rarities. And some are horror movie scores. Yeah, you heard us!
As we begin our trek back in time to an age when leisure suits and afros were king, and hip-hop and punk rock were just beginning their incubation phase. We intentionally made an effort to choose songs that were not on albums included in our Best Albums of the 70s feature (to be posted in the coming weeks). There was, however, some crossover. The list we have here, though, is pretty groovy. Can ya dig it?
"Bela Lugosi's Dead"
by Bauhaus
from Bela Lugosi's Dead (1979)
One of the biggest surprises in music this year has been the return of Bauhaus at Coachella, coming seven years after their last reunion tour. To open the festivities, Peter Murphy hung upside down like a bat while David J, Daniel Ash and Kevin Haskins began to play the eerie droning melody of their debut single, "Bela Lugosi's Dead." At its premiere at the end of the '70s, "Bela" marked the beginning of goth-rock. Chronologically speaking, Siouxsie and the Banshees and The Cure may have come first, but both bands were more punk than anything else, not yet embracing their campier, more theatrical and cheekily macabre side. Bauhaus, however, married punk rock with glam, in Transylvania. And to announce their presence to the world, they released a nine minute dirge, rife with spooky imagery and paying homage to a Hollywood figure synonymous with horror. Never quite raising to monumental heights in volume, the song creates a creepy atmosphere, Murphy playing a sort of musical Vincent Price: "White on white/translucent black capes/Bela Lugosi's Dead/The bats have left the belltower/the victims have been bled/red velvet lines/the black box/Bela Lugosi's Dead." On local radio stations, they play it every Halloween, and if that ever stops, then Clear Channel really has gone too far. — Jeff Terich
"Heroes"
by David Bowie
from Heroes (1977)
"Heroes" is the best love song about a love that's going to try to last, going to persist despite all the odds. It's a song that can still drive me to tears. Supposedly inspired by two lovers who met daily under a gun turret at The Berlin Wall, this collaboration between David Bowie and Brian Eno has a soaring, sweeping, sound— saturated air that drags you in, locks you in an embrace you don't want to leave, and leaves you breathless under the power and weight of the lyrics. Maybe, just maybe, yes, oh my lovely, we can be heroes and we can make it. Let's believe in love, let's believe in us, and, oh yes, let's believe in the redemptive glory and beautiful romance of rock and roll. We can beat them forever and ever, and we can kiss as though nothing could fall. — Hubert Vigilla
"Solsbury Hill"
by Peter Gabriel
from Peter Gabriel (1) (1977)
After the swan song of his Genesis days with the expansive The Lamb Lies Down on Broadway, Peter Gabriel sought newer pastures. While some of his first, self-titled album, sometimes called simply 1, continued on in the prog vein, other songs defined Gabriel as a talented solo singer / songwriter, specifically "Solsbury Hill," a song which documents his departure from the successful band.
Beginning with a bouncy acoustic guitar track, Gabriel tells his story, metaphorically, of looking back on his career and wanting something more. While some of the lyrics are ham-handed, such as "my friends would think I was a nut," others are far more adept and Gabriel's raspy delivery ties it all together in a gripping way. "My heart going boom-boom-boom," will forever remain in the pantheon of pub sing-along choruses, but it is the twist on the last line of the chorus in the final repetition that sends chills up the spine, "You can keep my things, they've come to take me home." It is one of my favorite Gabriel songs, which still sounds contemporary thirty years later. – Terrance Terich
"Don't Stop Till You Get Enough"
by Michael Jackson
from Off The Wall
Reach back — far back — into your memory, and you might recall a begloved moonwalker affectionately known as the King of Pop. He's gone now, lost somewhere in a million tabloid headlines and behind a distorted ghoul's mask, but there was a time when Michael Jackson determined whether you drank Pepsi or Coke. "Billie Jean," "Thriller," "Bad" — he left a trail of steaming singles in his wake, but it's 1979's "Don't Stop `Till You Get Enough" that opened the door to his future legacy. From his very first high-pitched "Woo!" Jackson starts one of the funkiest disco jams to ever thump a beat. With it's
trademark whirl of climbing and descending strings punctuating bursts of horns and rhythm guitar, it's got a groove to rival the one you'll pound into the dance floor. It's the kind of song that makes you want to forget Jackson's past ten extremely creepy years, and get down to boogie. — Andrew Good
"Five Years"
by David Bowie
from The Rise and Fall of Ziggy Stardust and the Spiders from Mars (1972)
When I was in eighth grade, my friends threw me a surprise birthday party. To get me out of the house, my mom took me to Borders and let me roam the CD racks and pick out whatever I wanted. I had heard little-to-no Bowie at this point in my life, so I was determined to seek out rock `n' roll's great chameleon, I was ready to start loving the alien. I decided on The Rise and Fall of Ziggy Stardust mainly because I really liked the title. When I arrived at my house, I was greeted with cries of "Surprise!" from the friends gathered in my living room and the first thing I said to them was, "Aw, thanks guys! I'll see you in about 45 minutes," half in jest and half because I all I really wanted to do was listen to my new purchase. I went upstairs to get ready for the party and slipped on Ziggy Stardust just to get a taste of what was to come. By the end of "Five Years," the album's opener, I was in tears and I knew I wasn't going to back to the party anytime soon. – Molly B. Eichel
"Le Freak"
by Chic
from C'est Chic (1978)
Chic's 1978 self-proclaimed "dance craze" called "Le Freak" was, quite possibly, the most successful single of the disco era. It sold four million copies, thereby earning the honors of highest selling single ever released on Atlantic Records. But the irony of the smash single was that it was written after Nile Rodgers and Bernard Edwards were booted from the legendary Studio 54. The "freak out!" shout was originally "Fuck Off!" after the duo became bitter and jammed out a funky groove afterward. But, of course, to make it more palatable for a mass audience, they changed it to a dance jam, with one of the most solid grooves ever to be put on wax. Chic were undoubtedly the most talented group to emerge in the disco scene, and as such, influenced many, from Prince to Duran Duran. — JT
"Still Crazy After All These Years"
by Paul Simon
from Still Crazy After All These Years (1975)
It was nothing if not inevitable that Paul Simon would go solo, and where the sixties was the home for he and Art Garfunkel, the seventies were all Simon's. "Still Crazy After All These Years" is probably his best known signature solo song, drawing thunderous applause every time the opening strains are heard. While no Paul Simon albums made our list, (one Simon & Garfunkel did though) there is no denying that Simon had a brilliant songwriting ability, one that would carry him through countless albums, including the groundbreaking world collaboration Graceland.
"Still Crazy" is a simple song with deep resonance. He speaks of meeting a lover, of not being moved by love songs whispered in the ear, and finally the best lines of the song:
I fear I'll do some damage one fine day
But I would not be convicted by a jury of my peers
Still crazy after all these years — TT
"Oh Yoko"
by John Lennon
from Imagine (1971)
Here's a song remarkably celebratory and luminous, one that makes you want to grab the guy or girl you love and dance, dance, dance to that playful piano until the first light of dawn warms your smiling faces. It's an ode to the power of romantic love and everything it can accomplish, which is to say anything. If and when I get married, after playing the slowdance song at the reception, I want "Oh Yoko" to come on so my bride and I can engage in some wacky choreographed madness to perplex our respective folks and delight all of the children who were otherwise bored by the proceedings, speeches and inside jokes. We'd dance like Steve Martin and Bernadette Peters in The Jerk and want that wild harmonica to last all night, all week, all year, all until death do us part. — HV
"Night Moves"
by Bob Seger and the Silver Bullet Band
from Night Moves(1976)
The story of "Night Moves" is a rather well-tread territory, a story that has been told hundreds of times in nostalgic pieces that recall summers of yore and will continue to be told as long as teenagers come into existence. Boy meets girl. Boy and girl have summer fling. Boy and girl suck face. A lot. But the difference between "Night Moves," and, say, John Mellencamp's "Jack and Diane" or pretty much anything Billy Joel has ever written is that the latter is all about longevity, true love, staying together. Seger could pretty much care less about those things, he just wants to get laid. "Night Moves" drips with double entendres, in that heartland rocker kind of way (not too blatant, but let's face it, the man must have had sex, like, all the time), starting with the title and moving onto the first verse where Bob wastes no time talking about his gal's tits. Unlike the eternally in-love Jack and Diane, Bob and his companion "weren't in love, oh no, far from it." They just wanted to get some ass. "I used her, she used me / But neither one cared /We were gettin' our share," Bob moans. Seger's not writing about first love, but first lust, a feeling just as ephemeral as summer. — ME
"Don't Let Me Down"
by The Beatles
from Hey Jude (1970)
Why Phil Spector omitted this song from Let it Be is something of a mystery since "Don't Let Me" down, with all its hope and desperation, is one of those honest and lovely love songs that manages to say everything about the transition from infatuation to love. John Lennon's vocals, whether he blares the title plea or coos about how no one loves him like she do, are in top form in this song dedicated to Yoko Ono. When playing the song during that famous impromptu show on Apple Record's rooftop, Lennon forgot the lyrics and jibbered and jabbered through the verses past the first. And surprisingly the song isn't hampered in any way by this. — HV
"Move On Up"
by Curtis Mayfield
from Curtis (1970)
Curtis Mayfield once said that all of his songs were gospel with the word `God' removed. Though that's not necessarily as evident on tracks like "Freddie's Dead," it makes perfect sense on "Move On Up." One of Mayfield's most recognized songs, "Move On Up" is a celebratory, 8-minute psych-soul song with one of the coolest arrangements in rhythm and blues. Blaring horns, rumbling conga drums and Mayfield's own jangly rhythm guitar color the song with a wide spectrum of sound. Lyrically, the song speaks from an inspirational point of view offering bits like "make up your mind and you can surely do it" as well as the central refrain, "move on up to your destination." This song has been covered many, many times, yet I can hardly think of any version that comes as close to the joy and soulfulness that Mayfield emits on his classic original. — JT
"All the Young Dudes"
by Mott the Hoople
from All the Young Dudes (1972)
We featured nearly the entire catalog of Bowie albums in our upcoming Best Albums of the '70s feature, so why not a Bowie-penned song, sung by someone else. Ian Hunter's band Mott the Hoople took on Bowie's song "All the Young Dudes" on their album of the same name and in turn made a name for themselves. In the style of most of Bowie's songs of the time, meaning a Velvet Underground homage, the song namedrops the Beatles, Stones and T.Rex while in a context of cross-dressing and drug use.
Along with "Changes," this song defined rebellious youth in the early '70s. Rather than seeking out revolution, the narrator simply wants freedom, Hunter actually sounding eerily like Bowie. "Is there concrete all around or is it in my head," sings Hunter. The chorus has become widely known, "All the young dudes, carry the news, boogaloo dudes, carry the news," and the song a sing-along staple at Bowie's recent shows, showing that even at over 50, Bowie is still a "young dude" at heart. — TT
"The 15th"
by Wire
from 154 (1979)
I admit I still don't really know what this song is about. I've looked over the lyrics, thought about them for awhile, and even sing along in my car with the song on repeat, hours and hours of "Providing, deciding, it was soon there / Squared to it, faced to it, it was not there." That's hours and hours of listening to that guitar, so strange and so lovely, its sound run through an ether of distortion and delay, jerky yet beautiful like a butterfly in a strobe light. Yeah, I still don't get it, I can't figure out what it's about, but I love it anyway and that's all that matters. — HV
"Mona Lisas and Mad Hatters"
by Elton John
from Honky Chateau (1972)
Having not been born in the '70s, my experience with Elton John was initially limited to singles, often those heard in movies and on classic rock radio. Though I rarely paid all that much attention, I enjoyed what I heard. It wasn't until a tracklist-less mix tape that I received much later on when I would become enamored with John's tender piano balladry. The song that did it for me was "Mona Lisas and Matters," a sort of "Piano Man" done one better by Billy Joel's eccentric, gay, British contemporary. Lines like "The subway's no way/for a good man to go down" and "I thank the Lord for people out there like you" are simple, but strangely beautiful statements, filling the song with an everyday kind of grace, one that only an odd little man with star-shaped glasses could capture in song. And for further kicks, its inclusion in Almost Famous just seems to make the movie all the more enjoyable, while lending San Diego ex-pat Cameron Crowe heaps of cred. — JT
"Dancing in the Moonlight (It's Caught Me in the Spotlight)"
by Thin Lizzy
from Bad Reputation (1977)
This song, more than any other Thin Lizzy song save for maybe "The Boys are Back in Town," reminds me of those final days of high school with my friends, driving through our sleepy suburbs at night in search of something to do, lamenting the labors of our mostly non-existent love lives. At least there was Lizzy and Lynott, and they were there as the soundtrack to our final hours, those final months, before some of us would lose contact and never hear from each other again. We'd still have Lizzy, we'd still have moonlight, and we'd all have those hot summer nights. — HV
"I Want You to Want Me"
by Cheap Trick
from In Color / At Budokan (1977 / 1979)
Rick Nielsen and Robin Zander toed the line of MOR popularity and hard rocking individuality. With Nielsen's crazy double guitars, bow ties and crazy outfits alongside Zander's boy model good looks, Cheap Trick became a paradoxical anomaly, albeit a successful one. Nowhere were they more on top of their game than on their live album At Budokan, which is the one source for the best version of their hit song "I Want You to Want Me." The original appeared on 1977's In Color, whereas the double live album surfaced in 1979.
Zander shouts to the audience at the onset of the song, "I Want You….to Want Me!" and the crowd goes nuts. The lyrics are simpler than most, which seemed to work for the Beatles, so why the heck not, and the earworm factor is high. Ah, I used to have this song on a K-Tel 8 Track tape. "Memories…" — TT
"TNT"
by AC/DC
from High Voltage (1976)
An entire summer's worth of Nintendo Entertainment System, powdered Crystal Light lemonade and Rock 102.1, and the next thing I know, I'm an AC/DC fan. Maybe I was young and impressionable, and probably should have been out doing something more productive or healthy, but man, I had Mario and rock radio. What else did I need? I enjoyed hearing Sabbath, Zeppelin, Alice Cooper, hell, even a little Queensryche, but I always got excited when I heard AC/DC, particularly "TNT." It just seemed so ridiculous how badass Bon Scott made himself out to be, but maybe there was some truth to it. Motherfucker drank himself to death, you know. Nonetheless, I still get a stupid grin on my face when I hear the opening chants. Everybody sing along! "Oi! Oi! Oi! Oi!" — JT
"Whatever Happened To?"
by The Buzzcocks
from Orgasm Addict/Singles Going Steady (1977/1979)
A quick blast of The Buzzcocks goes a long way, and so it's proven on "What Ever Happened To?" which originally shared vinyl with "Orgasm Addict." Asking "whatever happened to" coupled with products and politics, Pete Shelley adds some jabs between these questions in his nasally voice, the attacks pointing at emotional aloofness and inauthentic feelings. What's not to like about the lines "Your love is a cashed-in cheque," "Your passion is a product," or "Your pasteurised life so fit for consumption / Those undressing eyes so strictly commercial"? Whatever happened to songwriting like this? — HV
"Landslide"
by Fleetwood Mac
from Fleetwood Mac (1975)
It's a crime that this song from the ultimate incarnation of Fleetwood Mac did not appear on early versions of the band's greatest hits collections. Thanks in no small part to Billy Corgan's covering the song on a B-sides collection, the song became popular again and was properly lauded. Stevie Nicks contributed this song to the first Fleetwood Mac album that would feature both her and boyfriend Lindsay Buckingham. Its thoughtful, Joni Mitchell like lyrics tend to make one wonder whether or not this was the kiss off to Buckingham before the soap opera drama that would become one of the best albums of all time, Rumours.
I've been afraid of changing cause I
Built my life around you
But time makes you bolder
Even children get older
And I'm gettin' older too.
Nowhere would the beautiful and talented Nicks be more introspective, tending towards the heartbreak and bitterness that flooded the succeeding album. — TT
"Are `Friends' Electric?"
by Gary Numan
from Replicas (1979)
Take a pleasant, slightly funky pop melody, throw in some futuristic sci-fi lyrics and a catchy chorus, then interrupt it with a startling "EEEE-OOO!" What you get is Gary Numan's single "Are `Friends' Electric," possibly the best song of his career. "Cars" may be his best known, but this mish-mash of Moogs, phase-shifting guitars and Philip Dick inspired lyrics is a stronger song overall, and, strangely, more human sounding. Though Numan may not be as recognized in the States, he had a relatively successful career in the UK for a while. And "Are `Friends' Electric," interestingly enough, was his first single to make it to No. 1. – JT
Superman score
by John Williams
from the movie Superman (1978)
If Max Fleischer perfectly captured Superman in animated form, and Curt Swan perfectly rendered the Man of Steel in comic books, and Christopher Reeve perfectly embodied the Last Son of Krypton in the flesh, then it's John Williams' score for the film Superman that perfectly evokes the musical essence of the Man of Tomorrow. The iconic superhero score by which all superhero scores will forever be measured, Williams provides a main Superman theme, a theme for both Lois Lane and The Daily Planet, and even a love theme for Lane and Kal-El. It's a score so apt in its bravado, like a blur of red and blue with a hint of yellow; music that makes you believe a man can fly. — HV
"Someone Saved My Life Tonight"
by Elton John
from Captain Fantastic and the Brown Dirt Cowboy (1975)
I was somewhat surprised that none of Elton John's many albums, three of which were in the top 100 of the '70s' bestselling albums (Captain Fantastic and the Brown Dirt Cowboy, from which this song came, Don't Shoot, I'm Only the Piano Player, and Goodbye Yellow Brick Road), not to mention the ones that appeared in Rolling Stone's Top 500 of all time (two of the above, his eponymous debut, Honky Chateau, Tumbleweed Connection and his first volume of greatest hits) made it to our upcoming Best Albums of the 70s list. Maybe it's because we here at Treble prefer his singles over his albums as a whole. (Or maybe it's just me and my brother who dig EJ, while everyone else gives him the poo-poo face.) Regardless, John wrote some of the most memorable songs of the seventies, including this one.
Along with Phil Collins' "In the Air Tonight," this song is probably one of the most talked about "real" storylines in popular music. (Must be something about the word tonight…look out Smashing Pumpkins). Covering the topic of an actual Elton John suicide attempt, the song is drenched in pathos. The strange thing? Bernie Taupin was the one who stopped Elton from suffocating himself in a gas oven, and then Taupin wrote the lyrics. The chorus of the repeated song title at the close is simply haunting. — TT
"Almost Medieval"
by Human League
from Reproduction (1979)
A lot of people aren't aware of the Human League that existed before Dare. Before the new romantic synth pop single hitmakers, they were a much colder, distant and harsh outfit. Their album Reproduction, the cover of which depicted babies under glass being treaded upon by high heeled ladies, was the dark and bleak cousin to Kraftwerk's robotic pop. While Kraftwerk were far from human themselves, the curiously named Human League sounded like the robots revolting against the humans. The leadoff track of their first full-length is a harsh, throbbing tune with ominous synthesizers and an overwhelmingly creepy series of sounds and movements. What's not to love? — JT
"Paris 1919"
by John Cale
from Paris 1919 (1973)
The quirky, pretty, and entirely lovely title track from John Cale's masterpiece Paris 1919 is one of the few songs that can actually pull off a playful strand of "la la las" while maintaining its intelligent and literary feel — a tough feat to say the least. Starting with bouncing, bounding strings over Cale's prim and proper lyrics, the song moves into a flighty, ethereal bridge complete with background bird chirps. Cale's voice is luminous, shining like phosphorous powder in the distant fog as the song fades off, all the while singing "You're a ghost" followed by those inescapably wonderful "la la las." — HV
"Rock Me Again and Again and Again and Again and Again and Again"
by Lyn Collins
from Check Me Out If You Don't Know Me By Now (1975)
Just like Prince in the '80s, James Brown had his share of protégés in the polyester decade. The brightest talent that the Godfather of Soul discovered was Lyn Collins, nicknamed "Female Preacher." She sang a wide range of styles from gospel to soul, but it was the dirty, nasty, deep funk in which she truly excelled. "Rock Me Again and Again…" is just about the hardest, nastiest funk ever produced (by James Brown, no less) and Collins' powerful pipes are at the forefront, driving the badass groove home. Q And Not U admitted to being big fans, and this song suggests the punk funk of their Power album, almost 30 years ahead of time. -JT
"Scenes from an Italian Restaurant"
by Billy Joel
from The Stranger (1977)
Billy Joel was the yin to Elton John's yang. Both were talented pianist / singer / songwriters, albeit one American and one British. Their styles sometimes converged, but mostly stayed within their own realms. One thing is certain, they could both tell a story. But I'd have to tip my hat to Joel's lyrics over Taupin's with this particular song. Coming from the groundbreaking album The Stranger, and clocking in at over seven and a half minutes, "Scenes…" is a whirlwind of a song that would change styles numerous times over its course and put Joel alongside Springsteen as east coast storytelling troubadors.
It begins with the cheesy line a waiter dumped on Joel as he dined one evening, "A bottle of white, a bottle of red, perhaps a bottle of rose instead." After initial jeering, a lightbulb clicked in Joel's head and he writes one of his most memorable songs. From the Italian restaurant setting, the saxophone takes us back into memory land as the diner speaks of where he is in his life, "Got a good job, got a good office," as he meets his old lover of the past. From there we transition again to the past and meet Brenda and Eddie, the king and queen of the prom, in now our third style of song before we head back to the wraparound restaurant motif. Joel's lyrics are inspired, especially when he sings of Brenda and Eddie, we assume the characters who are in every scene, when they inhabit their pasts:
They started to fight when the money got tight
And they just didn't count on the tears.
Most everyone has their favorite Joel song, and this one's mine. — TT
"Smash It Up parts 1 and 2"
by The Damned
from Machine Gun Etiquette (1979)
One of the earliest, best and most creative punk bands of the `70s movement, The Damned often get lost in the shuffle. The Sex Pistols and The Clash clearly made the most waves while The Buzzcocks and Wire were critical favorites. The Damned, however, were consistently evolving, the apex of which came with their magnum opus, "Smash It Up." A two-part punk symphony, "Smash It Up" began with a quiet, instrumental tribute to the late Marc Bolan, Captain Sensible's hero. Part two, however, is a much different animal. Bursting into a rowdy punk rock anthem, the instrumental passage is all but forgotten. Boasting dramatic stops, an upbeat melody, some righteous soloing and Dave Vanian's unforgettable and irreverent vocals, "Smash It Up" is one of punk rock's finest moments. In a simple series of rowdy verses, Vanian provides a punk rock manifesto: "I'm gonna scream and shout till my dying breath/I'm gonna smash it up till there's nothing left!" And who could resist the drunken, singalong outro? I see myself doing this song as karaoke in the future, should I ever find a bar that has it. – JT
Suspiria score
by Goblin
from the movie Suspiria (1977)
For the color-coded occult madness of Dario Argento's Suspiria, Goblin strayed from their past prog-rock work and instead dealt in atmospheric soundscapes. The results fit picture's otherworldly, dark fairy tale feel. Using subtle, scratchy voices and shadowy susurrations over tinkling chimes to unnerve the listener, Goblin also offers anarchic percussive noises which gives the feeling of repeated traumatic head injuries. If anything else, it was this daring work on Suspiria that forever linked Goblin to Argento, or at the very least Goblin frontman Claudio Simonetti. — HV
"Your Song"
by Elton John
from Elton John (1970)
Elton John made his debut in 1970 with this straightforward and touching ballad that has become a radio staple ever since, and made even more famous by being heavily featured in the recent film Moulin Rouge. It marked the beginning of John's long standing writing partnership with Bernie Taupin in this half aplogy, half love devotion song. Considered by some to be sickeningly sweet, it is one of the most recognized ballads of the decade. John's delivery of Taupin's lyrics along with his gifted piano playing ability make the song not only work, but like other collaborations such as "Tiny Dancer" and "Goodbye Yellow Brick Road," make its listeners feel the need to sing along, just like that scene in Almost Famous. — TT
"Message In a Bottle"
by The Police
from Regatta de Blanc (1979)
When you learn how to play guitar, you get to a point when you understand the basics and just want to learn new songs. And then, eventually, there's that song that you end up playing every chance you get. That song, for me, was "Message in a Bottle" by The Police. Something about the harmonization of Andy Summer's riffs just made it more of a challenge. I would even try to teach my friends the harmony so that we could jam on it, but it always failed. I could go on about all the other aspects of the song that I love, but the intro riff just brings out my inner guitar geek. To this day, it's still my favorite Police song. — JT
"The Logical Song"
by Supertramp
From Breakfast in America (1979)
Oh, come on. Like you've never started singing along to Supertramp before, specifically this catchy tune. Roger Hodgson's squeaky high voice just begs you to start singing along, doesn't it? "When I was young…" You know the rest! Don't deny it! "The Logical Song" was a source of ridicule after repeated airplay in 1979, but gained new cred when it appeared on the Magnolia soundtrack, one of the few songs not performed by Paul Thomas Anderson's muse, Aimee Mann. — TT
"The Harder They Come"
by Jimmy Cliff
from The Harder They Come (1972)
I'll be the first to admit I'm not much of a reggae fan. I can do some dub, a very minute amount of ska, but I may have been permanently soured on reggae. There are, of course, always exceptions. And my exception is "The Harder They Fall." I'll make exceptions for other Jimmy Cliff songs, but this one in particular is a classic. Written for a film about a Jamaican singer-turned-outlaw, this song essentially tells the story of Ivanhoe Martin: "As sure as the sun will shine/I'm gonna get my share now/what's mine." It's, in a way, the Jamaican "Superfly," in its gritty storytelling and coherence to the film from which it was taken. Sadly, they don't make `em like this anymore. — JT
"Starman"
by David Bowie
from The Rise and Fall of Ziggy Stardust and the Spiders from Mars (1972)
I just found out that a girl from my graduating high school class passed away today. I attended the funeral for another girl who was two years younger than me last week. I never thought I would have to deal with the death of not one, but two, of my peers in mere weeks of each other this early in life. I was devastated to hear about the first girl, and while I was saddened by the second girl, I was not that close to her. We had quite the tumultuous relationship during high school, but we both lived in the same dorm at college and we would have cordial conversations about our hometown every time I saw her in the dorm elevator or the dining hall. Like the first girl, the extreme enormity and finality of the second girl's death didn't hit me until a little while after I heard of her passing. I was listening to "Starman" and thinking, "Wow, she'll never get to hear this song ever again. She'll never get to hear the catchy beginning acoustic part, the far out lyrics, the huge, epic chorus. She'll never again get to experience this song like I'm experiencing it right now."
And I was filled with a great deal of sadness. This was not the first song I listened to after learning of the tragic news so it wasn't just any song that allowed me to come to the realization that she was actually gone. But there's something about it, something about the excitement the narrator who is about to encounter Ziggy Stardust for the first time feels despite being previously told that the world is going to end in five short years, that made me fully understand this girl's death. I've never been particularly religious, but part of me hopes both girls are up there, somewhere, jamming with Mick Ronson, singing at the top of their lungs, so loud that we can all hear it, "There's a starman waiting in the sky / He told us not to blow it / `Cause he knows it's all worthwhile." — ME
"You Tore Me Down"
by The Flamin' Groovies
from Shake Some Action (1976)
This throwback to the '60s British invasion on an album full of throwbacks is a brilliant melody for melancholy mods. Yes, this is how you write a song about getting dumped: Jilted, self-pitying, self-doubting, painfully apologetic but beautiful in that tragic way that all hopeless romantics are when they're at their lowest and their most fragile. We've all been in the position of the song's narrator at one time or another, some of us constantly. Chris Wilson's and Cyril Jordan's composition winds down wonderfully; you can almost hear the narrator weeping, repeating those last words while curled into fetal position, "You tore me down." — HV
"Warsaw"
by Joy Division
from An Ideal For Living (1977)
Long before they became notorious for being the darkest band in rock music, Joy Division were a rigid and abrasive punk band, Ian Curtis sounding almost more like The Damned's Dave Vanian than Leonard Cohen. But just prior to their first release, the band was called Warsaw, inspired by the David Bowie track "Warszawa" off of his Low album. It was also, however, the title of the band's debut single, which referenced Nazi officer Rudolph Hess in it's opening chant "305125 – go!" and the chorus of "3-1-G!" Hess' POW serial number was 31G-305125, which he earned after making a gonzo parachute mission to England during World War II after the Führer began to phase the officer out of any actual power, which he had little of to begin with. The song itself, however, despite odd historical references and Nazi imagery, is nonetheless a short, rockin' punk tune that began a legendary, albeit short, career in rock `n' roll. The band later changed their name to Joy Division, after a Nazi brothel, which further began circulation of rumors that the band were, themselves, Nazis. They, of course, were not, but a band of Joy Division's stature is bound to create a certain level of myth and mystique, themselves offering only cryptic answers in the form of their music and bare bones record packaging. — JT
"My Way"
by Sid Vicious
From The Great Rock and Roll Swindle (1979)
Paul Anka's "My Way" is and always has been lounge-y cheese, even when sung by Ol' Blue Eyes. Sid Vicious, the famously untalented bassist for the Sex Pistols knew this and capitalized on it all the same. Starting out horribly warbling the intro, Vicious skewers the original presentation of the standard. Then it becomes a punk classic as the guitars kick in and the lyrics become clipped and machine gunned. When Vicious screams, "I did it myyyyy wayyyyy!" we know he's screaming the truth. Later, Gary Oldman sang his own version for the film Sid & Nancy, and did it so well that Spike sings his version in Buffy the Vampire Slayer as he speeds out of Sunnydale after getting his `punk' confidence back. — TT
Star Wars score
by John Williams
from the movie Star Wars (1977)
Bringing together elements of sci-fi serials and rousing adventure, John Williams' heroic score to the film Star Wars helped give George Lucas' future cash cow the weight it needed. Williams' use of leitmotifs to denote characters and situations in this film would become his standard formula on later films and would also influence later film score composers to follow suit (e.g. Howard Shore's score for Lord of the Rings). This is the type of score that evokes the proper time and place of the film, which is to say "A long time ago in a galaxy far, far away." — HV
"Instant Karma"
by John Lennon
from Instant Karma (1970)
Aside from releasing at least two essential albums in the '70s, John Lennon put out a handful of great singles, "Instant Karma" being one of the most memorable. It's a simple, three-chord piano tune, handclaps in every measure of the song. But it's the chorus where Lennon truly shines (pun, maybe intended), singing with what sounds like a choir "We all shine on/like the moon and the stars and the sun." The beginning of Lennon's long-standing plea for peace in the world, it's a wake up call that we all have to live on this planet together, and we ultimately make our own decisions, so why don't we choose to love each other? Not in so many words of course, but even in its simplicity, the song had a point. And it's a catchy little tune, to boot. — JT
"One Tin Soldier (The Legend of Billy Jack)"
by Coven
from the movie Billy Jack (1974)
For me, the movie Billy Jack is one of those immensely pleasing guilty pleasures; the Citizen Kane of pacifist, Green Beret, half-Native American karate man movies with a naive political message. Originally written by Original Caste in 1969, Coven covered it for said film (which somehow grossed nearly $100 million at the box office) and even made it onto the charts. With schmaltzy lyrics pointing at the absurdity of man's inhumanity toward man, it's enough to make hard hearts wretch and the jaded give an indignant "pfft," but the kitschmeisters out there will laugh and laugh till that tin soldier walks away. — HV
"Somebody to Love"
by Queen
from A Day at the Races (1976)
`Somebody to Love" is a song bathed in opulence. Everything about it is grandiose and that's entirely why I love it. "Somebody to Love" is anchored by a gospel-sounding choir, which is actually the rest of the band showing off the same vocal prowess as Queen's previous masterwork A Night at the Opera.The choir would sound ridiculous in any other song but with Queen, and especially with "Somebody to Love," it sounds completely in place. It gives the song an entirely new dimension, giving it a religious feel. This is not a song about simple loneliness, this is a plea to the powers that be to cure the disease of a life without a soulmate and the choir is the conduit to those powers. Brian May's guitar does the seemingly impossible by giving emotion to an inanimate object. His guitar wails right along with lead singer Freddie Mercury, making the instrument sound as sad as the man. Then there are Mercury's vocals, which can only be described as divine.
Despite the immensity of the song, "Somebody to Love" is Mercury at his most raw. If you weren't entirely convinced Freddie was looking for somebody to love at the beginning of the song, you sure as hell better believe he is in dire straits by the end of it. Mercury was never afraid to show of his vocal prowess and on "Somebody to Love" he belts like a diva from almost beginning to end. In a five-minute pop song, Mercury gives new meaning to the term "multi-octave range." It makes you miss a time when singers could actually sing and voices weren't tweaked in the studio until the they became unrecognizable. Morrissey can whine all he wants about how nobody loves him and Bright Eyes' Conor Oberst can warble his way through countless songs of heartache but nobody can touch Mercury when he cries, "Can anybody find me somebody to love?" — ME
"Death Disco"
by Public Image Limited
from Death Disco/ Metal Box (as "Swan Lake") (1979)
Music, from the first moan ever bellowed by man, has largely been an emotional release. It's a truly cathartic form of art, whether you're playing it or listening to it. That became apparent for John Lydon once he became part of Public Image Limited. While his snotty rants against the Queen established his identity as a rambunctious, rebellious sort, his performance on PIL's 1979 single "Death Disco" revealed his own personal emotional pain and turmoil. Lydon had written the lyrics just after his mother died, and his intense, wailing performance makes his agony all the more sincere: "Watch her slowly die/Saw it in her eyes/choking on a bed/flowers rotting dead/see it in her eyes." The disco part of the title comes, no doubt, from David Humphrey's dancey beat and Jah Wobble's funky bassline. Keith Levene's screeching Swan Lake-stealing riff, however, gives the song even more of a harrowing, horrific feel. Because of that riff, upon its inclusion in Metal Box, the title was changed to "Swan Lake." — JT
"Across the Universe"
by The Beatles
from Let it Be (1970)
Lyrically, this has got to be one of John Lennon's more evocative and wonderful accomplishments, particularly with lines like, "Words are flowing out like endless rain into a paper cup" and "Images of broken light which dance before me like a million eyes." It's something so lovely and so soothing, a joyous number on the band's swansong. Given, there is that apocryphal quote from Lennon about the song where he calls his lyrics daft, but that shouldn't detract from the arrangement and the way the songs is sung with lyrics trickling out like honey from a hive and lingering in ears and minds and sending shivers throughout each chorus and verse. Nothing's going to change my opinion on this song. — HV
"River"
by Joni Mitchell
from Blue (1971)
Blue, as an album, is considered to be one of Mitchell's songwriting masterpieces, and nowhere is that more evident than on the song "River." The lyrics find us "coming on Christmas, they're cutting down trees," setting both the stage and throwing in some of Mitchell's personal feelings about nature and commercialism while leading up to even more personal regret and insecurity about her lost relationship, "Now I've gone and lost the best baby that I've ever had." Mitchell wants to escape all of these feelings, the anger over the commercialism of the holiday, the sadness of lost nature, and the pain of her lost love by skating away on her own personal river.
Oddly, Joni says she's going to "make a lot of money, then I'm going to quit this crazy scene. " Sure, she's not as prolific as in the '70s, but has not quite yet faded into obscurity and hermitude as she's still making music, and thank goodness. "River" is just one breakup song on a whole album of breakup songs, but what a song it is. No one else can do this song justice, but Travis makes a bold and startlingly good attempt as a b-side to "Turn." — TT
"Atomic"
by Blondie
from Eat to the Beat (1979)
"Heart of Glass" was clearly the invention of dancepunk, whether or not anyone wants to give Giorgio Moroder the credit of having played a part in one of the hippest sounds of all time. However, "Atomic" furthered the sound Blondie was newly pioneering on Parallel Lines a year prior. The beat, of course, is dancey as all get-out. The guitar riff is one of the coolest in history, a sort of post-punk James Bond hook. And Deborah Harry, of course, is sultry as ever. Yet, the song contains only one verse and a very long instrumental section with a funked-out bass solo. For some it would be over-indulgent, but for Blondie, it's an epic and magnificent anthem. — JT
Profondo Rosso (Deep Red) score
by Goblin
from the movie Profondo Rosso (Deep Red) (1975)
A bizarre hybrid of paranoid prog-rock and blood-spattered jazz, Goblin produced the perfect score for what is arguably Dario Argento's finest film. The main part of the score, which may have inspired John Carpenter's score for Halloween, is driven by sinister synths and a languid bassline, erupting eventually as the rest of the band joins in. The chase music, with its strange, echoing screeches, and the frantic perilous moments in which the synth goes crazy are other highlights to the score that put Goblin on the map. — HV
"Brand New Key"
by Melanie
from Gather Me (1971)
Melanie's "Brand New Key" is like your weird, off-the-wall great aunt Agnes. You think she's all proper and demure until she whips out those stories about how she had an affair with Eleanor Roosevelt in the `30s (way better than Franklin, BTW). "Brand New Key," or "The Roller Skate Song" as it was alternately known, has a decidedly retro feel to it and the lilting melody is wildly contagious. There is no possible way that this song won't make you feel the extreme need to bounce throughout its duration. Don't let the sedate tune fool you, though. The genius behind "Brand New Key" lies in its faux purity, not unlike crazy Aunt Agnes herself. In short, this song ain't about roller skates. You've got something Melanie needs, and she needs it bad, because she's "got a brand new pair of roller skates and you've got a brand new key." Heh heh, get it? It's a euphemism, you see. For sex. Well, at least Agnes would approve. — ME
"My Life"
by Billy Joel
from 52nd Street (1978)
Damn, what a hook! I dare you to listen to this song and not tap your fingers, bob your head or even sing along. I still have a soft spot for Billy Joel, as I would often hear him on the way home from school when my mother would pick me up. I also recall watching Bosom Buddies with my sister, which used "My Life" as its theme song, long before the WB was using current hits for its own themes. I'm sure at the time it was a pretty novel idea. Nonetheless, I can't help but think of Kip and Henry's goofball exploits when hearing this. Furthermore, in spite of its radio friendly façade, it's actually a pretty brash statement, Joel giving the finger and singing "I don't care what you say anymore, this is my life/go ahead with your own life/leave me alone!" — JT
"Moonage Daydream"
by David Bowie
from The Rise and Fall of Ziggy Stardust and the Spiders from Mars (1972)
If I ever went out with a gal and in the midst of flirting I just randomly threw out the line, "I'm an alligator," and she replied, "I'm a mama-papa coming for you," and I replied, "I'm a space invader," and she said, "I'll be a rock `n' rollin' bitch for you," I think I would immediately get down on one knee, produce a ring from my coat pocket (because I always keep one on me just in case), and sing, "Keep your electric eye on me babe / Put your ray gun to my head / Press your space face close to mine, love," and then we'd both freak out in a moonage daydream. Oh yeah, now that lady's a keeper. — HV
"The Man With the Child In His Eyes"
by Kate Bush
from The Kick Inside (1978)
What's more amazing than the fact that Kate Bush was only 20 when her first album debuted with such songs as "Wuthering Heights," is that the song of which I'm writing was supposedly written when the singer was only twelve! The song can be interpreted in one of three ways (at least). One is that the youngster was mature beyond her years, penning a secret love song about an older lover who went to sea, the second is that the song is about her discovery of masturbation and the ideal lover you can create in the process, the other is that it is a song about Peter Pan. An old girlfriend put this song on a mix tape for me and I was utterly blown away. I had never heard anything so delicate, nor so emotionally fragile. The old girlfriend was obsessed with the J.M. Barrie character so the third interpretation makes a lot of sense as people think the "man" is "lost on some horizon," referencing the lost boys of the story, and he tells her about the sea. The title and title character also referencing the never aging quality of Peter. Either way, it's quite an accomplishment for a gifted young songwriter and a beautiful piece of work. — TT
"Teenage Kicks"
by The Undertones
from The Undertones (1979)
Every punk rocker has a soft side, and this song is the ultimate make-out song for the studded belt crowd. The Undertones were a rockin' bunch, this song being no exception. But Feargal Sharkey's pained cries of "Wanna hold her/wanna hold her tight/get teenage kicks all through the night" give the song a much needed emotional…um…kick. When this song was released, legendary British DJ John Peel played it twice in a row. And to give it even more personal significance, when Peel died, "Teenage Kicks" was played twice in a row in his honor. — JT
"(What's So Funny `Bout) Peace, Love and Understanding"
by Elvis Costello and the Attractions
from Armed Forces (1979)
Elvis Costello's cover of the Brinsley Schwarz song "(What's So Funny `Bout) Peace, Love and Understanding" was a grand old closer to Armed Forces given the tone and title of the album. Perhaps the most remarkable thing, though, was how Costello turned the folksy feel of the original into a raucous, driven rock and roller. The song's narrator, crushed under the weight of what seems like impending doom (and given the climate during which the album was recorded, conflicts galore felt imminent) in an uncaring, militaristic, and materialistic world, gives that cry for light in the darkness of insanity, namely the song's eponymous question, "What's so funny about peace, love, and understanding?" — HV
"The Rainbow Connection"
by Kermit the Frog
from The Muppet Movie (1979)
"Why are there so many songs about rainbows?" sings Kermit the Frog, lazing on his lily pad, strumming away at his old banjo. I couldn't answer him, and quite frankly, I have trouble thinking of any songs about rainbows other than this one. Hearing this song, however, brings me back to a more innocent age, during which I would watch The Muppet Movie and not quite get all the jokes. As I got older, the Muppets stuck with me, right down to this song, which opens the 1979 film. Simple, a little naïve, and heartbreakingly hopeful, "The Rainbow Connection" is Kermit's own idea that there's more to the 8 colored bands other than mere illusion. And his bright-eyed, felt-faced optimism just wins you over every time. Someday we'll find it, Kermit — the rainbow connection. The lovers, the dreamers and you and…aw, shucks, me too! — JT