The Best Tracks of the '00s – No. 19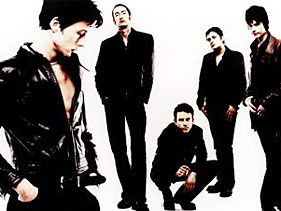 The decade has almost come to an end. And of course, you know what that means-lists, `best ofs' and all kinds of general retrospective features and columns. Treble is no exception, hard at work on figuring out the best albums and singles of the past nine years. Yet, before we get into albums and singles, we're taking a look at the best non-single tracks to emerge since the Y2K scare proved to be a non-event. Every week we'll be highlighting a handful of our favorite tracks of the decade, so keep checking back to hear about what songs remained on repeat on our iPods, CD players, tape decks and turntables since Jan. 1, 2000.
Suede – "Elaine Paige"
from See You in the Next Life (Self-released, 2004)
For the past few weeks I've been on a Suede kick. I picked up a copy of the very rare authorized biography "Love and Poison" on the band by insider David Barnett. I've been playing my old albums and tracking down rare demos, b-sides and live tracks from this London band that immediately fell for after their debut album arrived from the UK in 1993. Although I had been a staunch devotee primarily in the Bernard Butler-era of Suede, reading Barnett's book on the band, I discovered that post-Butler songs of Suede contained some of the best material of the band's undervalued career. One of those unheralded classics is "Elaine Paige."
One of my favorite Brett Anderson penned Suede songs, "Paige" original appeared as the b-side "Another No One" on the 1996 single for "Trash" and 1997's most excellent compilation Sci-Fi Lullabies. But this song was given new life as "Elaine Paige" resurrected from obscurity in 2003's fan club only release See You in the Next Life, a farewell gift to Suedeheads in the fan club.
It's curious as to why Brett renamed "Another No One" as "Elaine Paige." Maybe it's because Anderson emphasizes with the often misunderstood English singer and actress Paige herself. I hear the song itself as both a swan song to his fans and an elaborate kiss-off to his detractors that have vilified him since original guitarist Bernard Butler left the band after their magnum opus, Dog Man Star.
The romance that Anderson had with his devoted followers was well documented. But there also were the detractors that waited like vultures for Suede to fail after Butler's departure. But Anderson proved them all wrong even overcoming various addictions to fulfill a career that was filled with top ten hits, memorable albums and songs like "Elaine Paige" that will always have a place in my lyrical soul. According to Barnett, The original version of "Paige" was written as a break-up song from Anderson's then flame Anick. This delicate number must have meant more to Brett for him to revive it for their final collection of recordings for their most devoted fans.
I hear "Paige" as a character who's standing up for her/himself after being in a devastatingly painful love affair that has left the lover empty and alone. Anderson's brilliant lyrics reflect the ache that all of us have experienced at one time of our lives. Brett has always had the gift of penning universal lyrics. With all the love and poison of his addictive London writing style, "Paige" is one of my favorite songs in the whole Suede canon.
Some Suedeheads may recognize the addition of the brass towards the climax in "Elaine Paige." It brings back that same sound of those distant horns that I loved from 1993's b-side "The Big Time." So beautiful and poignant, "Paige" flows well with Anderson's personal farewell that shows that he was always a gifted lyricist. Unfortunately he is probably one of the most underrated British songwriters and vocalists of all time. With "Elaine Paige" Anderson closes his career in style as Suede's frontman, a role that not only influenced my own life but more importantly changed the sound of modern British music forever.