The Church : Uninvited, Like the Clouds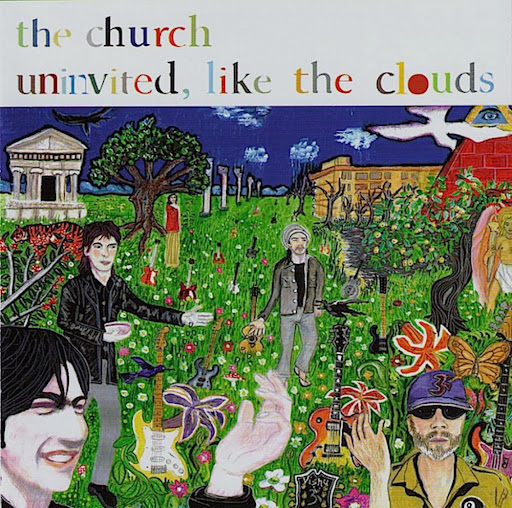 I've done two reviews in the past two days on bands that started in 1980. One was for Erasure, and this one is for the Australian band, The Church. Most will be familiar with their hit song from 1988, "Under the Milky Way," from the album, Starfish. The song is still being used in numerous '80s compilations, and features prominently in the soundtrack for Donnie Darko. Just like Erasure, the Church haven't really gone away, though it might seem like to anyone but their intensely loyal fans that they have. Instead, they've ended up at the home for aged '80s bands, Cooking Vinyl. The label is also the home for some other wayward '80s and '90s acts including Cracker, Killing Joke, The Buzzcocks and Echo and they Bunnymen. As opposed to Erasure, who released an acoustic album that differs greatly from their original sound, the Church haven't changed a thing, staying true to their '80s beginnings, and still crafting perfectly moody and erudite pop songs. Uninvited, Like the Clouds is their twentieth and latest album, and a fine return to form for the Aussie foursome.
Steve Kilbey's incredible voice stands out on Uninvited, just as it did on Starfish. Those longing for the days of "Under the Milky Way," "Reptile," and "Blood Money" will surely get their money's worth purely based on Kilbey's vocal delivery. The lyrical ability of the two main songwriters, Kilbey and Marty Wilson-Piper, is still top notch. Take for instance the opener, "Block." Amid the swirling vertigo of guitars and keys, Kilbey belies the sanctity of the band's name by singing the loaded lines, "Thank you to the Lord who created all this / There's a whole lot of hurt before you get to the bliss / Why, even Jesus Christ was betrayed by a kiss / But that was long before he got in showbiz." The dreamy rock quality of "Unified Field" is enough to make Coldplay jealous, especially after X&Y.
"Easy" is one of the standout songs on Uninvited, with some of Kilbey's old-school surreal, elliptical lyrics that he Stipes his way through. The song features some of the band's best Byrds-y guitar work in some time. "She'll Come Back For You Tomorrow" is like "Reptile" part deux, if not in musical style, at least in lyrical content. It's also the first song on the album to feature Wilson-Piper on vocals. The hypnotic feel of "Pure Chance" nicely sets the tone for its lyrics, about one who is seduced by a siren or mermaid. One feels the pull of the water just listening to it. The song would not seem too out of place on a David Gilmour-era Pink Floyd CD. The second half of Uninvited is a little less accessible than the first half, but no less entertaining. "Untoward" is another stunner, again showing that bands like Coldplay, Travis and their ilk owe a lot to the Church. Upon listening to Day 5, a U2-like slow burner, I was reminded of the blend of science fiction and religion that occurred in the book, The Sparrow. I have to admit, I'm not quite sure what Kilbey's singing about, but it doesn't seem to matter. The album ends with "Song to Go," which starts with a creepy pump organ before going into echo vocals and an overall eeriness that leaves you in a weird funk. (Kind of like Donnie Darko!)
For most, nothing will ever compare with Starfish, or even Gold Afternoon Fix or Priest=Aura, yours truly included in that equation, but that's somewhat unfair. It would be like trying to compare every Bowie album to Ziggy Stardust or Hunky Dory. They may never write another song that so captures the melancholy spirit of "Under the Milky Way" again, but this album is a reminder of the magic they captured two decades ago.
---
Label: Cooking Vinyl
Year: 2006
---
Similar Albums: