THEESatisfaction : awE naturalE
Hip-hop and punk rock are genenerally viewed as mutually exclusive genres, but beyond whatever aesthetic differences exist between the two, they've been on parallel trajectories since their origins in the 1970s. Both emerged in the aftermath of a larger, more commercial pop music form (prog:punk::disco:rap), marinated in an urban environment and spread through D.I.Y. channels before ultimately achieving a kind of mainstream appreciation. This fact struck me sometime in the last decade in the middle of a museum exhibit on early hip-hop fashion, and The Furious Five's garb didn't look all that far removed from what The Clash might have worn during the same era (Afrika Bambaataa's was more George Clinton-meets-Sun Ra, though). And I was once again reminded of these parallels after hearing THEESatisfaction's Sub Pop debut awE naturalE.
Stasia Irons and Catherine Harris-White, aka Seattle-based duo THEESatisfaction, have a decidedly punk ethos to their amorphous, ambiguous hip-hop/funk hybrid. Signing to Sub Pop might give that away to a certain degree, as might their connection to like-minded abstractivists Shabazz Palaces (who also appear on a handful of tracks here), but the duo has been on a D.I.Y. path for a while, self-booking and financing their own tours and self-producing tracks while throwing out hip-hop's rulebook. Embracing black, feminist and lesbian politics while chopping up their messages into surrealist poetry, and maintaining butter-smooth flows without paying mind to obvious hooks or anything the slightest bit radio-ready, THEESatisfaction are a riddle, wrapped in an enigma, wrapped in an Earth, Wind & Fire sample.
The various combined elements that Irons and Harris-White (or Stas and Cat, if you prefer) stack up throughout awE naturalE's 13 tracks add up to one truly dazzling puzzle. Even to simply dub it a "hip-hop" album doesn't seem to scratch the surface of all the various twists and turns the duo take, sometimes within the course of a sole two-minute track. They rap, certainly, but do so with elements of soul, beat poetry, funk, jazz, psychedelia and some kind of sonic mutant I haven't been able to decipher as of yet. But does it jam, you ask? You're damn right it does. Take, for instance, "Enchantruss," a synth-throbbing club banger sent from the future to set asses wagging against a backdrop of pitch-shifted vocal loops, and a typically knockout verse from Shabazz Palaces' Ishmael Butler, which is outdone by Stas in short order (sample couplet: "The black keys-us/ plinking the chords just right/ the black Jesus/ meaning, of course, he's white"). And the steamy funk of "Sweat" (complete with the Earth, Wind & Fire sample I mentioned earlier) adequately raises the temperature with its down 'n' dirty grooves.
At first glance awE naturalE might seem a bit slight, cramming 13 tracks into a brisk 30 minutes. Yet Stas and Cat smash their seemingly endless ideas against the wall at a head-spinning clip, to the point that several listens are absolutely necessary if one is to fully absorb the wit and innovation on display. In less than 90 seconds, thumping funk exercise "Bitch" explores courtship via stream-of-consciousness verses, and closes with the stellar line, "Why do I even give a fuck (a fuck)/ about how our world trails off?" appropriately as the song comes to an abrupt halt. This segues into the spooky piano sound of "Earthseed," which gives way to high-energy empowerment jam "QueenS," which invites you to "leave your face at the door" and "turn off your swag," before throwing down the gauntlet: "Don't funk with my groove, whatever you do." They do blissful psych-jazz on the stunning "Existinct," hypnotic electro on "Deeper," and ease into a subtly mesmerizing future funk on "Needs." And it's all done with such ease and care that the album never grows exhausting, even if the fast-paced journey does initially seem overwhelming.
One could pick apart the individual elements of THEESatisfaction's awE naturalE and put together a kind of roadmap to how Stas and Cat arrived upon such a powerful, unique style. But that still wouldn't account for how they fuse it together, catalyze it, mold it, shape it and polish it up to just the right shade of yowza. One certainty is that THEESatisfaction are playing by their own rules, casting the tired clichés of not just hip-hop, but basically any genre aside, and making music that's bold, unapologetic, and forward thinking. And when you think about it, that's pretty punk rock.
Similar Albums:
Shabazz Palaces – Black Up
Erykah Badu – New Amerykah Part One (4th World War)
Q-Tip – Kamaal the Abstract
Stream: THEESatisfaction – "Enchantruss"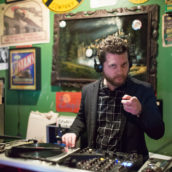 Jeff Terich
Jeff Terich is the founder and editor of Treble. He's been writing about music for 20 years and has been published at American Songwriter, Bandcamp Daily, Reverb, Spin, Stereogum, uDiscoverMusic, VinylMePlease and some others that he's forgetting right now. He's still not tired of it.