Top 10 Metal Albums of 2007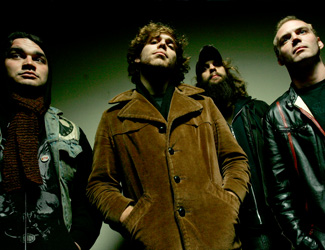 For better or for worse, Treble is a democracy. The staff comprises its constituents and each vote is weighed with equal consideration. Taking that on its face, some genres are bound to be excluded when it comes time to rank and file the best releases of the year, decade, century etc. One could easily rectify this by carefully placing excerpts from the well received though less represented genres throughout their lists thus making it an equal opportunity collection but this solution would only yield residual problems and ultimately skew the readers' perceptions of what exactly the opinions of its staff are. The results of such a rouse would be catastrophic; heads would roll, streets would run red with blood, locusts would reign form the sky and we'd have to change our URL to www.pitchforkmedia.com. Nobody wants that.
Obviously absent from the Best Albums of 2007 list are a number of abrasive and heavy records that could fall into an endless array of categories. One of these categories is heavy metal. I shall gladly resist the inborn critical urge to define metal in draw out phrases and six syllable adjectives. Let's just say from Black Sabbath to Slayer and everywhere in between, you know metal when you hear it and prefixes may apply so long as they aren't "nu." Agreed?
The lack of metal albums on our Best of 2007 list is not surprising given the aforementioned democratic spirit of Treble and the exclusivity of heavy music in all its forms. Despite the minions of long haired Metallica fans crowding arenas around the globe, lifting their forefinger and pinkys to the sky, and softball, head wankers such as Orange County's own Atreyu cracking the Billboard Top Ten, metal has and always will be on the outside of popular thought looking in. I beg to argue that this is in no way problematic and for the most part means that metal is doing it's job might right both artistically and socially (whatever the fudge that means). And from the onslaught of fantastic releases the genre had to offer this year, I'd say metal is getting even better by the second. The evidence is as follows:
10. The Austerity Program – Black Madonna (Hydra Head)
Nameless interludes, songs numbered as if they were to appear on a bands demo list and the best use of a drum machine since Albini's Roland all congeal on this first full length from the Austerity Program. Technical advances only further the voracious attack invented by the group's mastermind duo. The most corrosive music born from a laptop stands as a possible future turn and sub-species of metal.
---
9. Wolves in the Throne Room – Two Hunters (Southern Lord)
Operatic, spastic, demonic, et. al, this band does not push boundaries, they barrel through them with brain blending cause for alarm for their peers. They may be the green cheeks of Southern Lord but this brand of forward leaping metal could make them the flagship of the label.
---
8. The Fucking Champs – VI (Drag City)
For years now, the Champs have satisfied the appetites of a common though not very recognized group of metal fans; the ones who yearn for balls-out guitar frentics without all that yelling. On VI, they serve up another heaping platter guitar geekdom and amazingly constructed instrumental epics that prove there is life beyond the pale, empty scale sex of Satriani and Vai.
---
7. Om – Pilgrimage (Southern Lord)
Like every style of music, independent metal also has its gods and forebearers. Al Cisneros, Chris Haikus and Matt Pike (who we shall get to later) will forever be remembered as 3/4's of the classic, California stoner metal outfit, Sleep. With all three moving onto other endeavors, Cisneros and Haikus have teamed up to form Om, a group that builds on the foundation established by their earlier work. Pilgrimage, their third full length, creeps like a glacier in 33 degree weather sliding slow and steady in a nocturnal gaze that isn't as concentrated as Sleep was but just as blissfully entrancing.
---
6. Pig Destroyer – Phantom Limb (Relapse)
On the polar opposite of the metal spectrum from Om lies grind gallants Pig Destroyer who come on as violently as a Martin Scorsese shootout and as quickly as Ebola. Phantom Limb bursts from the seams as well as the speakers, writhing in agony and smiling in the face brutality. Be afraid…be very afraid.
---
5. Boris with Michio Kurihara – Rainbow (Drag City)
Teaming Japan's premier sludge metal outfit with one of the country's most revered, underground guitarists turns out just as you would expect it to, nearly perfect. Kurihara's contribution is recognized immediately on psych-metal masterpiece Rainbow, which harkens less of the dark side and more of the groovy ground of '60s San Francisco ear candy. The brown acid still isn't safe to eat but in Japan, hour-long tabs of bliss can be found between your headphones instead in the crevasse of your hand.
---
4. 3 Inches of Blood – Fire Up the Blades (Roadrunner)
The pyrotechnic dramatics of '80s thrash metal complete with Dickinsonian falsetto wails meet the modern day era of breakdowns on this irresistibly likable release. Too talented to be considered kitsch and too good to be considered mediocre, 3 Inches of Blood take it over the top and then some but the end certainly justifies the means.
---
3. High on Fire – Death Is This Communion (Relapse)
Newly appointed guitar god and former Sleep whiz kid Matt Pike comes full force with Death Is This Communion, his fourth release for the bound to be revered Boston act, High on Fire. Mötorhead style riffage and rumblings permeate this premiere release from metal kingpins Relapse records. Enough skull crushing sonic delights to make you forget how bad that new Dillinger Escape Plan record is.
---
2. Pelican – City of Echoes (Hydra Head)
In the same way the art of exhaling can turn into a struggle for life given the setting and its surrounding terrain, Pelican have been able to shift moods in the blink of a dropped D eye and a double bass pedal stomp, fluctuating between serene and airy guitar work to disorienting rushes of thunder. The most noticeable difference in City of Echoes is its brevity, which places it as the first Pelican full length that could fit on one side of 90 minute Maxell tape. Do not be fooled. It just means they get to great stuff sooner.
---
1. Baroness – Red Album (Relapse)
If there is anything to take away from this list aside from the obvious aural pleasures that are to be derived from the above releases it is that metal as an art form is so much more than its stereotypes. Even in the past decade and forging on impressively, the architecture of metal is getting denser and, contrary to popular (and albeit, misinformed) belief, it's getting smarter. Baroness' Red Album is the culmination of this evolution. Mathematical in approach, decadent in talent and fluctuating in weight, Red Album revels in an appealing nature that can reel in listeners from limitless demographics while still maintaining their integrity as a heavier than thou wrecking ball.