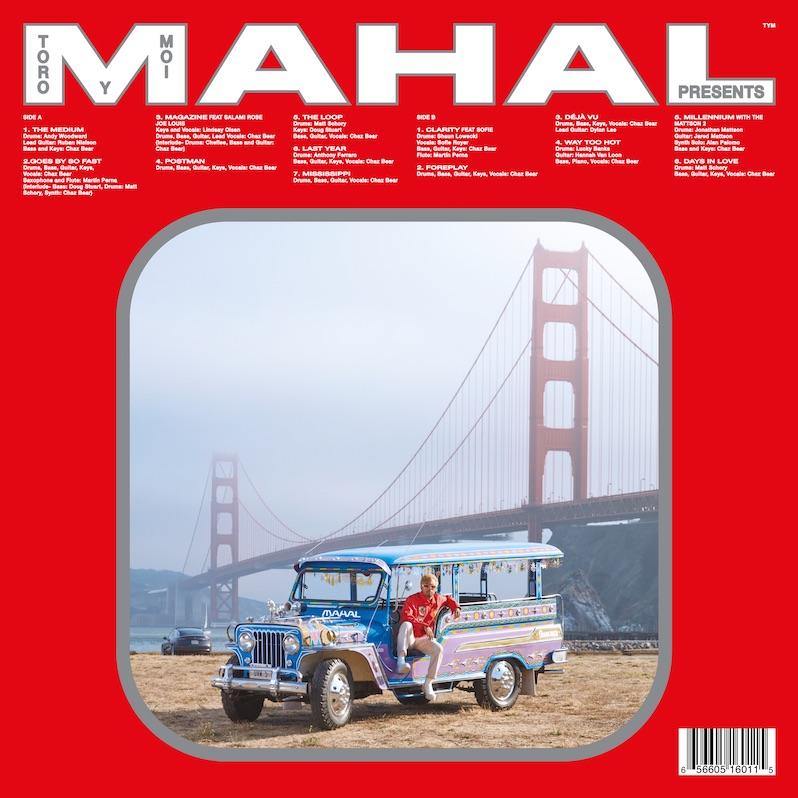 File under "Forward." That's the section of a record store where Toro y Moi's seventh album, MAHAL, should be placed. Following his tenure at Carpark, it's his debut release for the wide-reaching Dead Oceans imprint, home to Khruangbin, Mitski, Japanese Breakfast and Phoebe Bridgers: The next wave of indie artists who refuse a cut, copy, and paste métier. Chazwick Bradley Bundick, aka Chaz Bear, sounds at home too, releasing a guitar-based record, one he's been working on for five years.
His evergreen project, Toro y Moi, emerged as a steward of the quickly adored subgenre, chillwave, during the aughts. Ever since kicking in that door, the South Carolina-reared, Bay Area-based creative has crafted a decade-plus career that only a few could. Dude did it all: slippery R&B, chirpy funk, 4/4 house adjacent arrangements, soft-rock machinations, and digitally glossed up pop with an uppercase P. But MAHAL, with 13 eclectic songs over 41 minutes, some being psych-rock, others consisting of '70s gooey groove, is a warm, slow-burning, quality hang designed for multiple plays. Like a good podcast, it's down for microscopic inspection. Somewhat related to 2015's What For?, now we have commentary, discourse about our digital lives, interspersed amidst the psych-rock frequencies and grittier terrain.
Making an album of the times without the hyperpop marker was the deliberate charge, granted MAHAL has been on the whiteboard for a minute. Speaking about the present while treating your ears to a shag carpet fit, it's a three-card molly approach to stating facts without offending. On the instrumental opener, one can assume that's the alarm going off full blast. A revving Jeepney (a jeep that has been customized and converted into a taxi in the Philippines) leading into "The Medium" featuring Ruban Neilson of New Zealand psych-rockers Unknown Mortal Orchestra—shotgun wailing his six-string, encamped in Hendrixian soul, over weighty crunch and bump—assures us nightclubs and their repetitive beats are shelved, until it's safe.
Scattered across previous efforts, such as 2013's Anything In Return, Chaz Bear— ever the architect of environments—seems to be discussing a relationship. MAHAL turns the convo inward. On "Mr. Postman" the snail mail plucky funk asks, "Did I get mail?/Did I get a letter?/Did I get a postcard?", suggesting the lamentable demise of physical items such as magazines and periodicals arriving, packed with joyful sentiments, to your tactile inbox. They've gone digital. "Goes By So Fast" a dreamscape ballad with (horn) saxual healing recalling the past with naive beauty still intact. Simpler moments preserved in this Ziploc romantic fugue remain untainted for a brief two-step romance.
On "The Loop," a real groove-centric bassline with breezy carefree plushness delivers melodic guitar runs that swirl about like The Bay Area's own Karl The Fog. Those gusts speak to keeping in touch with your folks—forget about how technologically advanced we attempt to present ourselves. The human touch of "staying in the loop" is underrated and essential. With a jazzy skipping motion and numerous self-revelations on mindfulness, even enjoying the rain, "Last Year" gets pragmatic. "Last year, I learned to love myself/breakthroughs in conversations……session went well/yeah, I kept my chill."
The visual cultural glue of a Jeepney and a short film with Eric Andre bringing physical items, music to the people, traversing throughout the Bay Area is paired with a signature sound that purposefully feels compromised: Tape slowing and speeding up infrequently as a result of the Jeepney stalling. These moody, wandering arrangements, combined with astute revelations of the now, appear tethered and manipulated. Just a little tired. Organically chopped and screwed presentation, old reel-to-reel tape giving up the ghost, and the wee bits of skits before and after tracks, this delivery of quasi-retro-sounding tunes is more erratic than comedic.
Chaz has performed some career-best acrobatics here, going out of his way to avoid mentioning the big, well—you know, as he promised himself. I'm not one of those artists who writes about it. But as we all enter a third pandemic year, sometimes what's not on the page, makes the greatest impact.
---
Label: Dead Oceans
Year: 2022
Buy this album at Turntable Lab
---
Similar Albums:
John-Paul Shiver
John-Paul Shiver has been contributing to Treble since 2018. His work as an experienced music journalist and pop culture commentator has appeared in The Wire, 48 Hills, Resident Advisor, SF Weekly, Bandcamp Daily, PulpLab, AFROPUNK and Drowned In Sound.