On Songs of Innocence and Experience, U2 left it open ended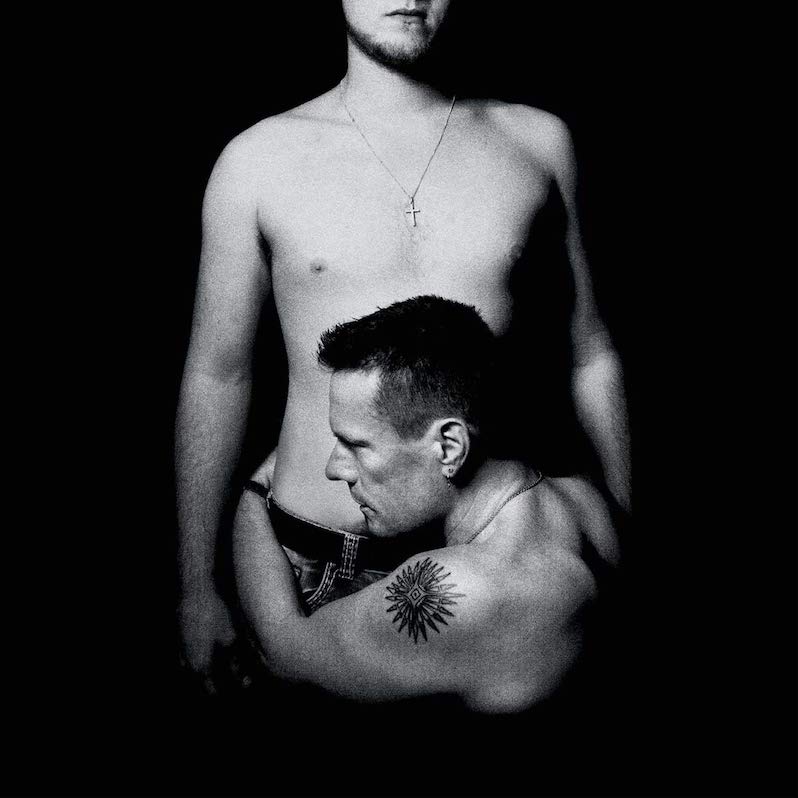 On September 9, 2014, millions of iPhone 6 users were given an unexpected and, in many cases, unwanted gift: U2's surprise album, Songs of Innocence. Left on everyone's hard drive like a complimentary basket of pastries, but perhaps more like a complimentary basket of pastries left there by someone who let themselves into your house with permission, this act of Oprah-like digital commodity largesse ("YOU get a surprise U2 album") felt strangely invasive. What the hell is U2 doing on our phones, after all?
In the scheme of things, bands have done plenty of worse things—Dave Matthews Band dumping their sewage in the Chicago River wasn't great, for instance. But in an age where digital surveillance is unavoidable, where we're constantly being watched, it seemed like we could probably at least draw the line at U2 not being all up in our shit. But so they were, partnering with a giant tech company to publicity stunt their way into a record-breaking first-day album download that nobody actually chose of their own volition. Which doesn't mean a lot of those people wouldn't have, but probably not 500 million of them.
That act alone will always overshadow the actual music on Songs of Innocence, U2's 13th album and part of a companion pairing with 2017's Songs of Experience—both named after works by William Blake (as were more experimental cinematic jazz records by David Axelrod in the late '60s). There's no separating the album from its baggage, and make no mistake—there's no U2 album with more baggage than this. There are more widely loathed albums, some of them unfairly (1997's POP), some of them perhaps with good reason despite their peaks (1988's Rattle and Hum), but none that can't be separated from the gaudy way in which the band introduced it to us. After all, can you really claim to be the biggest band in the world of nobody gets a choice in the matter?
If you can get past that—and some people were still sore about it many years later—Songs of Innocence is actually a pretty enjoyable album. Even charming. Take, for instance, first track "The Miracle (Of Joey Ramone)", a song that threatens to go off the rails with its millennial whoop chorus of whoa-ohs, but which soon enough reveals itself to be one of U2's most endearing songs in some time. Being painfully sincere is kind of Bono's thing, but here, he's singing about the joy of hearing a great rock 'n' roll song for the first time (by The Ramones, natch), and somehow that pure expression of hearing that life-changing song for the first time feels genuine and highly relatable. He's tackled topics with more gravitas and even political boldness, but who among us can't pinpoint the moment where we had that exact same feeling. And that's in large part why the album works: It's not about big concepts, but smaller more intimate and personal things, scaling back where much of the 21st century version of U2 always seemed to try to capture something ever grander.
Songs of Innocence wavers a bit between the band's tendency toward arrangement and production experiments and delivering the goods that people are expecting, and they don't always nail it, but the songs have more life to them than on 2004's How to Dismantle an Atomic Bomb. The "Santa-ba-ba-Barbara" intro of "California (There Is No End to Love)" feels like it should probably belong to a different song, meanwhile the heavy synth throb of "Sleep Like a Baby Tonight" gives way to one of their more spacious ballads, and one of the album's better songs. There's dumb fun a la The Killers ("Volcano"), there's bombast ("Raised by Wolves"), and even some enjoyably understated moments like "Every Breaking Wave."
The two best songs on the album are "Iris (Hold Me Close)" and "The Troubles," which pairs the band with Swedish chanteuse Lykke Li. Both succeed in large part because they're given space to breathe. As much as U2 are recognized as a massive stadium rock band, which they are, many of their best songs ("With or Without You," "The Unforgettable Fire," "Love is Blindness") are those in which the atmosphere is as important as the melody, and nowhere is that more true on this album than on these two songs.
I actually didn't experience The Great Downloading firsthand—I had an Android phone (save your jeers, corporations don't love you) and actually had to seek the album out. Which was easy enough. But that in some way seemed to make listening to it less fraught with hangups about the method in which it was delivered. Which is to say it actually seemed like a pretty decent U2 album, and despite not living up to the majesty of The Joshua Tree, the bold experimentalism of Zooropa or the hard-driving focus of War, that seemed at least like something of a victory. On Songs of Innocence, U2 mostly stuck to what they already knew best, yet without taking on more challenging material or ideas.
That's likely still the thing people remember most about the album, though by 2017 they had found another unlikely place to show up: On Kendrick Lamar's DAMN., the album that won him a Pulitzer. Specifically, Bono's vocals appear on the song "XXX.," a highlight late on the album that while technically not a U2 song, is still among their greatest moments of the past 20 years. I say "technically" because that section actually comes from a song on Songs of Experience titled "American Soul," which is immediately recognizable (in large part because the first voice you hear on the track is Kendrick's), but dramatically different in the band's hands, simply because it's a big, rowdy rock 'n' roll song. And not a bad one, either, if perhaps not as dynamic as the counterpart on DAMN.
Songs of Experience, the companion album to Songs of Innocence released three years later, arrived in dramatically different fashion to its predecessor, part of a more traditional album cycle rollout promotion, if relatively understated—especially by the band's own standards. No cross-promotional tech buy-in, though by bundling the release with tickets sales, it ended up being a number-one charting record for the band, which was arguably a more savvy strategy to get the album in the headphones of those most receptive to hearing it.
There are, however, a few headline grabbing guests on the album. Sisters in harmony and friends of P.T. Anderson HAIM provide backing vocals on bluesy rocker "Lights of Home." Lady Gaga lends backing vocals to "Summer of Love," and later performed bonus track "Ordinary Love" with the band live. And Andrew Taggart of The Chainsmokers lends keyboards to "Love is Bigger Than Anything In Its Way." Plus, you know, Kendrick, brief though his appearance might be. Weirdly, in most of these cases, you'd probably never notice or recognize these guests, suggesting that U2 weren't necessarily relying on their star power to draw more attention, but perhaps merely the opportunity to share the studio with some of the biggest names from a younger generation of musicians. Which results in a far better outcome for the most part.
Songs of Experience fared mostly better critically than its counterpart, and it's hard not to think that distancing themselves from the Apple stunt might have had something to do with that. Though the albums aren't so different from one another by and large. It still sounds like a U2 album in the 21st century: Big choruses, soaring Bono vocals, occasional moments of weirdness (the vocoder on opener "Love Is All We Have Left," for instance), and a handful of moments of genuine triumph: the hypnotically dreamy "Summer of Love," and gauzy ballad "The Little Things That Give You Away." I wouldn't necessarily consider "Blackout" to be one of them, but hearing the band emulate Foals is still kind of fun.
There's also a song called "Get Out of Your Own Way," ironically, which seems to summarize the lingering problem of U2 in this era. Songs of Innocence and Songs of Experience are both pretty good—and yet they both feel like missed opportunities. Experience in particular seems like an attempt by a band nearly four decades into their career attempting to capture a sound that resonates with youth, but that's often a losing battle. Yet U2 have pulled off radical and inventive records before, there's no reason to believe they couldn't do it again if commercial success and the elusive reward of relevance weren't chief among their aims.
Yet as U2 are wont to release albums as unofficial trilogies—the post-punk trio of Boy, October and War or the more experimental '90s trilogy of Achtung Baby, Zooropa and POP—there's long been a rumored third installment of this series of albums, potentially titled Songs of Ascent. Information about when it might be released or if at all have been spotty, and the album has been a recurring topic on U2 fan forums for a long time. However, Bono did confirm its existence on a podcast interview with Hozier in 2019: "We have this beautiful ecstatic album called Songs of Ascent. I don't know if we'll finish it soon or if it will take forever. It's about the 15 Psalms, named after the 15 steps, from the Women's Chamber up to the Temple of Jerusalem." Then again he also said he wanted to do a straightforward rock 'n' roll album, so perhaps we'll eventually hear both.
If there's hesitancy on U2's part to deliver Songs of Ascent, I get it: A biblically inspired and so-called "meditative" album probably isn't the thing that's going to ensure the crown remains in their hands. But making something different, something interesting and potentially risky, is how they got it in the first place.
---
Support our Site—Subscribe to Our Patreon: Become one of our monthly patrons and help support an independent media resource while gaining access to exclusive content, shirts, playlists, mixtapes and more.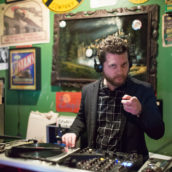 Jeff Terich
Jeff Terich is the founder and editor of Treble. He's been writing about music for 20 years and has been published at American Songwriter, Bandcamp Daily, Reverb, Spin, Stereogum, uDiscoverMusic, VinylMePlease and some others that he's forgetting right now. He's still not tired of it.