Celebrate the Catalog: Nick Cave and the Bad Seeds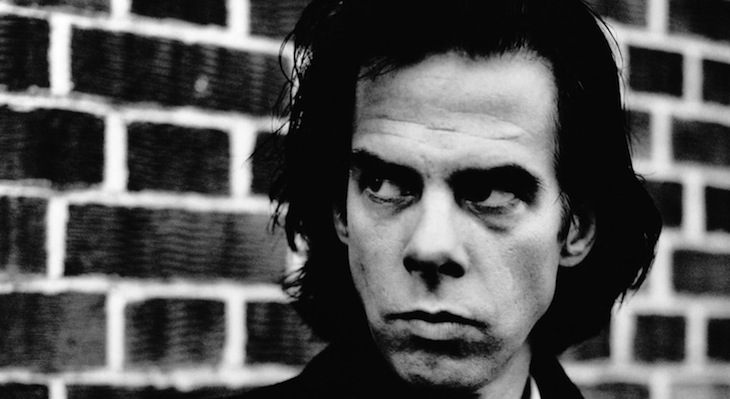 Part Three: Midnight Man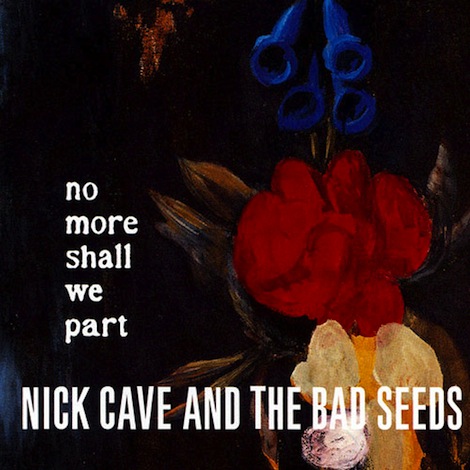 No More Shall We Part
(2001; Mute/Reprise)
The general consensus among Cave fans is that 2001's No More Shall We Part is probably the most underrated record in the entire catalog. It certainly hasn't had the level of acclaim that Murder Ballads, or Tender Prey, or The Boatman's Call have. The question is whether or not it lives up to those standouts. Short answer: Kind of. By 2001, Cave had mostly put his rabid punk-blues days behind him (he'd make a fair amount of noise with Grinderman and one Bad Seeds album in particular) and had pretty much settled into a long period of gothic balladry that would arrive in slight variations. Where The Boatman's Call is stark and emotionally bare, and Nocturama would end up being a little more comfortable and freewheeling, No More Shall We Part is The Bad Seeds at peak elegance. Everything here is stately, rich and sumptuous. Following The Boatman's Call, it maintains a similar mood, but with lusher arrangements that make excellent use of Warren Ellis' violin and Martyn Casey's bass playing. There's also just a lot of intricate instrumentation happening in general, which makes a song like "As I Sat Sadly By Her Side" more than just beautiful — it's actually quite thrilling to listen to. Occasionally, the album swells into louder, more rock-heavy songs like "Fifteen Feet of Pure White Snow" and "Sorrowful Wife," but this is mostly an album of richly textured, slow-moving piano ballads that perpetuate a certain mood. I certainly understand why it's reputation is that of an underdog — albums this delicate sometimes need extra attention to reveal themselves. But I also feel that it's more of a pretty good Nick Cave and the Bad Seeds album than a great one, which still puts it miles ahead of most albums.
Rating: 8.3 out of 10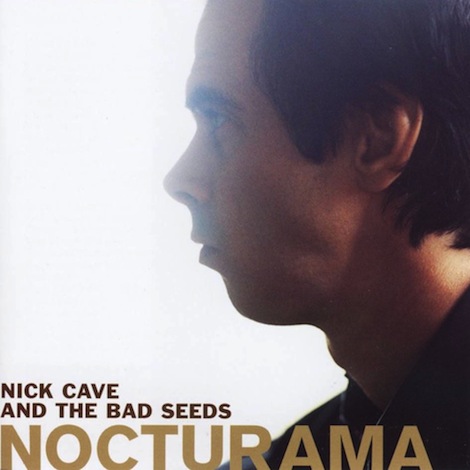 Nocturama
(2003; Anti-)
Nocturama gets a bad rap. The third ballad-heavy record in a sequence of ballad-heavy records, it found Nick Cave and the Bad Seeds sticking to a mostly comfortable template, with a few fun surprises along the way. Mostly, though, it's a collection of love songs that are sweet, pretty and melancholy, which is perfectly fine. It turns out that a forty-something Cave, healthy and in love, is still capable of writing good songs, if ones that aren't as tortured or twisted as some of his greatest heights have been. And sure, I can see how that might be a let-down after so many epic moments that led up to it, but Cave doesn't exactly do bad albums. Understated, sometimes. Straightforward, occasionally. But bad? Never. So for everyone who claims that this is Cave's worst album, I counter by saying it's still just by a few minor notches. For that matter, its highs are some lofty peaks. Opening ballad "Wonderful Life" is one of his simplest, most affecting love songs, and one that takes the pain with the ecstasy. Single "Bring It On" is Cave at his catchiest, turning out a true anthem of a rock song that you could almost picture Springsteen singing. And fiery closing track "Babe I'm On Fire" is 15 minutes of classic Bad Seeds venom that refutes any notion of Cave growing tepid. What it does lack to some degree is cohesion; there isn't much middle ground between its noisier tracks and its quieter ones, and they don't always make sense being in the same collection. But cobbled together as it might seem at times, it's a strong set of individual songs. Maybe it's not Cave's best album, but it's at least a damn good mixtape.
Rating: 8.0 out of 10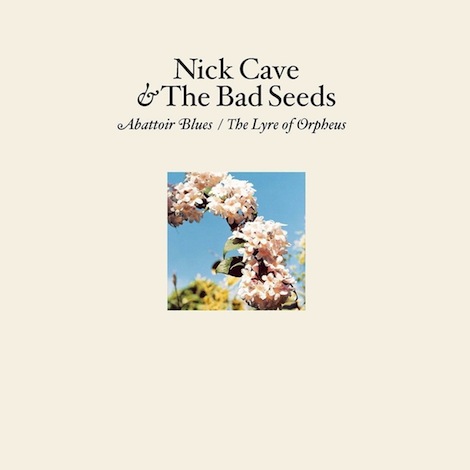 Abattoir Blues/The Lyre of Orpheus
(2004; Anti-)
This is the only double album in Nick Cave and the Bad Seeds' catalog, and that's more a matter of concept than of practicality. The album is only a couple minutes longer than a CD typically allows for audio, but the division comes as a form of organizing the album into two distinct halves. Abattoir Blues is the fiery rock 'n' roll record, and The Lyre of Orpheus is the collection of ballads. There's a little bit of crossover between the two — the first half isn't uniformly uptempo, and the second half is still fairly raw as ballads go. And what helps to unify them is the recurring sound of a gospel choir, which lends some transcendent richness to some already huge-sounding songs. It's a dirty, raw and powerful rock show revival, in other words, and it's damn impressive. There's pretty much something for everyone on this double-disc set, which isn't necessarily unique for a Bad Seeds album, but this one seems even more accessible than usual. There's a gentle Cave on "Breathless," rock-God Cave on the amazing "There She Goes, My Beautiful World," and hilarious mythologizer on the epic skronk-blooze of "The Lyre of Orpheus" ("If you play that fuckin' thing down here, I'll stick it up your orifice"). What's remarkable about this double album is just how light on filler it is. Albums this long almost invariably have a few tracks that could have easily been jettisoned, though only "Fable of the Brown Ape" feels a little more like a b-side. That alone makes this worthy of merit, but the replay value pushes it up a few extra notches.
Rating: 8.9 out of 10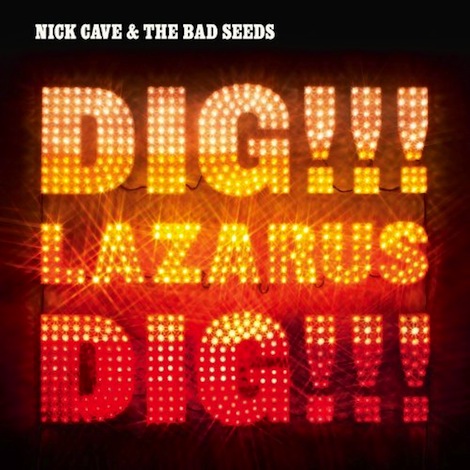 Dig, Lazarus, Dig!!!
(2008; Anti-)
Now we're gonna have a real cool time! By the mid-'00s, Nick Cave and The Bad Seeds were close to having all of the sad ballads of the past decade out of their system, thanks to the roaring rock that occupied Abbatoir Blues, the louder half of their 2004 double-album. Then, Cave and his cohorts closed out the '00s with two noisy, nasty Grinderman albums and Dig, Lazarus, Dig!!!, an album that sounds less like the traditional sound of The Bad Seeds and more like The Stooges doing a loose acid-blues session in an L.A. dive — or, if you will, a sequel to the first Grinderman album that isn't really a Grinderman album at all. It's arguably the most accessible Bad Seeds album, well, ever really. But it's also the least characteristic of their career as a whole, in a sense. Cave, then in his early 50s, is having fun with twisted Biblical tales, taking Lazarus and resurrecting him into a rock star and then plunging him back into despair ("he never asked to be raised up from the tomb"). And The Bad Seeds, for their part, offer up some of the most colorful and dazzling arrangements they have since — well, come to think of it, the ones on the last album were pretty impressive. But these are different; "Night of The Lotus Eaters" rides a strange and guttural loop, while "Hold On to Yourself" — at heart the sound of classic Bad Seeds — is backed by the eerie hiss of Warren Ellis' violin strings in repeated, discordant mode. And "Midnight Man" is the slinky rock epic that may very well win the whole thing. The album of Cave's that this most strongly resembles is 1992's Henry's Dream, but this one feels looser and less violent, if arguably noisier. Maybe the album doesn't quite have the emotional wallop or chilling mood that the band's best do, but damned if it isn't a hell of a lot of fun to listen to.
Rating: 8.6 out of 10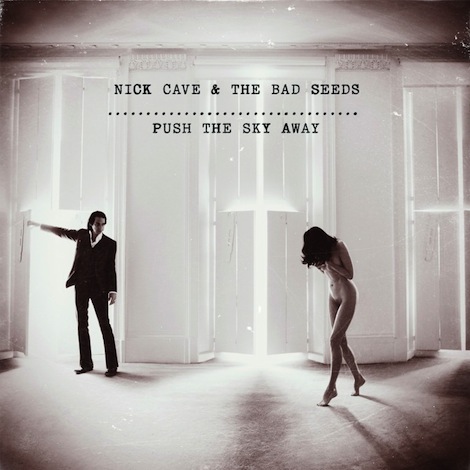 Push the Sky Away
(2013; Bad Seed Ltd.)
As Nick Cave and The Bad Seeds crossed over into the '10s, they brought with them one of their best batches of songs in years. Like some of their strongest records, Push the Sky Away mostly comprises more hushed, subtle material. But the textures and the chill that each one contains makes this a much different kind of album than The Good Son or The Boatman's Call. At once, it's a much less personal album and a much more pessimistic one. Cave is a bit preoccupied with technology in "We Know Who U R" and "Higgs Boson Blues," which isn't really all that exciting in the abstract, but finds him sounding unusually insightful about what seem like fairly mundane ideas. It's worth noting that the latter references Hannah Montana more than once — and possibly dead (it's ambiguous by design). The Nick Cave of old might not have bothered with contemporary celebrities, but Push the Sky Away is less about myth and more about prophecy, namely a kind of devolution of culture and society. For fairly high minded ideas, it's still pretty devastating when you get down to it, particularly on the title track and the unending rise of "Jubilee Street." It's beautiful and it's dark — it's pure Nick Cave.
Rating: 9.0 out of 10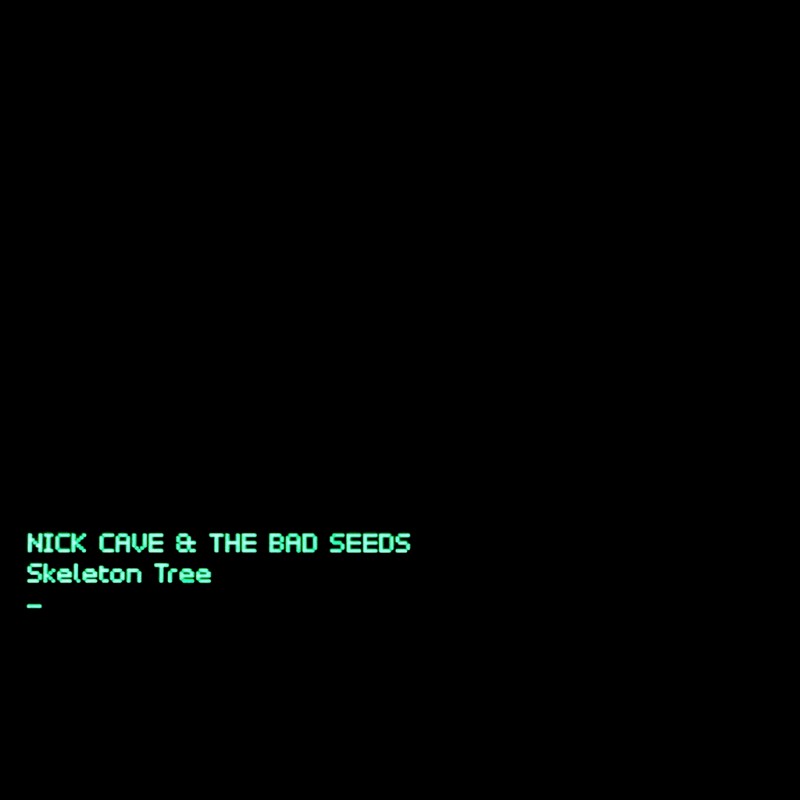 Skeleton Tree
(2016; Bad Seed Ltd.)
Tragedy hangs heavy over Nick Cave and the Bad Seeds' most recently released album (not including the expansive best-of compilation, Lovely Creatures). During the process of the album's writing, Cave's teenage son died, and as such grief hangs heavy over the record. Even though many of the lyrics were written beforehand, they take on a heavier meaning here, and at times the sadness is almost too much to bear. But that doesn't mean the album isn't utterly breathtaking throughout. In fact, much of it is strange and abstract, reflecting an entirely different side to Cave's songwriting, juxtaposing his dark visions with avant garde arrangements that fall outside of the Bad Seeds' oeuvre of punk blues, gothic rock and chamber pop. It's something else entirely—haunting, peculiar and masterful. Skeleton Tree is perhaps the most challenging listen in Cave's recent catalog, but his most deeply affecting in years.
Rating: 9.1 out of 10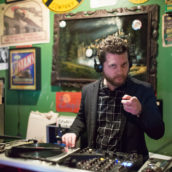 Jeff Terich
Jeff Terich is the founder and editor of Treble. He's been writing about music for 20 years and has been published at American Songwriter, Bandcamp Daily, Reverb, Spin, Stereogum, uDiscoverMusic, VinylMePlease and some others that he's forgetting right now. He's still not tired of it.