Da Art of Storytellin' : No Hook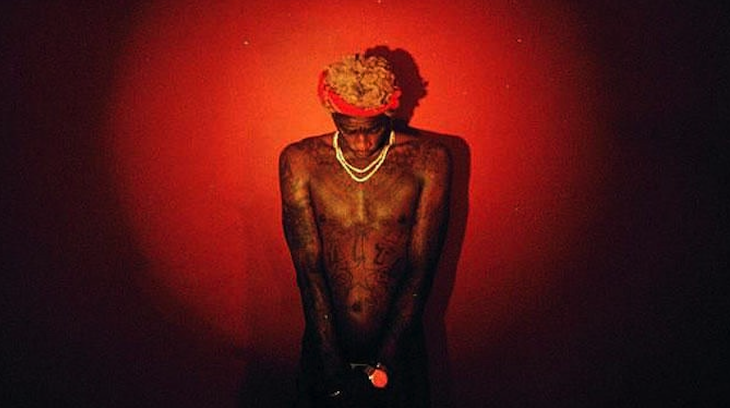 The worst thing that can possibly happen before a deadline is to get blocked. Do you remember that scene in Spike Jonez's Adaptation (2002)? Where Nicholas Cage as Charlie Kaufman is sitting in front of a word processor and his inner thoughts keep distracting him from putting words onto the paper? Thoughts of getting coffee and a muffin—a banana nut muffin, which is a good muffin—infiltrate alongside spiraling thoughts on happiness and ways to better himself. And that's all in front of a word processor, imagine how distracted he would be if he had access to the internet!
Before you even see Cage as Kaufman, you hear him and he says, "Do I have an original thought in my head?" I love that bit. It's a crystallization of the moment of self-doubt that happens to everyone, not just writers starting blank-faced at a deadline and a blank document. There's this moment of, "I'm a fraud and sooner or later, someone is going to find out." Not that you are a fraud, per se, but that maybe those opportunities you got were possibly based on false pretenses.
But let's get to the point. There was a moment, maybe last week, when I realized that the deadline for this column was coming up and I thought, "oh right. A monthly column." Like that only really occurred to me until I saw it on my Google Calendar. Whoops. While there are more than enough rap releases to keep me busy, there was still this introduction to contend with. I had these grand ideas of how to tie these disparate tapes/releases together under a coherent theme—which, full disclosure, sounded less and less plausible upon closer inspection. So this month, I decided to lay out my inability to tie these things together and be honest about my writer's block. I promise I'll try harder next month. Maybe.
The best new mixtapes of May 2015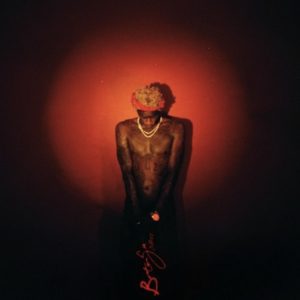 Young Thug – Barter 6
Young Thug's first proper solo project since 2013's 1017 Thug, was, of course, released just as I turned in my first column. Young Thug is divisive figure in hip-hop, proponents of so-called "real hip-hop" deriding his unique flow, calling him the worst rapper. I was a big fan of 1017 and his collaboration with Bloody Jay, Black Portland. His presence on tracks always warrants at least a listen, even from artists I'm not terribly fond of (looking at you Jamie XX). When Young Thug announced a new solo album earlier this year, I was really excited. Initially titled Carter 6 and then renamed Barter 6, riffing on Lil Wayne and his perpetually delayed Tha Carter V, it seemed like Thug was coming for Wayne, taking down his former idol. But as I listened to Barter 6, it was clear that Thug was less concerned with fanning the flames of any perceived rivalry than he was presenting a clearer vision of himself.
Like Drake's If You're Reading This It's Too Late, Barter 6 shows considerable restraint and confidence, reading more as a cohesive album than a collection of tracks. Sonically and thematically, these songs belong together. Listening to the album, one gets the sense that Thug has a greater understanding of his ability as an emcee. He nimbly changes his flow—from laid back musings to rapid fire missives to his one of a kind caterwauling. Every review I've read makes the point that there is no obvious hit, no "Lifestyle" the ubiquitous Rich Gang track. While I can maybe concede to that point, I personally can't stop listening to opening track "Constantly Hating." The way it unfurls and Thug's vocal control is engaging and inherently listenable. The simple plunking instrumental is a perfect counter to his sing-songy vocals and his interjections of "skiirrrrrr." The overall is more muted that what we're perhaps used to from Thug, but they lend easily to blissed-out listening, with tracks washing over you. The gentler tempo suits Thug's often lethargic energy and it allows him to explore his range in a highly satisfying way.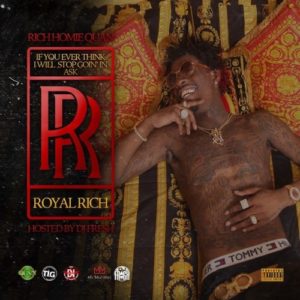 Rich Homie Quan – If You Ever Think I Will Stop Goin' In Ask Royal Rich
If You Ever Think I Will Stop Goin' In Ask Royal Rich is Rich Homie Quan's first tape since I Promise I Will Never Stop Goin' In (2013) and his first since breaking away from Rich Gang. His decision to forge his own path away from Birdman and Young Thug may prove to be a smart one. Often lumped in with Thug and even caught under his shadow, Rich Homie Quan is a talented emcee in his own right. Much more than one single, even if it is the spectacular "Type of Way," Rich Homie Quan does, in fact, go in. While Young Thug may be the poster boy of "weird" flow emcees, Quan comes with a different skillset. His vocal style is incredibly emotive, cracking and breaking conveying pain, anger, and melancholy. "Daddy," a song recounting his father's near fatal shooting, displays a vulnerability and aching pain that's profound and real. Utilizing childlike yelps of "daddy" allowing Quan to convey a wealth of conflicting emotions, of worry and rage. It's one of the more incredible tracks on the tape.
At 20 songs, it's a true tape, it's maybe a touch too long and DJ shout-outs are rampant. "Ran Off" has been on heavy rotation here—its swagger hits at all the right spots. Radio friendly tracks like "Throw It Back" and "Flex" have irresistible beats and sing-along choruses, showing Quan's gift for hooks and an ear for quality pop sounds. And to say that some tracks don't break new ground—sure, OK but they're still good tracks and unlike some tapes out there, I'd be hard-pressed to name songs to drop.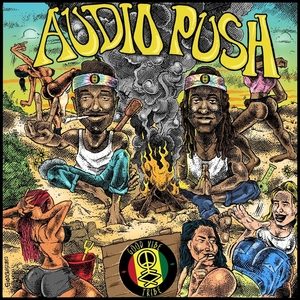 Audio Push – Good Vibe Tribe
Released on 4/20, Audio Push's Good Vibe Tribe is a weed-laden tape, complete with hazy album art. I had listened to their previous release Come As You Are (2013)—while writing this, I'm realizing that 2013 was a really good year for rap music—but truth be told, I might have deleted it to make more room on my hard drive. But I was open to what they might have to say and with an enthusiastic recommendation from a friend, I downloaded it.
So here's the thing. It's not that it's not good, it's actually really good. It's that it's not really the kind of rap I'm feeling lately. Oktane and Price are nimble rappers. They're immensely talented. But this sort of West Coast hip-hop hit me at the wrong time. "Heavy" with OG Maco—my new favorite rapper—was a highlight. It's darker with a sinister sounding instrumental that moved me more than the more blissed-out, Guru style "Bonfire." Similarly "Ask Me" had the duo rapping with urgency. I realized that I wanted my emcees thirsty. But for listeners looking for some classic-style West Coast rap, this is the place to go. There's quality appearances by Vince Staples and Casey Veggies ("Mind Trap") and, another rapper I couldn't quite get into, Isaiah Rashad ("Jumpin'"). It's not for me, but I'm not saying it's not for you too.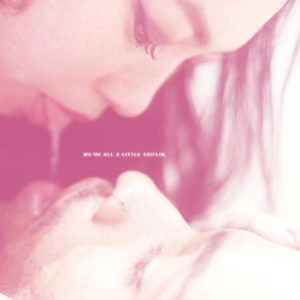 KeithCharles Spacebar – We're All A Little Triflin
Atlanta's Awful Records has been poppin' up all over the place. There's the recent Slug Christ tape (the excellent The Crucifixion of Rapper Extraordinaire, Slug Christ), Father, and Archibald Slim among others. But of the recent Awful releases, I'm all about KeithCharles Spacebar's We're All A Little Triflin. KeithCharles Spacebar is an alluring rapper. He has a presence that's commanding and better yet, he knows how to let his guests shine, as Abra does in "All My Love," showing a generosity as an artist and collaborator. There's a suave demeanor, an effortlessness to Spacebar and We're All A Little Triflin is an exercise in restraint, letting negative space speak and making the most out of pauses and gaps. Yet in that restraint, there's a frankness that is, well, it's pretty damn sexy and at times raunchy, like in the title track. Spacebar is seductive, coupled with incredibly well chosen and well produced instrumentals, the tape reminded me a bit of DonChristian's Renzo Piano from last year: a tape that understood the merits of negative space and how it could add to the ambiance and mood of an album.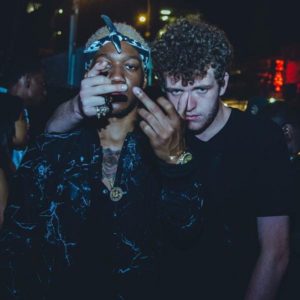 OG Maco – TAX FREE
I loved "U Guessed It." I think it's a weird and really funny track, one that was a thrilling introduction of an artist (and some fantastic vines). Perhaps it was too good? With such a distinctive track, it can be hard to prove to listeners that he's more than this one track. Luckily for us, OG Maco is thirsty as all get out. 15 EP was an frenetic exercise in paranoia, full of a nervous energy and insightful, introspective lyricism. TAX FREE is a short four-song EP that picks up where 15 EP left off. OG Maco is a verbose rapper—he spins out long trains of verse before he hits a hook. The instrumentals are sludgy and add to his clear drive to prove himself. Opener "Tax Free" has a minimal instrumental to play off his sprawling lyrics and is a nice surprise and counterpart to the more explosive "U Guessed It." There's an underlying darkness to TAX FREE and that lends to some unexpected moments, like the sing-songy elements of "No $$$" or emo "Vanity." With each release, OG Maco is taking pains to prove that he is more than "U Guessed It" and so far, he's doing it. These tracks are surprising and daring and illustrating a more interesting artist that we would have guessed. (*you was right*) (Couldn't help it.)
Kehlani – You Should Be Here
And here I excitedly rep Oakland, my current hometown. Kehlani is an exciting young singer and her latest release, You Should Be Here, pays homage to '90s R&B while also showcasing a voice that has much to say. The album has Kehlani dealing with subpar romantic partners, the deadbeats, the feckless, the milquetoast. It's pretty clear that she's way better and more colorful than the men she sings about. On "The Way," a beautiful doozy of a track, her voice sails, she's flirtatious, playful, coy and sweet. She plays off of Chance the Rapper's verses, giving a saucy performance that immediately endears you to her. "Wanted" is an incredible track. Her singing raises up, let's admit it, pretty maudlin lyrics, stirring up emotion that's relatable. The exuberance she conveys in singing "he makes me feel wanted / like no one has before," is so spot on, it brings a lump in one's throat. Kehlani doesn't tread new ground, but she has a winning personality and a real knack for capturing emotions (I mean, "Unconditional," come on! So good!), she elevates the music out of the saccharine, imbuing it with a touching sincerity.
Other recommended tapes:
Bricc Baby Shitro – Nasty Dealer (Particularly opening track "Alone" featuring Alia Rose)
Bankroll Fresh – Life of a Hot Boy 2 (Real Trapper)
Snootie Wild – Ain't No Stoppin' Me
You might also like: