Rock music's been treading water for a while, but anyone who's kept their ear to metal in the past decade or so knows that's where to find its most interesting developments. One of the best bands to set foot in either universe, Baroness has been gradually evolving away from a more conventional definition of metal since at least 2009's Blue Record, though they've retained an undeniable heaviness throughout their career. On that record, the crushing riffs of "A Horse Called 'Golgotha'" or "Jake Leg" might have been enough to temporarily disguise the melody-heavy anthems at their core, but the more nuanced direction of 2012 double album Yellow and Green found them pushing those melodies even closer to the fore.
That melodic sensibility was made all the more explicit when frontman John Baizley performed stripped down versions of several of those songs at a solo SXSW set in 2013. It's a surefire sign of good songwriting when those songs can hold up in an entirely different context, and that performance proved the structural integrity of Baroness' music. But that show proved significant for an entirely different reason at the time. It was the first time Baizley had performed since the band's devastating bus accident the summer before, which left him hospitalized for months and having to relearn to play guitar as a result of his injuries. It very nearly ended the band—Matt Maggioni and Allen Blickle ended up bowing out because of the extent of their injuries. Going forward, Baroness had to face some pretty important questions, namely whether they'd continue on after such a devastating setback and, if so, what kind of band they were going to be.
Baizley and guitarist Pete Adams, determined to keep the band moving forward, reconvened with bass player Nick Jost and drummer Sebastian Thomson in 2013 for a year's worth of invigorating, life-affirming live shows that showed how much stronger they were, both in physicality and resolve. The band's fourth album, Purple, confirms their commitment to pushing the limits of what Baroness can be. It's at once heavier and more immediate than its predecessor, using some truly beefy structures to bolster what are ultimately some of the strongest songs they've ever written. It's also much more concise than Yellow and Green, clocking in at 42 minutes and fitting comfortably on two sides of vinyl. It's not exactly Baroness gone punk, but they're intensely focused here, leaving little fat in the way of these muscular songs.
Whether that musculature translates to metal or simply hard rock depends on your view of where one spectrum ends and another begins. For Baroness, however, that confusion is as much irrelevant as it is crucial to understanding the character of the band. Baizley said in a recent Ultimate Guitar interview that "within the context of Baroness where we essentially use metal or heavy music or something as the structure of the house, there really are no rules or limits in terms of what styles we beg, borrow and steal from." That approach more transparent than ever here, where the rhythms crash down like the feet of giants on "Morningstar," but the musicianship is some of their catchiest, even beautiful in its way. And the closing track, "If I Had to Wake Up (Would You Stop the Rain?)", while essentially a ballad, carries more weight to it than songs by bands who'd refuse to be called anything but metal. But what confuses those lines even further is the album's production from Dave Fridmann, a name more closely associated with Mercury Rev and The Flaming Lips than heavier artists, and his touch, like on the sheets of synth in "Shock Me," lend a considerably different shade to the compositions.
There's strength in these nine songs (and one 17-second closing track), but Baroness also show their scars throughout. The first track that they released from the album, the epic ballad "Chlorine & Wine," finds Baizley recounting a near-death experience against one the most heroic-sounding arrangement on the record: "Please don't lay me down/ Under the rocks where I found/ My place in the ground." Meanwhile, the riff-driven gut-punch of "Shock Me" is a statement of purpose in the face of calamity, Baizley bellowing, "Shock me! I needed a surprise." There are words of support ("wherever you go, you know I'm a step behind") in the infectious "Try to Disappear," and there's an intense weight placed on simply taking in what's around you on the dark, sinewy "Desperation Burns." They don't understate or overlook the pain, but they don't let it defeat or define them either.
At their most crushing, be it on their first couple of EPs or the Isis-like roar of 2007's Red Album, Baroness have always harbored something relatable and earnest in their majestic sound. Without sacrificing volume or intensity, they find a way to convey that human element stronger than ever on Purple. There's a tendency in heavy music to bury songs in manufactured imagery or myth, but there's nothing of the sort to be found here. Baroness shows us the blood that flows through their veins, and the bruises that darken on their skin. Purple is a heavy album, but not always because of how loud the guitars are or how fiercely the snare cracks.
---
Label: Abraxan Hymns
Year: 2015
---
Similar Albums:


Kylesa – Exhausting Fire


Torche – Harmonicraft


Led Zeppelin – Houses of the Holy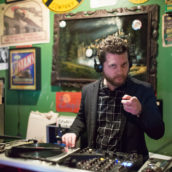 Jeff Terich
Jeff Terich is the founder and editor of Treble. He's been writing about music for 20 years and has been published at American Songwriter, Bandcamp Daily, Reverb, Spin, Stereogum, uDiscoverMusic, VinylMePlease and some others that he's forgetting right now. He's still not tired of it.