10 Essential Albums produced by Steve Albini
It's funny how a sound engineer with such a distinct effect on any record he touches insists on never being called a producer. In fact, if Steve Albini had his way, he'd probably never be featured on the sleeve of an album. He takes a small fee for his work, refuses royalty payments and considers any other business practices an insult to the performer. But, modest as he may be, there's a distinct gratification inherent to any record Albini lays his hands on.
Whether it's the noticeable lack of electronic recording equipment, his dedication to the (increasingly rare) art of live-band recording, or his signature snare tone, we at Treble love the way Albini does his work. It doesn't hurt that he has an impeccable track record of working with some of the best underground rock acts in the business, regardless of the decade. So, in honor of the upcoming release of Dude Incredible, the highly anticipated sixth record from Albini's long-running band Shellac, we've assembled ten of our favorite Albini-stamped efforts. They cover some of his first credits as an engineer all the way up to more recent work at his Chicago-based Electrical Audio studio. Grab some earplugs and buckle up; here come Ten Essential Albums Produced by Steve Albini.
---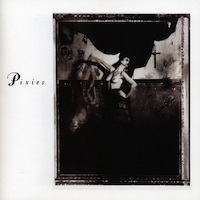 Pixies – Surfer Rosa
(1988; 4AD)
Surfer Rosa is a doozy of a record. It's Pixies' most celebrated and iconic release and can be attributed as the record that put Albini's experimental-yet-infectious sound on the global music map. The story of Surfer Rosa is the perfect introduction to Albini's work ethic. He met Black Francis and the rest of the band to discuss ideas and they were in the studio the next day. He refused to accept royalties and limited his producer's fee to a mere $1,500 (less than a fifth of the allotted budget). Even early on in his career as a sound engineer, Albini refused to divert the sonic roots he established in Big Black, maintaining a strong focus on natural effects over studio-produced manipulation. That doesn't mean there aren't far out effects on Surfer Rosa; they were just achieved by recording Kim Deal's vocals in a bathroom or filtering Francis' yelps on "Something Against You" through a crunchy guitar amp. Surfer Rosa would go on to influence artists as legendary as Billy Corgan, PJ Harvey and Kurt Cobain, playing a pivotal road in shaping the alternative rock sound that would dominate airwaves in the '90s. That's due, in part, to Pixies' uncompromising attitude and eccentric, talented song-writing. But without Albini's hard work and experimental temperament, songs like "Where Is My Mind" or "Gigantic" would not achieve the ground-breaking sound they did when Pixes and Albini worked together. This was just the beginning for the both of them. – ATB
---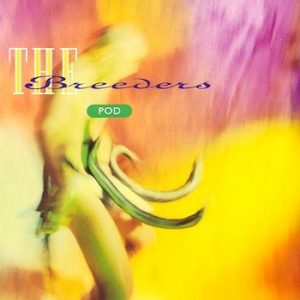 The Breeders – Pod
(1990; 4AD)
Buy at iTunes
Albini did such an outstanding job making Surfer Rosa a reality that it's not surprising Pixies bassist Kim Deal came to him when she wanted to record her newest project. After experiencing heightened conflict with Black Francis (their personal relationship was tumultuous at best, and he rarely allowed Deal to play songs she had written), she banded with former members of Throwing Muses, Slint and The Perfect Disaster to form The Breeders. Their sound was equal parts brightened pop and gritty destruction; as comfortable riding pleasant rock riffs as they were breaking into chaotic sections of noise. Just as he had before with Pixies, Albini showcased the band at their best, offering up the perfect jumping point for their career together.
Pod's version of The White Album's "Happiness is a Warm Gun" is perhaps one of the best songs with which to analyze Albini's trademark sound as a producer. The guitars, at times, carry the classic, honest sound of the original, but with added distortion and aggression. But Albini's emphasis on a tight drum sound and natural echo pull the song into modern bliss. It's that combination of classic recording approach and innovative experimentation that make an Albini project easier to pick out than an apple among oranges. – ATB
---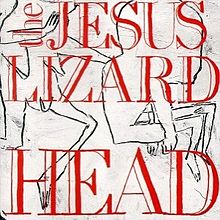 Jesus Lizard – Head
(1990; Touch & Go)
Buy at iTunes
A lot of bands took inspiration from Albini's early work fronting Big Black, but only one act truly carried the torch of that band's chainsaw-ripping, nigh-industrial post-hardcore. On their full length debut Head, Albini caught the Austin, Texas band at their most raw. Having just made the switch from drum machine to Mac McNeilly's calculated-yet-energetic live beats, bassist David Wm. Simms, guitarist Duane Denison and singer David Yow were a band at their most visceral, formative stages when they started work on this record. While Head might not boast the best known songs that Jesus Lizard ever released, it does do the best job of showcasing Albini and Jesus Lizard's unique working relationship. Songs like "My Own Urine" and "Wax Eater" sound like a Big Black line up from an alternative dimension, twisting together aimed precision with incalculable aggression. And with a now-more-experienced Albini at the helm, he knew exactly how to bring out the band's sound without ever sounding stale or repetitive. With skills he honed crafting his first major records, he was able to establish Jesus Lizard as the logical heirs to his own noise-punk legacy. – ATB
---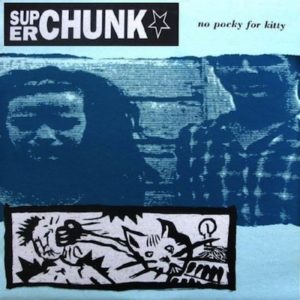 Superchunk – No Pocky For Kitty
(1991; Matador)
Twenty-three years ago, almost to the day, I saw Superchunk open for Mudhoney in City Gardens in Trenton, New Jersey. They were an anomaly to me – the energy of punk, but not punk, and with a singer who screamed his lungs out, though his voice could scarcely be heard. When the audience complained about the vocal level, Mac McCaughan said "sometimes the music is more important than the vocals." It was also memorable and impressionable enough that I bought No Pocky for Kitty as soon as I found it, and sure enough, the recording matched the live show. Steve Albini is not credited on the album, but his involvement, once revealed, was no surprise. Not only did he heed McCaughan's wishes to put the energy first against convention, daringly pushing the fuzz above the words; he engineered an album that defined first a transition, and then a genre. In 1991, No Pocky for Kitty forecasted a world without grunge while grunge was reaching its apex. And once the red dwarf of grunge collapsed upon itself, the supercharged supernova that remained had Superchunk and Albini's work on No Pocky for Kitty as its core. – CG
---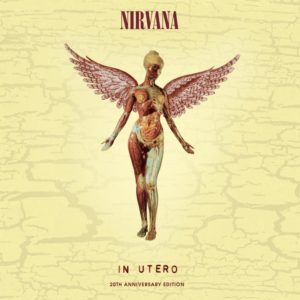 Nirvana – In Utero
(1993; DGC)
Buy at iTunes
Nirvana were reluctant juggernauts witnessing a flock of suddenly empowered alterna-giblets who'd skimmed Nevermind's table of contents. Kurt Cobain was, if not disappointed, then at least mindful of how crafted Nevermind had been and wanted to make something more immediate and untouched. Steve Albini wrote Nirvana a classic four-page letter telling them he had no patience for corporate meddlers and wouldn't take "points" for compensation, proposing they whisk themselves off for a brisk two-week recording session at isolated Pachyderm Studios, not more than an hour south of Minneapolis.
Speaking as objectively as one can about In Utero, the album carries around a kind of enervated acceptance spiked by bursts and whispering crosstalk. Albini as always refused to impose his will upon the creation, and in a way it sounds mentally healthy. Cobain knew himself in "Serve the Servants," "Heart-Shaped Box," "Pennyroyal Tea" and "All Apologies." The meltdowns in "Scentless Apprentice," "Milk It" and "Radio Friendly Unit Shifter" were almost Blake-like in their concentrated visions of perdition. Even the song with the most threatening title, "Frances Farmer Will Have Her Revenge on Seattle," had the chorus "I miss the comfort of being sad." In Utero is expulsion and relief disguised as wrath: Its most telling moment might be the microsecond in "Milk It" where Cobain gives a short little giggle before screaming "Test meat!" It's a bittersweet, extraneous bit of info only talents like Cobain and Albini could put in proper context. – PP
---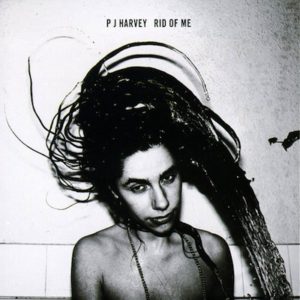 PJ Harvey – Rid of Me
(1993; Island)
Buy at iTunes
Rid of Me begins so quietly, it's almost inaudible. On the title track, Polly Jean Harvey strums a simple, if gently abrasive chug, almost certainly building up to something, if something distant — not immediately visible over the horizon. It takes a while to get to the chorus, and there are a few moments where it seems like it's just around the corner, but isn't. And then boom! The volume explodes, the snare drum crashes, and Harvey's voice erupts into a menacing snarl: "Don't you wish you/ Never/ Never met her!" That's just one of 14 reasons why Rid of Me is Harvey's best album, as well as one of 14 reasons why it's an example of the methods and genius behind Albini's audio work. The album isn't necessarily the simplest in her catalog — Dry doesn't quite have the same dynamics. But in spite of how crisp and powerful a sound there is, it's got a rawness that Harvey hasn't returned to since. With a squint, you could almost mistake it for an album by The Birthday Party or The Gun Club, which speaks to just how much ass-kicking takes place on these 14 tracks. – JT
---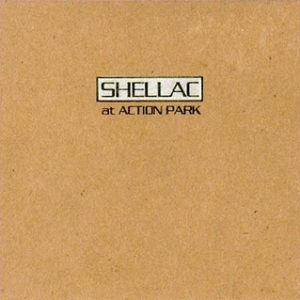 Shellac – At Action Park
(1994; Touch & Go)
It wouldn't be an Albini list without one of the man's own albums. Almost anything by Big Black, Rapeman or Shellac could have gone here, but it seemed best to memorialize his longest-lasting (and still active) band Shellac. It's with Shellac that Albini found his perfect playing partners: Bass-monster and fellow sound engineer Bob Weston and drum-beast and Italian greyhound enthusiast Todd Trainer. For a trio, they make a lot of noise and have used their collective talents to write, record, and produce five incredible records, not including the upcoming Dude Incredible.
Their debut At Action Park showed Albini returning to the position of frontman after rising into relative fame through his noteworthy production work (including those listed above), and it's safe to bet that not many listeners knew what to expect from the endeavor. What they got was a careful combination of what Albini did best in Big Black — churning guitars, carefully constructed time signatures and raging observational vocals — and the shocking talents of Weston and Trainer. Shellac's debut showed that Albini was more than a former-player-turned-producer (and poker enthusiast) and that he still had more than a few cards in his hand. That hand, as it would turn out, was a royal flush. – ATB
---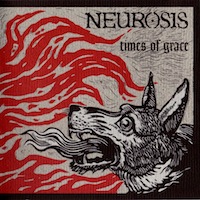 Neurosis – Times of Grace
(1999; Relapse)
Buy at iTunes
In 1996, after completing their transformation from a scrappy Bay Area hardcore band into the terrestrial titans of epic sludge metal, Oakland's Neurosis teamed up with prolific metal producer Billy Anderson to record Through Silver in Blood — one of the greatest metal albums ever released. It turns out that was just the beginning of a still-going streak of increasingly exploratory and spacious albums of gut-churning heaviness. To follow that earth-swallower of an album, the group changed up their approach a little, working this time with Steve Albini and tightening up their sound where before it seemed no blood-gushing kitchen sink was spared. Times of Grace isn't necessarily a heavier or louder album than its predecessor; on some level, Neurosis keeps that plane even no matter what. But it abrades rather than, say, disembowels. You can hear the trademarked snare thump in "The Doorway," a raucous post-hardcore dissonance in the tom-tom rattling "Under the Surface," and an unrelenting visceral force of unholy mayhem on the title track. Okay, so maybe they could still disembowel. But, you know, with a bit more elegance and simplicity. – JT
---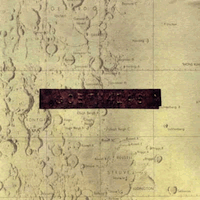 Low – Things We Lost In the Fire
(2001; Kranky)
The biggest giveaway to a Steve Albini recording credit is usually in the drums — there's an air-tight, bruise-inducing smack that comes with every drum set he's ever mic'd and from The Pixies to PJ Harvey, he's captured it so perfectly that it's become a signature sound. With Low, though, it's a little bit different. For starters, Mimi Parker plays with brushes rather than sticks, so she doesn't smack the skins with the same kind of menace that, say, Neurosis' Jason Roeder does. And yet, there's still an intensity about the band's 2001 album Things We Lost in the Fire that elevates it above the group's previous albums. This wasn't the first time the Duluth, Minnesota trio worked with Albini though — that would be in 1999 with Secret Name. Here, however, he captures the band both at their most beautiful and sinister. The slow-moving tension of "Whitetail" is ominous, albeit gorgeously minimal. And "Dinosaur Act" very nearly booms with the kind of viscerality that so often accompanies an Albini recording. This album is great sounding, of course, but more importantly, it represents the pinnacle of Low's songwriting as well. – JT
---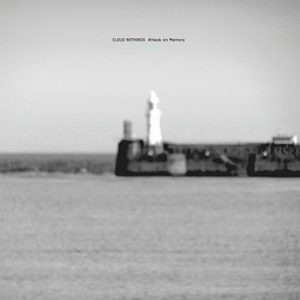 Cloud Nothings – Attack on Memory
(2012; Carpark)
Attack on Memory wasn't Cloud Nothings' debut, but it sure felt like it. While Dylan Baldi had released two full LPs under the Cloud Nothings name, it wasn't until writing the third that the project became a fully fleshed-out band. The result was an infectious blend of Baldi's self-analytic songwriting and grungy, angular jams. It's a beast of a record, and Albini's signature touches resonate all the way through, from the looming opener "No Future/No Past" to the anthemic closer "Cut You."
Attack on Memory also holds down the fort of the modern slate of Albini masterpieces. While the late '80s and '90s had Albini working with some of the genre's best innovators on a consistent basis, the '00s were less iconic for Albini. Aside from producing his own records with Shellac, he mostly produced solid records for good-but-not-great rock acts, with the occasional triumph mixed in. His collaboration with Cloud Nothings started the '10s off right as he played his part to revitalize the band into a noteworthy modern punk act. They would move on to work with John Congleton on their excellent 2014 follow up Here and Nowhere Else, but they wouldn't abandon the live energy and gritty aesthetic that Albini helped bring out. – ATB
You might also like: